Some posts on this site contain affiliate links. If you book or buy something through these links, I earn a small commission (at no extra cost to you). Take a look at my privacy policy for more information.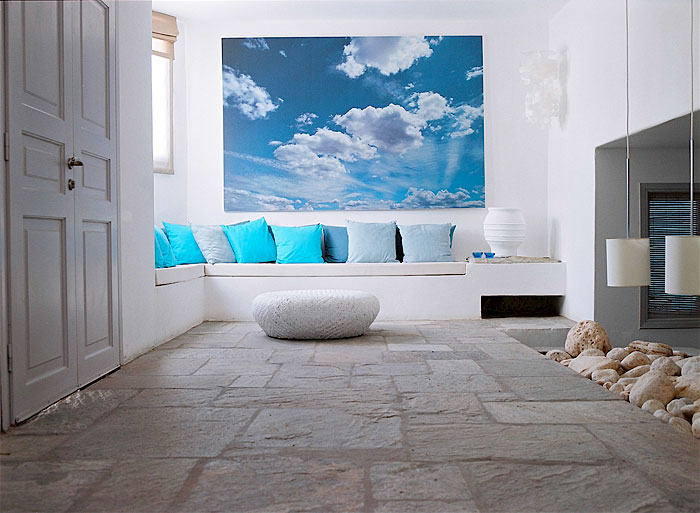 White and blue. The colours of the Greek flag, the colours of Greece itself, are everywhere in Paros, an island where all new buildings must match the style of the original ones. And Hotel Kanale's, a lovely, family-run hotel on the outskirts of Naoussa village, mimics the village's style not only in it's colour scheme – a dazzling palette of tranquil blues and cyans – but also in layout. Twisting flagstone alleyways and meandering staircases echo the labyrinthine centres of the old villages on Paros – an intentional architectural touch which has created a sprawling hotel, in which every room feels like a house in a small village.
My room, accessed from a private terrace at the top of a staircase at the back of the hotel, feels completely isolated as a result, even though my balcony overlooks the pool. Going to breakfast involves taking two flights of stairs down, then cutting across the pool via it's adorable bridge, and finally heading up a different staircase to the rooftop restaurant Piperatto. It's a surprising hotel layout that makes a charming change from the standard straight lines of identical apartments. Kanale's felt more like a miniature village than a hotel, and I loved it.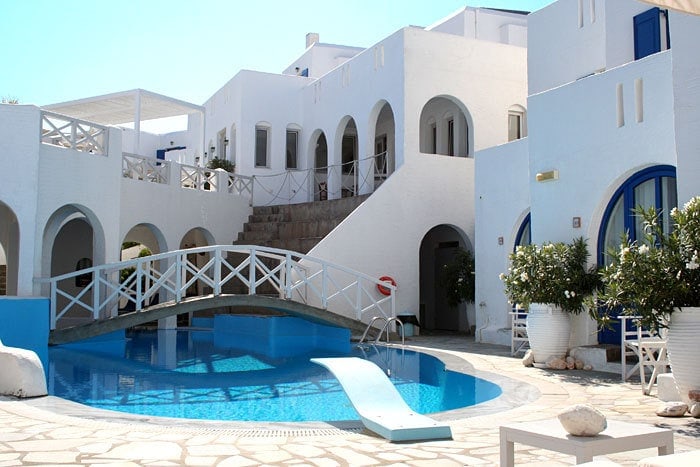 The clever layout also creates a wonderful sense of quietude; the further you delve in to the hotel, the more cut off from the outside world you seem to be. Not that it needs it; situated on a quiet road just five minute's walk from the already quiet village of Naoussa, Hotel Kanale's is quiet, calm, and peaceful – the perfect place to unwind, but still connected to the buzz and nightlife of the village. It's also just one minute's walk from the bay of Piperi, Naoussa's best local beach.
For those who can't face the walk all the way to the beach, the hotel's pool is clean and – while I was there – usually empty. There are also dozens of nooks and crannies to relax in around the hotel; hidden terraces like the one outside my room's front door, plus several beautiful lounges – all decked out in blue furnishings with pretty, artistic details.
The real selling point at Kanale's, though, is it's wonderful team of staff. Antonis, the owner's son, is a lovely man with a beaming welcome, and he oversees a great team – many of whom feel just like part of the family. There's a relaxed informality that feels really welcoming; staff remember your name, ask about your day, and are always on hand to offer great local tips for exploring the island.
Oh, and then there's the food. Don't even get me started on the food! No exaggerations, the breakfast at Hotel Kanale's is one of the best – quite possibly the best – hotel breakfast I've ever had. A huge selection of pastries and cakes, both local and international, and all in such perfectly sized small portions that I was happily able to try more than one every day. Plus toast with amazing homemade jams, Greek yoghurt with local honey, as well as the standard hotel breakfast fare.
Dinner at Piperatto restaurant was even better. Sitting on the roof terrace, listening to the sound of the waves, I tucked into a
delicious feast – one which focused on seasonal, local ingredients, like fresh beetroot, which is massively in season at the moment, and my favourite local cream cheese. Dishes were traditional with a creatively modern twist; a delicate take on the classic spinach and feta pie, with perfectly flaky pastry, and a stylishly arranged moussaka with parmesan crisps. Head Chef Konstantinos Zafeiriou blew me away with the food, which was incredible, and the setting just made it all the more perfect.
If you're looking for the best hotel in Paros, I'd say you can't go wrong with Hotel Kanale's. Tranquil, beautiful, and oh so relaxing… this is the ideal place to unwind.
My trip to Paros was a press trip organised by Discover Greece and I was kindly hosted by Hotel Kanale's. As always, all words and opinions are my own. Images have been taken from the Hotel Kanales website.
[stextbox id="info" caption="Information " collapsing="false" collapsed="false" shadow="false" bwidth="1″ color="303030″ ccolor="FFFFFF" bcolor="0ABAB5″ bgcolor="FFFFFF" cbgcolor="0ABAB0″ bgcolorto="FFFFFF" cbgcolorto="0ABAB0″ image="null"]
Kanale's Rooms and Suites – Piperi, Naoussa, Paros 84401. Tel: +30 22840-52044
Head to DiscoverGreece.com for more information on planning your trip to Greece.
Getting there: AEGEAN Airlines, a Star Alliance member and six-time winner of Europe's Best Regional Airline, flies direct three times a day from London to Athens. With flights from three UK cities (and four UK airports) to two Greek destinations, and onwards to over thirty domestic destinations, this is the airline that knows Greece best.
[/stextbox]