Some posts on this site contain affiliate links. If you book or buy something through these links, I earn a small commission (at no extra cost to you). Take a look at my privacy policy for more information.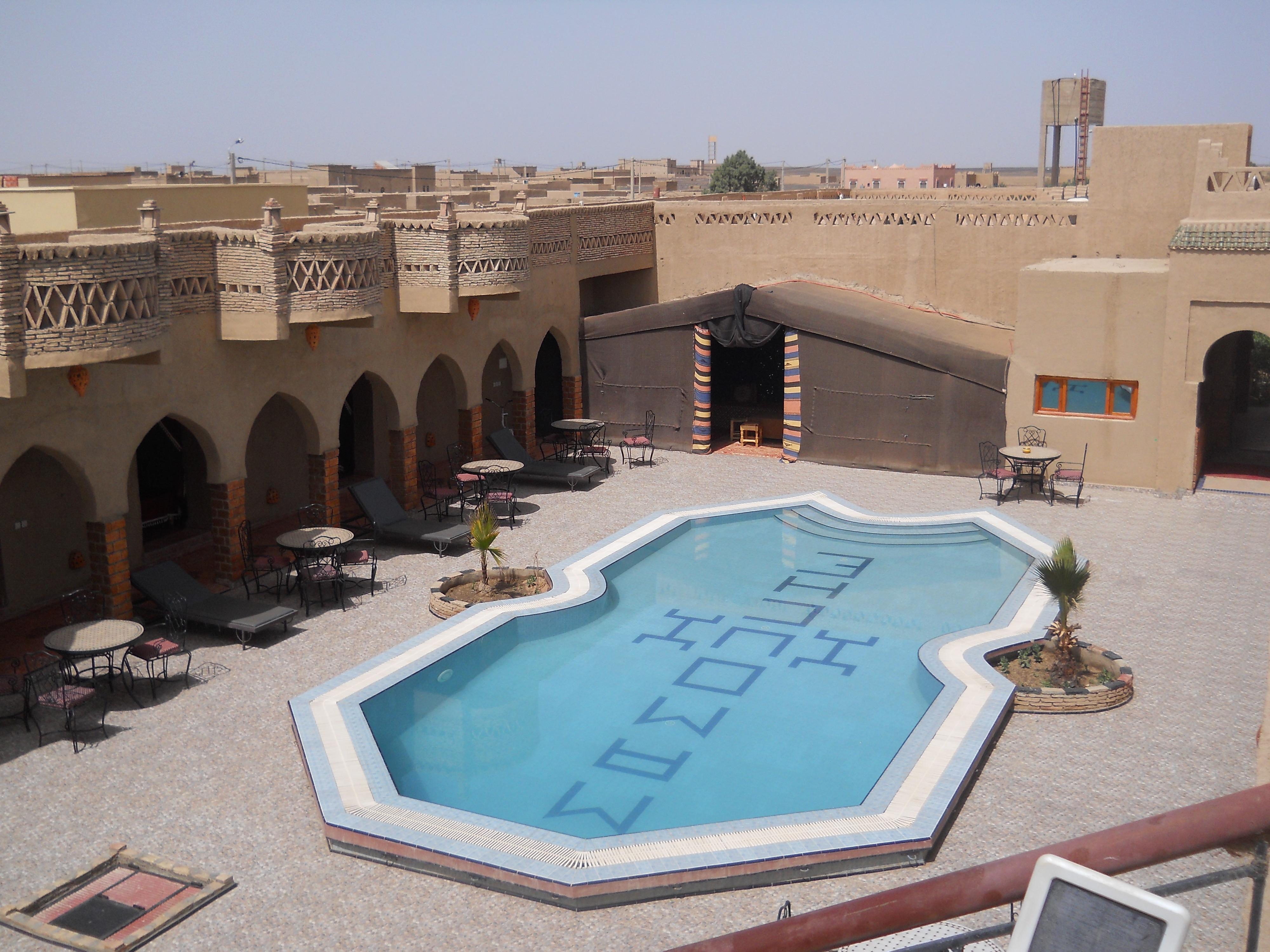 My review of the Hotel Riad Mamouche – on the edge of the Erg Chebbi dunes in Hassilabied…
Thanks to the tourism generated by the Erg Chebbi dunes, hotels in the Saharan region of South Morocco are not hard to come by.
In the larger towns of Rissani and Erfoud there are plenty of big hotels to choose from, but these are still a fair drive away from the desert. To get really close to the dunes, I would recommend staying in the small town of Merzouga or its surrounding villages, which are right alongside Erg Chebbi and afford spectacular views of the dunes.
Hotel Riad Mamouche Review
Please note, this review was written a few years ago now – but most details remain the same!
Hotel Riad Mamouche is one of the largest buildings in the tiny village of Hassilabied, around 4km from Merzouga and a ten-minute walk from the edge of Erg Chebbi.
A traditional mud and straw building, unpainted and a yellowish beige in colour, Hotel Riad Mamouche is built in a style which loosely echoes city riads. The twenty rooms are arranged around two central courtyards; one a leafy patio with a trickling fountain and rose bushes, the other a large terrace with an outdoor pool, sun loungers and shaded seating alcoves.
A winding stone staircase near the pool leads to the roof terrace above the restaurant, where a few tables are set out to make the most of the 360-degree panoramic views over Hassilabied, the Erg Chebbi dunes, and the distant red mountain ranges.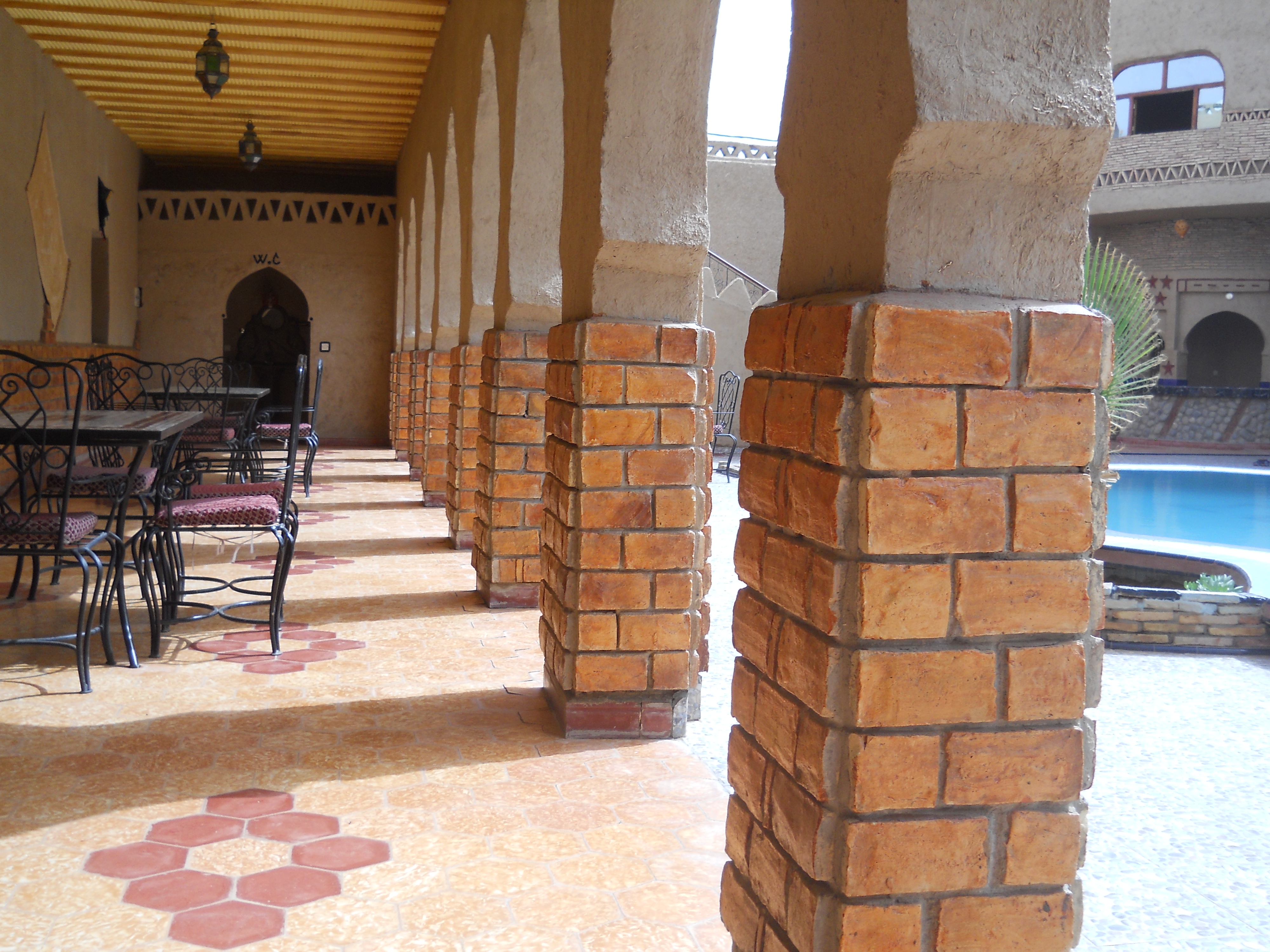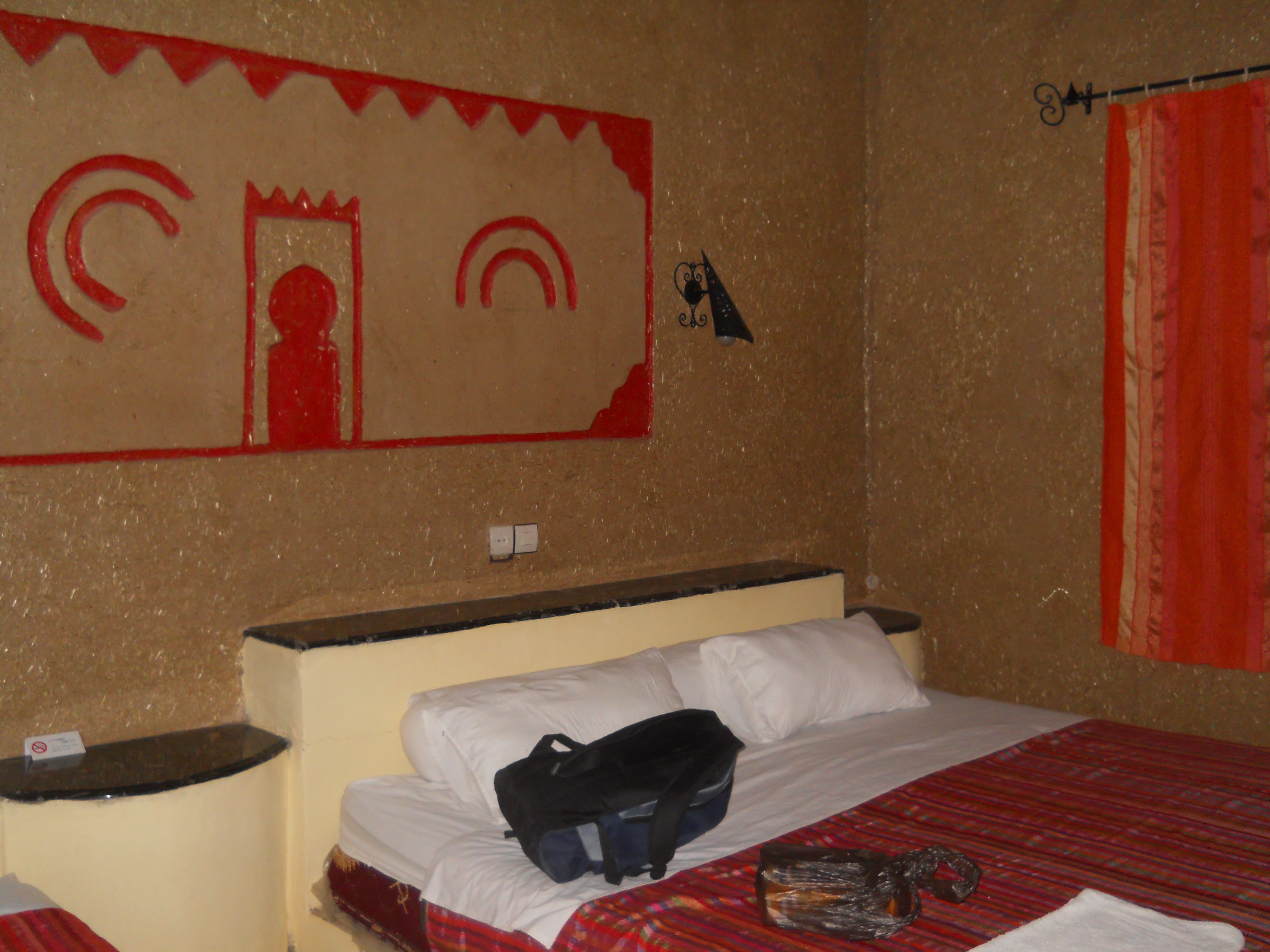 Decor and Rooms at Hotel Riad Mamouche
The décor is simple and traditional throughout the hotel, with bare walls spruced up by colourful motifs of camels and palm trees. By the pool, brightly coloured tapestries and embroidered cloths hang on the walls between exposed brickwork columns and curving archways.
A Berber tent made from a patchwork of thick, felt-like material with glinting sequins provides much-needed shade, with sofas and cushions for lounging in sheer opulence.
A similar theme is continued in the restaurant, where corner sofas and low tables make for a cosy, relaxed dining experience. The rooms are spacious, cosy and clean, with big, comfortable beds and traditional décor mixing with a few modern touches, including high tech electronic toilets.
Staff and Service
Staff at the Hotel Riad Mamouche can boast the highest standards of Moroccan hospitality, particularly manager Hassan who cannot do enough for his guests.
Transfer to and from the bus station in Merzouga is free, excursions and camping trips into the dunes can be easily arranged through the hotel, dinner is served whatever time it's wanted, and an honesty bar is in operation at all hours.
Be warned, English is a lot more sparse in rural Morocco than in the cities; although Hassan speaks it perfectly, the rest of the staff have either French or Spanish as a second language. Even if you didn't use one in the cities, a Moroccan phrasebook will definitely come in handy in the desert.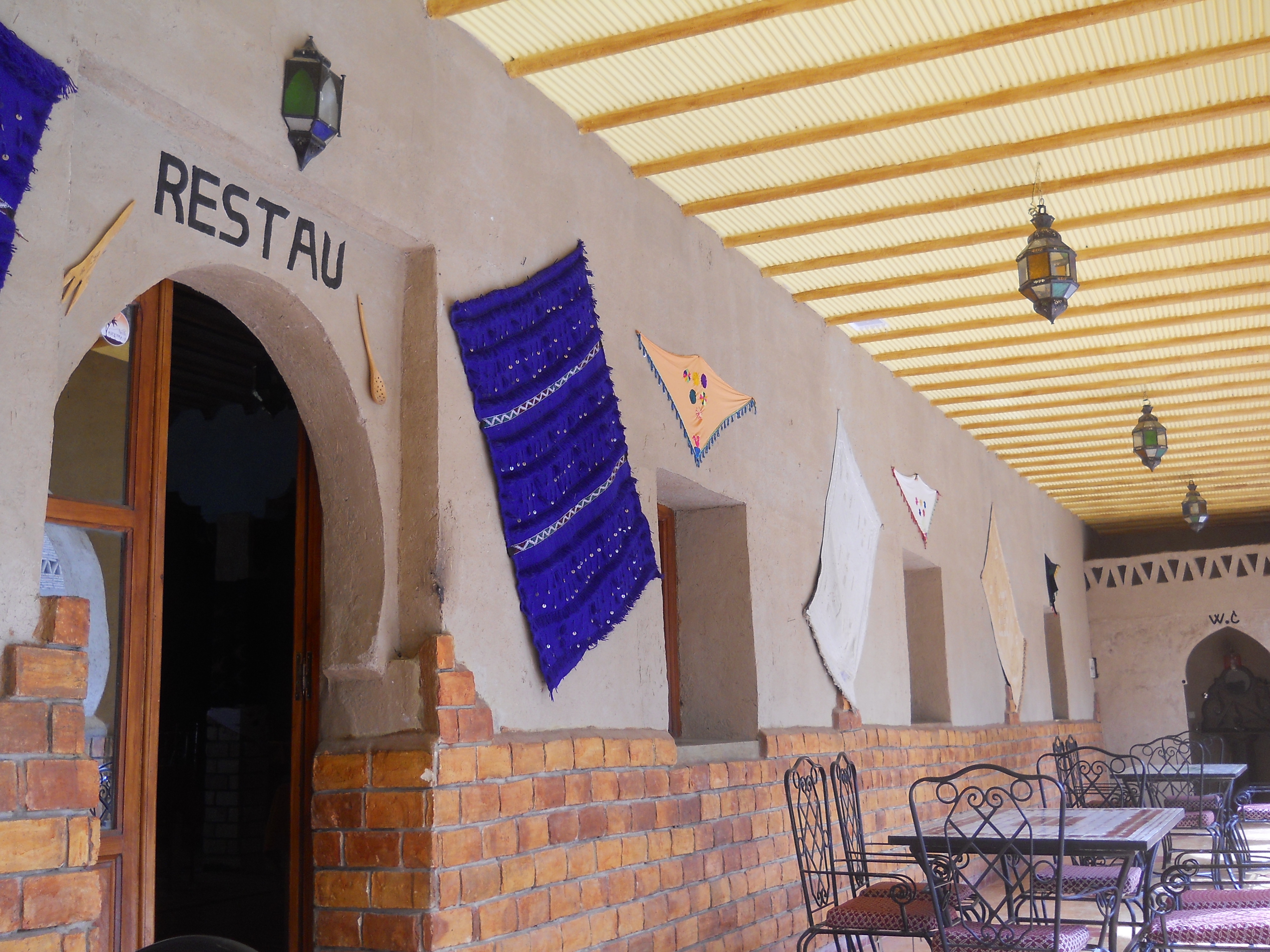 Food at the Hotel Riad Mamouche
The restaurant, which appears to be open all day with no set hours, serves traditional Moroccan food like harissa and tagine, but there are also French fries on the menu. Service can be a little slow, but this is in keeping with the pace of life in the desert and, believe me, you won't feel in any rush during your stay here.
Breakfast is a big meal at Hotel Riad Mamouche, and something to take your time over. Warm bread and pancakes with a selection of honey, jam, olives, soft cheese and olive oil are served on the terrace with fresh orange juice, coffee and mint tea; a real feast to start the day.
The lunch and dinner menu are very reasonably priced, with barbecued meat skewers for around Dh80 as a lighter option. All the portions are huge, and the food is well cooked and delicious; the tagine is different every day and not something you can easily get bored of.
Hotel Riad Mamouche – my Summary
Hotel Riad Mamouche is definitely one of the better hotels in the area; an authentic desert experience with all the comforts of home.
Given the location and the distance from the "real world", a five-star experience can't be expected; this is a backpacker-friendly hotel which is still incredibly comfortable and well run, and which is also well suited to families and older couples.
The friendly atmosphere and wonderful staff of this cosy hotel make it an ideal base for a desert adventure.
READ MORE: How to Plan a Desert Trip in Morocco
Services/Amenities
Free WiFi
Pets allowed
Free Parking
Aircon
24 Hour Front Desk
Bar
Restaurant
Outdoor Swimming Pool
Roof Terrace
Desert Excursions – 4×4 and camel
Information
CHECK PRICES: Booking.com  |  Hotels.com
Address: Ksar Hassi Labiad, Marueccos, Merzouga 52202, Morocco
Email: [email protected]
Tel: 212 535 576 077
Desert camel trek and camping trip from €35 (£28.36*) per person.
NB – A tax is imposed by the city: MAD 23 per person, per night
Getting there: Supratours (www.supratours.ma) buses run directly from Fez and Marrakech to Merzouga. Contact the hotel in advance for free pick up from the bus station.