Some posts on this site contain affiliate links. If you book or buy something through these links, I earn a small commission (at no extra cost to you). Take a look at my privacy policy for more information.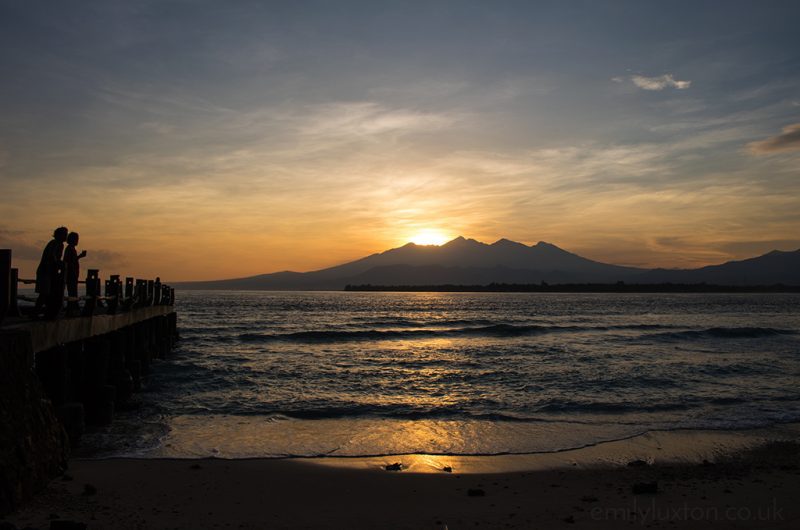 Imagine falling asleep to the sound of the waves. Rocked by the gentle sounds of nature in a cocoon of darkness. Imagine waking up to an empty strip of white sand and a glorious sunrise peeking above the tip of a distant volcano.
That was how my week started, at the gorgeous Karma Reef Resort on the tiny island of Gili Meno in Indonesia. I had just finished a two week long blogger trip, visiting four destinations in 14 days, and was feeling pretty much wiped out. So a night spent in blissful relaxation and my own company on the beach in Gili Meno was just what the doctor ordered.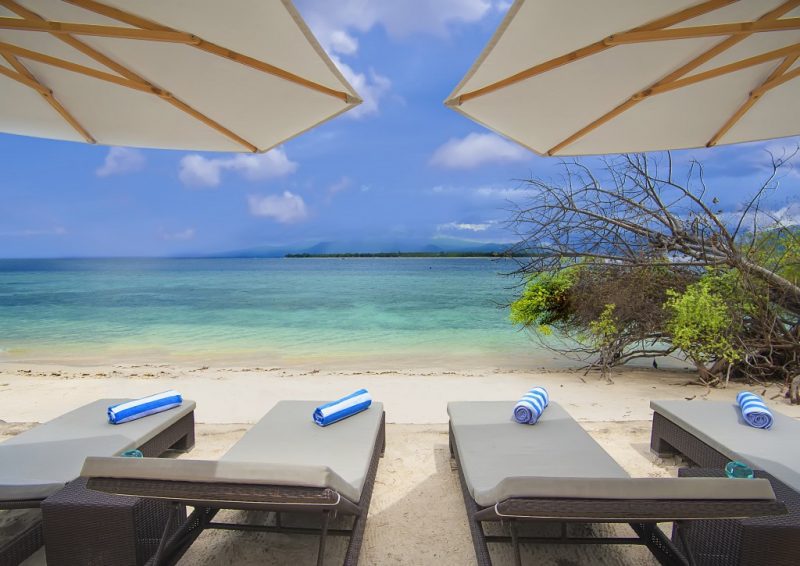 This is an island with no cars, no motorised vehicles whatsoever. People get around by bicycle, or on foot (a full circuit of the island takes no more than a couple of hours). Unlike neighbouring Gili T, a hedonistic backpacker haven, Gili Meno is quiet and reserved. There are few parties, and at Karma Reef there was no noise after dark. Even the music from the bar, which should be just loud enough to reach my not-particularly-soundproofed tent, was drowned out by the sound of the waves, which were crashing against the shore just a few feet from where I slept.
Karma Reef Sea Tents
Far more than a hotel, Karma Reef was a serenely quiet resort complex of luxury villas (two-storey, one bedroom wood-and-bamboo cottages, all with incredible sea views) and safari-style beach tents. When I heard "tent", I was expecting something fairly basic, maybe just a step or two above the nasty nylon contraptions I used to huddle up in on Dartmoor.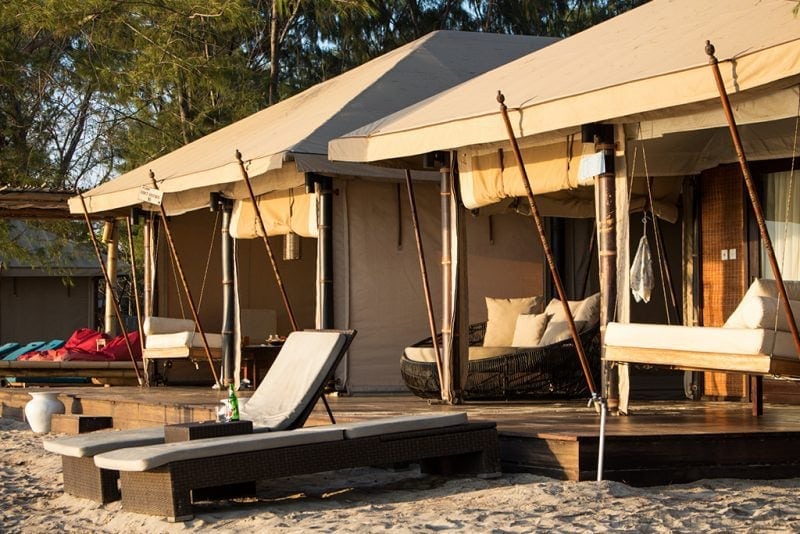 The reality blew me away. My tent – which was just a few metres from the shore of Karma's private beach, was a huge canvas structure on a raised wooden floor. There were locking glass doors, electricity and a flatscreen TV, even an air conditioner. It was exactly the same as a luxury hotel room, except that I could see the sand beneath the floorboards in my bathroom!
Speaking of which, yes indeed – the tent had an ensuite bathroom. A large one, too, complete with hot running water and flushing toilet. This is not how I remember camping at school! Taking a luxurious rainforest shower in a tent, surrounded by the smells and sounds of the ocean, is an experience I'll never forget.
Another is waking up just in time to catch the sunrise. Not normally a morning person, knowing that the sun was going to rise directly outside my front door seemed too good an opportunity to miss. So I set my alarm, and five minutes before sunrise I padded outside – still in my pyjamas – to the secluded white sand beach. If I'd wanted to, I could have thrown open the exterior curtains and watched the spectacle from bed. With the sun appearing from behind Mount Rinjani on nearby Lombok, this is one of the most stunning sunrises I've ever seen – worth the early start!
The Resort
A quiet, relaxed beach resort on the kind of island that frequently gets called paradise, Karma Reef is the kind of place that's perfect for couples and honeymooners. I' would have felt a little out of place on my own, if it weren't for the staff. My absolute favourite thing about Karma is their customer service, which has always been second to none. Everyone knew my name, any member of staff I passed asked me how I was or about my plans for the day, and everything came with a genuine, welcoming smile.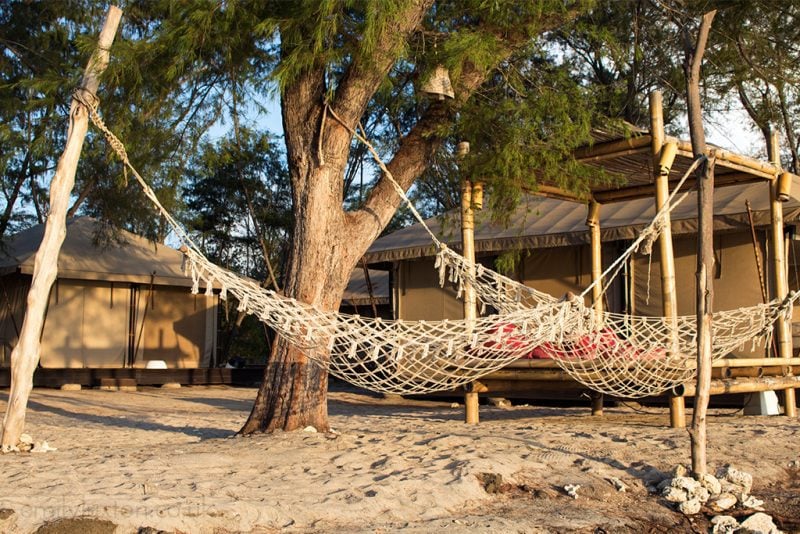 Hospitality in Indonesia is already among the best I've ever experienced, but Karma Reef took it up a notch. The vibe at the resort was informal, but still luxurious. Apparently, it's pretty popular with honeymooners and couples who pop over for a night or two to break up a longer trip in Lombok or Bali, but given the relaxed vibes and the gorgeous private beach, I'd say you could spend a week here if you really needed to chill out.
There's an incredible spa, also in a canvas tent right on the beach, so you can relax with a massage or beauty treatment to the sounds of the ocean. You can rent kayaks or snorkel equipment to go explore Gili Meno's number one attraction, the sea, or simply laze in a private sun lounger or beach bed and enjoy the bliss of doing nothing. Karma really have the whole relaxation thing nailed, and their resort on Gili Meno might be the best of the lot.
The Restaurant
Karma Beach bar and restaurant is stunning come nightfall. The waves crash against the sea wall below the bar, and the iconic bamboo structure is lit up with shimmering candlelight and quirky wicker-work lanterns. The cocktail menu is extensive and has some really fun options alongside the classics. I have to recommend the Champagne and Rose Bubble-Bath, a Karma original combining vodka and lychee liqueur with rose syrup, lemon, and prosecco. It was delicious.
Then there's the food, which is – as always – amazing. Karma's chefs have rounded up the best local ingredients and Indonesian recipes to create a fantastic menu that's a fusion of world flavours. The seafood is the star at this island restaurant – don't miss the grilled octopus starter – but there are also wood fired pizzas, steaks, and a whole lot more to choose from. All of it amazing, and pretty reasonably priced.
Karma Reef was the perfect place to really and truly get away from it all, and to spend a couple of days chilling out in total tranquillity. Sleeping on the beach in a luxurious tent was such an incredible experience; all the comforts and luxuries of a hotel, but blissfully connected with nature. I won't forget that in a hurry!
Karma Reef is 15 minutes by boat from Gili Trawangan, which can be reached in 30 minutes by fastboat from Lombok or two hours from Bali. Prices for the Luxury Sea Tents start from $165 per night.
During my stay, I was a guest of Karma Reef for two nights. As always, all words and opinions are my own.