Phu Quoc, until a few years ago considered Vietnam's "best kept secret", is fast filling up with high-end resorts. Now, this stunning island is one of the country's most popular tourist destinations, resulting in beaches so jam-packed with jostling resorts that you can't even see the sea unless you're inside one of the big hotels on the front.
Thankfully, there's still a way to escape the crowds and resort chains around Duong Dong. Up in the north of the island, in a small bay on the west coast, the eco-resort of Bamboo Cottages makes a wonderfully peaceful escape. Beautiful, white-painted cottages, surrounded by an explosion of colourful tropical plants, sit in secluded silence on a stretch of untouched beach, blissfully removed from the crowds of Long Beach.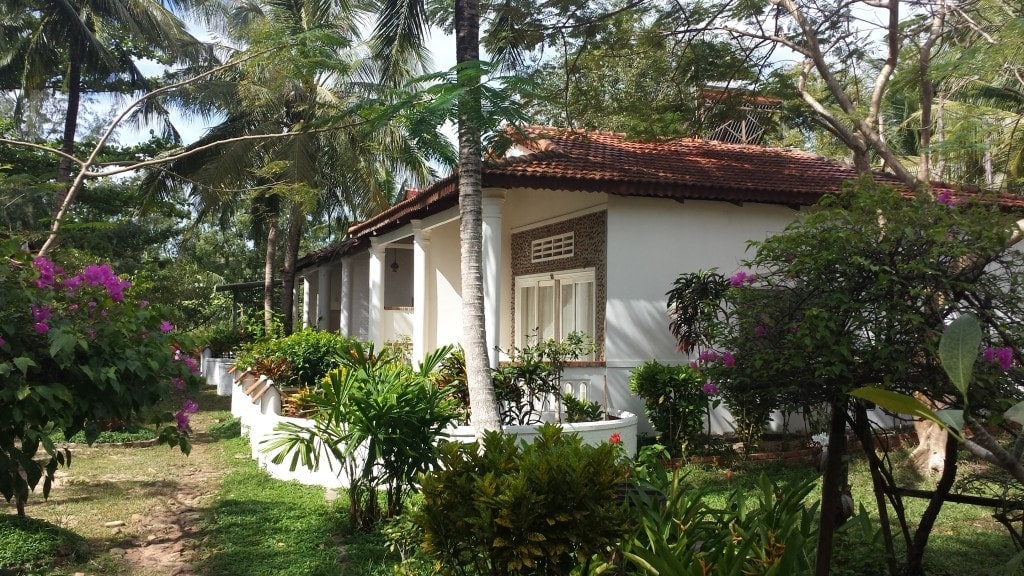 Just reaching the resort is an adventure in itself; a twenty-kilometer drive, dragged out by the awkwardly curling and bumping dirt roads that lead to the coast from the main road. Bamboo Cottages picked us up in their private car, making the journey slightly easier, but for a real adventure, you should rent a motorbike in town and take the journey solo.
By the time we arrived, less than an hour after leaving Duong Dong, we felt like we were in another world. There are fa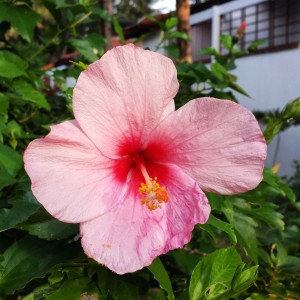 r less resorts in this part of the island, and the nearest neighbour to Bamboo Cottages was far enough away that we barely noticed it's existence, unlike the resort overlap down on Long Beach. Bamboo Cottages is a small, family-run resort with a very relaxing atmosphere. The website statement, "come find yourself at home", is a surprisingly accurate one; inside the lounge and restaurant, in particular, the atmosphere is like a cosy, exotic home away from home, with mismatched furniture, plenty of carved wood and an eclectic mix of handmade ornaments and colourful soft furnishings.
We sat with our ice cold welcome drinks in this beautifully cosy space and found ourselves unwinding almost immediately. The staff at Bamboo Cottages were warm and welcoming, especially manager Charles and yoga instructor Lola, who both made us feel like part of the family, always making sure to stop for a chat and pass on their excellent recommendations.
For an eco resort, the accommodation at Bamboo Cottages is surprisingly luxurious. We were in one of the Seaview Cottages; a beautiful, airy-light space which, situated just behind the beach-front cottages, afforded a fabulous partial view of the sea from the expansive double patio doors. The interior was spacious and light, with a neutral colour scheme of cream walls and earth tones, wooden furnishings, and a few beautiful touches, like the driftwood mirror frame in the bathroom. My highlight was the bathroom, which was open to the sky and full of plants, giving an amazing outdoor shower experience still in total privacy. Fabulous!
Although electricity only runs from 6pm till midnight (full solar power coming soon), the private outdoor showers are solar heated, and rooms have no AC or television – "in keeping with the spirit of taking pleasure in the abun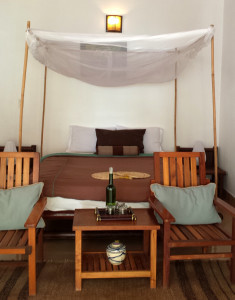 dance of nature and serenity" – it never once felt like we were doing without or inconvenienced in any way. By night, mosquito nets and citronella candles kept the worst of the bugs at bay, and while we were never fully cut off from nature, that's the beauty of Bamboo Cottages: the nightly chorus of the cicadas, the abundance of pink hibiscus and colourful butterflies, the occasional visits from darting geckos. What's special about Bamboo Cottages is that you're living in nature, rather than safely away from it, and it's a glorious way to experience the very best of Phu Quoc.
The beautiful accommodation at Bamboo let us go blissfully back to basics, enjoying the simple things in life like the beauty of a sunset, or falling asleep to the sounds of ocean waves. Creature comforts such as the fabulously cosy beds made us feel right at home, and there was even free wifi – although we found ourselves actively avoiding this as much as possible, in favour of a more total style of relaxation. This is the kind of resort where you can feel completely cut off from the real world and indulge in some serious me-time, whether it's lazing on the beach, getting lost in a good book, or more active pursuits like snorkelling.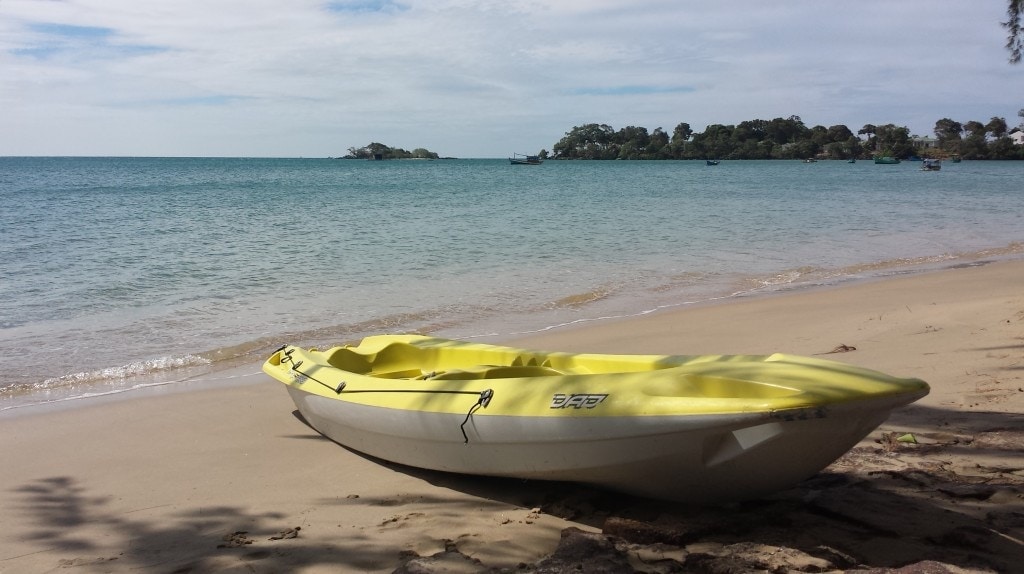 Speaking of which, Bamboo is perfectly situated for enjoying Phu Quoc's gorgeous marine life. Snorkels can be borrowed free of charge at the resort and kayaks can be rented very cheaply, perfect for those looking for a little action and adventure. On Charles' recommendation, we headed out early to the nearby Fingernail Island – a mere 15 mi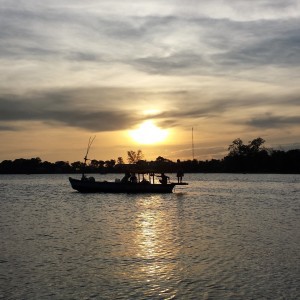 nutes away by kayak – straight after breakfast on our second morning at Bamboo Cottages. We pulled up on the sandy beach of the island, hopped into the water with our snorkels, and were blown away by the abundance of coral and colourful fish. Pancakes on the beach, kayaking, and snorkelling; and we were back for a shower by 9am. That kind of incredible morning can only happen at a place like Bamboo Cottages.
The resort was all about feeling cut off, escaping back to nature and the seclusion of a deserted beach. As they say, "we don't advise coming here unless you want to unplug". And I seriously recommend that you do just that. Come to Bamboo Cottages, switch off your phone, flop into a hammock and just unplug for a few days. If you want to focus on wellness and relaxation, there are daily yoga classes under the shade of a beautiful banyan tree from the lovely Lola, a US certified yoga instructor who's with Bamboo Cottages until February. The resort will also arrange massages in an open air spa right on the beach, with a therapist from the fantastic Action for the City program, which trains disadvantaged and vision-impaired people in the art of massage to help them find employment opportunities.
And if all that relaxation gets a little too much for you, the secluded Bamboo Cottages is also the perfect place to seek out some of the best adventures Phu Quoc has to offer. As well as kayaking and snorkelling, we also rented a motorbike and explored the interior of the island, hiked through the dense primary forest, and visited the mini waterfalls at Tranh Springs. We watched the sunset whilst swimming in the warm, clear waters of the bay. And we ate at the incredible restaurant on the beach, listening to chirruping insects and playing with the family dogs.
Oh yes, the absolute star of Bamboo Cottages is that fabulous restaurant. Breakfast every morning on the beach, surrounded by the greenery of banyans, palms and pine trees, with huge servings of delicious treats like banana pancak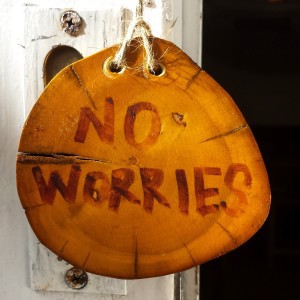 es or muesli with fruit. And in the evenings, there is a small but fabulous menu of Asian treats, all made with delicious, organic local ingredients. Head chef Mr Long honed his skills in some of Vietnam's best five-star resorts, and he's crafted a truly fantastic à la carte menu (I wholeheartedly recommend the clay pots, which I'm still dreaming about now) as well as a special three-course set menu which changes daily, and the occasional barbecue buffet. Everything we tried was delicious, as well as very healthy, and this was also one of the only places in Vietnam we saw truly appetising vegetarian food on the menu. I could have lingered there all night with a bottle of wine, listening to the sound of the waves and gazing at the stars in the inky black sky. Definitely one of the best restaurants we visited in the whole country.
"We know that vacation time is precious and is meant to nourish" say Bamboo Cottages, and they've created a sublime beach paradise where you can nourish your body, mind and soul in gloriously beautiful surroundings. More importantly, this resort is also nourishing it's own surroundings; ongoing projects such as a compost heap, spiral herb garden, and solar power help Bamboo live in better harmony with nature, while their support of local projects and charities is nourishing their community, too. This truly is a wonderful resort and an absolute must for people headed to Phu Quoc. Go, disconnect, and enjoy – it's paradise!
Information
Bamboo Phu Quoc – Tel +84 (0) 77281.0345 – bamboophuquoc@gmail.com
Bamboo Cottages, Vung Bau Bay, Phu Quoc Island
Check prices on Hotels.com – my chosen affiliate partner. I love Hotels.com because of their fab rewards scheme; you'll get one night free for ten that you book.
Disclaimer: Although I received a complimentary stay at Bamboo Cottages in exchange for this review, that hasn't influenced my opinion anyway. All information above is correct and based on my own experiences and thoughts.