Some posts on this site contain affiliate links. If you book or buy something through these links, I earn a small commission (at no extra cost to you). Take a look at my privacy policy for more information.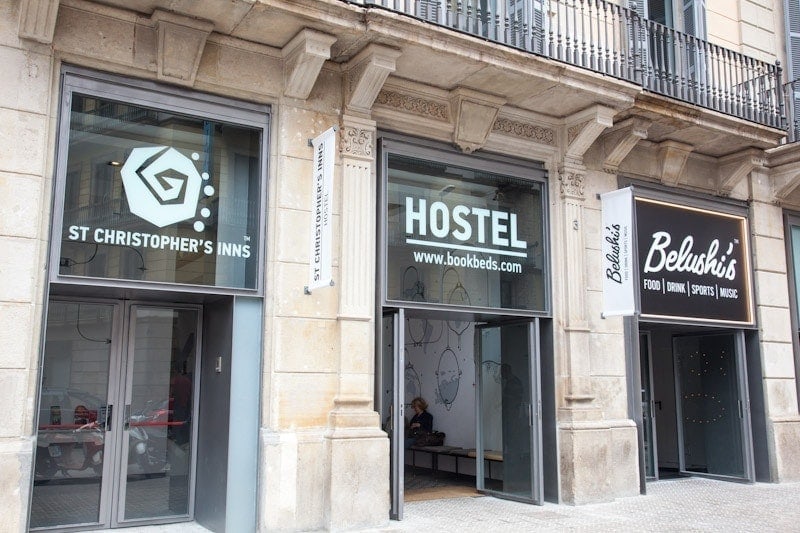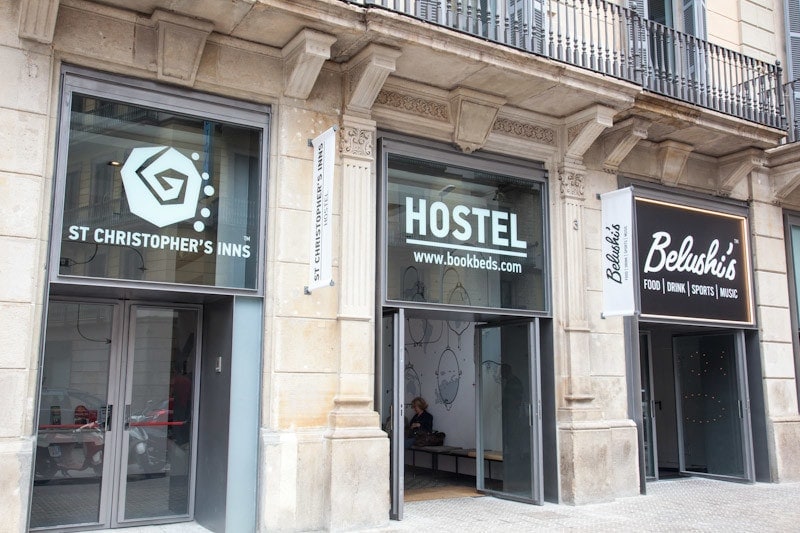 Location:5
Atmosphere:4.5
Staff:5
Cleanliness:3
Bed Comfort:3.5
Security: 5
Noise Level:3
For my last couple of nights in Barcelona, I checked into the city's biggest party hostel: the funky, modern and well thought out St Christopher's Inn – part of one of Europe's best hostel chains. Designed with travellers, and particularly with party-loving travellers, in mind, this hostel in the city centre was a lively and super fun place to spend the weekend.
READ MORE: 6 of the best party hostels in Barcelona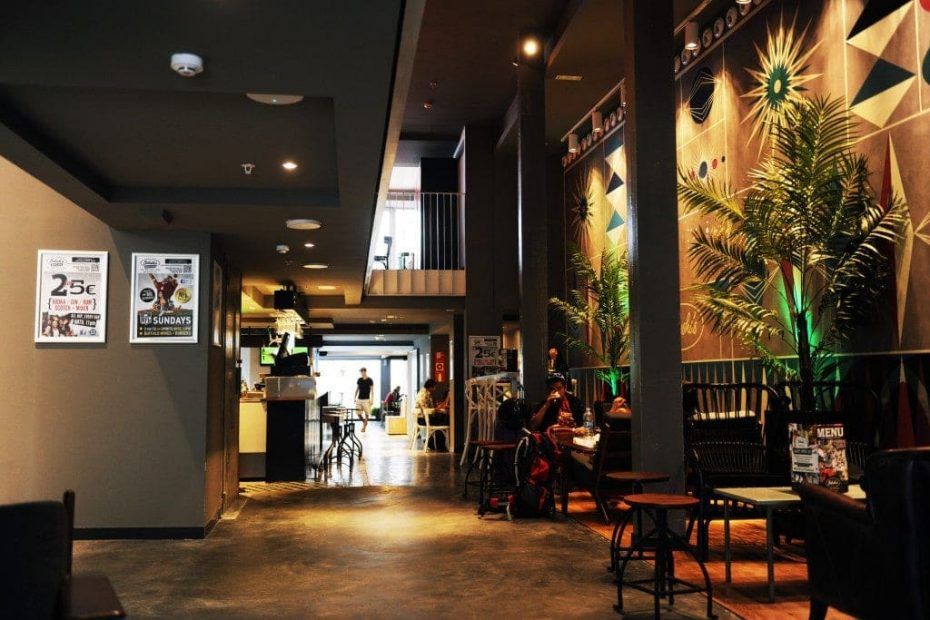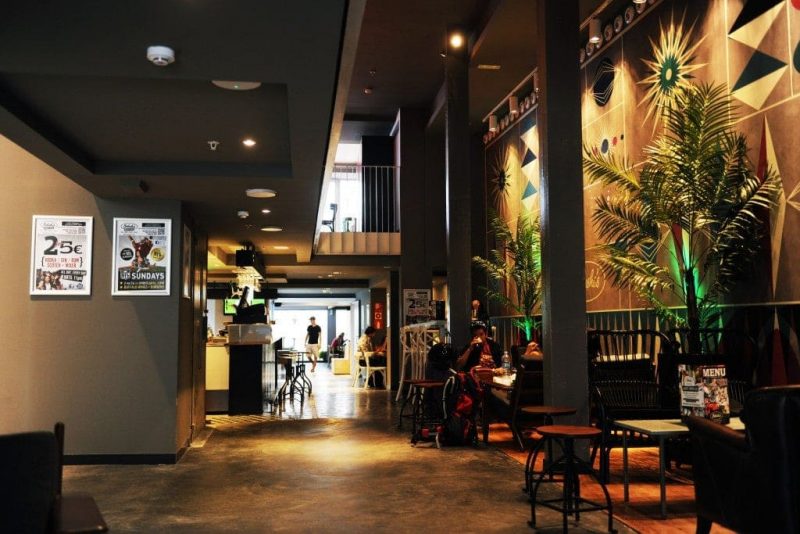 It's also in the best possible location for exploring Barcelona. Right next to the Plaza de Catalunya, the city's main square and the place where the airport buses stop, St Christopher's Inn Barcelona was directly across the road from the start of the network of streets known as Las Ramblas. The main strip, La Rambla, was about three minute's walk from the front door; the funky and street-art-filled district of El Raval, home of the MACBA art museum, was super close; and the port and beach were less than twenty minutes walk away at the bottom of La Rambla. I don't think there's another hostel in the city that can boast such a good location!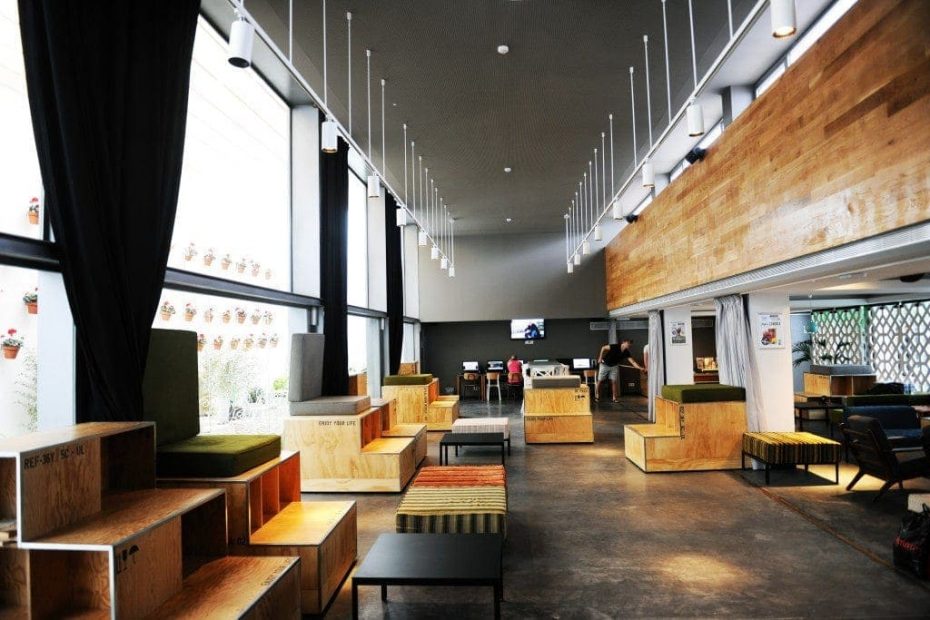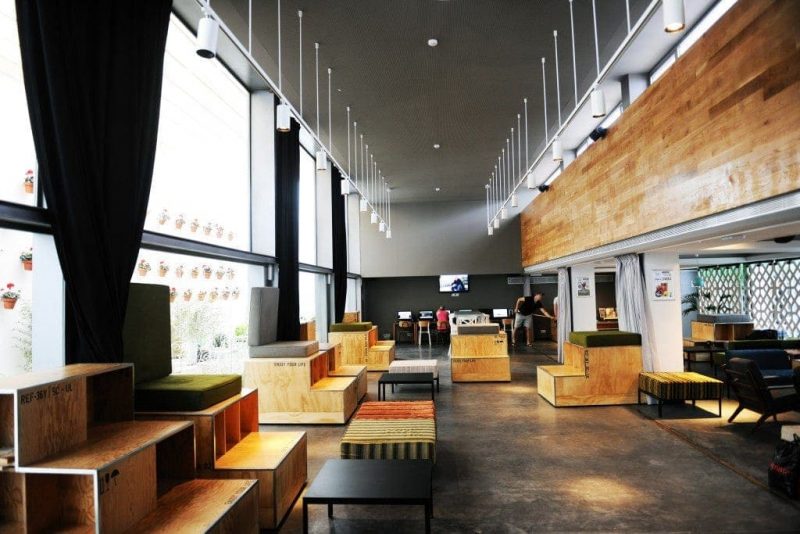 Be warned, if you're after a quiet evening in or an early night, this probably isn't the hostel for you. Rooms on the third floor and up, particularly those at the back away from the traffic noise, are quieter, but St Christopher's attracts a pretty big party crowd, so noise did make it's way up to the dorms both nights I was there. If you're after a great scene and lively party atmosphere, though, this maybe the best place to stay in Barcelona – especially on the weekend. The bar, Belushi's, is awesome, well-stocked and friendly, with tons of great special offers (like 2 mojitos for 6€), and with the bars and clubs of Las Ramblas within stumbling distance this is a great place to party.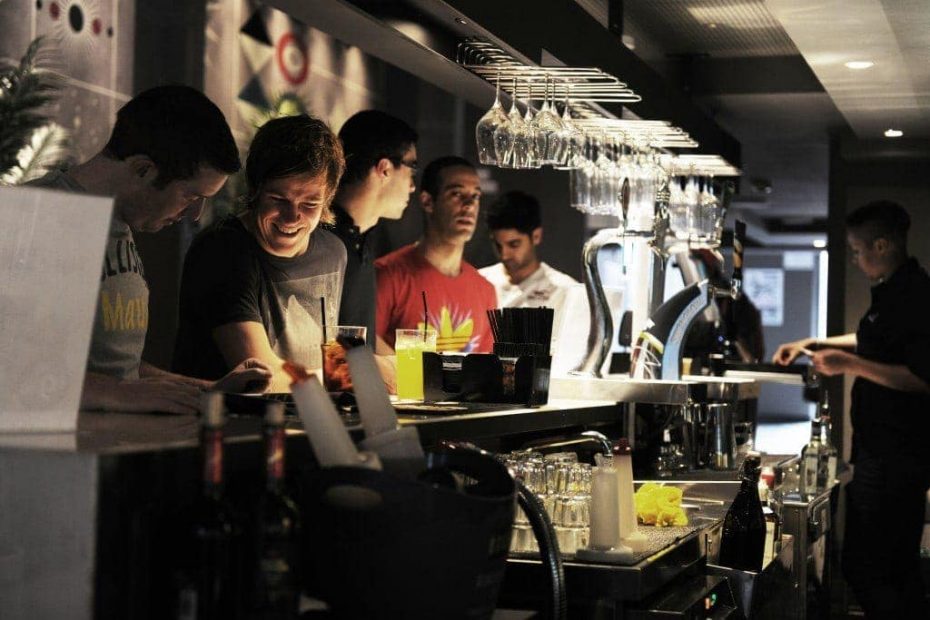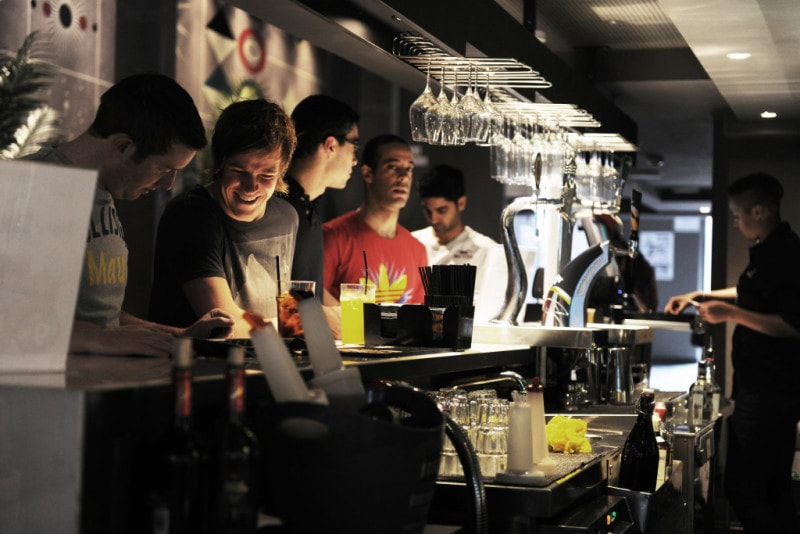 Throughout the day, Belushi's Bar and Restaurant also serves up some pretty decent food at great prices – including a few yummy brunch options – so it's also a good place to ward off a hangover, chat over coffee, or browse the net. Staff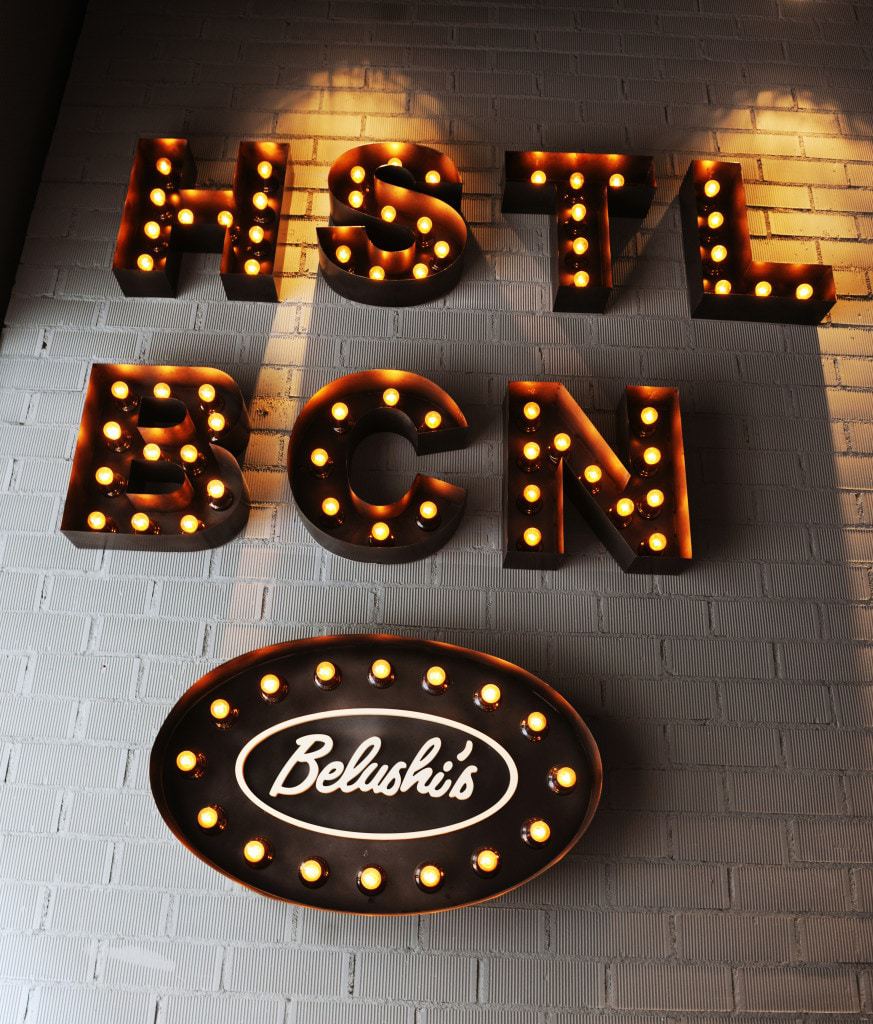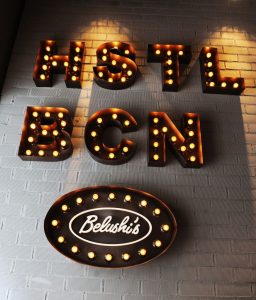 at both the bar and throughout the hostel in general were friendly and super helpful – especially the reception staff who helped me out with a number of problems and were absolutely great throughout the stay. It's so nice to stay in a hostel where the staff are not only on-hand 24 hours a day and multilingual, but also genuinely friendly and really keen to help out with any problems. The guys on reception were great and helped me out with a number of problems – I really can't say enough good things about the staff at St Christopher's Barcelona!
Given it's lively party atmosphere and the big focus on fun, it's no surprise that this hostel is also pretty cool. An industrial grey colour scheme in the lobby and bar areas, with some quirky touches like upcycled wooden crate benches and funky artwork, created a clean and seriously trendy aesthetic which was great fun. Upstairs, every floor was decked out in brightly coloured, cartoonish artworks around the corridors, with neon painted bathrooms and a generally fun, cool vibe, while the lounge area on the first floor was lined with comfy armchairs.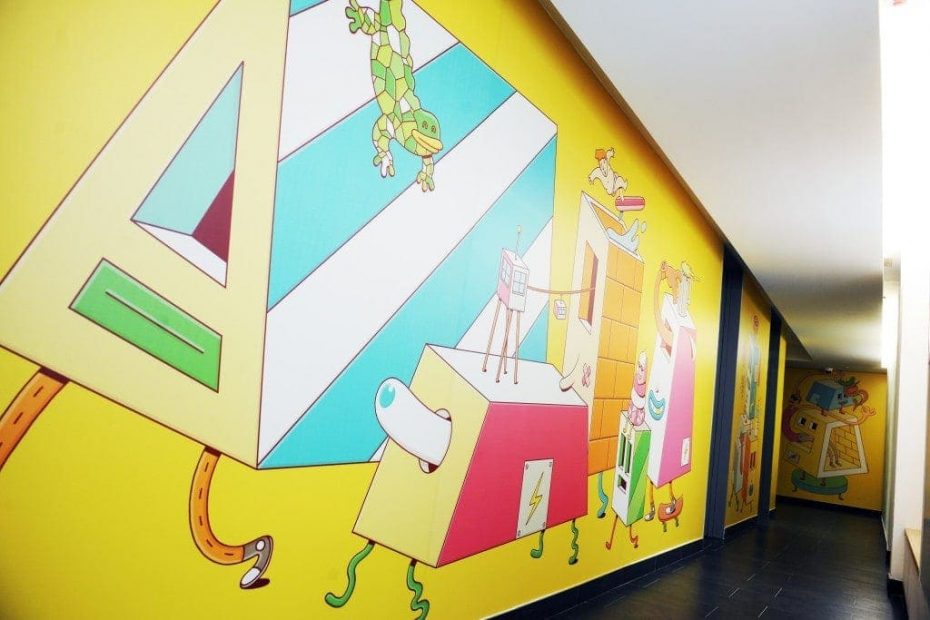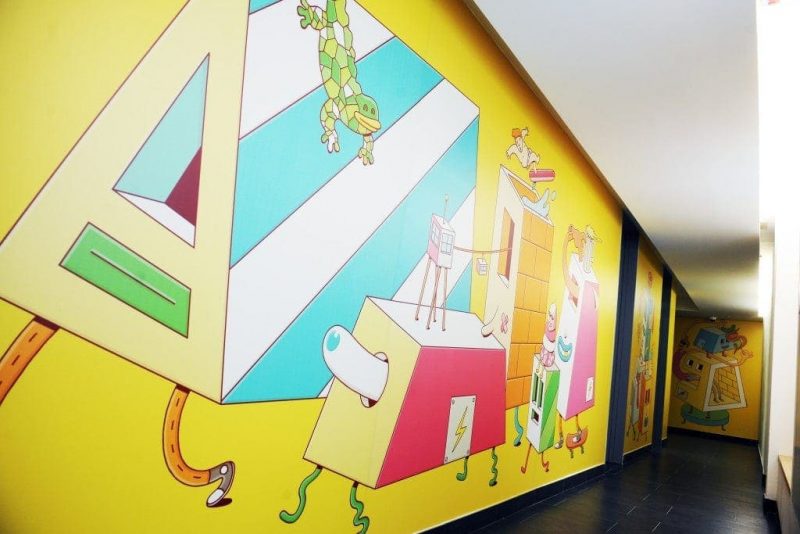 Dorms were spacious and comfortable, and I loved that each bed had a curtain for total privacy, plus an individual re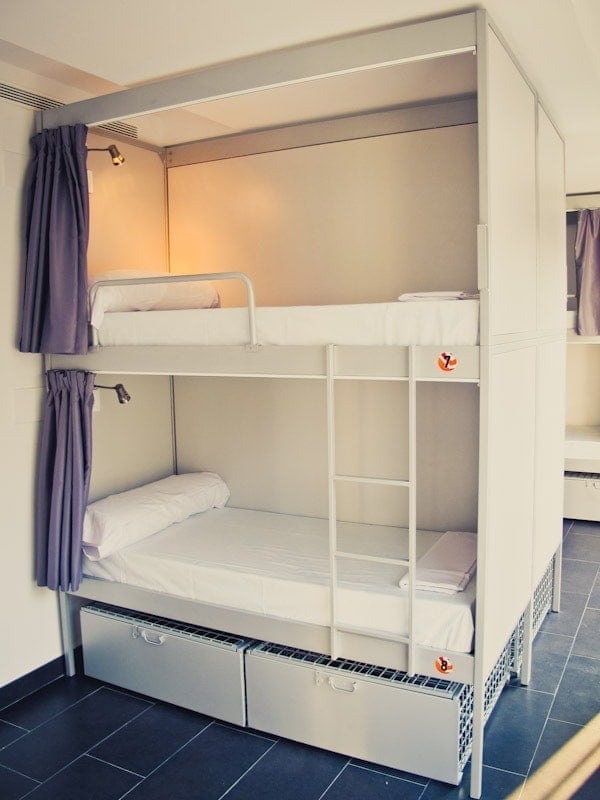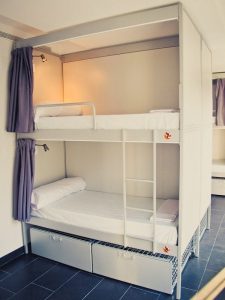 ading light and plug socket and massive under-bed lockers, big enough for my huge suitcase. Things weren't quite as clean as I'd have liked in the dorm, but the bed linen was thankfully all immaculate and the toilets were kept pretty much constantly clean. In spite of being a little worse for wear, perhaps just due to the weekend and the crazy Saturday night parties, it was a comfy dorm and had been really well thought out for travellers.
One slight negative was the charge for luggage storage before and after checkout; I had a full day in the city after checking out and was disappointed to find that I had to pay for a locker to store my case until my bus left that night. A tiny bit annoying – but given the low prices of the dorm beds I don't think it's the end of the world.
Overall, though, my experience at this awesome hostel was fantastic. A friendly and seriously fun atmosphere, with an emphasis on parties and good times, St Christopher's Inn Barcelona was chilled during the day, lively by night, and in the perfect location for exploring the city. Things have been thought about carefully, and definitely with travellers in mind, meaning comfy dorms and all the small extras which really make a difference. Throw in a cheap, fun bar and some funky décor, and you have a pretty cool hostel – which is exactly what St Christopher's is all about.
[stextbox id="info" caption="More Information" bgcolor="F0F0F0″ cbgcolor="0ABAB5″ bgcolorto="F0F0F0″ cbgcolorto="0ABAB5″]
St Christoher's Inn Barcelona – Carrer de Bergara, 3, Barcelona, Spain, 08002
Beds start at 9.90€ per night
Phone: +34 931 751 401 – Email: [email protected]
Disclaimer: I received two free nights at St Christopher's Inn Barcelona in order to research and write this review. However, that hasn't influenced my opinion in anyway, and all thoughts and words above are my own and 100% honest.
[/stextbox]