Some posts on this site contain affiliate links. If you book or buy something through these links, I earn a small commission (at no extra cost to you). Take a look at my privacy policy for more information.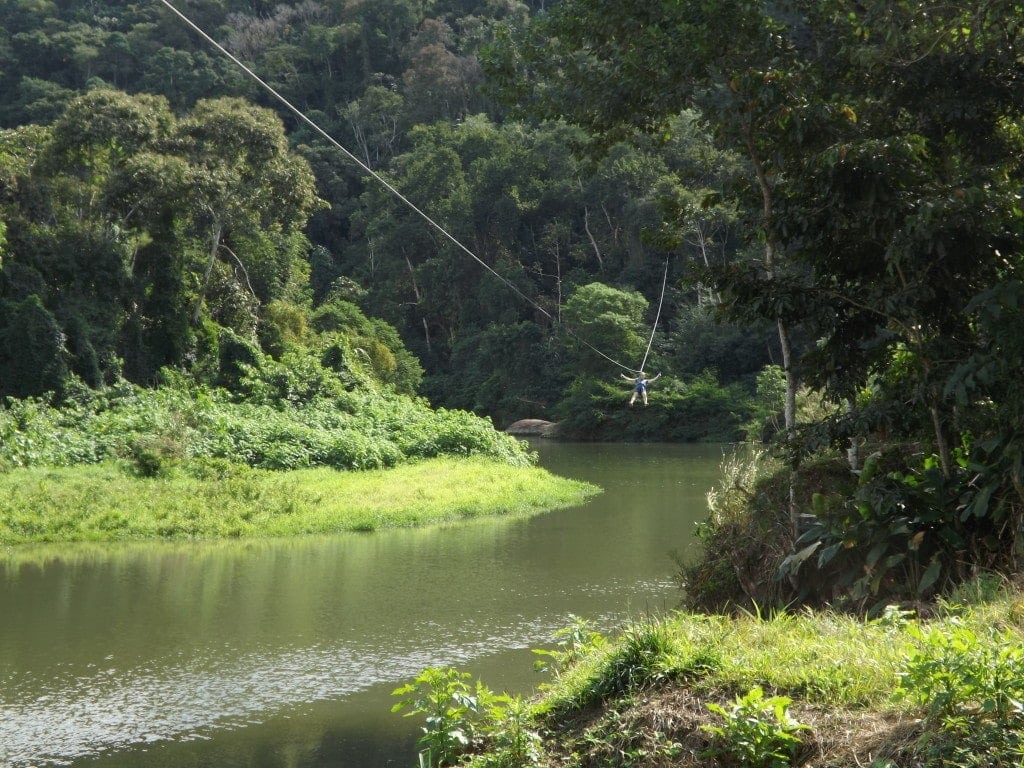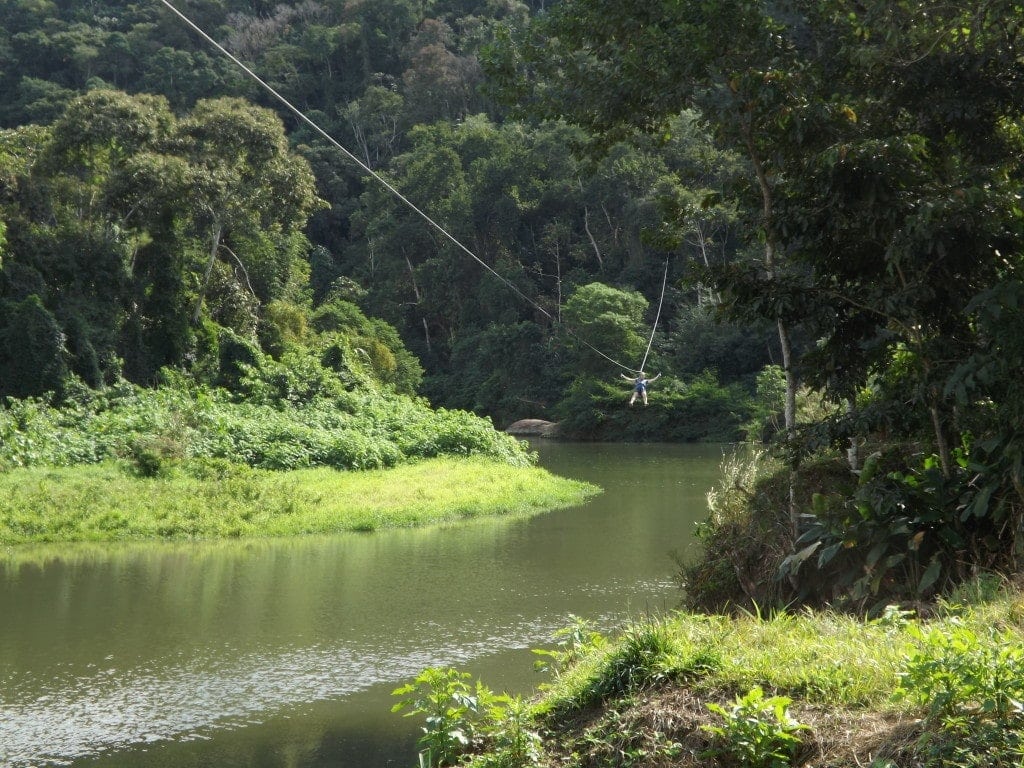 For those who thought that Paraty was all about beaches, boat tours and partying, think again! It's also home to some seriously awesome adventures in the Atlantic Forest, the best of which has to be the fantastic Paraty Sport Aventura. Just outside of town, where the forest becomes thick and tangled, Sport Aventura is a brilliant family-run company similar to England's Go Ape. There are a great range of trails and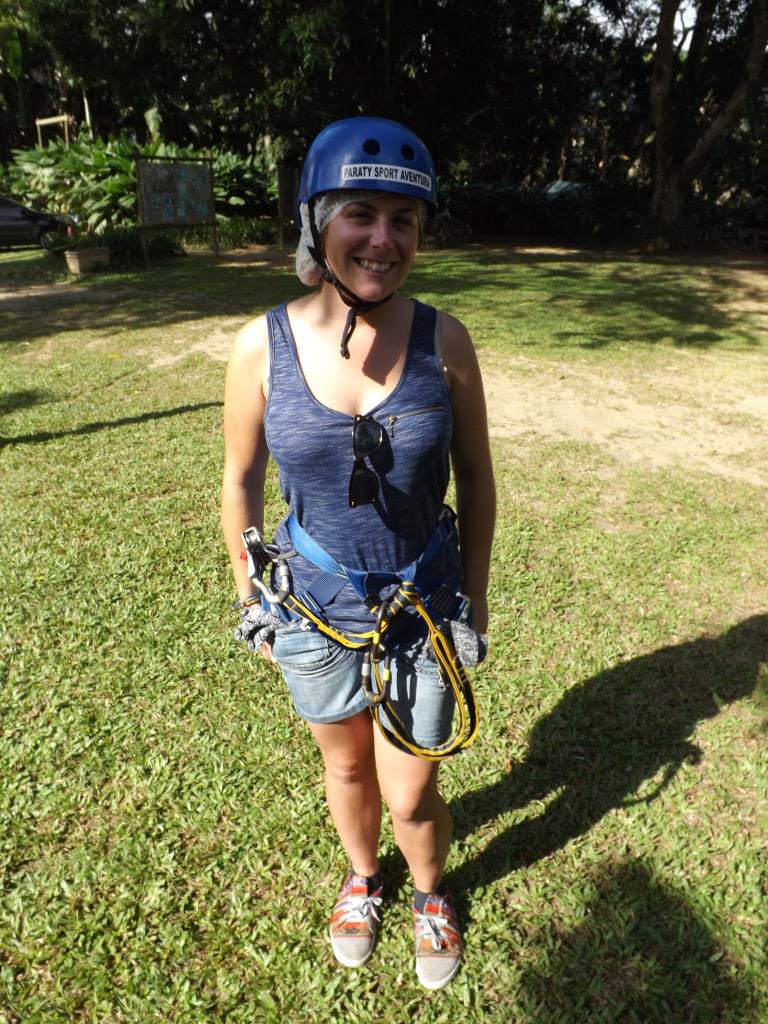 activities on offer – including canopy tours and zip lines, rapelling, canyoning and kayaking – and with a mix of different levels on offer Sport Aventura is perfect for families with kids as well as groups of backpackers.
We arrived mid morning to do a canopy tour, and were placed in a group of four young girls with their dad. I was really impressed by how professional the company were, with decent equipment and a level of organisation at odds with our previous experiences of South American tour companies! All the staff were r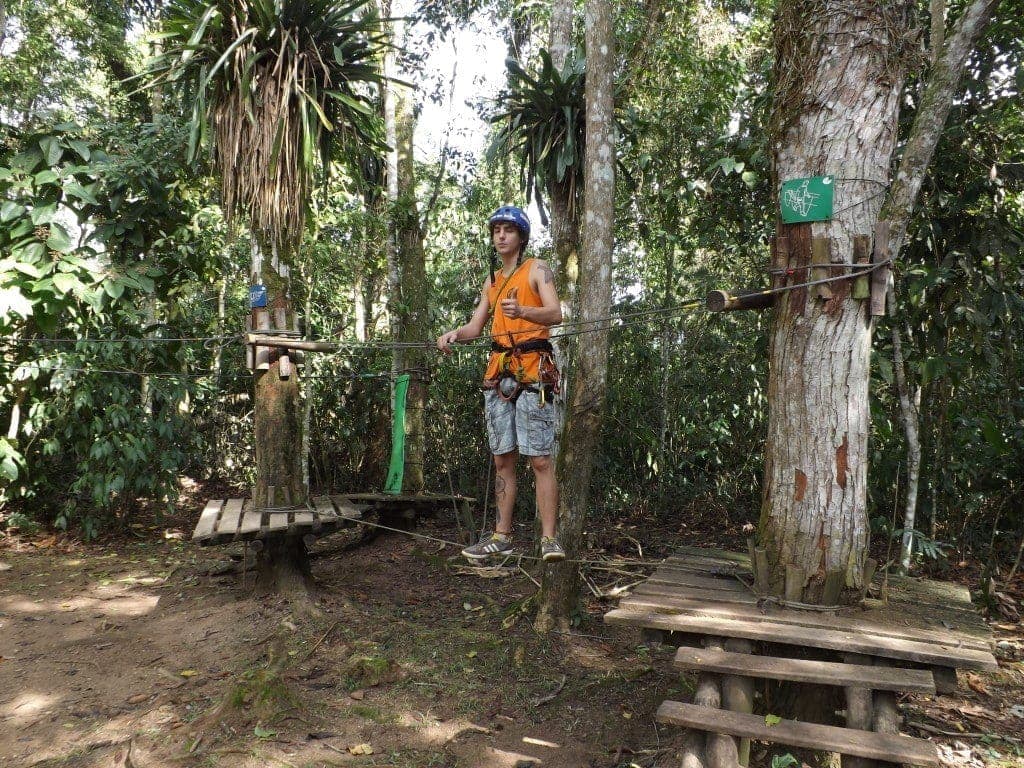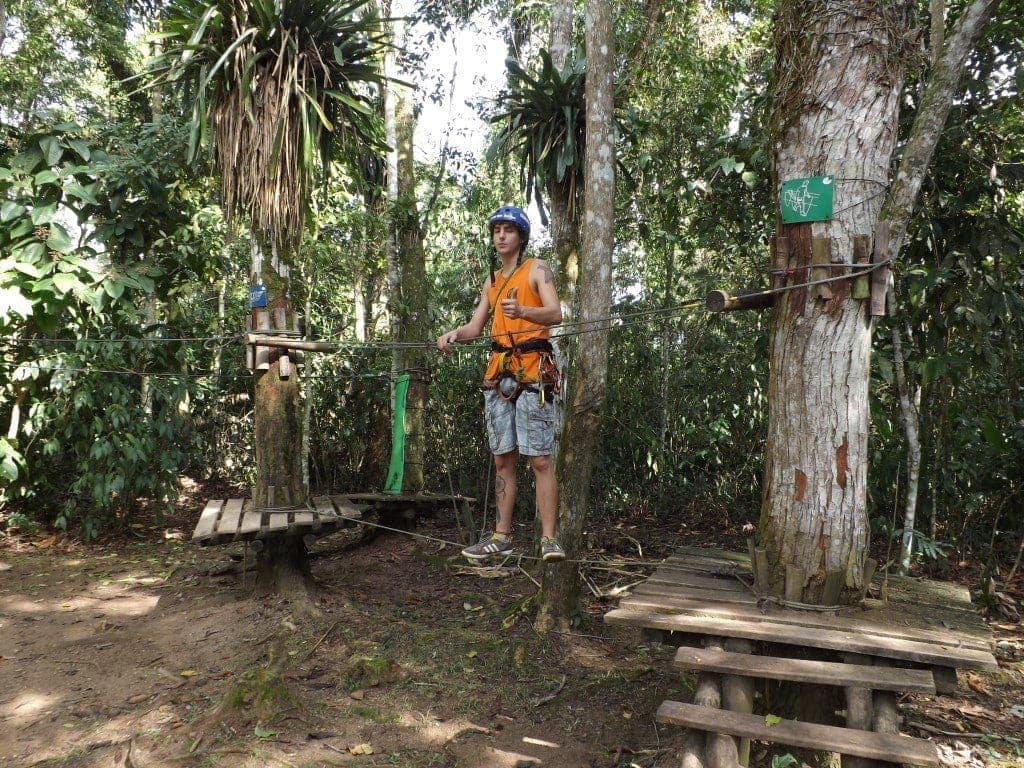 eally nice and welcoming, and our guide, Thomas, was fantastic. We suited up in harnesses, hairnets, helmets and gloves (which were only a little uncomfortable in the humidity) and headed with Thomas into the forest, where he pointed out the height of the platforms of different trails before leading us to the training area for a briefing.
When I saw the girls in our group – the youngest of whom was about eight or so – I was a bit worried that we might be in for a bit of a tame morning, but that was far from the case. There were three differen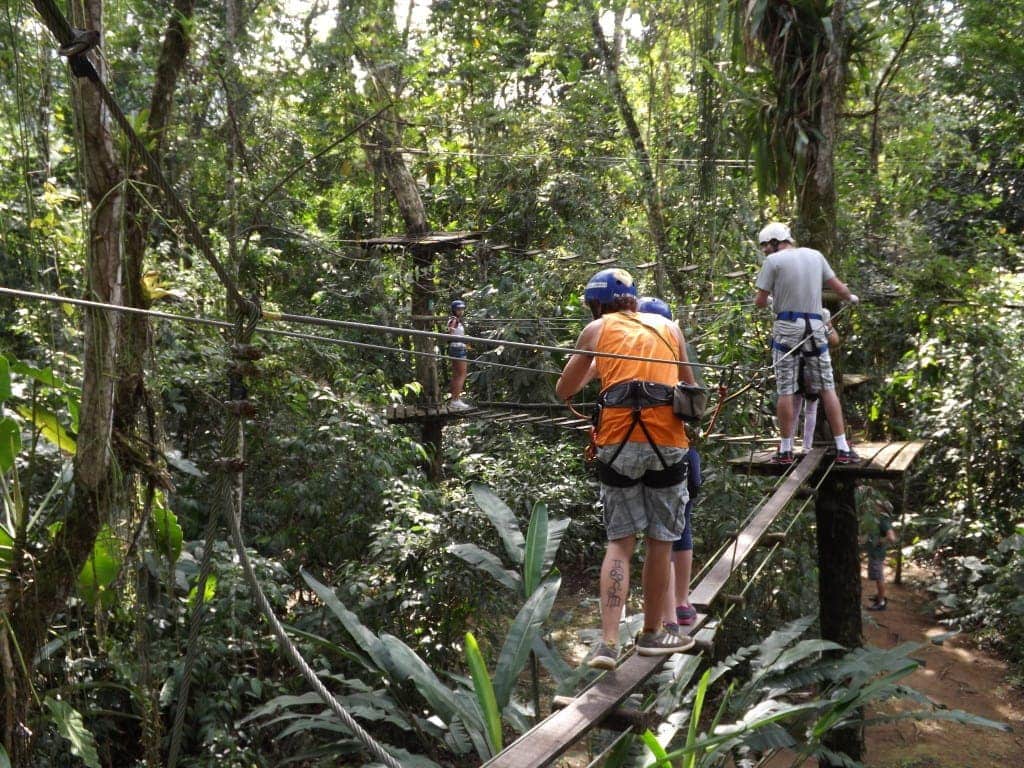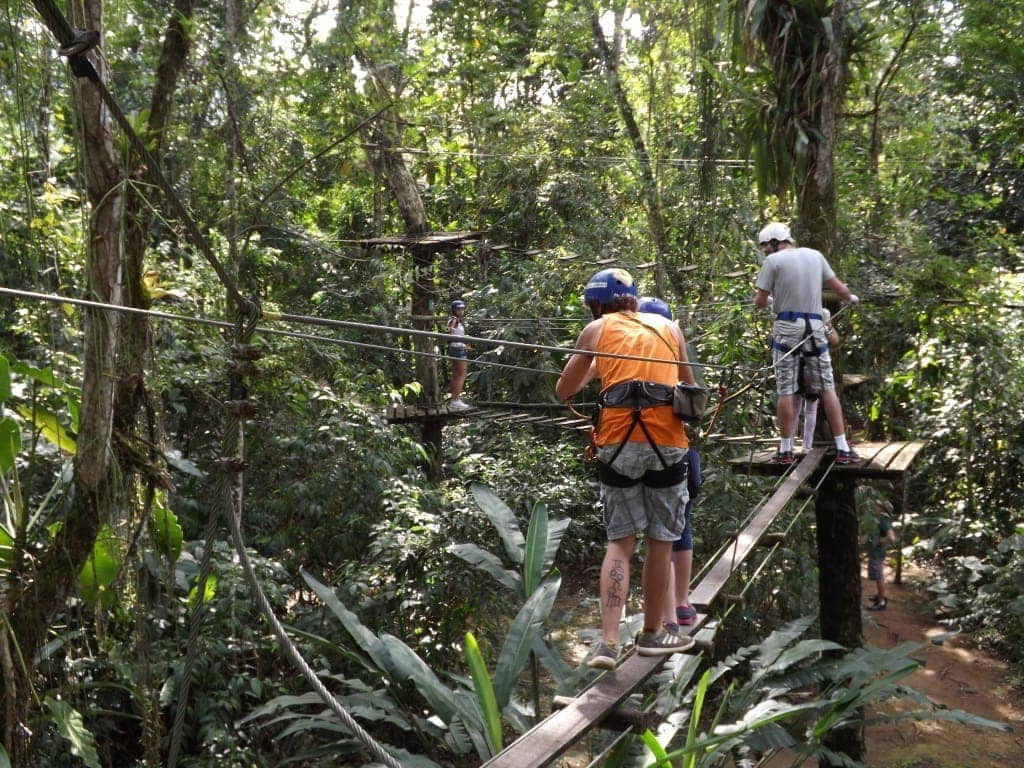 t trails on offer: the Green Trail, the lowest and easiest of the three, which the girls did with their dad; the Blue Trail, a little higher and much more physical, according to Thomas; and the Red Trail, the highest and hardest route, which Sam and I – feeling just a little cocky – opted for.
It was HARD! The first couple of activities – rope bridges and a couple of zip lines – were simple enough, but soon we were pretty high up and facing some really difficult challenges. From a bridge made of a single cable like a slackrope, to wobbly wooden steps suspended fr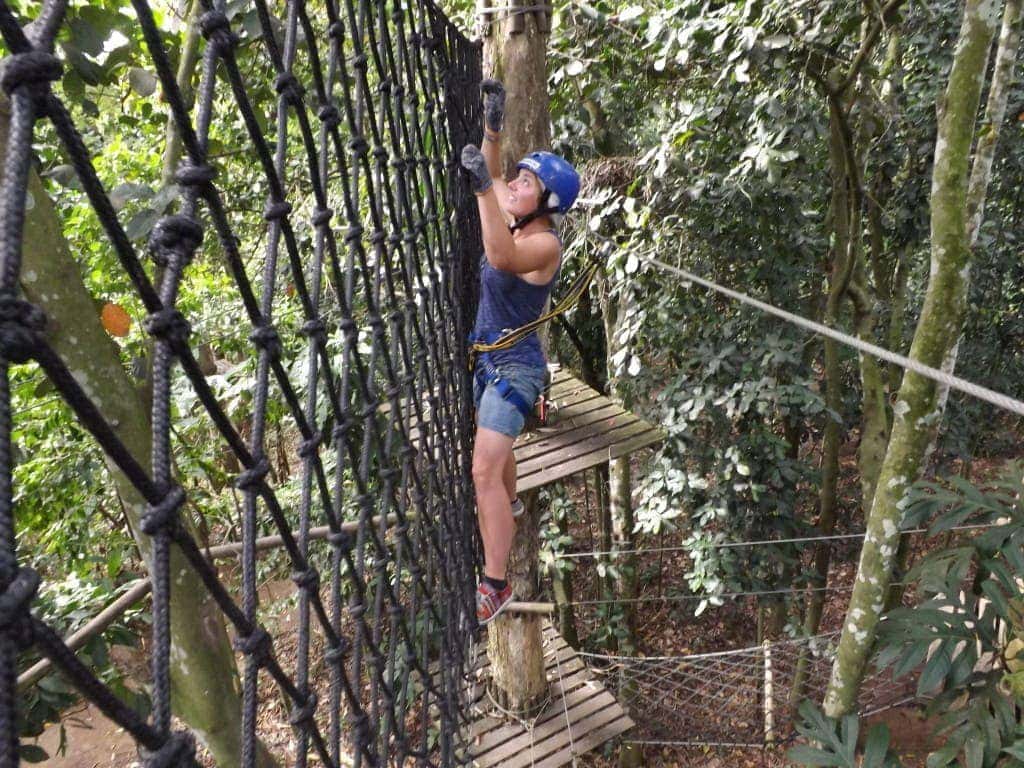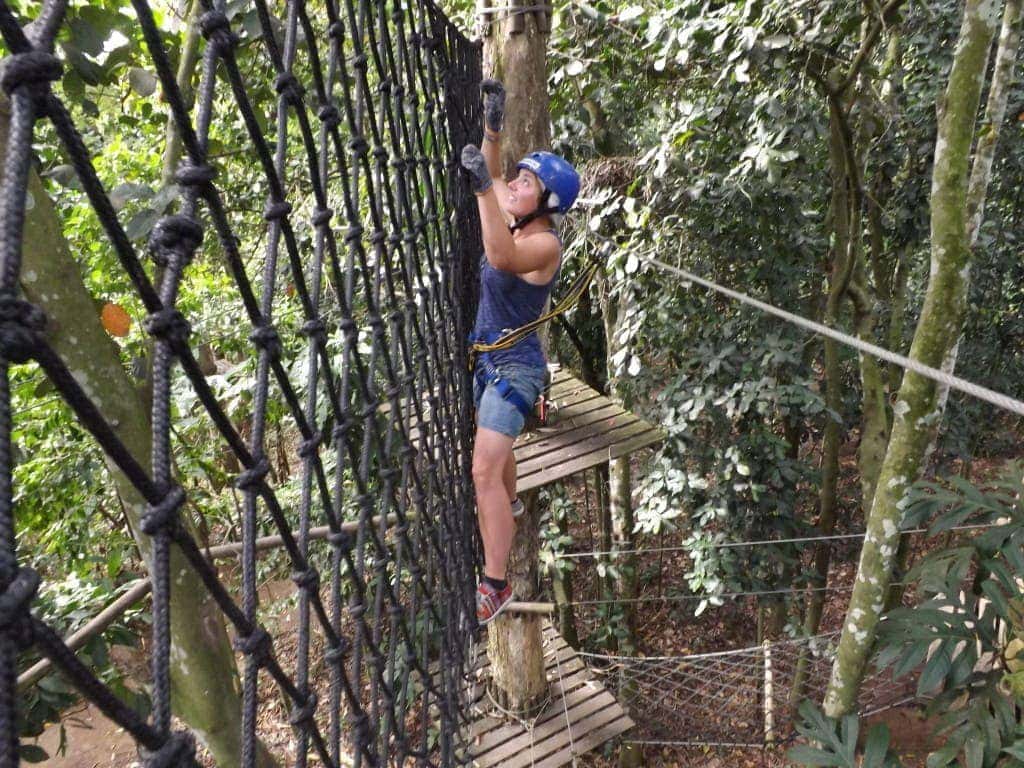 om steel cables, to big U-shaped rings of cable acting as loose, swinging steps, the difficulty level stepped up very quickly. At first, Thomas helped the family group and left us to get on with things ourselves (although he was never out of sight), but as things became trickier he suddenly appeared nearby to call out instructions. He move through the course so quickly and naturally, with no gloves, that it really put my teetering baby steps to shame!
Luckily, Thomas was really friendly and made the whole experience great fun – if a little terrifying. Even though I know that the harness and carabiners would stop me falling, and that slip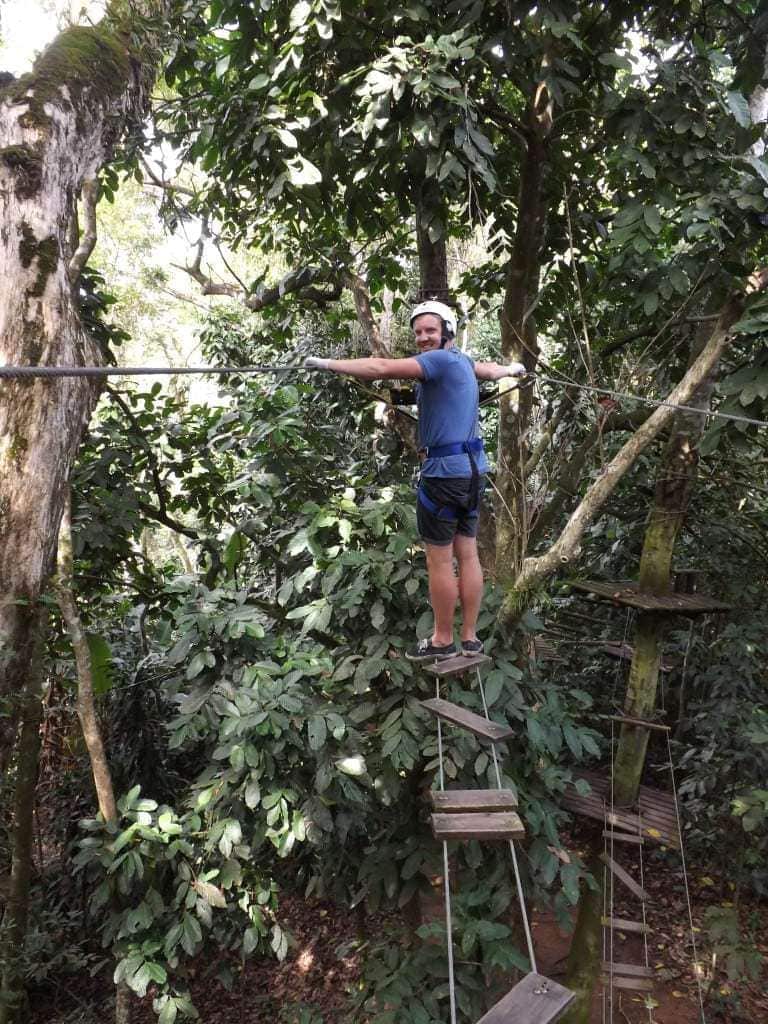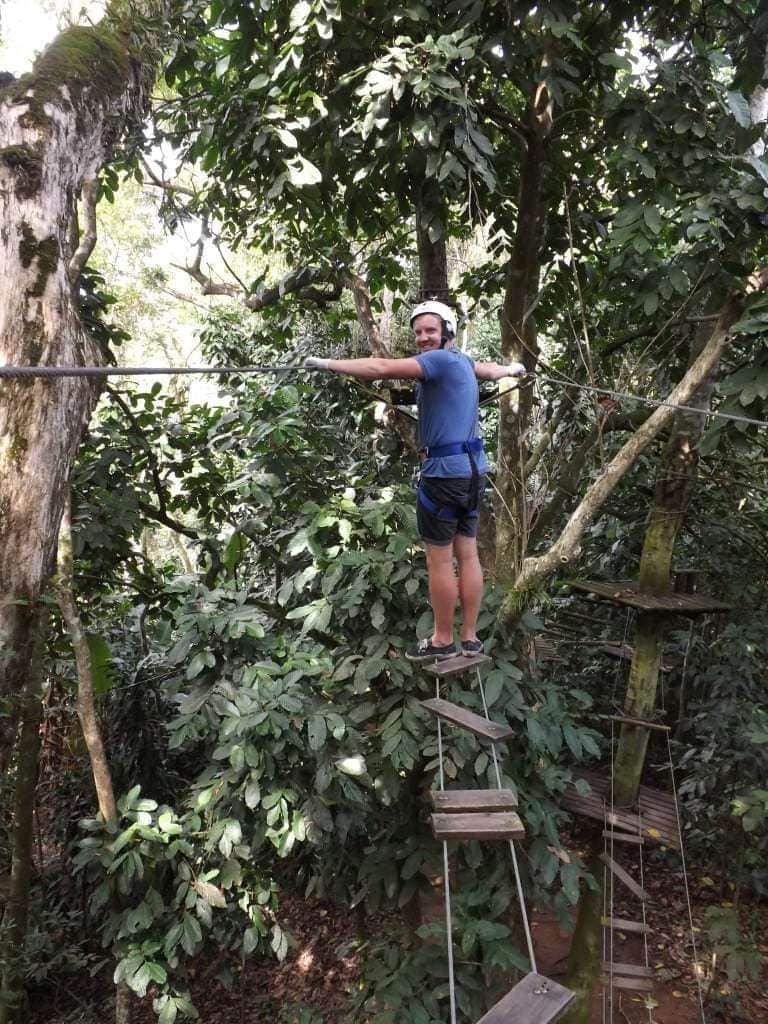 ping would at worse mean landing in an awkward sitting position in mid-air, I still couldn't convince my body to move any quicker. But, the feeling of relief and achievement after stepping onto the platform after each challenge was incredible – if a little dampened by the sight of the next, even harder task! I loved the zip wires, which were easy compared with walking across the bridges and great fun: the almost-flying feeling giving such a rush.
Of the twenty or so activities, the most memorable ones include the Tarzan style ropeswing – which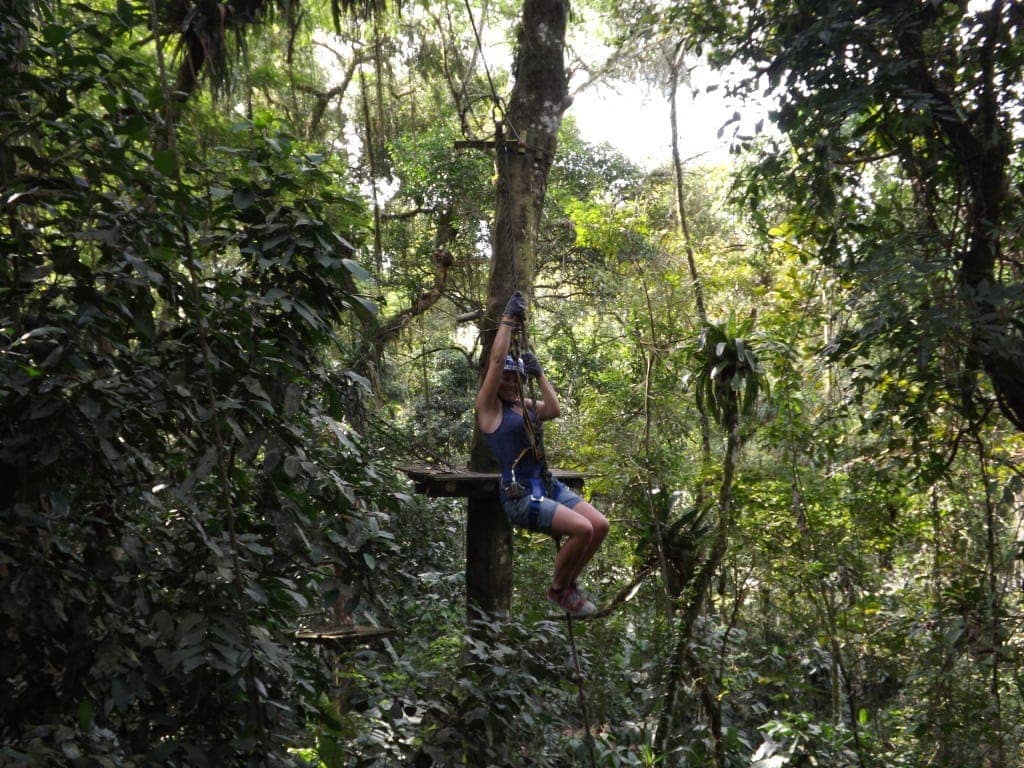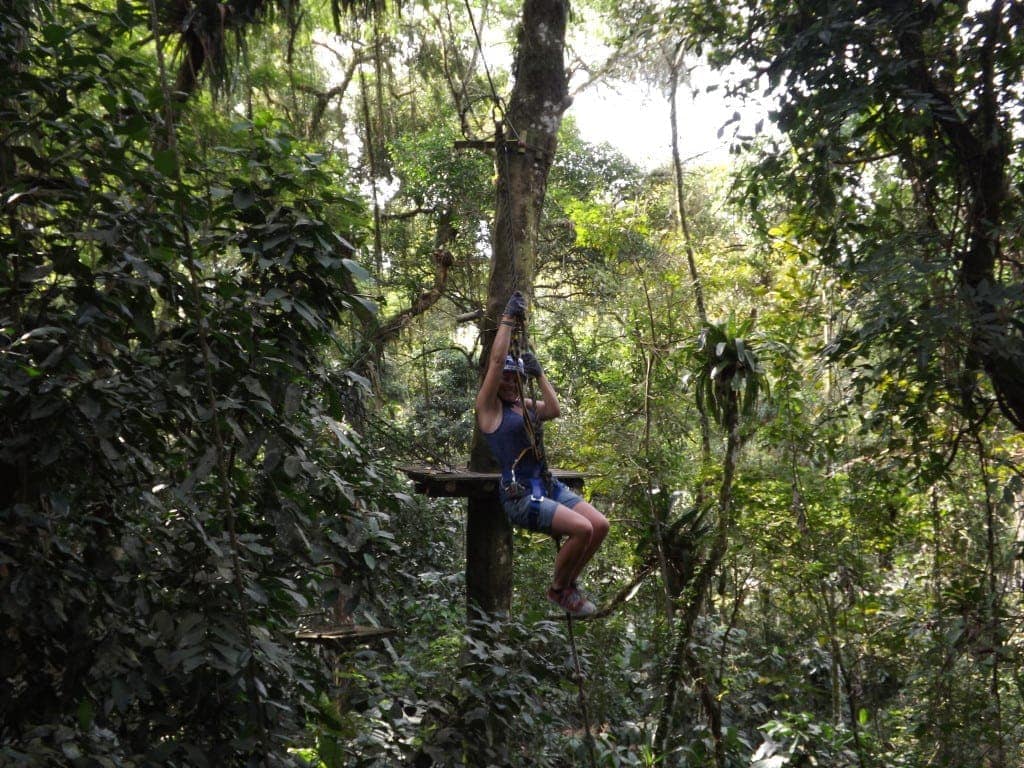 crashed us into a spider-web style net on the other side of a horribly deep drop – a singular metal cable which we had to cross by pushing a suspended wooden 'trapeze' ahead of us for balance, wooden peg-shaped swinging steps, and a rock climb with metal footholds which led us to the final zip line.
After finishing the course, we also opted for an additional mini-course of five front ziplines. These wer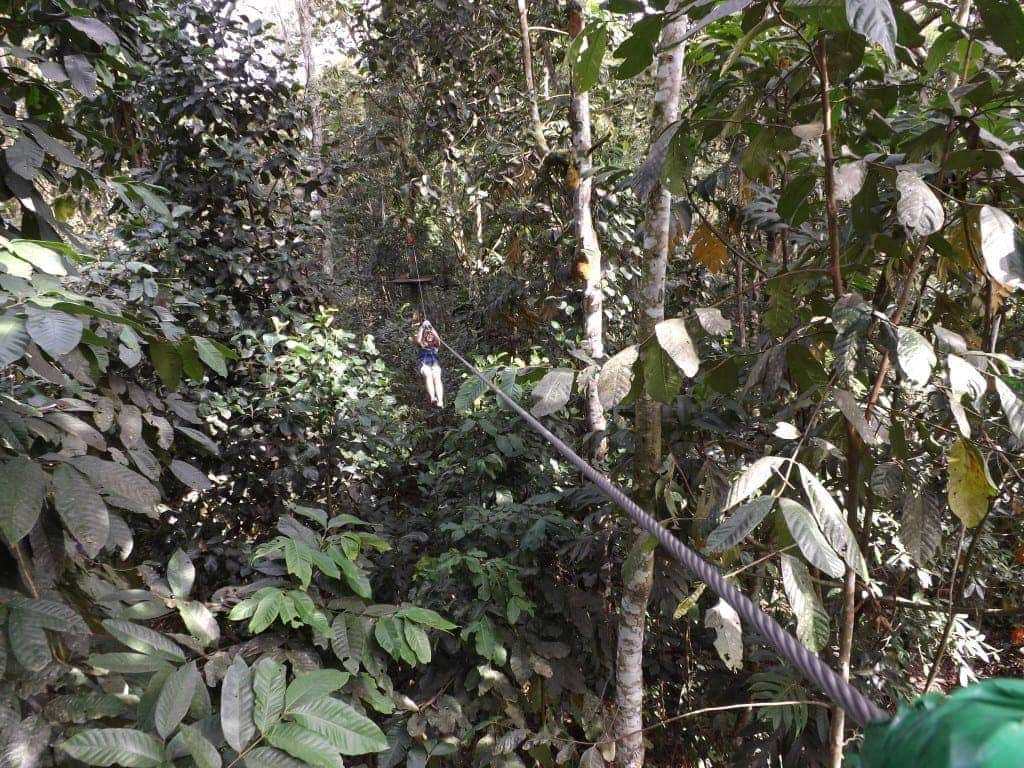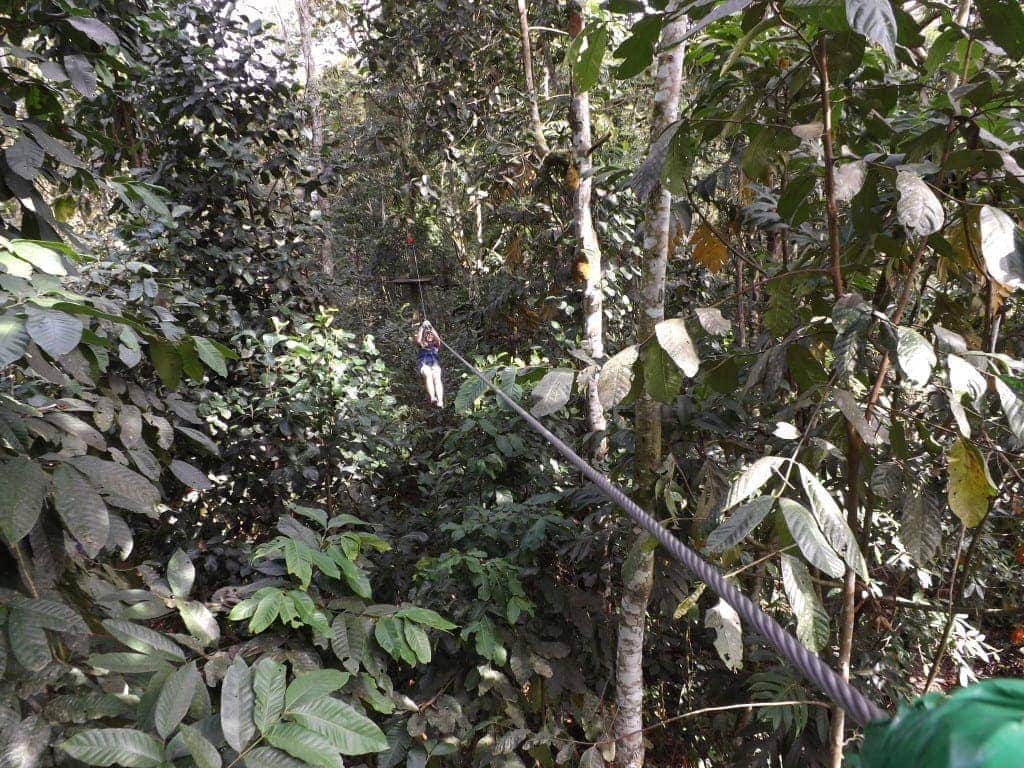 e even higher up than the assault course and much longer than the zip lines we'd already tried. It was fantastic – the feeling of whizzing through a forest of tangled branches gave such a rush of adrenaline. The final zipline was 260m long and stretched over a wide lake, giving beautiful views of the forest as well as incredible speed.
I finished the whole course feeling shaky, thrilled by adrenaline, and a little empowered, with that rare and wonderful feeling of being proud of myself. Although Paraty Sport Aventura was a bit of a challenge, that's sort of the point; so that you can beat your fears, prove your strength (both physical and mental) and really impress yourself. And the whole experience was so much fun, too!
Information
The price for one tree climbing route (an hour and a half) is $50. The best way to to reach the park is by taxi, or using the new Hop On Hop Off Bus company.
Wear comfortable clothes and tennis shoes or trainers – not flip flops!
Take insect repellent.