Some posts on this site contain affiliate links. If you book or buy something through these links, I earn a small commission (at no extra cost to you). Take a look at my privacy policy for more information.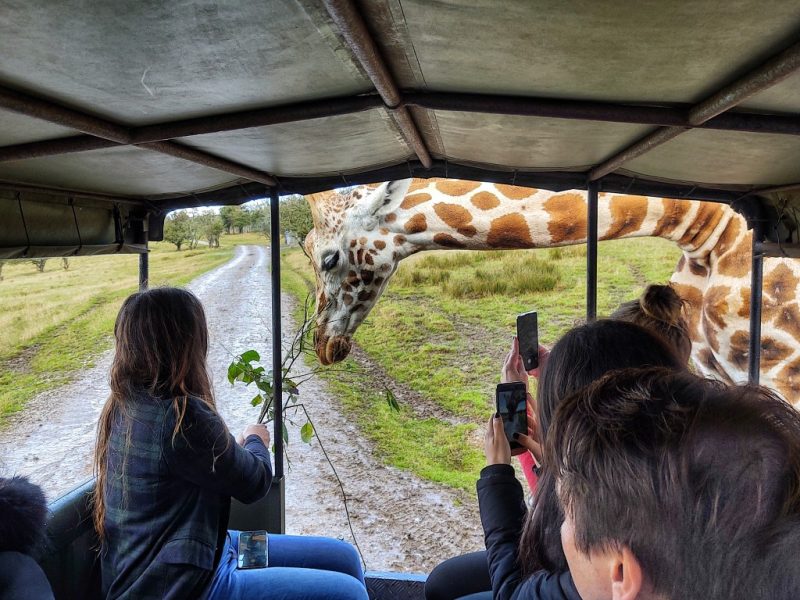 Looking for a smartphone with a fab camera to document your travels? This post is all about why you should consider the Motorola One Zoom or the Motorola One Action.
This week, I headed to Port Lympne Wild Animal Park in Kent to road test the two newest additions to the Motorola One family. A road test involving a bumpy jeep ride, some typically varied British weather conditions, and a few camera-shy animals! I was testing out the Motorola One Zoom and the Motorola One Action – by taking them both on a safari through the park.
If you're after a new phone with a great camera to capture all your travel shots, but without the high price tag of some of the major competitors, both these phones could be the perfect alternative. I was mostly looking at the cameras of the two phones, because that's generally the most important thing for me. I'm not an expert or a professional tech reviewer. I'm just a normal person, who likes snapping photos on my phone! So this review is aimed at other normal people who want a decent phone with a good camera, but don't necessarily understand all the tech-y jargon surrounding phone reviews!
This Motorola One review was written in partnership with Motorola and I was compensated for my time. But, as always, all words and opinions are my own. Prices were correct at time of writing.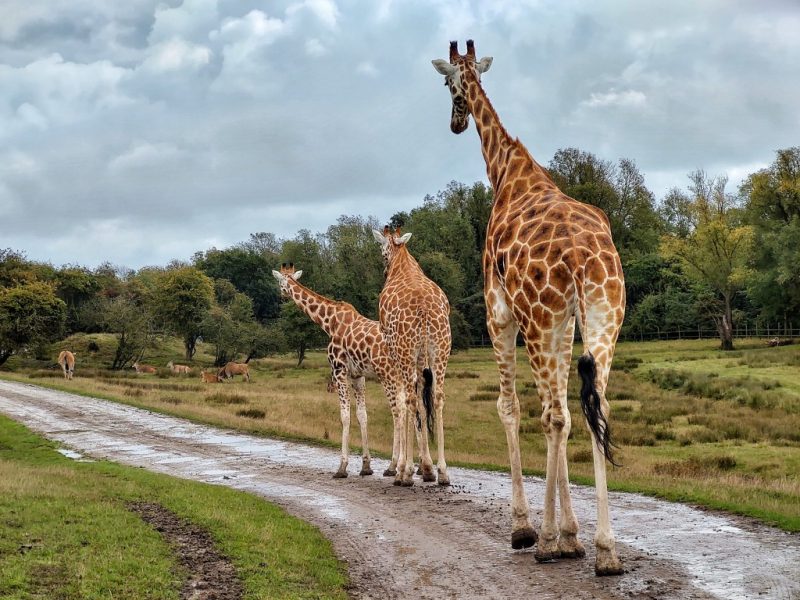 Motorola One Zoom
First up, we have the Motorola One Zoom. With a price starting from £379, it's a lot cheaper than some of the major brands out there. But it comes with an impressive quad-lens camera that is easily one of the best on the market at this price point. I put it through its paces over the course of my wet safari day out, and was suitably impressed.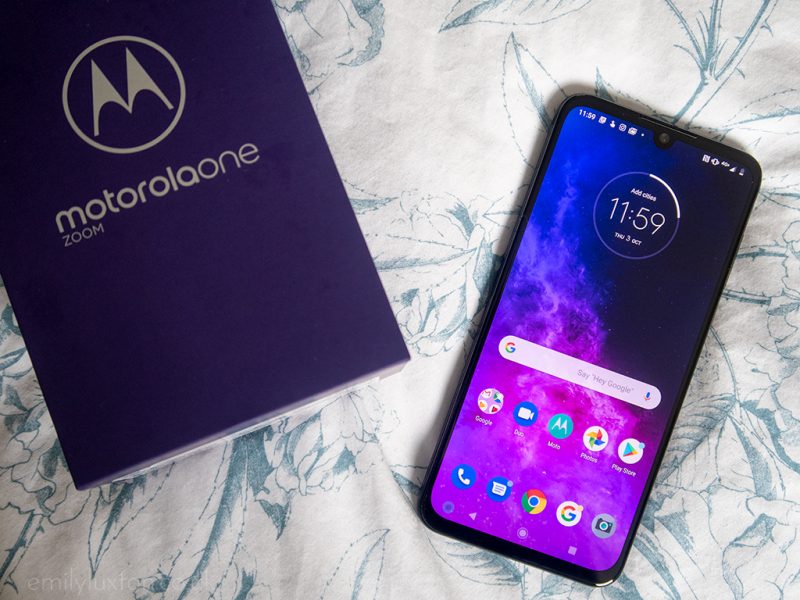 The display is massive – it's a large phone and the front is pretty much all screen. The Motorola One Zoom comes with a 6.39inch Super-AMOLED screen with a resolution of 1080px by 2340px. If you're like me and that doesn't mean much to you, I can say it's a HUGE screen with a really sharp, vibrant display and the colours look great.
So does the phone itself. It's a nice sleek design with a sort of brushed metal finish on the back that looks really cool. Overall, I think it's a nice-looking phone that offers a lot for the price point.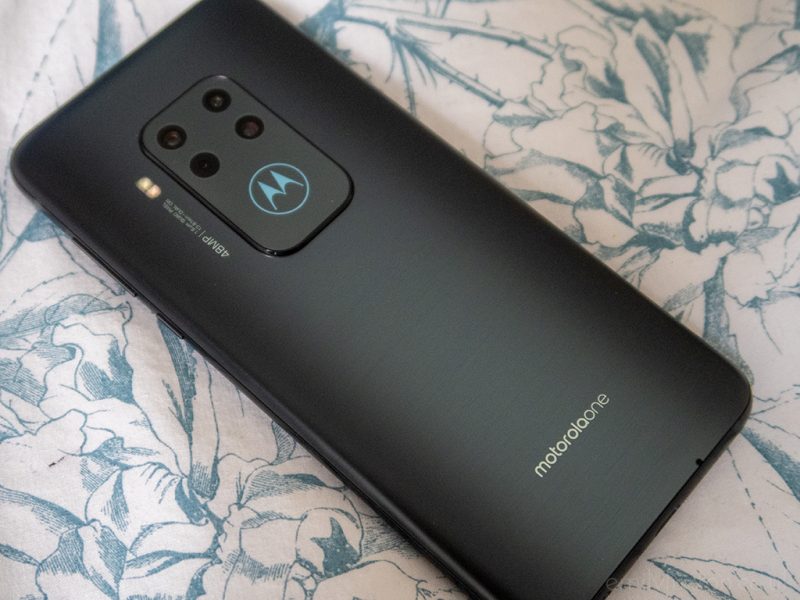 Motorola One Zoom Camera
Why four lenses? There's one for every eventuality, basically! The 3x Optical Zoom lens that gives the phone its name was the one that impressed me the most. Normally I avoid zooming on phones because the results are pixelated and naff. But the Motorola One Zoom actually, well, zoomed. I was able to snap some really good photos of animals that were pretty far away.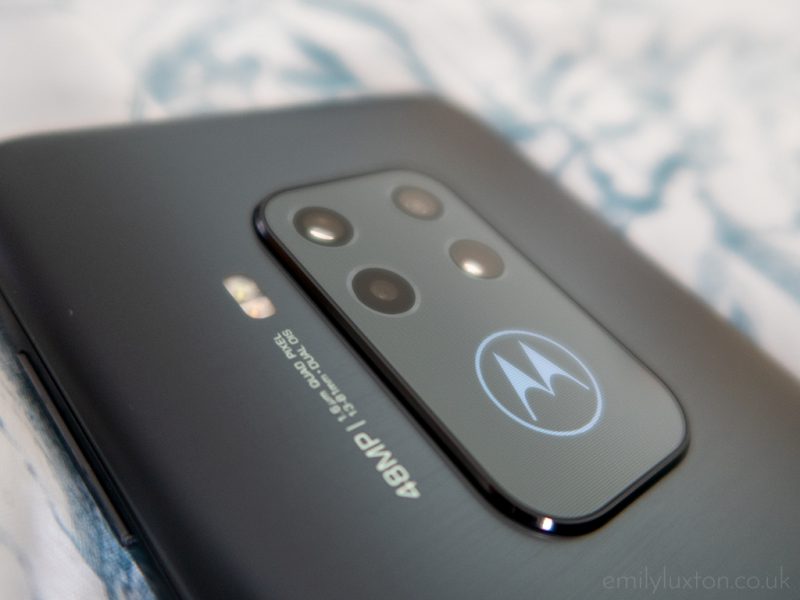 Then there's a 117-degree ultra-wide-angle lens, which means you can capture 4x more in the frame. There's also a 48MP main sensor, and something called Quad Pixel technology, which basically means that 4x better light sensitivity. Plus there's a decent portrait mode that lets you select an object and blur the background.
There are a couple of other cool features, like the cutout mode which lets you select a person and delete the background. I'm not sure I'd ever honestly use that, but it might be fun to superimpose yourself onto some different images!
Other Features
The Motorola One Zoom comes with Turbopower fast charging. Basically, it means that 15 minutes of charging should give you up to 8 hours of battery life. In general, the battery life really impressed me. I used the phone camera heavily for a couple of hours, then left it switched on for over 24 hours, and it still has 29% battery left at the moment.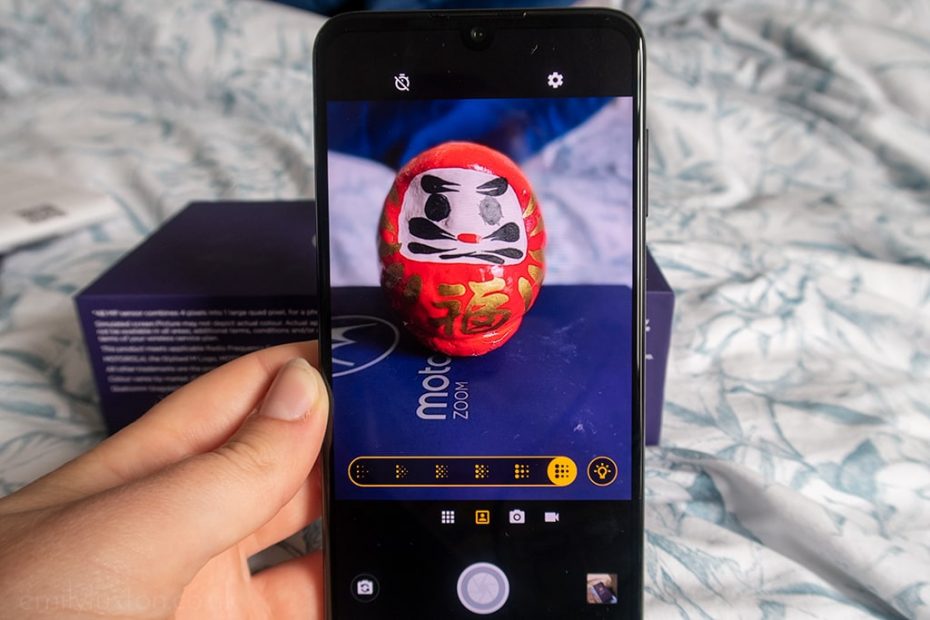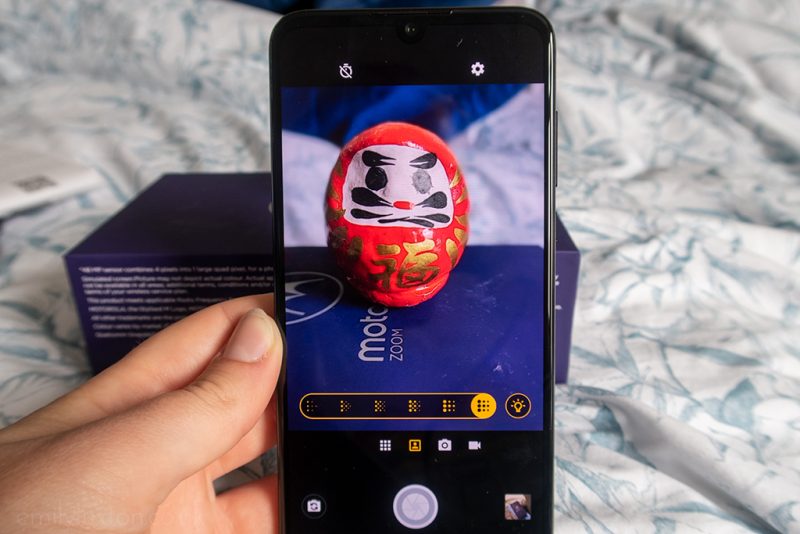 You get 128GB of internal storage, and unlike my phone you can also add an SD card to boost that. If you need to!
One of the coolest features is the user-friendly switch-on intuition. Double twisting your wrist will activate the phone's camera – which is awesome when you're trying to grab the perfect shot in a hurry. Likewise, you can shake the phone twice to turn the torch on and off. I strongly feel that this is
The Motorola One Zoom is splashproof, but it's not water-resistant. Not a massive biggy for most I'm sure, but as someone who recently fell in the sea with my phone, I feel it's an important consideration!
Motorola One Action
I also tested out the Motorola One Action. It's a little smaller than the Zoom, and with prices starting from just £219.99, it's a fair bit cheaper. But is it as good?
Looks-wise, it's a similar sleek design, although the body is plastic rather than metal. Again, the front of the phone is basically ALL screen – and it's another lovely crisp one. I'm watching music videos on it as I type this and it's looking good.
A lot of people have called this the best budget phone on the market right now, and it's easy to see why. The screen is the biggest selling point, in my opinion. It's a 6.3-inch FHD+LCD screen with 2520px by 1080px resolution, at a 21:9 aspect ratio which is what movies are shot in. So no more black bars when you're watching things on the phone. The screen and display on the Motorola One Action really surprised me when you consider the price of this phone!
Motorola One Action Camera
The Motorola One Action's camera was brilliant for video. If you're a bit of a vlogger, or you love snapping Instagram stories, this phone is perfect!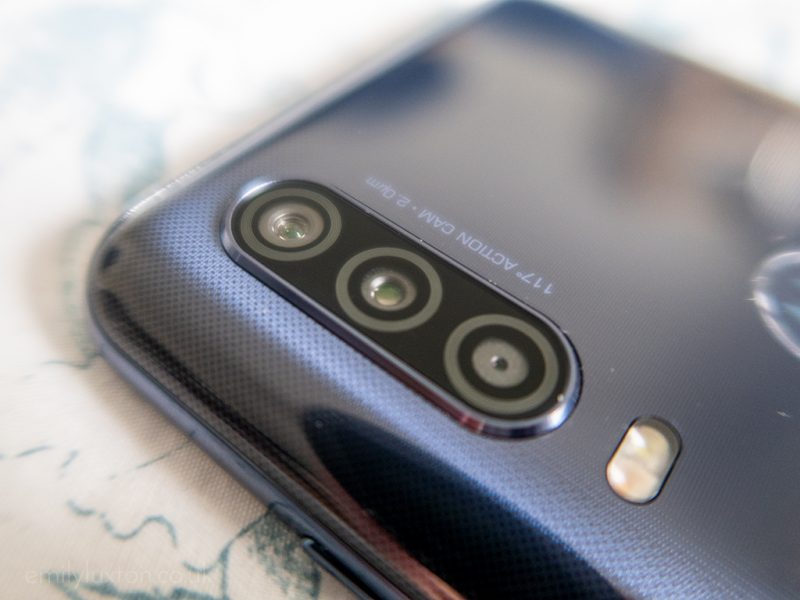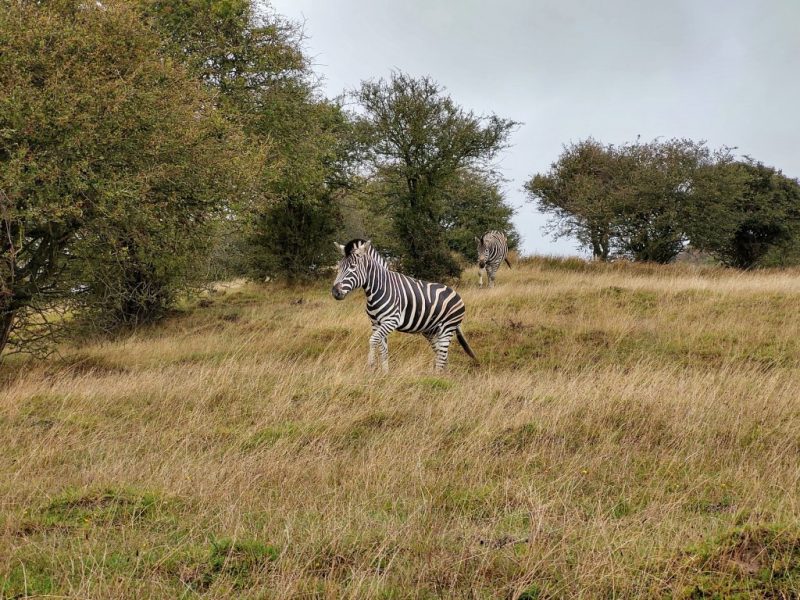 You get 4K video-recording on a 21:9 ratio IPS screen, so videos are crisp and clear and viewable on cinematic playback, with none of the black bars that often get added. The enhanced video stabilisation particularly impressed me; I got some smooth shots while we were bouncing along in the jeep! AND you can take photos whilst filming, which is dead handy if you're trying to
A really clever little feature was that you can tap a button to switch the orientation. So you can hold your camera in portrait mode but shoot a landscape video. It seems like such a small thing but its one that can make a big difference, especially if you're alternating between shooting videos for YouTube and Instagram stories.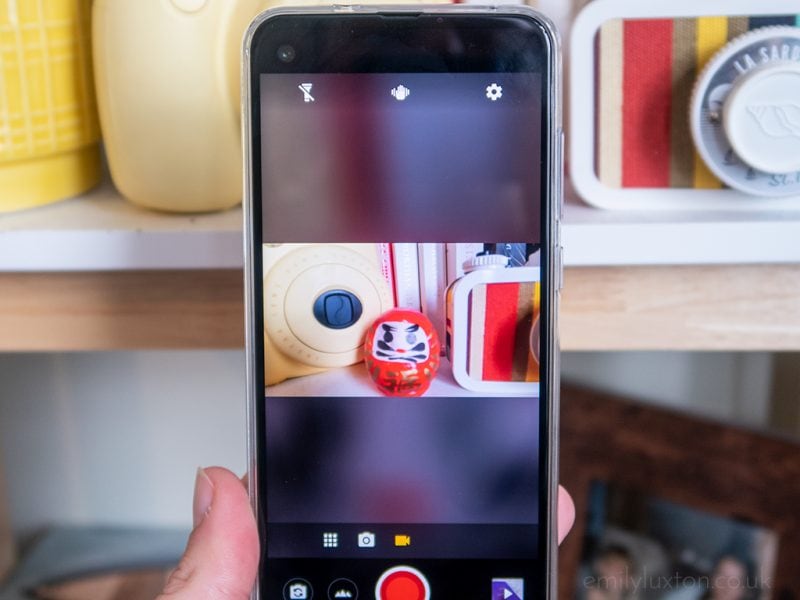 Other Features
Again, you get Turbopower charging, and the battery life is pretty impressive. I did a lot of filming on the One Action during our safari, and again it's been switched on for well over 24 hours – and is still at 63%.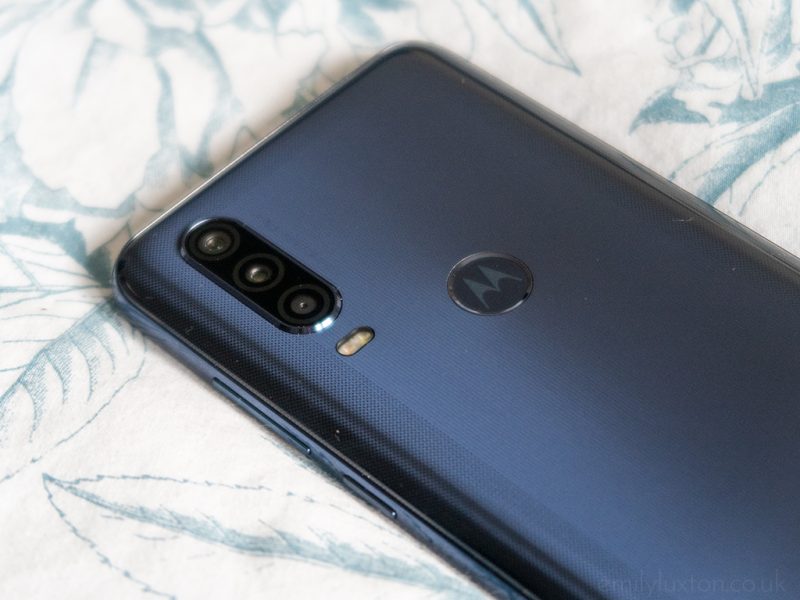 Like the One Zoom you get 128GB of storage (which is whopping considering the price) and you can add an SD card to expand that.
There's also that same shake-to-activate feature for the camera and torch, which is something I absolutely love. So simple, yet so clever!
Summary
If you don't want to splash out the insane prices of some of the latest phones on the market, but you do want something really decent for your money, both the Motorola One phones are great. I was genuinely really impressed with what I saw. Great screens, really decent cameras, and some clever little features that just make using your phone easier.
The One Action is great if you want a lot of phone for your money. It's definitely one of the best budget phones available right now and would be perfect for documenting your travels and uploading endless holiday spam! But the One Zoom would be my personal choice; that quad camera and 3x zoom are amazing features for a phone at that price point!
Massive thank you to Port Lympne Wild Animal Park for such a fun day out. If you have time, read about their conservation/repopulation efforts – they're doing such a great job!