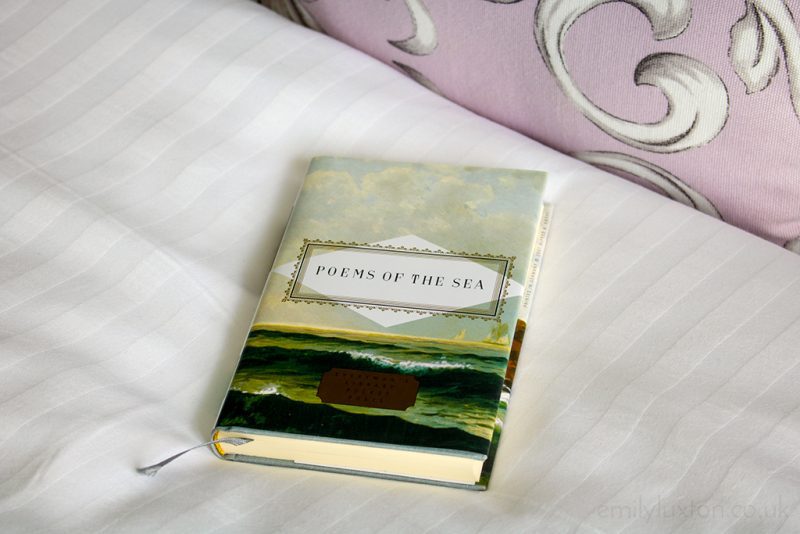 Travelling and reading, for me at least, go hand in hand. Long journeys, dull layovers, and lazy days at the beach are all improved by a good book. And in between trips, there's nothing like a great travel read to fuel your wanderlust.
eReaders are perfect for frequent travellers like me, because they mean you can take a whole library away with you. But, they're not ideal; life on the road can be risky for electronics, and reading by the pool or beach can put an eReader in dangerous proximity to water. So, when Kobo got in touch to ask if I wanted to try out* their brand new waterproof eReader, the Kobo Aura H2O, in exchange for a review, I was very excited! It sounded like the perfect solution for travellers who love to read!
*This is my Kobo Aura H2O review. As always, all words and opinions are my own.
Is it Really Waterproof?
This seemed like the most important question to me, so I thought I'd answer it first. The Kobo Aura H2O is advertised as the first and only waterproof eReader. Kobo say the Aura H2O is waterproof for up to 30 minutes in 1M of water with the port cover closed. It's IP67 certified, and is also sandproof, and dustproof. Perfect for reading at the beach.
I tested mine out straight away, and I'm happy to report back that my Aura H2O is still working just fine after multiple dips – including being dropped into a jacuzzi (by mistake – these things really happen!). The touchscreen isn't particularly responsive whilst submerged, so I wouldn't recommend actually trying to use it underwater (why would you?), but it means you can read in the bath, at the beach, or in a the pool without the worry of dropping or splashing your eReader.
The Practical Stuff
Size and Weight – Compared with the latest Kindles, several reviewers have remarked that the Kobo Aura H2O feels a little bulky. But, until now I've been reading on my Kindle Fire HD – a half tablet half eReader that's pretty big and heavy. Next to that, my Aura H2O feels much more lightweight and is a perfect hand-friendly size. The Kobo Aura H2O comes in at 179 x 129 x 9.7 mm and weighs 233g – I find it easy to hold with one hand even whilst lying down.
Screen – The benefit of the slightly larger size is that it allows for a much bigger screen size – an extra-large 6.8″. This is very clear and crisp, thanks to the no-glare 1430 x 1080 pixel ClarityScreen+. The no-glare screen and the adjustable ComfortLight really do make the experience feel like reading on paper. In fact, my sister just mistook my Aura H2O for a shop dummy because the screen looks almost fake! I've read in varying lights – on a plane, in a jacuzzi at sunset, indoors, and in bright sunshine – and never once felt like I was straining my eyes. When sunlight hits the screen directly there's a bit of reflection, but barely noticeable, and the text is still perfectly visible.
Battery Life – My old Kindle Fire rarely lasted a full day, so I was intrigued by the promise of up to 2 months of battery life. Since the first charge, I've been using the Aura H2O on and off for just over three weeks. As I write this, it's still on about 50% – it's lasting really well.
Storage – The 4GB memory on the Aura H2O can hold up to 3,000 eBooks. There's also a microSD card slot – just in case that's not enough!
My Kobo Aura H2O Review
Reading
So, as shown above, the Kobo Aura H2O is great to read on. I've read one full eBook so far, as well as numerous website articles on the Pocket app. This is one of the biggest selling points about the Kobo for me; Pocket is an app that allows you to save online articles to read them offline later. I've been using it for ages; whenever I spot something interesting whilst I'm working I save it to pocket and read it later on my phone (usually on a plane). On the Kobo Aura H2O, the Pocket app is brilliantly integrated and really accessible. This is such a great feature – and probably my favourite thing about the Aura H2O after the water endurance.
RELATED POST: Best Apps for Travel
The screen and text are perfect to read on, and I love that the font is customisable. You can choose from 11 fonts and 24 font sizes, and even adjust the margin sizes. Most of them are fonts I personally wouldn't bother with (in fact I'll probably only use two). But still – it's nice to have options!
There's a decent built-in dictionary which comes up with word definitions when you highlight them. Selecting text also gives you the option to highlight it and add notes, share that section on Facebook, or search Google or Wikipedia for that phrase. Helpful if a book starts referencing something you've never heard of! It's a shame that the sharing function doesn't include Twitter, though, as that's where I'd be more likely to share a quote.
Buying Books
One thing I wasn't sure about at first was the Kobo Book Store. There are over four million books and comics in the Kobo Book Store, so it's well-stocked with plenty of new releases. But, it's hard for anyone to compete with Amazon in terms of numbers and prices. Kobo's library is a little hard to browse on the device itself, but it works really well on the website store. Buying on the Aura H2O is extremely easy once you've set up an account and added a card.
That being said, there are some great special offers on the Kobo Book Store. I also find it far easier to browse. There are recommendations, new releases, and cool sections like an Author of the Month. It feels more like an actual book shop website, rather than an eReader library. The recommendations work really well, too. Kobo lets you rate titles you've previously read (even ones you didn't read on the device). Which means the recommended reads are really accurate.
All in all, the KoboAura H2O is a great little eReader. It works well, it's easy to read on, and it's waterproof. It's the only waterproof eReader on the market right now – something I find a little hard to believe given how insanely handy such a feature is – so it's well worth a buy if you like to read on/near water.
Hope you enjoyed my Kobo Aura H2O review! Leave a comment and let me know what's next on your reading list!