Some posts on this site contain affiliate links. If you book or buy something through these links, I earn a small commission (at no extra cost to you). Take a look at my privacy policy for more information.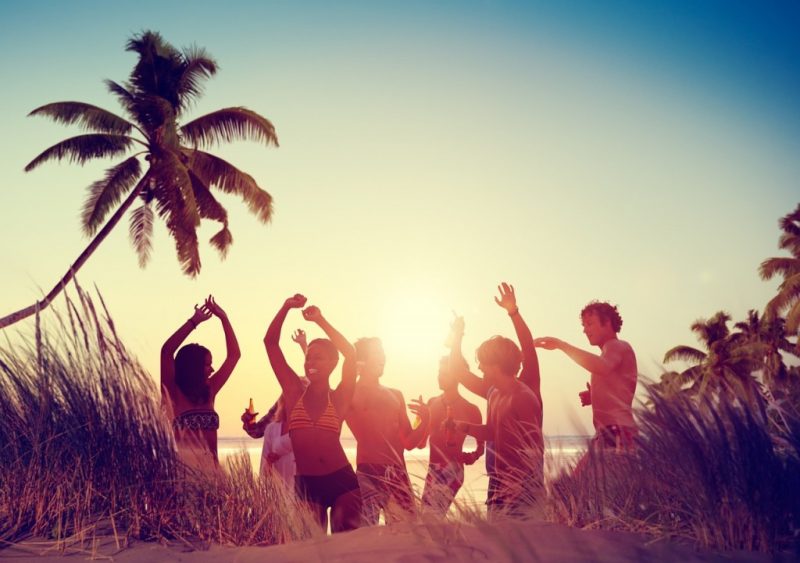 Looking for the perfect portable speaker to take travelling? Whether you need some tunes for a camping weekend or beach party, or you want something small and lightweight for your RTW trip – I've got you covered. These are some of my favourite portable speakers for travel, all tried and tested by me*. All the speakers (except one) feature Bluetooth connectivity and there's a range of options to suit all needs and budgets. Enjoy!
*(or by a blogger I trust).
Disclaimer – some (not all) of these speakers were sent to me free of charge, but all opinions are my own and honest!
BEST PORTABLE SPEAKERS FOR TRAVEL
Bright Sounds 2 from Lava Accessories
Best for – Short breaks and camping trips
Pros – 36 hour play time. Water resistant. Doubles as a lamp and power bank.
Cons – Too big for long-term travel.
Price – RRP £39.99 (click here to check the latest Amazon price)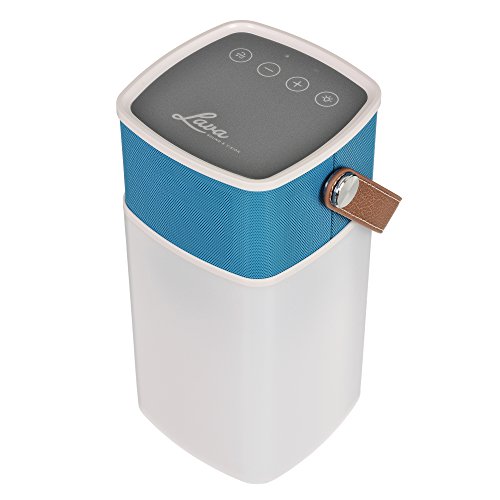 The BrightSounds 2 from Lava Accessories is the largest speaker on the list and while I love it, it's not the best speaker for travelling light. At 19×9.5×10.3cm and weighing 0.624kg, you probably won't squeeze this into your backpack for a RTW trip. But it's awesome for camping trips, days out, festivals, or even short holidays if you have the luggage space and want to start a party by the pool.
Other than the 36 hour battery life and great quality sound, the Lava BrightSounds 2 comes with a list of super cool extra features. It doubles as an LED light with dimmer control, so it's perfect for camping. It's IPX4 water resistant and can survive dirt, dust and splashes. AND it has a built in powerbank so you can charge your phone on tablet from it. This is the Swiss Army Knife of speakers – and it's super pretty to boot. I love the cute leather carry handle and funky range of pastel colours.
UE Roll 2
Best for – Backpackers, hikers, and long-term trips
Pros – Cool design. Great size. Marine-grade bungee cord to attach. Waterproof.
Cons – 9-hour battery life. More expensive (but your paying for a bunch of awesome features).
Price – RRP £79.99 (click here to check the latest prices on Amazon).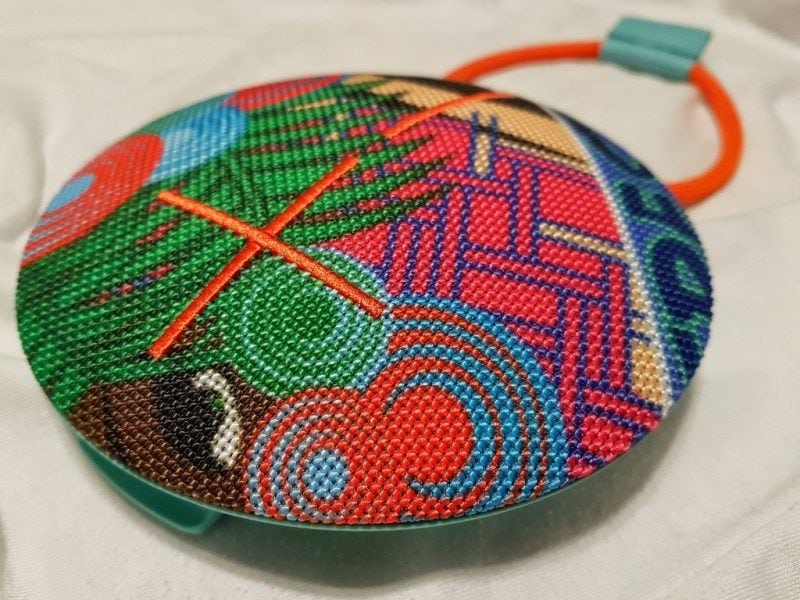 Great quality sound, surprisingly deep base, and a fabulously sleek design – the UE Roll 2 from Ultimate Ears is perfect for travel. It's small and lightweight enough to fit into a backpack or suitcase without costing you valuable space. And the design is perfect for the space-conscious; the super-strong bungee cord folds away into the back leaving you with a small disk that easily slots away. Or you can attach it to the outside of your backpack to save space while you hike.
As well as being seriously funky in a range of bright colours – I love the anime-print design – the UE roll is brilliantly practical. Especially because it's IPX7 rated waterproof, so it can be fully submerged up to 1 metre for up to 30 minutes. Great for days at the beach!
X-Mini Kai
Best for: Long term travel with limited space
Pros – Really small with clever space-saving design. Built-in microphone.
Cons – 8 hours battery life.
Price – RRP £34.99 (click here to check the latest prices on Amazon).
The X-Mini Kai is the smallest speaker on this list, and it's perfect if you're a long-term backpacker with limited space. Or if you just want a mini speaker to chuck in your handbag/backpack for whenever you feel the urge to party. It's only 5×6.2cm and fits in the palm of your hand, while the middle section has a concertina section which allows you to close the speaker for maximum portability when it's not in use!
The sound quality is surprisingly good for the size, and the volume will be louder than your phone or laptop. It's maybe not as good as some of the larger speakers on this list, but if you're looking for something small and practical with decent sound the X-Mini Kai is perfect.
Check out my full review of the X-Mini Kai for more information! 
X-Mini Max Duo
Best for: Lovers of stereo sound
Pros – Great value. Small size. Can be paired for stereo sound. 18 hour play time.
Cons – No Bluetooth connectivity.
Price – From £11 (click here to check the latest prices on Amazon)
Like the X-Mini Kai, the X-Mini Max Duo is a teeny-tiny little palm-sized speaker that's perfect for space conscious travellers. This is the only speaker on the list without Bluetooth connectivity, which might be a problem, especially given how how short the cable is. But the lack of Bluetooth also makes this the cheapest speaker on the list
But, the X-Mini Max Duo comes with two connectable speakers for stereo sound. In fact, if you buy more than two you can connect them up, daisy-chain style, for amazing volume and sound quality. Again, the sound quality is surprisingly good for something so small, and the sleek space-conscious design makes the speakers more or less pocket sized.
Check out my full review of the X-Mini Max Duo for more information! 
Bayan Audio Soundbook
Best for: Short trips and days out
Pros – Ultra slim and lightweight. Great quality sound for the size.
Cons – 9-hour playback.
Price – RRP £49.99 (Click here to check the latest prices on Amazon).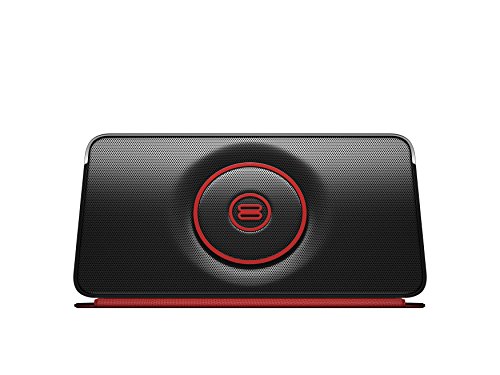 The Soundbook Go from Bayan Audio comes highly recommended by my guest author Kelly, who says it's the perfect speaker for travellers. I love the super-slim design and the flip cover which doubles as a speaker stand. About the size of an evening clutch, the speaker fits neatly into a backpack side pocket or can be slipped into the top of suitcase.
For longer trips and backpacking, I'd probably opt for a smaller speaker. But for short trips and days out these are fab and still fantastically portable. While the battery life leaves a little to be desired, the slim design and great sound quality more than makes up for it!
Read the full Soundbook Go review on Kelly's blog for more information! 
Inateck Waterproof Speaker
Best for: Accident prone backpackers and active trips
Pros – Waterproof. Shockproof. 17 hours playtime. Dynamic sound.
Cons – Slightly on the bulky side
Price – RRP £35.99 (click here to check the latest prices on Amazon).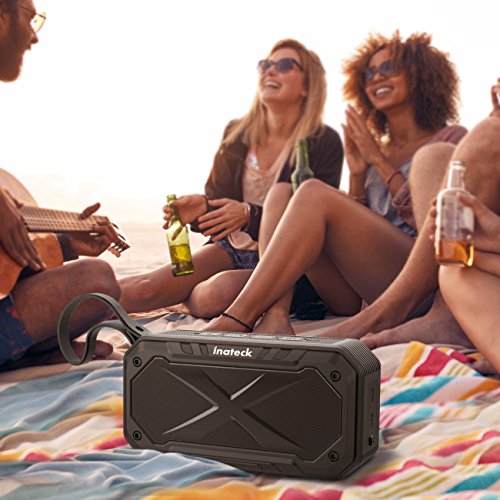 If you're looking for something a bit more hardcore, the Inateck BP1008 could be the perfect travel speaker. It's IPX7 waterproof and can work in up to 1 metre of water for 30 minutes. It's also shockproof and can withstand the weight of an SUV car without breaking. This is one sturdy little speaker so it's perfect for backpackers.
Although a little on the bulky side at 13.5×4.8x7cm, the Inateck BP1008 is still pretty portable. Especially because it weighs only 282g and has a buckle that can be used to hang it from pretty much anything. There's also a bike mount feature! Throw in 17 hours of battery life and great quality dynamic sound and you have a great little speaker for camping and backpacking trips.
Pin this post for later: