Welcome to this week's Postcard From – the feature where I chat to some lucky explorer about their recent travels.
This week, I've been chatting to KP Schwan about her recent diving trip down under. A full time wanderluster, part time travel blogger, KP was born and raised on the sunny beaches of Florida, and now is based on the even sunnier b
eaches of Sydney, Australia. KP has worked in marketing for two years, and is a freelance social strategist. She traveled to 30 countries before turning 22 – her favourites being Ireland, Croatia and Costa Rica. In between trips, KP likes to practice yoga, write, run on the beach and plan the next big adventure. Keep up to date with KP's adventures at Where in the World is KP Schwan, and on Twitter @WhereinWorldKP.
Hi KP, thanks for taking part! Tell us about your latest trip…
I visited the Great Barrier Reef with my family and boyfriend. What you imagine it to look like in your dreams – that's what it looked in real life.
I'm jealous already. It's summer now in Oz, right – did you get lucky with the weather?
I travelled in December, which was a bit risky, as it was cyclone season. Despite these warnings (and despite it raining on land in Cairns the whole time), it was absolutely stunning weather out on the reef. The seas were so calm; we were actually able to make it to a fourth reef, as opposed to the normal three. The crew said they haven't been able to make that trip in over four years because of the usual weather that time of year. Sunny skies, clear visibility and calm currents is all a diver can ask for!
Wow, that's so lucky! Very pleased for you (and a tiny bit green)! What was the accommodation like?
We stayed at the Mercure Harbourside before and after the dive trip. It was very clean and had a beautiful pool overlooking the marina. It was 30-minute walk away from the city center though. While on the reef for 3 days, we stayed on the Pro Dive boat. Sure, it was a little cramped, but it had such a fun and laidback vibe. The crewmembers were great as well. I definitely recommend staying with Pro Dive.
So – what did you get up to?
Well for starters, we did 11 dives in 3 days – 9 during the day and 2 at night! That was crazy enough! I completed my Open Water Certification on the Great Barrier Reef with my boyfriend and sister – what a way to start our diving careers. We saw sea turtles, sharks, sting rays, and we even found Nemo. The scariest was by far the 3 meter barracuda waiting for us at the bottom of the steps of the boat!
Three meters – crikey (to use an Aussie term)! Was there a highlight for you?
I think just experiencing an entirely new world with the people I love the most was the highlight of the trip. I've grown up on and in the water my entire life, but scuba diving is another level of being one with the water.
Was the food on board ok?
Well… Boat food is never anything to write home about – but it definitely wasn't terrible. On land, we ate at the Bay Leaf (Balinese) and the Bavarian Beer Cafe – both were amazing.
Do you have any funny stories from the trip?
The captain of our boat was ending his tenure with Pro Drive, and so the crew was determined to have "a good time." This meant an array of pranks and food wars were in full effect. Everyone on the boat had some form of water/food in a paper bag, which we were instructed to throw at the captain as he made his way back onto the boat from the tinny. On the count of three, there was an explosion of condiments, food, water, etc being hurdled from the boat right smack at his face. He was a good sport about it all – but I couldn't help but think, "Man, this guy is in charge of my safety and I just pelted him in the face with a paper bag filled with hot water and ketchup…"
Can you pass on any advice for people planning to visit The Great Barrier Reef?
I think the biggest piece of advice I can give to someone planning a dive trip is to go with a reputable tour/dive operator. Price cannot even compare to safety. I had amazing experiences at both the Pro Dive Manly and Pro Dive Cairns. I would recommend looking into their trips. It's all-inclusive – meals, accommodation, dive gear and transportation to exclusive dive spots. The exclusivity and knowledgeable staff is worth the price alone. Also, I'd like others to know that you don't have to dive. The snorkelling is just as amazing (if not better at times!)
Did you pick up any new diving terms at all?
The most useful hand gesture I learned underwater was the all-good, A-OK signal. I have a terrible tendency of flashing the ever-outdated thumbs up when it comes to anything good. I had to learn to reign in the thumbs underwater, as it means you need or want to ascend to the surface, as opposed to showing you're stoked about a turtle.
While you were on the trip did you read any new books you can recommend?
I started and finished #GIRLBOSS by Sophie Amoruso, and started and almost finished Only Two Seats Left (The Story of Contiki) by Jon Anderson. My new favourite books have been authored by successful entrepreneurs who've paved their own way.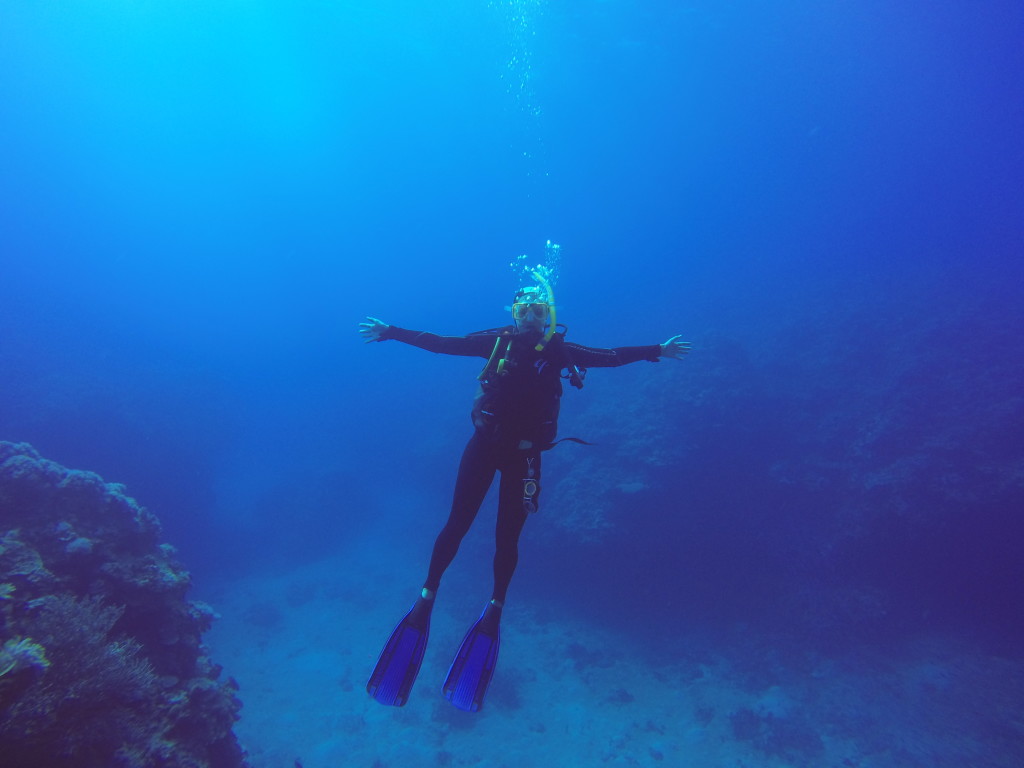 Final question now: what do you love most about travelling?
I'm not sure if there is one thing I can love more than the other when it comes to travel. At the end of the day, I love travel because it changed my life for the better. I found out who I was and who I wanted to strive to be. I found love and still am in love. I learned so many lessons through my few short years of travel that many people won't even learn in a lifetime. It's a constant learning experience – cultures, languages, people, foods, societal norms, religions. I've learned more about my own country by being outside of it. I think it's a beautiful thing to constantly be amazed by the world and to never be jaded. Travel allows that to happen. Travel changes you forever.
NB – all images are owned by KP Schwan