Some posts on this site contain affiliate links. If you book or buy something through these links, I earn a small commission (at no extra cost to you). Take a look at my privacy policy for more information.
Welcome to Postcard From – the feature where I chat to some lucky explorer or blogger about their recent travels. This one is all about Biarritz France, the perfect location for a summer holiday.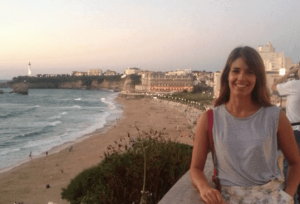 This week, it's the turn of Hannah, a 26-year-old New Zealander living in France with her fiancée, who plays rugby there. A loved of fashion and travel, Hannah runs the beautiful blog madamfrank.com.
Postcard From Biarritz France
Hi Hannah! Where have you been travelling recently?
This summer, I took a couple of trips to Biarritz, France. Yep, it was worth more than one visit! Biarritz is on the Basque coast, about 30 minutes north of the Spanish border. Most of this gorgeous little town is set on a steep incline, offering phenomenal views of the ocean; I was snapping away as if I'd never seen a sunset!
Ooh, Basque Coast in summer! How was the weather?
The first trip in late June gave us a few decent sunny days, but the weather for our second trip at the end of July was stunning – we spent every day on the beach, in and out of the water. Perfect!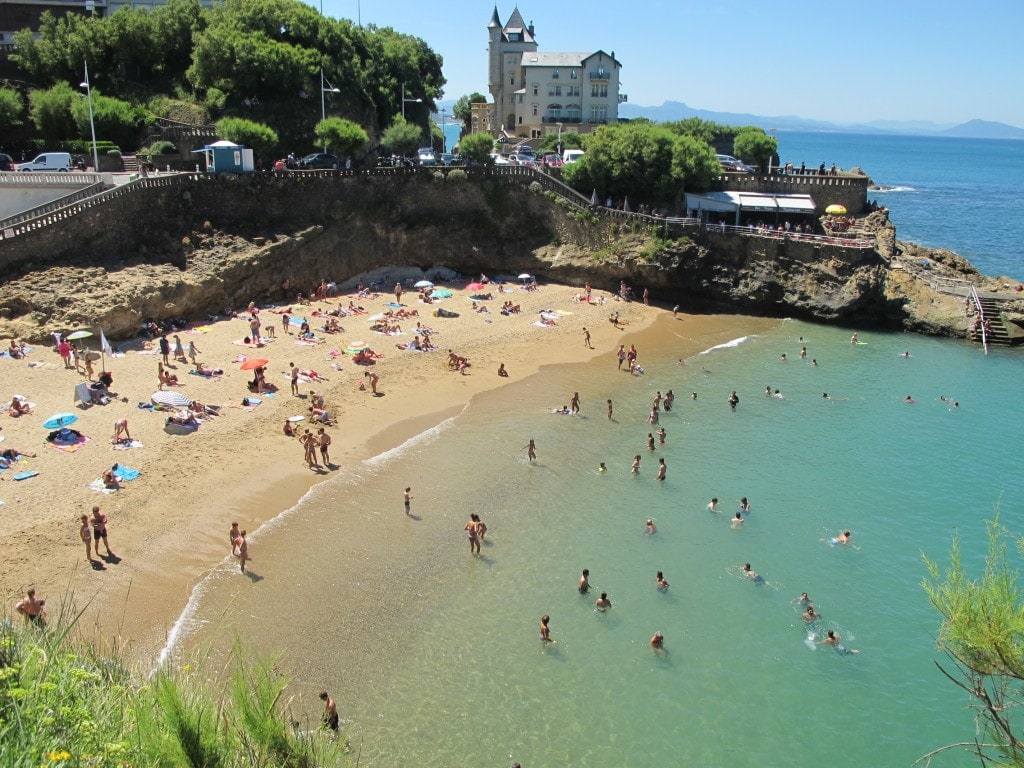 Where did you stay?
We used Airbnb to find an apartment right on the main town square, Place St. Eugiene. We were easy walking distance to loads of restaurants, shops and the beach – but it's not a huge place, if you stay anywhere in town you'll probably get the same deal!
PSST – use my AirBnb referral link to get £25 off your first booking!
Things to do in Biarritz France
Did you find plenty to do in Biarritz?
Biarritz comes alive in the heart of summer – the place is full of the young and the fun! We ate, we drank, we shopped and we danced. We also discovered that there's so much more beyond Biarritz, with spots like Bayonne and Bidart a short drive away. Bayonne is a history buff's dream, and Bidart is home to one of the most phenomenal restaurant/bar's I've ever seen: Blue Cargo. You can go from chowing down on tiger prawns and champagne to moshing along to Kanye West, all with the sand between your toes and the waves crashing in the background!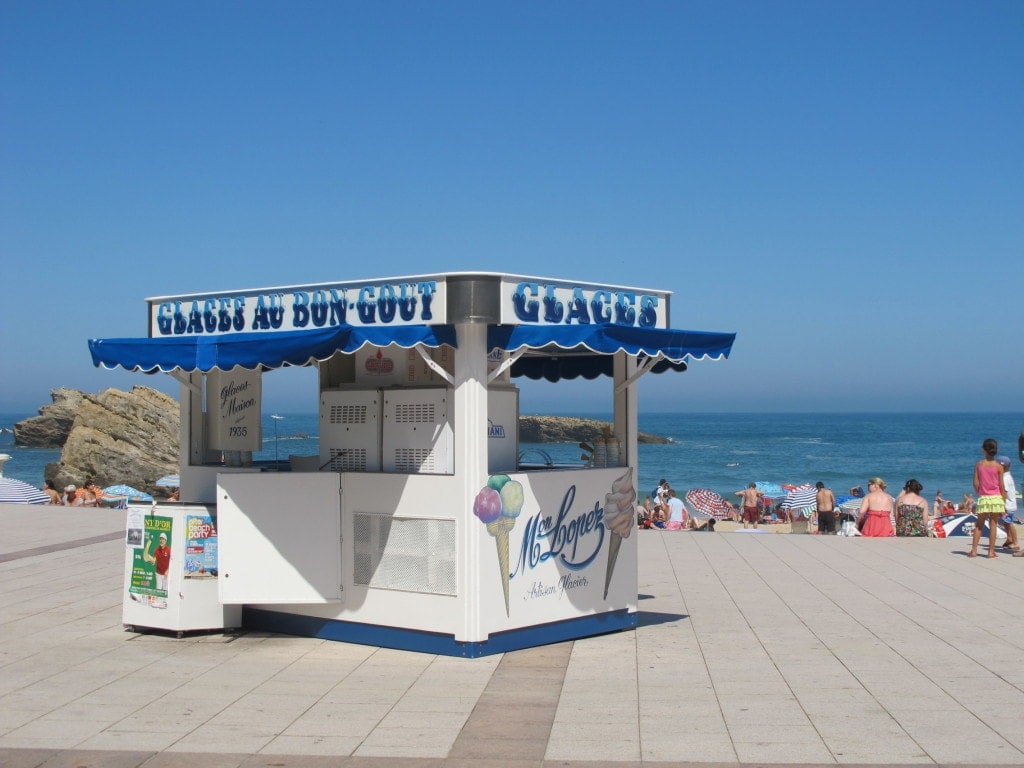 What was your highlight or best bit?
Swimming and sunbathing for about eight hours straight! Seriously, they had to drag me away from the beach – it's a summer paradise!
Where to Eat
Can you recommend a great restaurant or cafe?
For fresh bread and fluffy eggs, you couldn't go past Le Cafe Du Commerce at breakfast time, lunch was surf and turf at Arena Cafe right on the beachfront, and for dinner, we were all in awe of the gorgeous seafood dishes at ceviche bar Saline. At the right spots, the food is sensational.
Other Questions
Did you have any embarrassing moments?
For days, we'd been watching this rocky platform over the ocean, as beachgoers dove off into the blue. I'm not huge on heights, or deep-water swimming, but I couldn't fathom leaving town without having a go. Eventually, I worked my way up there, surprised that it was nowhere near as high as it had appeared from the sand. I was also surprised to find that I was surrounded by children. Small children. Who were jumping off willy nilly, with the kind of fearlessness only children and crazy people know.
I stood there, dripping wet, peering over the edge. A glance backward confirmed that I was creating a queue. A queue of children.
I surged towards the edge, unthinkingly, and found myself mid-air.
I'd entirely forgotten that I was about to enter the water. You know, 'cos I wasn't thinking.
Nose, throat and mouth full of water, I emerged, mostly unscathed, to little children-sized bombs hitting the water around me.
Bloody kids.
Were there any disasters?
I had a little oopsie on the second trip – I booked the hotel for the wrong nights. Thankfully, we were able to find a room at the same hotel (Parc Mazon) with a little bit of jumbled Franglish. In the middle of peak season even!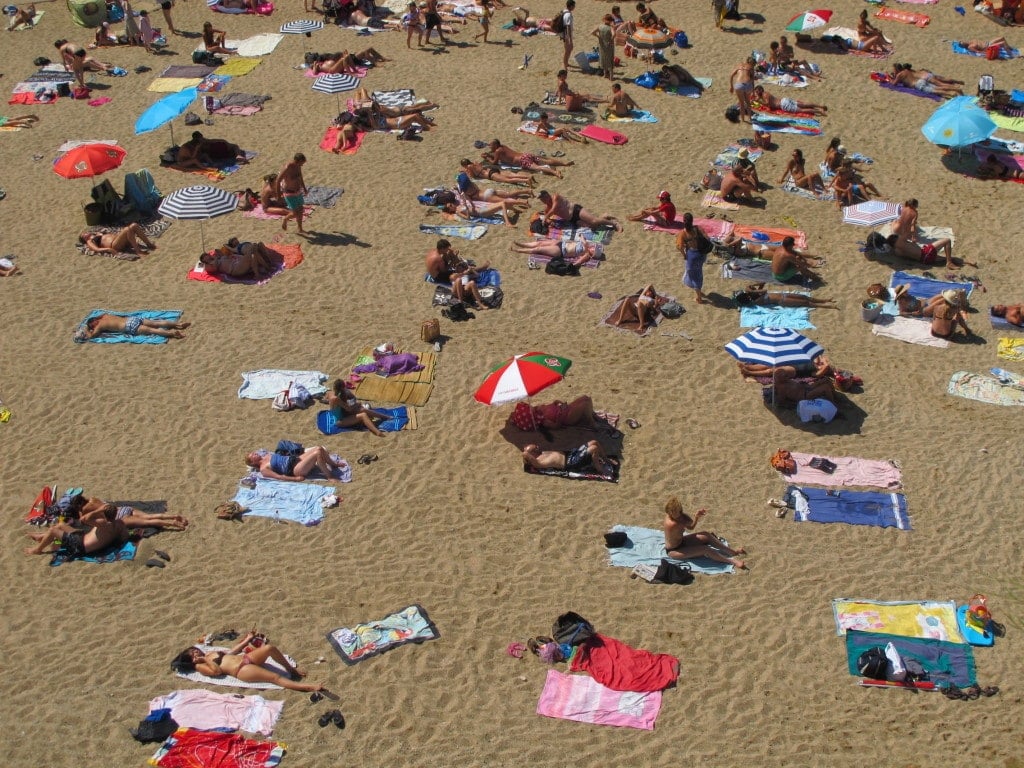 Tips for Travel in Biarritz France
What's the most useful bit of French you've picked up?
Merci! Always helps, especially with a sweet 'I'm a poor tourist' smile!
Although many people in France speak English, it's always helpful (and polite) to make an effort with the local language. Try learning a bit of French before your trip, just to nail the basics!
Do you have any tips or advice for anyone headed to Biarritz?
Eat and drink and swim and party like there's no tomorrow. This place was built for dreamy summer memories that last a lifetime.
All photographs are owned by Hannah Keys so should not be reproduced.