Some posts on this site contain affiliate links. If you book or buy something through these links, I earn a small commission (at no extra cost to you). Take a look at my privacy policy for more information.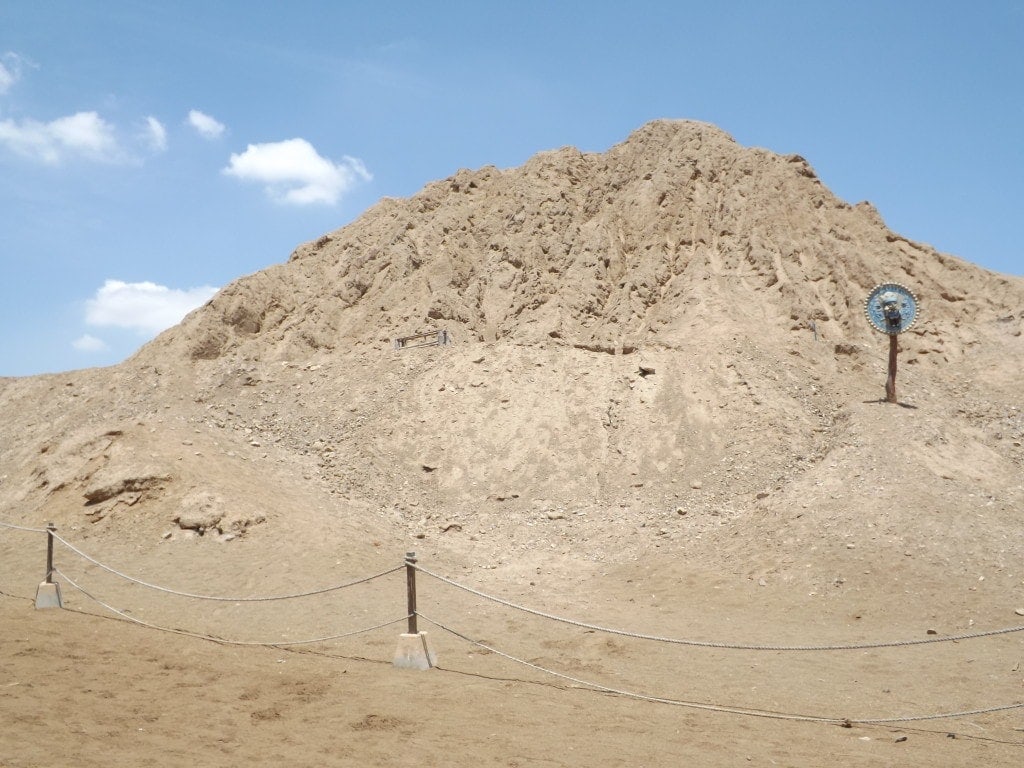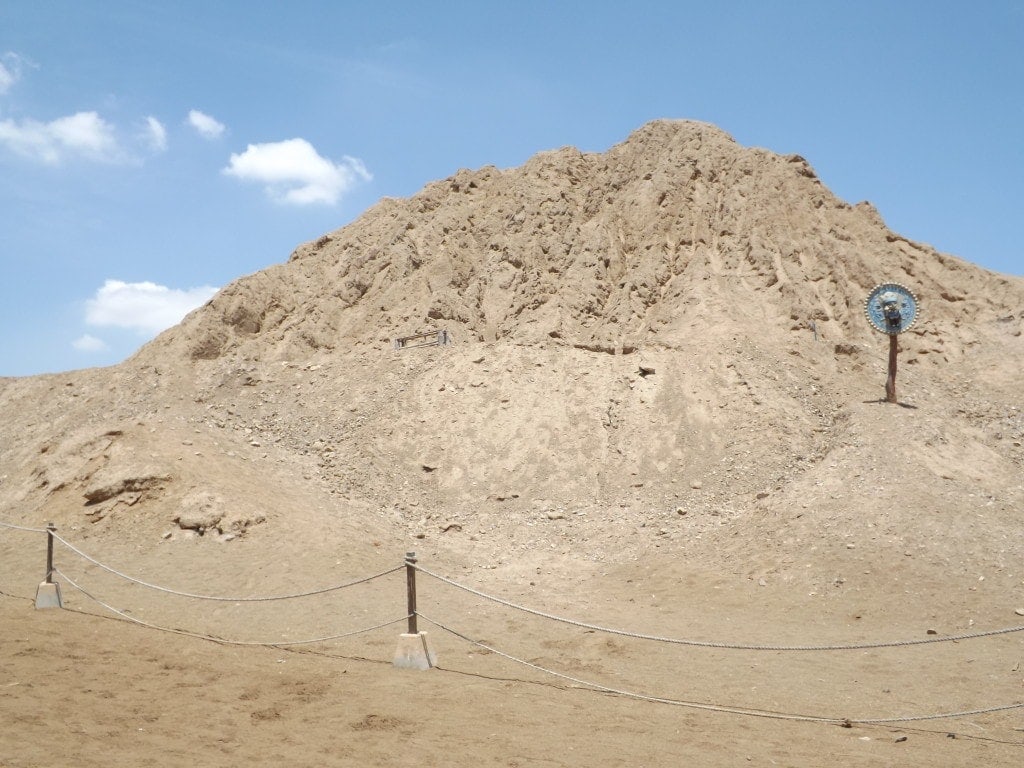 Our second day in Chiclayo was spent seeing the two sights that most people come to this dusty coastal town for – the tombs of Lord Sipan, and the ruined city of Tucume. Learning from our mistake in Tarapoto, we decided not to try to get to these sights ourselves, and instead booked a reasonably priced day tour with Moche Tours (S./50 or about £10 each).
Stupidly, though, we decided not to pay the extra S./30 (about £6) for an English guide (I'm not really sure what the thought process was there) so found ourselves in a big group of Peruvian tourists led by a pretty fast speaking Spanish guide. My understanding of Spanish is ok – much better than my speaking – but I still only grasped about 30% of the information – and was only able to pass on a fraction of that to Sam in a muted whisper.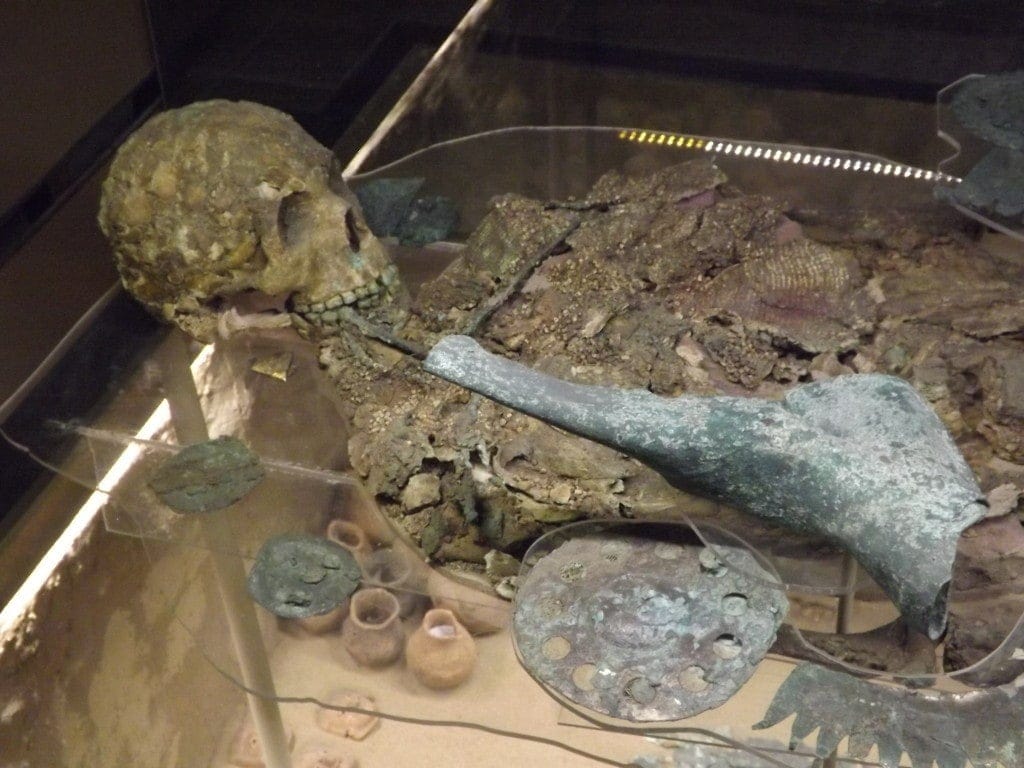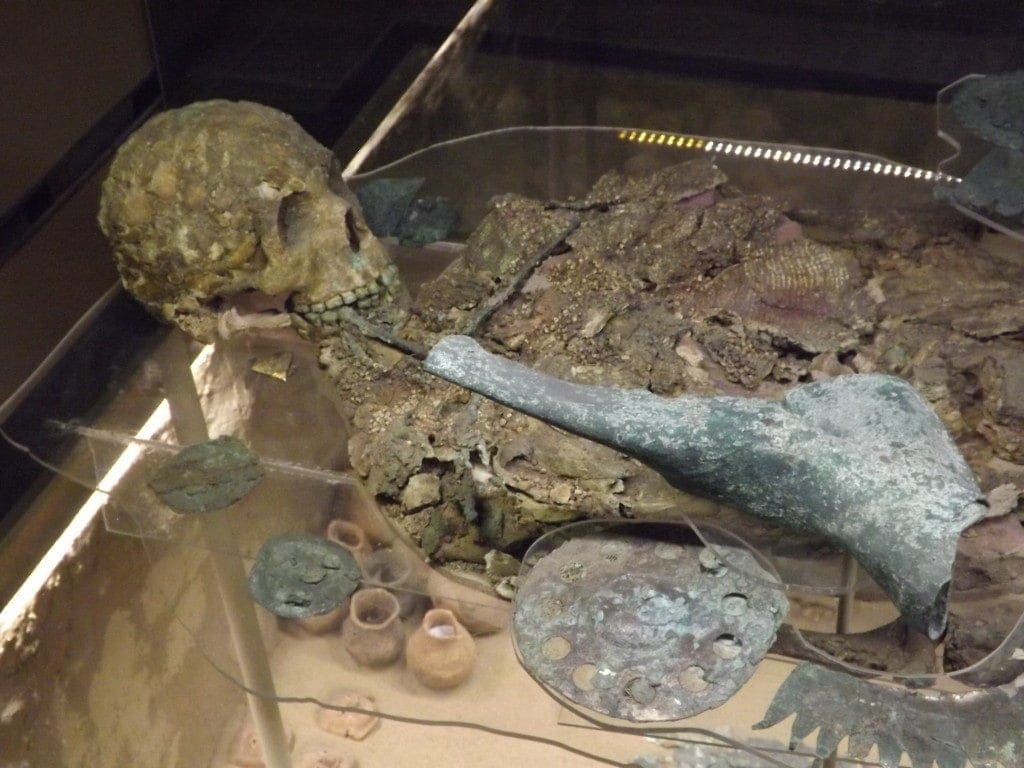 Still, the tour was very thorough and worth it, in spite of not understanding most of it! We drove first to the site museum at the Sipan Tombs; a small, dark museum where all the information is written in Spanish. Most of the artefacts here are replicas of the originals found at the archeological site, although there are a few originals, including a couple of skeletons laid out as they were found – surrounded by copper armour, gold ornaments, clay pots, and the skeletons of unfortunate lamas, women and children which were sacrificed alongside the buried lords and warriors.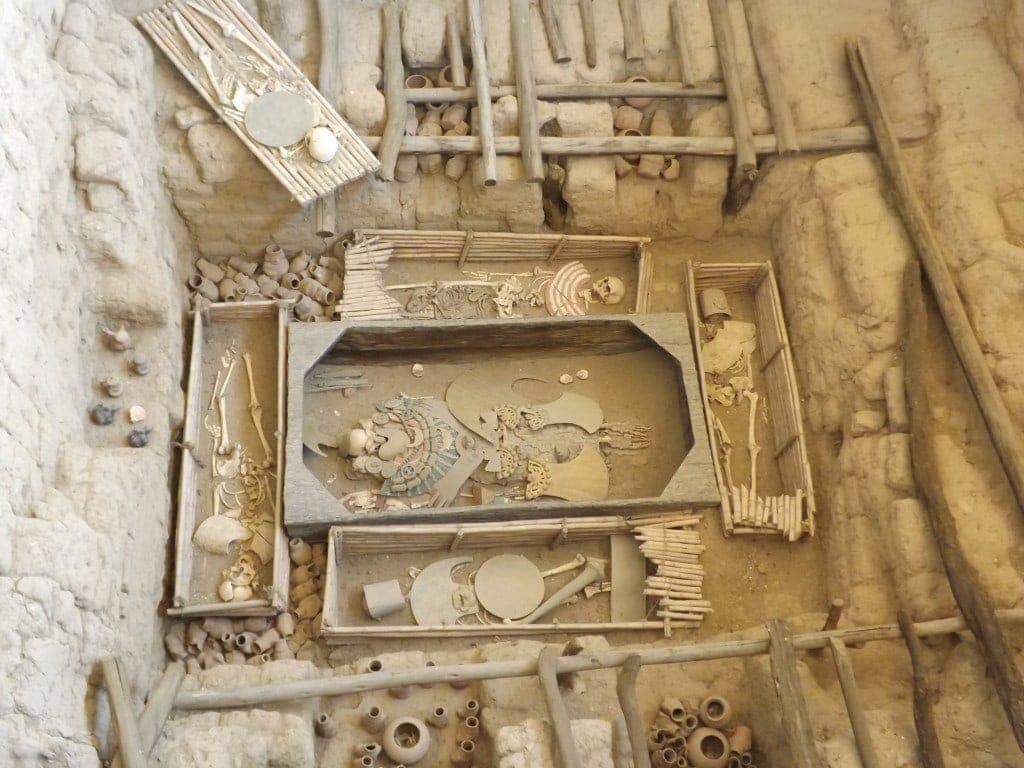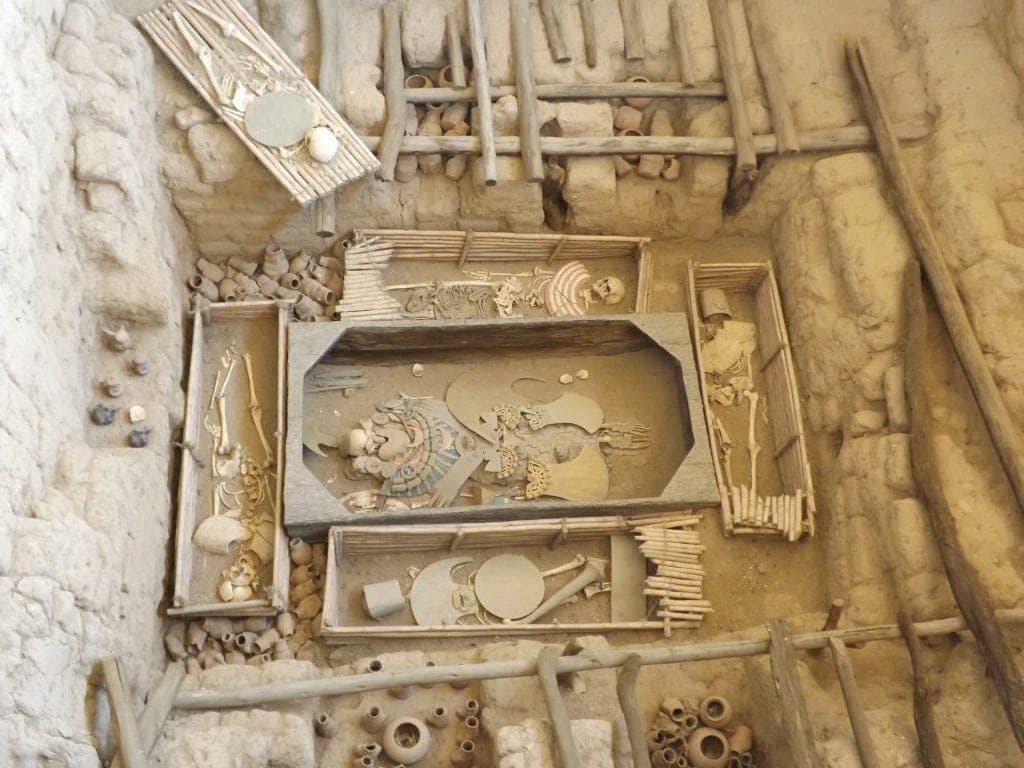 After the museum, we headed out into the baking desert sun to the archaeological site itself. This is a big, dusty plane where the air is parched and hot and where I felt my skin burning after a few seconds of exposure. Fortunately, the dig site is covered with a tin roof, so we hurried into the shade to look at the excavated tombs. The Sipan site, which dates from the time of the Moche people around 100 AD, is pretty interesting; fourteen tombs of adobe construction forming a pyramid shape, with the tomb of El Senor de Sipan at the top – where he was buried with his 40 wives and concubines, two guards, and a favoured warrior.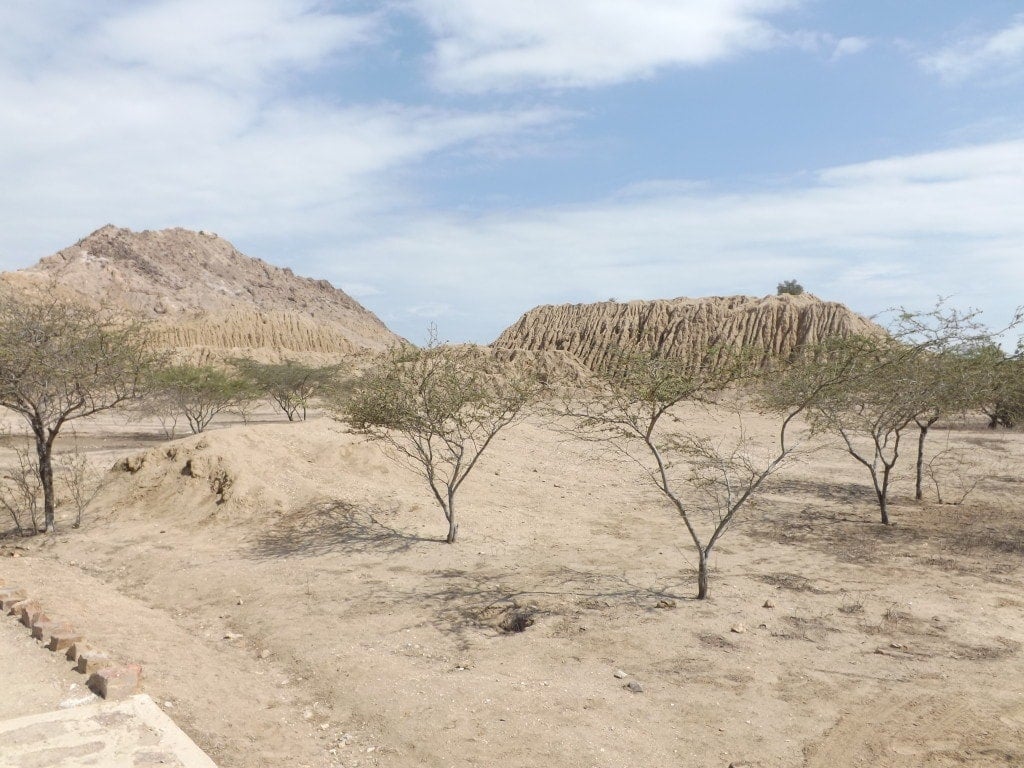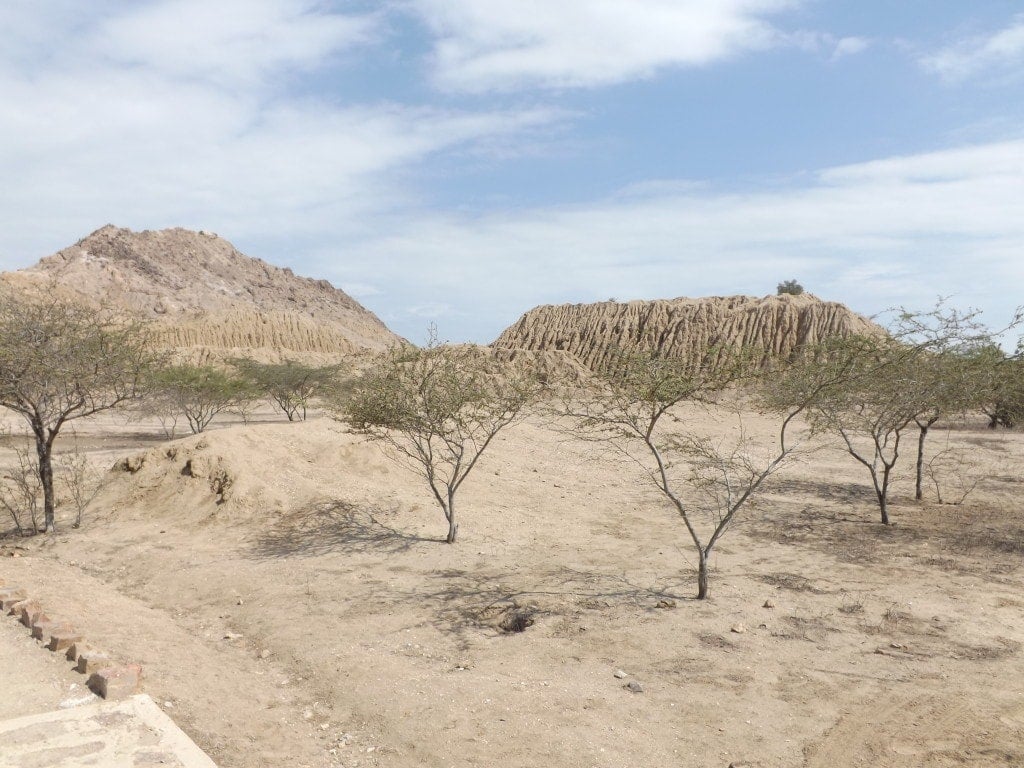 From Sipan we ventured to Lambeyaque for a lunch of the area's traditional dish, Arroz con Pato (duck with rice), before heading out to the ruined city of Tucume. Another Moche site, this city later formed an important centre, possibly capital, of the successive occupations of the area by the Lambayeque/Sican (800-1350 AD), Chimú (1350–1450 AD) and Inca (1450–1532 AD) peoples. The site is another barren, dry landscape, this time composed of twenty six pyramids of brown earth, so covered by sand and time that they are more like mounds or small hills. We climbed halfway up the huge hill at the centre of the site for a view across the pyramids, but the heat was so intense and the dry plane was completely without shade, so it wasn't a fully enjoyable experience.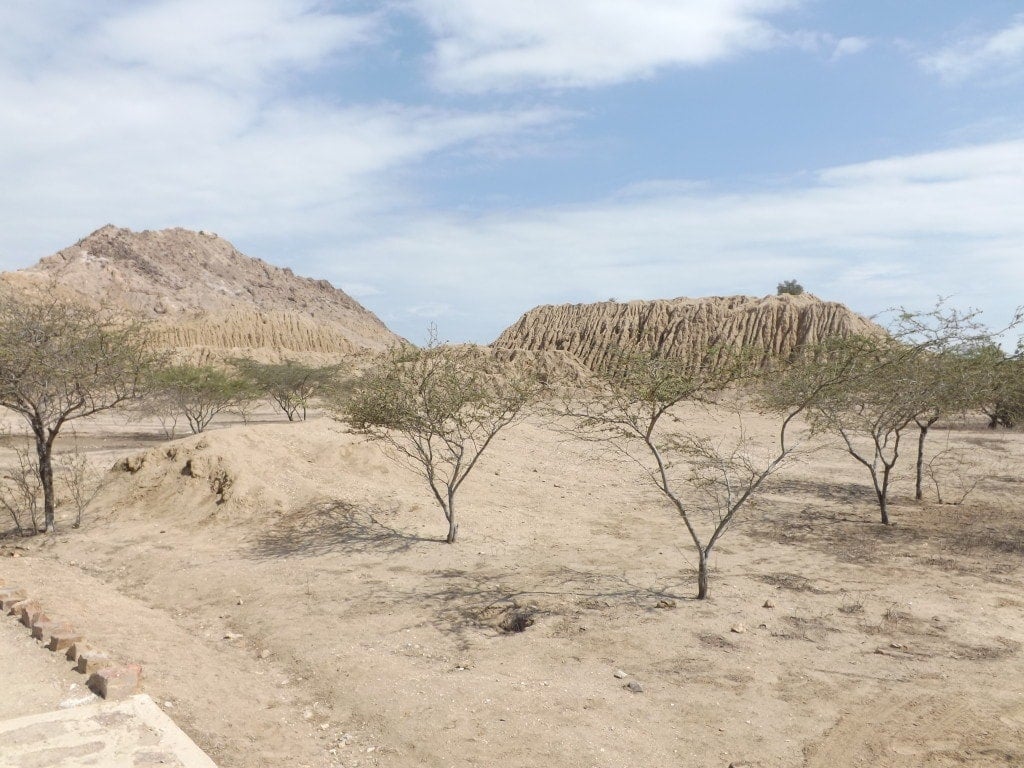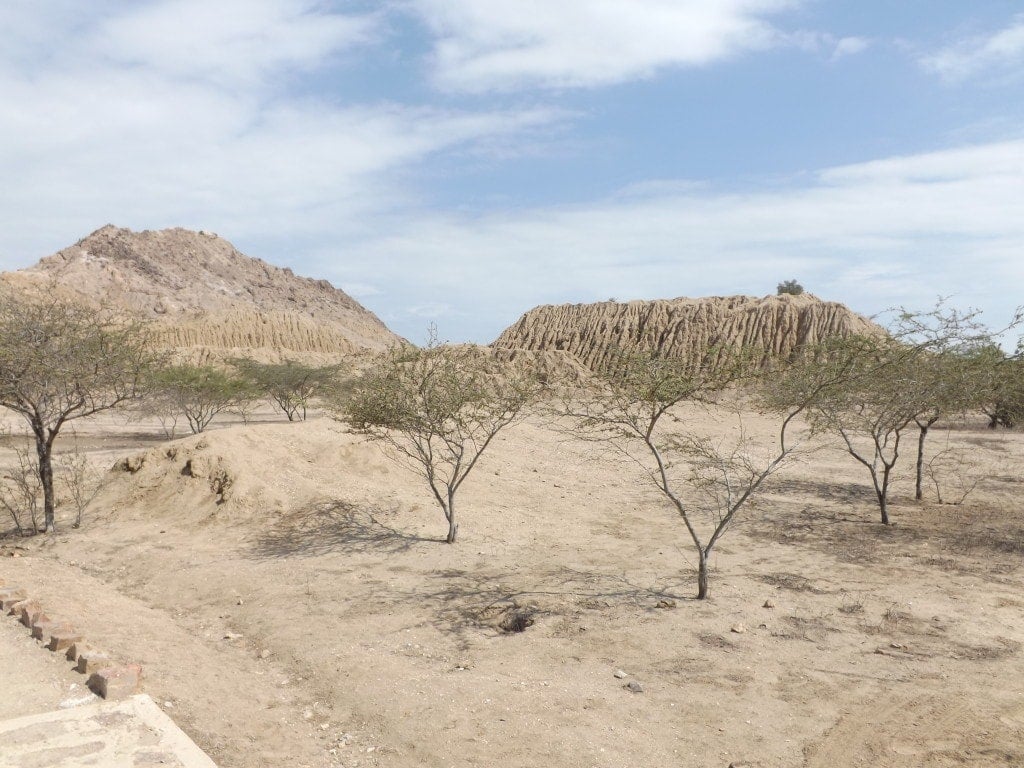 After the baking heat, the last stop at the cool, air-conditioned Tumbas Museum in Lambeyaque was very welcome! This is considered the best museum of the area, with the largest collection of original Moche tools, clay pots, and ornaments from the Sipan dig site. The museum is set over three floors, and since all the artefacts inside are originals and need protecting, Tumbas is kept pretty dark and we weren't allowed to take our cameras in, in case we disobeyed the 'no flash' rules.
This was a really interesting final stop, with loads of beautiful artefacts – some well preserved and others painstakingly restored – including hundreds of clay pots carved into figures or animals, many of which give a good idea of what the Moche culture was like – from fishing and agriculture to their beliefs about birth and death. There were also lots of beautiful copper and turquoise ornaments and jewellery, like big plate-shaped earrings or mouthpieces bedecked with dangling pieces of copper, which were used to distort the chief's voice so that he sounded like a true 'speaker for the gods'.
Thanks to all the heat and walking, though, we were both exhausted and had to sneak off to find a quiet bench, skipping the end of the Spanish tour we couldn't understand. All the exhibits had translations in Spanish, meaning we left this museum with the most understanding about what we were looking at, which made up for not understanding most of the day. In spite of a lot of the information being lost in translation, and a little too much heat, it was a really interesting day and a great introduction to one of Peru's earlier cultures.