Some posts on this site contain affiliate links. If you book or buy something through these links, I earn a small commission (at no extra cost to you). Take a look at my privacy policy for more information.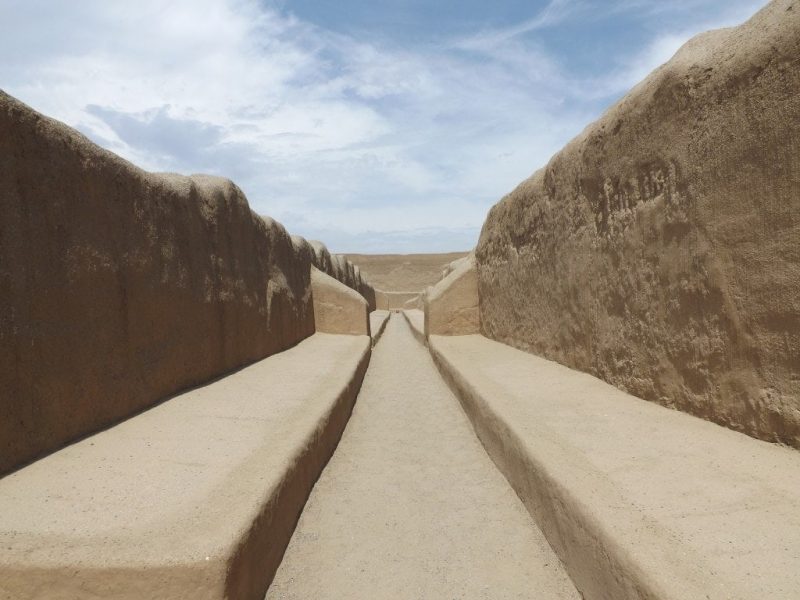 Chan Chan in Trujillo was one of my favourite discoveries in Peru. This is an older post, written on my backpacking trip there in 2014 – and unfortuantely half the post was accidentally deleted at some point. So this is what I managed to recover…
We had a small mishap at the entrance, when the guard noticed that the tickets we'd been sold back at the Huaca del Dragon had been stamped with yesterday's date by accident, but eventually he let us in, and we found ourselves in a huge, relatively quiet building of high, sandy clay walls.
The first room is an enormous courtyard, with crisp, even walls decorated with lines and a repeated pattern along the bottom of animals that looked like birds with big tails, while at the opposite side of the courtyard was a wide door flanked by two statues.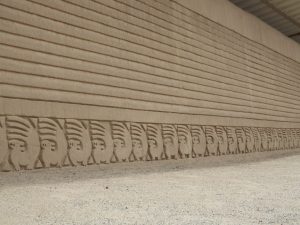 We wandered through the palace, down long corridors between thick adobe walls, always covered with beautiful carvings of fish, birds, or human figures, as well as geometric patterns and shapes. The restoration work is still ongoing, and we spied a few archaeologists working on a wall behind the open section of the palace.
One girl we met actually said that one of the archaeologists, proud of his work and deciding that as an architect she must have an interest in such things, had shown her round the whole palace, taking her into sections where work was not yet completed to show her the restorations, which sounded really interesting. Not being young single girls, Sam and I didn't get such treatment, but what we saw of the palace was still really interesting.
Towards the back of the structure, we discovered a large area with a swampy, reed-filled lake surrounded by grass and plants, which was built into the palace itself and is surrounded by the same thick adobe walls that make up Chan Chan. The contrast of this bizarre green space with the dry, beige walls and earth surrounding was really strange, and this was one of the more interesting parts of the city.
Chan Chan Photos
The ruins at Chan Chan were really impressive, and brought to life a rich and interesting section of Peru's history, so I was pleased that we had discovered them on our tour of Peru's coast. After the sandy mounds and crumbling tombs at Tucume and Sipan, I had not expected to find such well preserved carvings and murals, so I was absolutely blown away by what we found at Chan Chan.