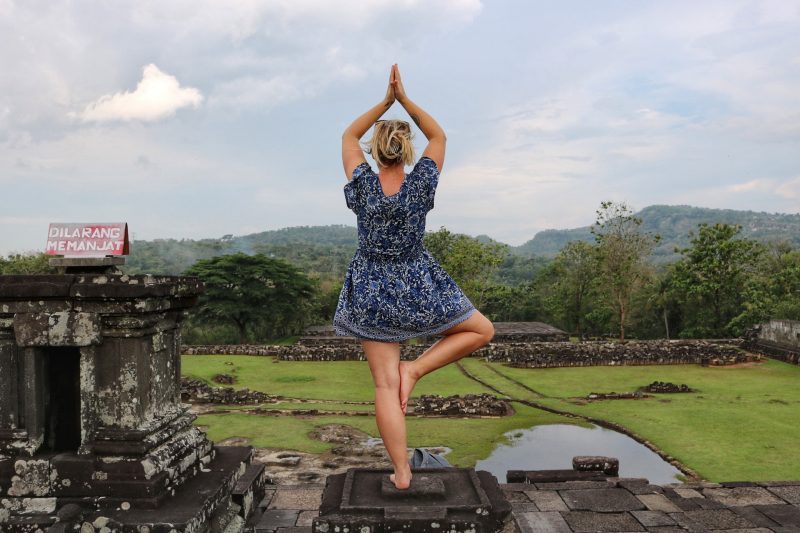 Hello from Wonderful Indonesia guys! I've been here about two weeks now and I have to say I am completely in love with this gorgeous country. What's that, Emily loves somewhere? That's new! (I know I throw that word around a lot, but I've never not loved a country I've visited).
Anyway, this month saw me end my six week stint at home and head off into the big wide world again. Although that summer "off" was exactly what I needed, and it was absolutely lovely to spend more time with my family than I have in a couple of years, I was itching to get back on the road again by the time Indonesia came around. I set off with my backpack, feeling that same bubble of nervous excitement in my chest that I always feel, and felt like I was finally back to myself again. I don't know if I could ever explain it to anyone who doesn't feel this way, but I just feel more like myself and more, well, at home, when I'm away from home and travelling. No matter how much I love Bake Off and cosy nights in, no matter how much I miss my family and friends, I still just can't seem to settle. I worry that I'll never stop (but then, who says that's a bad thing?).
Where I've Been This Month
Before my grand return to Asia, I had one last adventure in the UK, visiting Swansea with my little sister. It was such a nice few days of pampering, eating, and hanging out with my sister, and I absolutely loved it. There's a whole separate post coming this week about exactly what we got up to, so stay tuned.
In the middle of the month, though, I hopped on a flight to Asia and got myself back on the road with glee. I spent the first two nights in Jakarta, muddling through the jet lag and meeting a fellow travel blogger for lunch, before making the very last minute decision (11pm the night before) to fly to Bali and head to Ubud for a few days.
Ubud is a small town in central Bali, known for it's laid back hippy vibes and "digital nomad" community. There are coffee shops and co-working spaces galore, veggie cafes and yoga studios, and a really relaxed pace of life. This is the kind of place I love to get stuck. I initially booked two nights in Ubud, thinking I'd have a couple of days to see the sights before heading off to the coast in search of beach life. Instead, I stayed more than a week. I fell in with a couple of lovely new friends at my hostel and very quickly got sucked into the lazy, chilled out life of a backpacker. In fact, after months of press trips and a summer of staying in one place, this was exactly what I needed. Ubud reminded me what I love about travel, and really got me seriously thinking about booking the Big Trip I've spent most of this year considering. Stay tuned, as there may very well be more updates on that shortly.
Trip Of Wonders
After a week in Ubud lapping up the sleepy vibes, it was back to Jakarta to start the Wonderful Indonesia blogger trip which is the whole reason I'm here in the first place. This huge trip with the tourist board has brought together 27 bloggers from around the world for a two week trip around some of the country's biggest highlights. We're about halfway through right now, and as I type this we're waiting in the airport for a late-night flight up to Raja Ampat. By all accounts this is a massively underrated and absurdly beautiful part of Indonesia, so I can't wait to see it.
The first week of our trip took us through the island of Java; across Jakarta, Bandung, and Yogyakarta. We've seen sunrise at Borodubur Temple, eaten our body weight in nasi goreng (fried rice), and raced along bumpy off-road tracks in a 4X4 whilst singing along to Queen at the top of our lungs (thanks Bandung Offroad). We've tried our hands at Batik making in Yogyakarta, playing traditional games with Komunitas Hong in Bandung, and learnt to play the angklung at Saung Angklung Udjo. It has been an absolute blast so far, so I can't wait to discover Raja Ampat and the Gili islands next.
We have also recorded some pretty hilarious Snapchats (if I do say so myself) featuring some often questionable but always entertaining facts from my favourite Snapchatter Wanderlust Chloe – so make sure you're following me (emluxton) to see each day in Indonesia as it unfolds live!
Also make sure you're following the hashtags #TripOfWonders and #WonderfulIndonesia across Twitter, Facebook and Instagram to see some of the amazing photos from this incredibly talented bunch of bloggers. We'll have you booking a flight to Indonesia in no time.
12 Fears 12 Months
This year, I made the somewhat questionable decision to attempt to do one thing a month that scares me. September's challenge was a little different, and it came in two parts. I learnt to ride a moped! Part one was taking a CBT test in England, while for part two I rented and rode a moped around Ubud while I was there. It might not sound like much, but after falling off the back of a moped in Vietnam a few years ago I've always had a big fear about giving it a go – despite desperately wanting to try it. Read more in my post about the experience to find out why this was such a big deal for me.
What's Next
I'm delighted to say that I'm going to be staying in Indonesia for one more whole month! I'm here until the end of October, on the Trip of Wonders for another week and then on my own for about three. So make sure you keep on following across social media to explore this beautiful country with me.
What I've Been Reading
Some of my favourite posts and videos from the Blogosphere recently:
Best Places to Travel Au Naturel Mike Jerrard shares the best places to get naked on the road!
Wanderlust Chloe's Top Autumn Holiday Destinations.
Amelia's latest incredible travel vlog on Why You Should Visit Lapland In Autumn.
What did you get up to in September? And where in the world are you reading this from? Scroll down to leave me a comment!