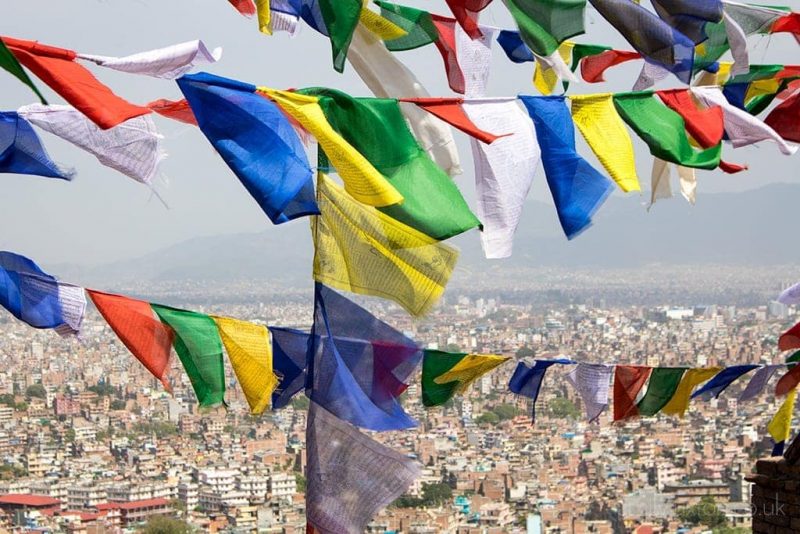 Namaste from Nepal! If you've been following me on social media this month, you'll know that I've been exploring this incredible company for about twelve days or so, and I have to say I'm pretty hopelessly in love.
This is my first trip abroad since February, which is pretty strange for a full time travel blogger, and totally different to my complete whirlwind of a travel-full life last year. Last month I moved to Hampshire and decided to stick around in England a whole lot more. But that doesn't mean I want to quit travelling – and after a couple of months in one place I was getting seriously itchy feet again! So I was pretty excited to get back on another plane with my backpack!
Before you read on, watch this ad to donate some money to charity (and help my blog out). More info here.
Nepal
It has felt so wonderful to be back in Asia. Almost as soon as I arrived to the chaos and craziness of Kathmandu, I felt right at home. It's dusty, crowded, confusing, and difficult… but I love it.
The trip has been a bit of an insane whirlwind though, as press trips usually are. Thankfully, I lucked out with the most awesome group of bloggers on my bus, which helped make the whole thing more fun. The eight hour bus ride from Lumbini to Pokhara was honestly one of my favourite days of the trip (thanks to a certain little game called the Fire Challenge).
Pokhara
So where have I been? After a few days in Kathmandu, we headed to Panauti – a small town in a lush green valley. We spent the night with Panauti Community Homestay, staying with a local family to get a real insight into life in rural Nepal. Our host, Anjana, was absolutely lovely and really made us feel right at home. I adored our stay in Panauti and can't wait to share the full story with you.
Chitwan
Next up, it was down to the jungle in Chitwan National Park. When I think of Nepal, I think of mountains and trekking – not thick jungle and exotic wildlife. So Chitwan was a really special discovery.
I was lucky enough to be staying at Meghauli Serai – a Taj Safari lodge right on the bank of the river. Again, I can't wait to right up a full post all about that, because it was a seriously amazing experience. Our jeep safari was so cool, and we saw loads of animals, including about five or six rhinos. Coming home to cool off in my very own private plunge pool on the terrace of my villa was another highlight. What a hotel!
Lumbini
From Chitwan it was up to Lumbini to visit the birthplace of Buddha. I don't think I've ever seen so many temples in one place before. Across the park are dozens of temples and monasteries, many of them donated by other countries, so each one has a completely different style. But the real highlight is the white building that marks the place Buddha was born. It's such a serene and lovely place, despite the crowds of tourists and pilgrims, and I loved exploring the huge mesh of prayer flags that have been hung from every tree in the garden.
Pokhara
Last stop was Pokhara, where we spent a couple of days exploring the town. And when we left, the clouds broke giving us a perfect view of the snowy peaks that surround the city as we took off in one of the smallest, scariest planes I've ever seen. Twenty five minutes later, we were back in Kathmandu – which is where I am now! Today has been a bit of a catch up today, and tomorrow it's the Himayan Travel Mart conference (which is the whole reason I'm here). Then I'll fly home on Saturday morning – although there's a really big part of me that doesn't want to leave.
What's Next?
This week, I'm handing my Twitter and Instagram Stories over to the lovely Dannielle while she heads to Puglia. I couldn't make the trip so I'm sending a fellow blogger to explore this less-visited region of Italy on my behalf. It's set to be a really interesting trip so make sure you're following on both accounts.
Dannielle is the girl behind While I'm Young, a UK based travel and lifestyle blog that encourages people to fit adventure into their lives. Follow along on my Twitter and Instagram (both are @em_luxton) to see what she gets up to.
After that, I'm headed to Edmonton in Canada with one of my all-time-favourite blogger buddies, the ever fantastic Wanderlust Chloe. So keep following to see what I get up to there. The excitement to be reunited with Chloe is the only thing that's making me feel less sad about saying goodbye to Nepal on Saturday!
That's pretty much it from me. What have you been up to this month?