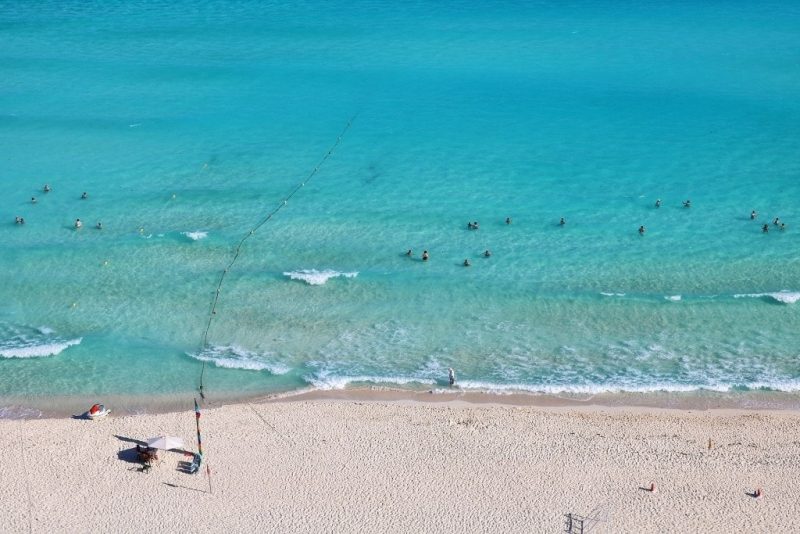 Hola amigos – from Cancun, Mexico!
I've been here in the Yucatan Peninsula for nearly three weeks now, and in that time I've been very busy! As you may recall, my initial plan was to settle into a fixed location for two months or so, work really hard, and travel in short little bursts. But then Mexico turned out to be far more enticing than I'd anticipated – and, as so often happens, I got tempted away from my good intentions by a thirst to see and do everything!
I arrived on the 12th and spent a couple of nights in Playa del Carmen, where I met up with Janet (Journalist on the Run) and her Mexican friend Sara. Then we headed to Cozumel, Tulum, Bacalar, back to Tulum, and finally Cancun – which is where I am now, hunkered down in an AirBnb apartment on a quiet stretch of beach away, catching up on the mountains of blog work I have to do. Hopefully, you've been following all the adventures on Instagram and Facebook and you know what I've been up to. In case you haven't, here's a quick run-down of the highlights and funniest moments.
Lake Bacalar and My First Video!
Bacalar was so beautiful, and so much fun, that I finally got off my lazy bum and made my first ever proper travel video using my GoPro. Despite filming plenty of footage last year, I kept putting off figuring out how to edit it all together. No more! I want to work more with video (finally catching up with the times!), so I plan to keep shooting and hopefully get better as the year progresses. I would LOVE to hear your thoughts and feedback on my first video, so give it a watch and leave me a comment below or on the video itself in YouTube. And if you want to see my next video, make sure to subscribe to my channel.
They call Lake Bacalar "La Laguna de Siete Colores" (lake of seven colours) because of all the different shades of blue it can be. Personally, I think I saw more than seven. Over the 75m deep Cenotes (sinkholes) that feed the lake, it's emerald green or deep royal blue. In the metre-deep shallows, the waters are a crystalline turquoise that would look more at home in the Maldives than the shores of a lake. In places it's vivid cyan, but in the morning mists before sunrise it's a milky grey. But whatever colour it is, that lake is always completely beautiful!
Cozumel and Car Disasters
Just off the coast of Playa del Carmen, the island of Cozumel felt like a whole new world compared with busy Playa (which was in full BPM Festival swing). It was quiet, rugged, and totally gorgeous. Better still, since most of the resorts cling to the beaches around the only town on Cozumel, and most visitors tend to come for the snorkelling and diving in the reefs off the coast, it felt like we had a pretty big chunk of the island to ourselves most days.
Janet and I rented some cars to explore the island, and found plenty of rocky, windswept little beaches – some of them completely deserted. First was "Señor Frog", our bright green and totally dilapidated little convertible Bug. Nothing about him worked. No seatbelts, no door locks, no hand brake, a gear stick that barely went into reverse and had absolutely no second gear, no speedometer, and a passenger door that randomly swung open while we were driving… I think that's everything. But, I totally loved that rubbish little car and all its insane faults.
Next up was a bright red, slightly-less-dilapidated jeep. It worked quite a bit better than Señor Frog, until we got caught in a torrential downpour. Cue Janet trying to fix the windscreen wiper which has just flung off as we're driving, while I battle with the tarpaulin cover which is filling up with water in the middle while I try to tie it flat… and which of course eventually sags in as I work, drenching me with a few buckets' worth of water. We drove back to town with no wipers, Janet sticking her face out the window to see the road; two soggy little travel bloggers shivering under a giant inflatable swan (Alberto) who has been travelling around the country with us. We were, I'm sure, highly amusing to everyone who saw us!
Tulum
Tulum was less eventful but far more relaxing than Bacalar and Cozumel. We spent most of our time on the beach, or chilling out pool-side in the beautiful boutique hotel Maria del Mar (more on that stay later). We also found time to take a day trip to Akumal to swim with the sea turtles, which was pretty awesome. They are one of my favourite animals, so it was amazing to see them so clearly and up close – one came up for air a couple of feet from my face!
What's Next
Ok, I have about ten more days of travel planned to some incredible locations – and then I promise I'm going to stick to my original plan and settle down to work! We're off to Isla Holbox, Las Colaradas, and finally Merida. Janet's heading to Cuba in a couple of weeks, and I'll be staying behind in Merida, taking some Spanish lessons and working my butt off for a while. There will be day trips, though, and there will still be plenty of Mexican fun (and food) – so keep following to see what I get up to!
Where in the world were you this January? Drop me a comment below and let me know!