Some posts on this site contain affiliate links. If you book or buy something through these links, I earn a small commission (at no extra cost to you). Take a look at my privacy policy for more information.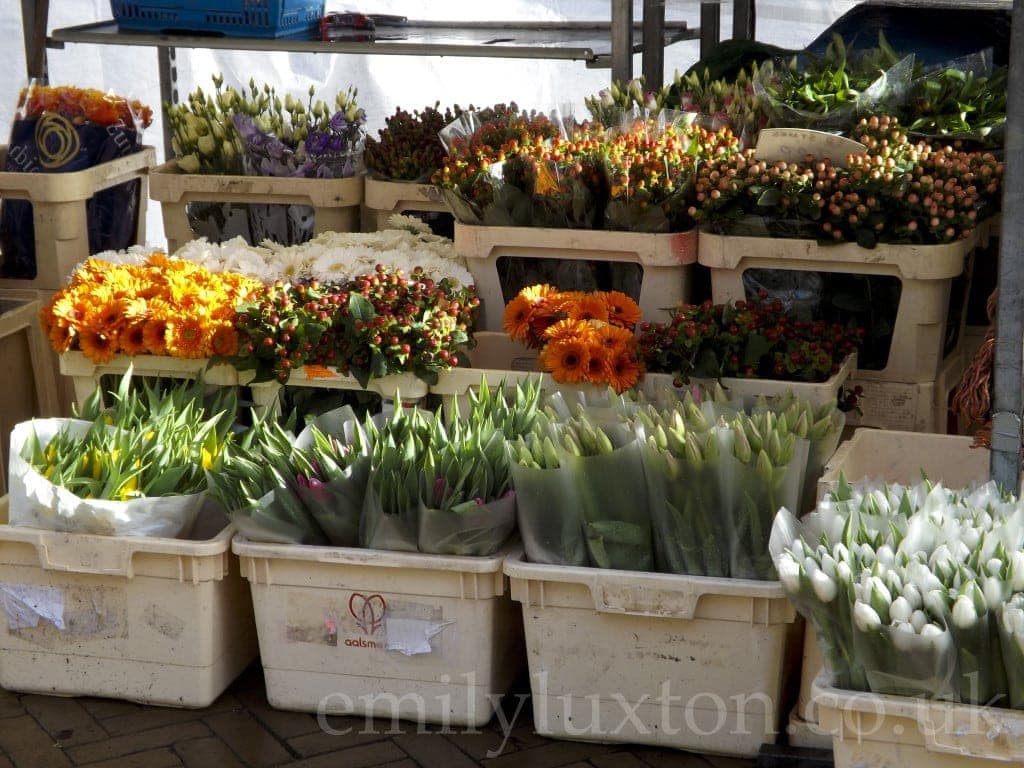 When my work sent me to Amsterdam at the end of January, I couldn't resist booking a day's holiday and making the most of my first trip to this fantastic city. Initially, I was a little worried I wouldn't have time to see much of Amsterdam in just one day.
But after reading a blog post about a six-hour tour of the city I began to feel a lot better, and put a vague plan together for one day in Amsterdam. Now that I've finally processed all of my billions (minor exaggeration) of photographs, I thought I would share my little day trip with you all.
RELATED POST: If you have longer, check out this great 3 days in Amsterdam itinerary!
Amsterdam in One Day
Anne Frank House
I was up bright and early for breakfast at the adorably cosy Hotel Wiechmann, and found myself eyeing up a bitterly grey sky over the Prinsengracht canal outside. Since I knew it was a very popular tourist attraction I'd planned to reach my first stop – the Anne Frank Huis, just a ten-minute walk from my hotel – as early as possible, and in spite of tiredness and icy cold I was there by 9:30. This is definitely recommended if you want to visit the house and museum, since it's a little on the small side and I'm sure it wouldn't offer the same experience jam-packed with tourists. I've already written about the Anne Frank House in quite a bit of detail, so please do check out my other post – and if you're heading to Amsterdam be sure to visit. Tickets were only about 9 euros, it doesn't take very long, and it is a very powerful emotional experience to see the place where those families lived in hiding during the war.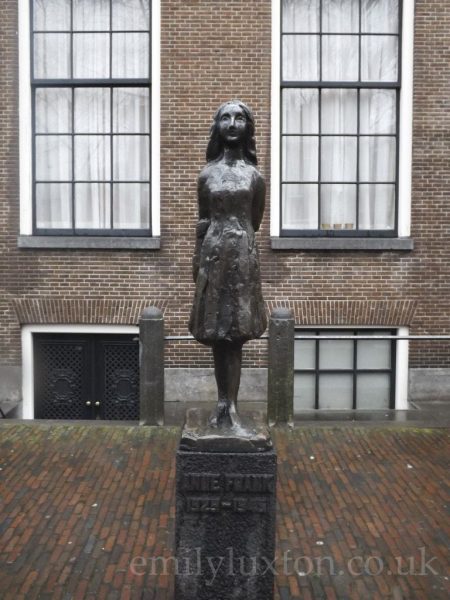 Just down the road from the Anne Frank house, I found alone myself in a puddle-strewn square, the only tourist fighting the rain to check out Westerkerk. The 17th-century protestant church is mentioned frequently in Anne Frank's diary, and there is a bronze statue of her in the square outside, which rounds off a trip to the museum nicely. Also nearby is the Homomonument, formed of three pink granite triangles set into the ground to form the points of one larger triangle, one of which juts out into the Keizersgracht canal. I found it festooned with damp flowers. Designed to commemorate all men and women who have been subjected to persecution because of their homosexuality, this simple message of acceptance goes down really well after a trip to the Anne Frank museum – which closes with an exhibition exploring the importance of stamping out prejudice.
Raadhuisstraat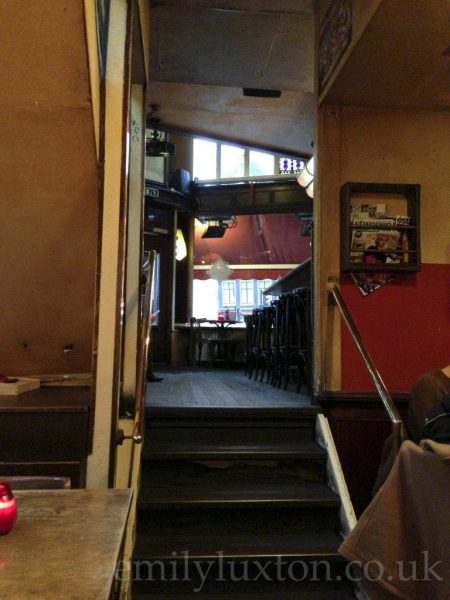 The rain picked up and was now coming down in icy sheets, so I ran down Raadhuisstraat – a covered arcade of bars and souvenir shops. I'd passed it in the cab the night before, lit up with fairy lights and twinkling stars, but found that it was far less magical in the wet, grey light of day. Still, though, the shelter was welcome, and I hovered outside a rather dingy looking electrical shop until it looked like it was easing off. But, as I turned right onto Nieuwezijds Voorburgwal it began bucketing down again, so I ducked into the first shop I found; Café van Daele on the corner of Paleisstraat.
The front of this café – which is probably a lovely place to enjoy a snack outside in better weather – offers a great view of the palace across the canal. Inside, though, I found the perfect cosy coffee shop to warm up and dry off in: small, dark, and comfy; fighting the gloom with tealights in red jars; playing soft, folky music; the narrow spaces between sloping walls filled with rickety wooden tables.
After a few days spent at the Hilton and eating at tourist trap restaurants, this was the first time I wasn't ripped off for a drink: the hot chocolate I ordered came oozing melted cream, with biscuits on the side, for 2.40 euros. I fell in love, and not just because the place was warm and dry. This was the sort of café I want to spend whole days in, drinking coffee and handwriting a novel.
Shopping and Markets
Luckily, the rain dried up around the same time I'd finished my hot chocolate and fully recharged myself after my early start. I headed down Nieuwezijds Voorburgwal, towards the Amsterdam museum, where I noticed a surprising amount of specialist bookshops, all gorgeous and old fashioned. I have a bit of a soft spot for bookshops; there's just something so quiet and calm about them.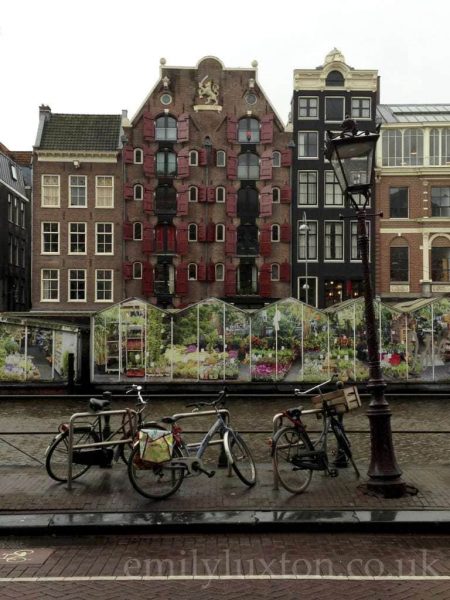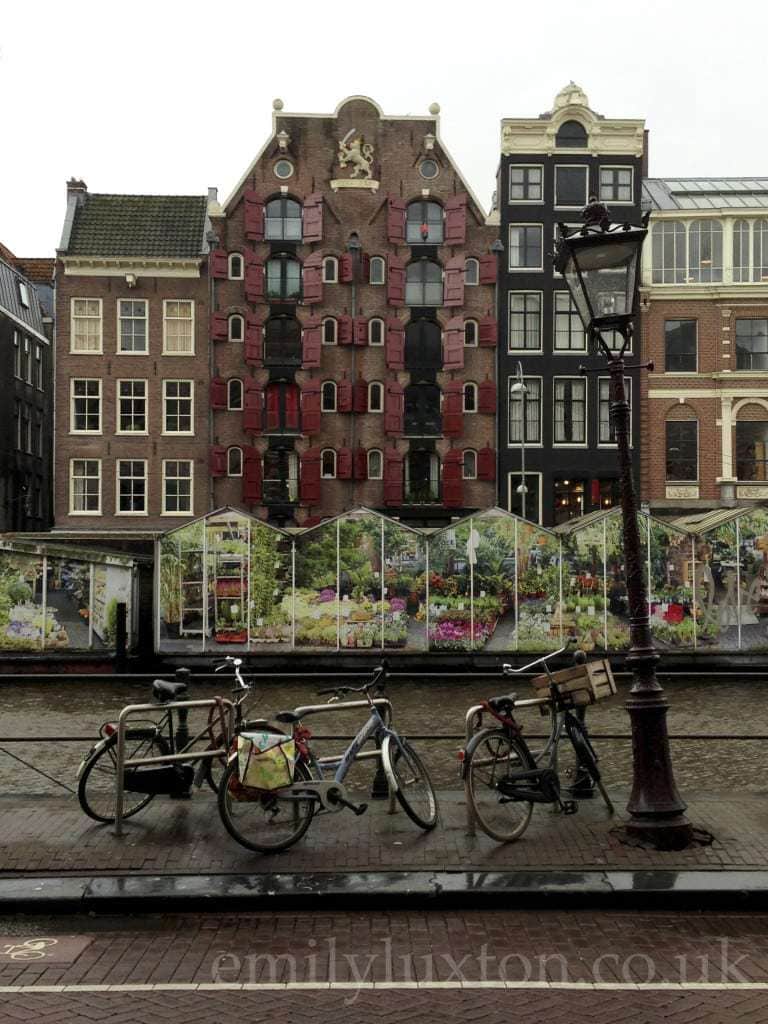 I decided against visiting the Amsterdam museum, although I think I would have had time to spend an hour or two there. But I didn't want to waste what might have been a fairly short rain-free period, and there was one other place that I was desperate to visit while the weather held out. So, I hurried along the Singel canal to the Bloemenmarkt, a daily flower market which lines the canal. Small, plastic stalls back onto the water, their backs decorated with life-sized photographs of the interiors, making them look like little greenhouses. The air around the market was heavy with the smells of flowers and herbs, or the rich, earthy tones of endless trays of bulbs – Dutch Tulips are a popular souvenir. The backs of the individual stalls, which jutted out over the canal, were like miniature botanical gardens, jungles of hanging trellises, mazes of green leaves, forests of cactus. Some were thick with the savoury tang of spices, others were sweet and fresh and floral. The market really is a fantastic stop on any tour of the city, and a lovely way to refresh your senses.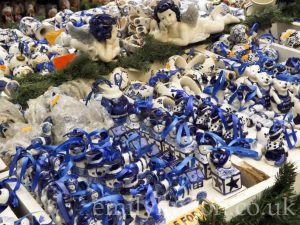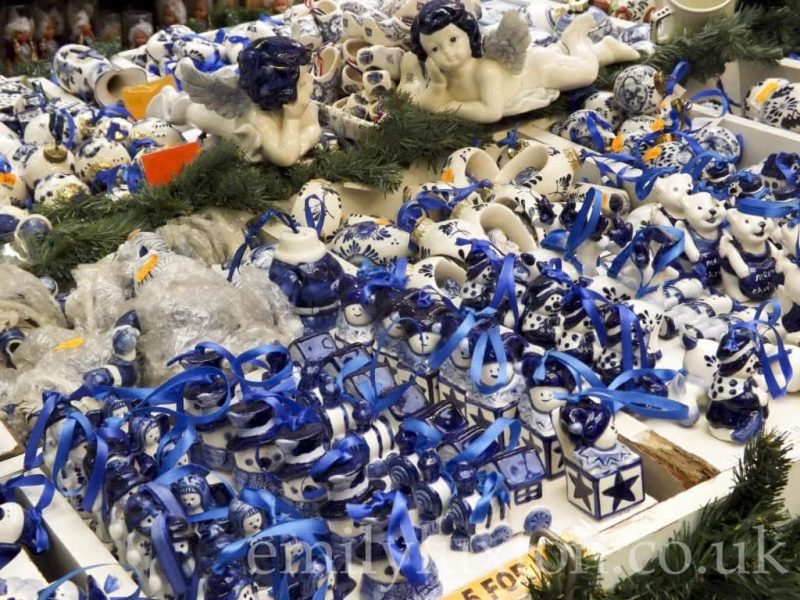 Amsterdam seems to be a city of markets, and another popular one with tourists and locals alike is the Waterlooplein flea market. From the Singel, I walked along the Amstel canal to Waterlooplein square – crossing the love lock bridge on the way – only to find that the flea market was mostly closed due to the earlier bad weather. Although the rain had cleared up, an icy wind was still howling through the remaining stalls, flapping the carpets and tie-dyed sheets, and tinkling through heaps of bric-a-brac. During good weather, this is a bustling market filled with tons of great goods to explore; antiques, second hand shoes, homemade clothes, and endless trestle tables laden with junk. But even whilst it's all closed up, the market is still a great place to explore. The backs of the trailers and the permanent metal stalls were decorated with photos – check out my gallery post for a few shots.
Amsterdam Old Town and Red Light District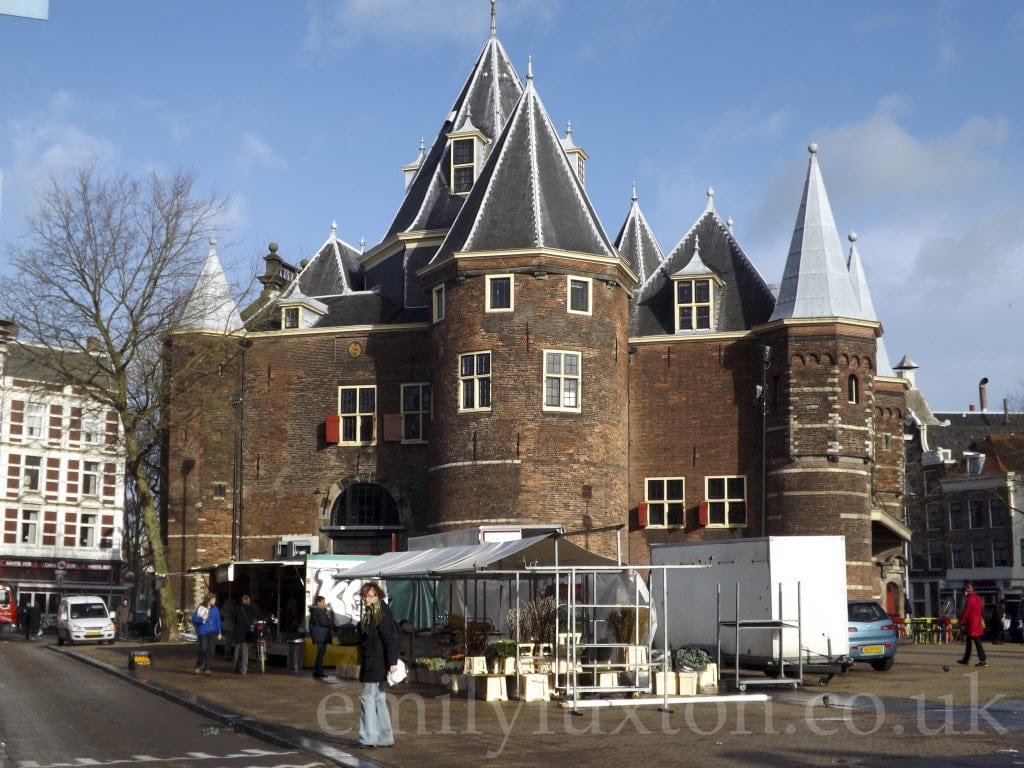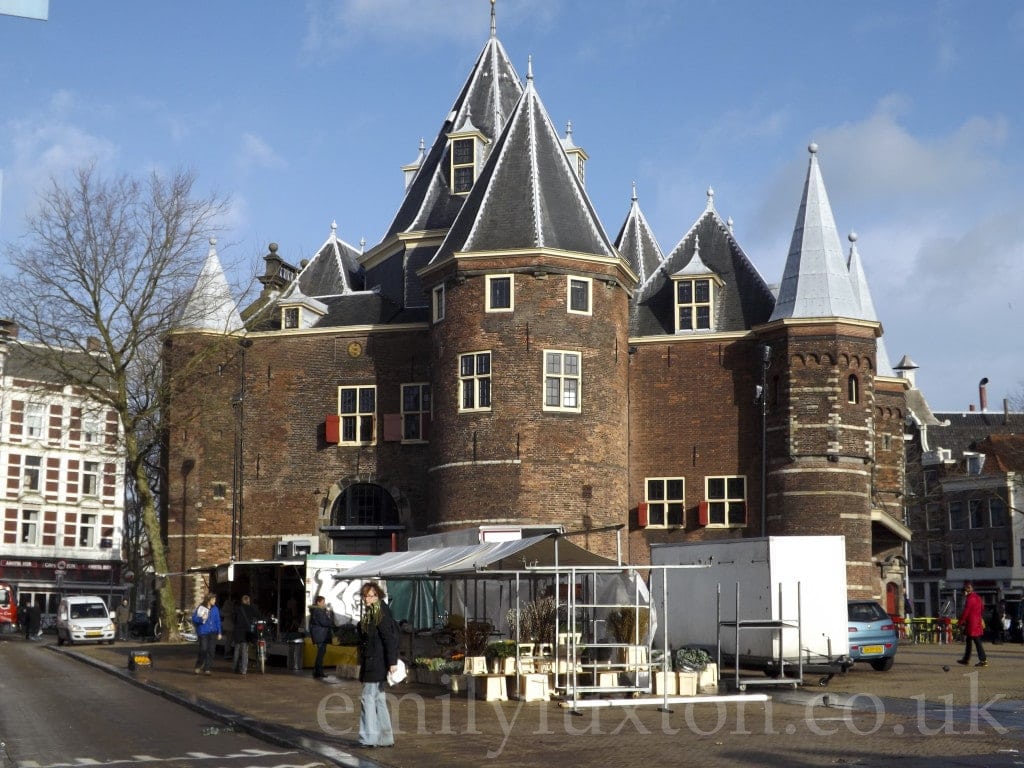 After a bit of aimless wandering around the maze-like streets of the old town, I inadvertently discovered the Waag, a pretty 15th-century building that used to serve as a city gate. By this stage, the sun had come out, and the squat, castle-like building with its red bricks and blue-roofed turrets looked very picturesque.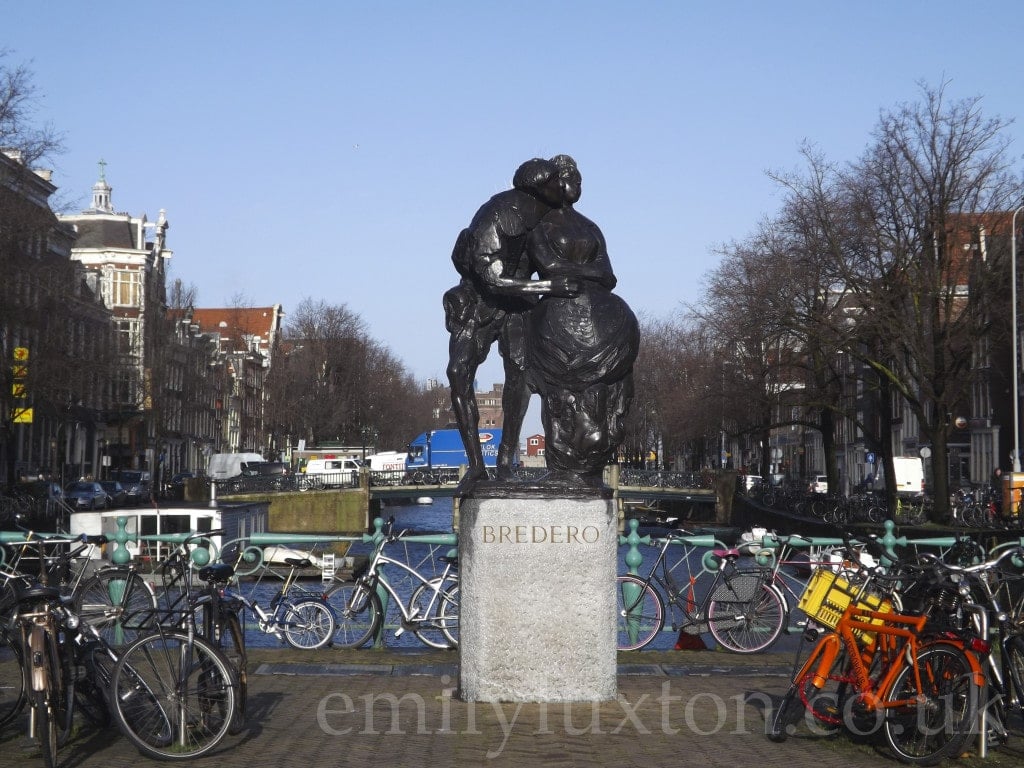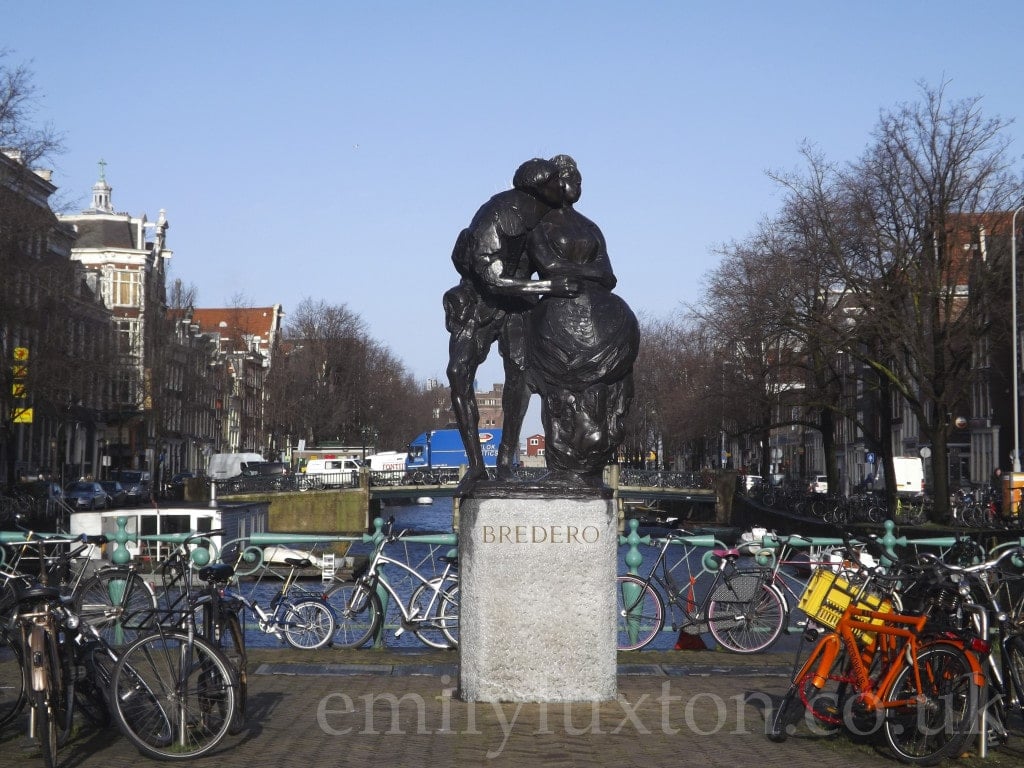 I then headed over to Dam Square, which I'd already visited on the first night of my trip, to take in the Royal Palace, the 15th century church Nieuwe Kerk, the slightly phallic national monument, and the traditional, touristy street entertainment. Around the outskirts of the square, I explored a bit more of the red light district and was surprised to see more girls in the windows than the night before, in broad daylight at 3pm! I've already mentioned what a naïve little prude I am, so we'll leave that there!
Albert Cuyp Market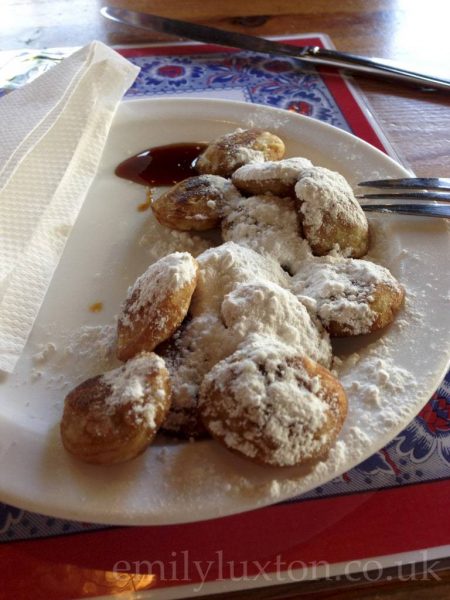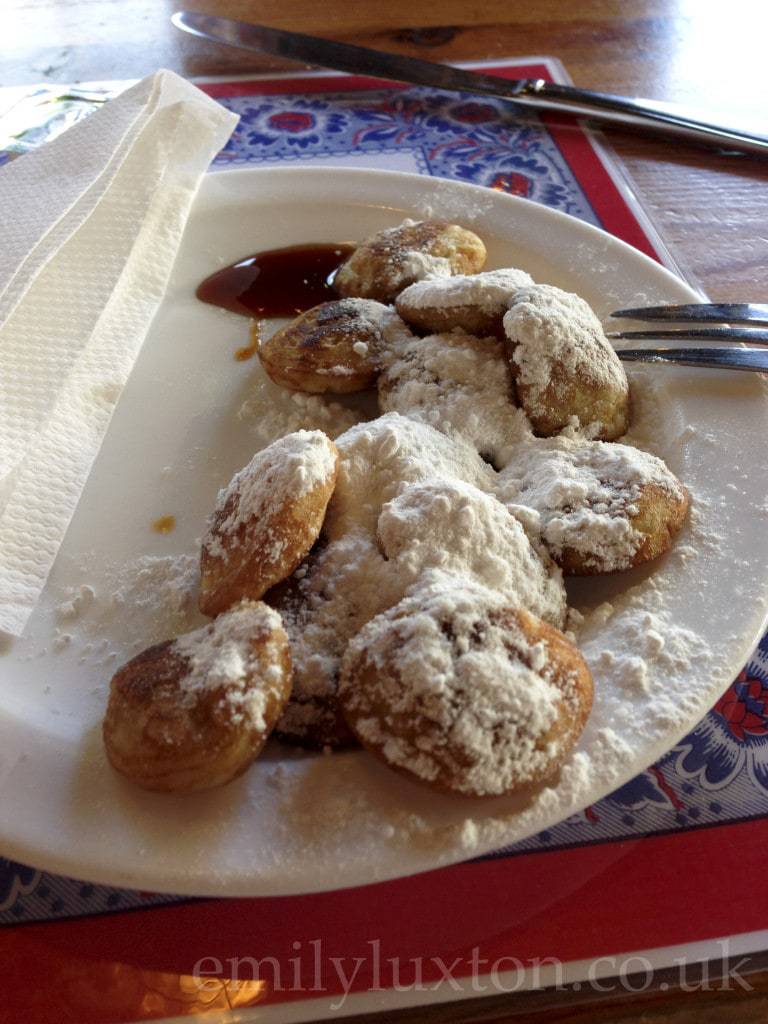 With one last market on my agenda – this time a bit of a walk away – I headed downtown towards the colourful De Pijp neighbourhood. On the way, I headed down Leedesgrat – where I was delighted to discover a little British and American foodshop – to get to Leidesplein. This is a pretty square lined with bars and terraces, which I'm sure is gorgeous in the summer, but it was very touristy. Lots of touts lingered at the edges of the square trying to flog bar crawls to British tourists. Ignoring them, I headed into a nearby restaurant, the appealingly named Pancake Corner, for an afternoon snack; yet another hot chocolate with a mountain of cream, and a generous helping of my new favourite food, Poffertjes: mini, fat pancakes dusted in icing sugar which look like little flying saucers. The restaurant was a bit of a tourist trap, but it did offer a nice view across the square, and the pancakes were delicious.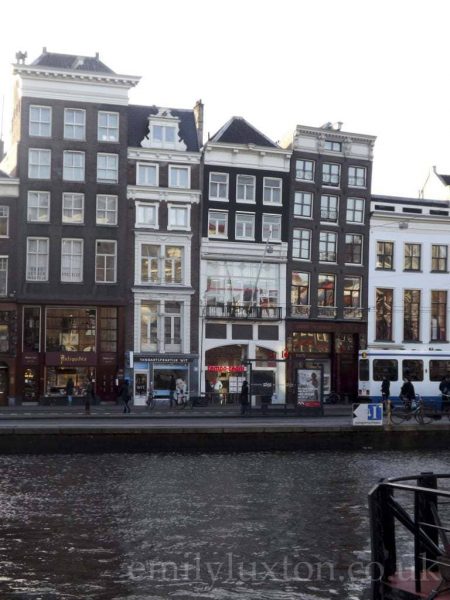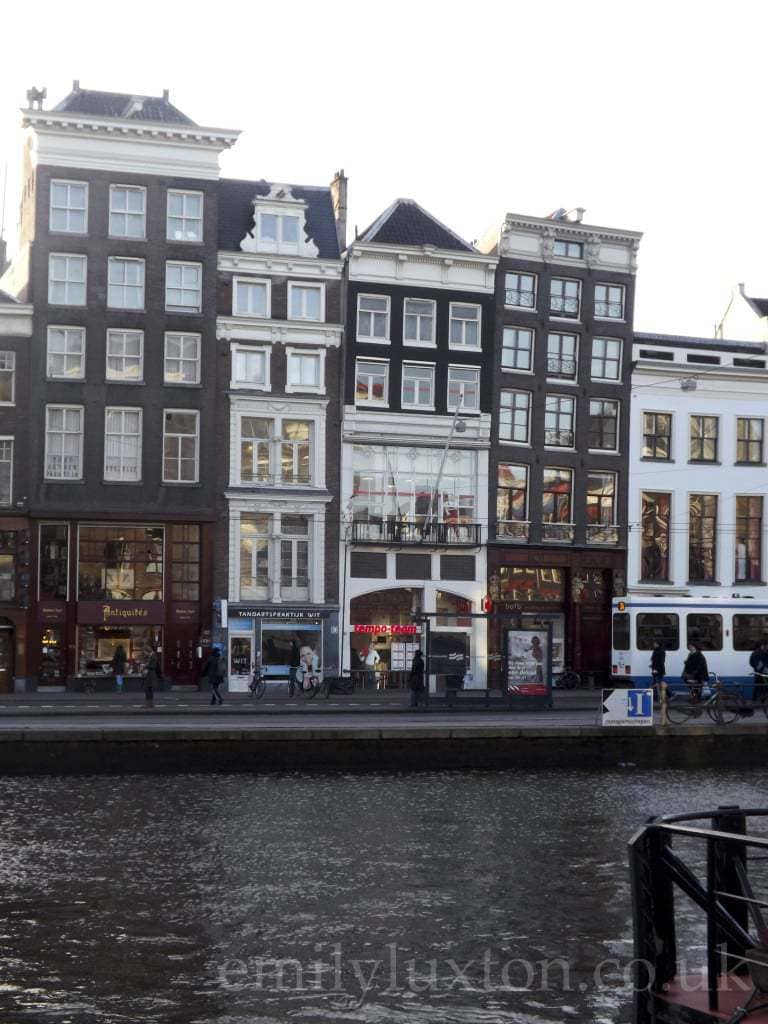 From there, I walked past the impressive Rijksmuseum and headed down Ruysdaelkade canal – a beautiful, peaceful area far from the busy tourist centre – to Albertcuypstraat for the daily Albert Cuyp Market. This is a lovely – and very popular – local market selling almost everything, from food and textiles to bikes and antiques. The smells of raw meat and fish scream proper market, but this is still a great spot for tourists – the hot waffles had me salivating, and I could have spent ages browsing the gorgeous wooden toys for sale.
Ending One Day in Amsterdam!
I rounded the day off by heading back up to the city centre, exploring pretty little streets and old canals, then stopping for a cold drink in a poky little bar – dimly lit and nearly empty, with heavy wood floors and rickety furniture – before catching the tram to the train station and heading back to the airport.
Update: I've recently come across a fantastic Amsterdam guide on the Netherlands Tourism blog, check it out for loads of helpful hints and tips for your trip, all from a very informative and well-travelled Netherlands local!
Amsterdam in a Day – Itinerary
1) Anne Frank House
2) Westerkerk, Anne Frank Statue and Homomonument
3) Royal Palace
4) Amsterdam Museum (head along Paleisstraat)
5) Bloemenmark – Flower Market along the Singel Canal
6) Head along the Amstel canal to Waterlooplein Flea Market
7) Waag Church (in the old town area)
8) Dam Square (National Monument, Royal Palace, Niew Kerk) Nearby – the infamous Red Light District
9) Liedesplein
10) Albert Cuyp Market (on Albertcuypstraat)