I've always loved camping. The rustic feel of it, waking up to an amazing sunrise and an instant hit of fresh air. The feeling of being that little bit more connected with nature. So far this year I've been on two camping trips, my Trek America tour of East Coast USA, and Glastonbury. And now I'm hungry for more!
So, when Yelloh! Village got in touch to ask me what my ideal camping experience might be, that got me thinking. I've put together a post about my ideal campsite! But I want to know – what would YOUR dream camping trip look like? Make sure you leave a comment at the end of this post to let me know.
Who Are Yelloh! Village?
Award-winning European holiday company Yelloh! Village pride themselves on providing Europe's finest open-air hotels. They have it all, from glamping in nature cottages and five-star campsites with top of the range facilities, to spacious tent pitches in stunning natural surroundings. There really is something for everybody.
They have plenty of family-friendly facilities, as well as pools and water parks, spas and wellness centres, and regular sporting activities on offer. A stay at a Yelloh! Village site is super fun!
There are luxury campsites in ideal locations across France, Spain and Portugal. You'll be ideally placed to explore picturesque villages, hike through forests and mountains, or cool off in the sea or a lake. These are perfect holidays for those who love the outdoors!
So, what does my ideal camping experience entail?
Eco-Friendly
Camping is all about getting back to nature, so it's important to me that a campsite has a responsible approach to the environment. Especially a luxury campsite with fancy facilities.
Many Yelloh! Village sites have been awarded the EU Ecolabel and/or the Clef Verte, and all of them are committed to careful recycling, managing water usage, and using sustainable energy sources whenever possible.
Stunning Nature
I want to make the most of my camping experience by getting outdoors all the time. So when I go camping I'll be looking for a site close to some incredible natural beauty.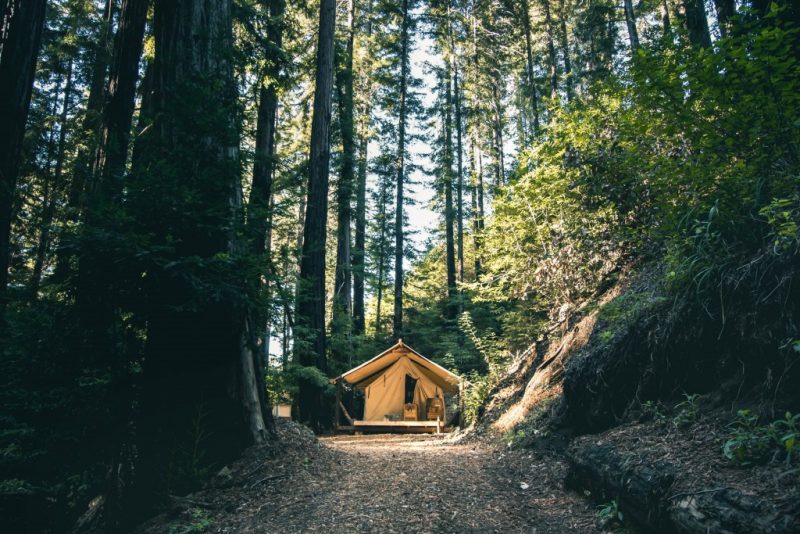 Luxury Camping with Great Facilities
I've camped at some seriously basic sites before. While it can be fun to get back to the bare necessities, it's also a little uncomfortable. My ideal campsite would combine the best of both worlds; a site in a gorgeous natural location, with plenty of top of the range facilities. A nice pool and a good on-site restaurant are very important. Plus, free WiFi is also a pretty big plus for a travel blogger!
With cute chalets and glamping pods, a waterpark, on-site shops including a bakery, an amazing restaurant, and a truly gorgeous setting between the Pyranees and the Med, I'm thinking that the Yelloh! Village Sant Miquel in Costa Brava – one of my favourite Spanish regions – ticks all my boxes! Plenty of top of the range facilities, stunning natural surroundings, and of course the excellent reputation for customer service and quality that comes with the Yelloh! Village brand. This really could by my ideal campsite. Now to start planning my summer holiday…
What does your ideal campsite entail? Comment below and let me know!