Some posts on this site contain affiliate links. If you book or buy something through these links, I earn a small commission (at no extra cost to you). Take a look at my privacy policy for more information.
Get ready to embark on an unforgettable journey through the wonders of Tulum and the captivating Riviera Maya in Mexico. From dreamy beaches to ancient Mayan ruins and a vibrant culture, this guide will take you on a detailed tour so you can make the most of your experience in this fascinating region.
1. Introduction to Tulum and the Riviera Maya
Tulum and the Riviera Maya await you with an irresistible blend of paradise beaches, ancient Mayan ruins, and a culture that blends tradition with modernity. The region is a haven for nature enthusiasts, history explorers, and intrepid adventurers.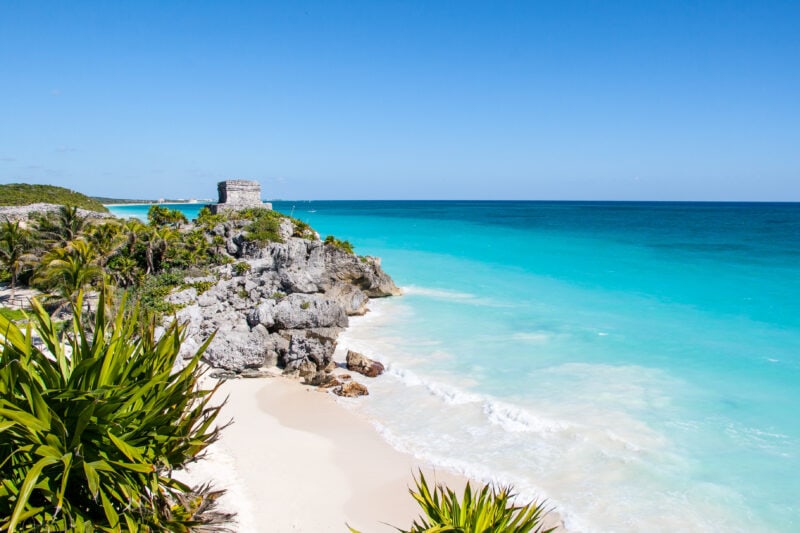 In addition to its stunning natural beauty, Tulum boasts the richness of its Mayan and colonial past. The Tulum ruins, with their breathtaking seaside location, tell ancient stories and offer unparalleled ocean views. The Riviera Maya is also home to underground cenotes and natural reserves, inviting you to immerse yourself in a world of unique biodiversity.
2. Getting to Tulum
The excitement of your journey begins with the choice of how to get to Tulum. You have the option of flying into the Cancun International Airport, the main entry point to the region. From here, a short journey to Tulum awaits, where magical experiences abound.
Transfers from Cancun Airport
For a stylish and hassle-free start, Caribbean Transfers is your best ally. This transfer service from Cancun Airport to Tulum offers you comfort from the moment you land. Professional drivers will welcome you with a smile, ready to take you to your Tulum destination. Modern vehicles ensure a comfortable and safe journey, allowing you to relax and enjoy the scenery along the way.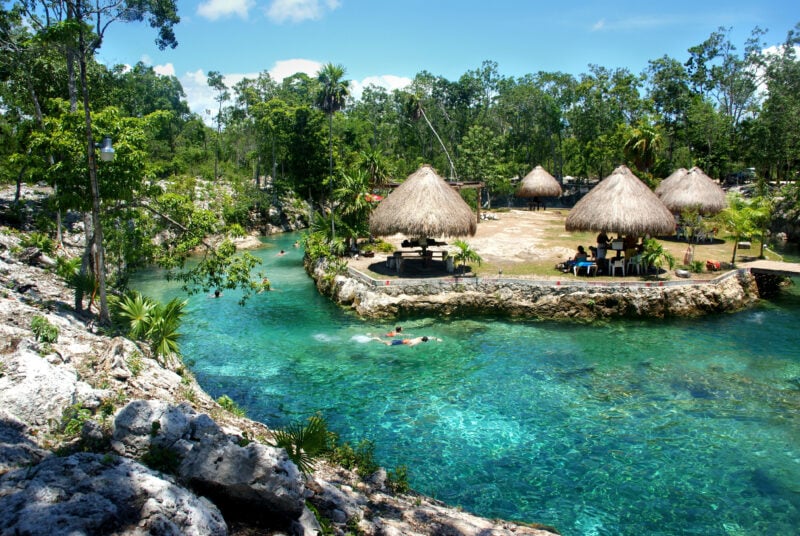 3. Where to Stay in Tulum
The choice of accommodation is essential for a complete experience in Tulum. The region offers a variety of options for all tastes and budgets. From beachfront resorts to charming boutique hotels in the city center, there's something for every type of traveler.
Hotel Recommendations: Hotel Azulik and Ahau Tulum
If you're seeking a unique experience in Tulum, consider staying at Hotel Azulik. This eco-luxury resort offers treehouse-style cabins with stunning ocean and jungle views. Enjoy a connection with nature, private terraces, and the tranquility offered by this exceptional retreat.
Another standout option is Ahau Tulum, an eco-chic destination that combines seaside relaxation with bohemian elegance. Here, you'll find cabins and rooms with rustic, authentic designs, as well as beachfront restaurants that allow you to savor delicious local cuisine while gazing at the Caribbean waves.
READ MORE: Check out my review of Hotel Maria de Mar in Tulum for another great option.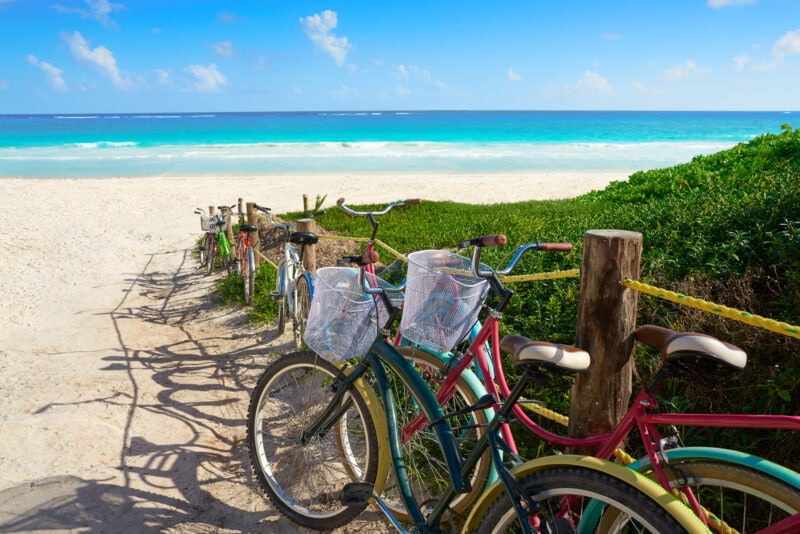 6. Getting Around Tulum and the Riviera Maya
Seamless mobility in Tulum and the Riviera Maya is essential for a worry-free experience. Here, we present two exceptional options to facilitate your movements:
Option 1: Caribbean Transfer – Sophisticated Start
From the moment you set foot on Mexican soil at Cancun International Airport, Caribbean Transfer will provide you with first-class transportation. This personalized service will take you directly from the airport to your Tulum lodging. With highly professional drivers and modern vehicles, you'll enjoy a comfortable and secure journey. Relax after your flight and let you shuttle take care your adventure.
Option 2: Taxi Riviera Maya – Explore at Your Own Pace
If you have an adventurous spirit and wish to discover the Riviera Maya at your own pace, Taxi Riviera Maya is the perfect choice. With local drivers who know every corner of the region, you'll have the freedom to design your own adventure. Whether it's a trip to iconic sites or a tour of lesser-known gems, this service allows you to explore the Riviera Maya as you desire. Take advantage of the drivers' local expertise to uncover hidden gems and immerse yourself in the rich culture and nature of the region.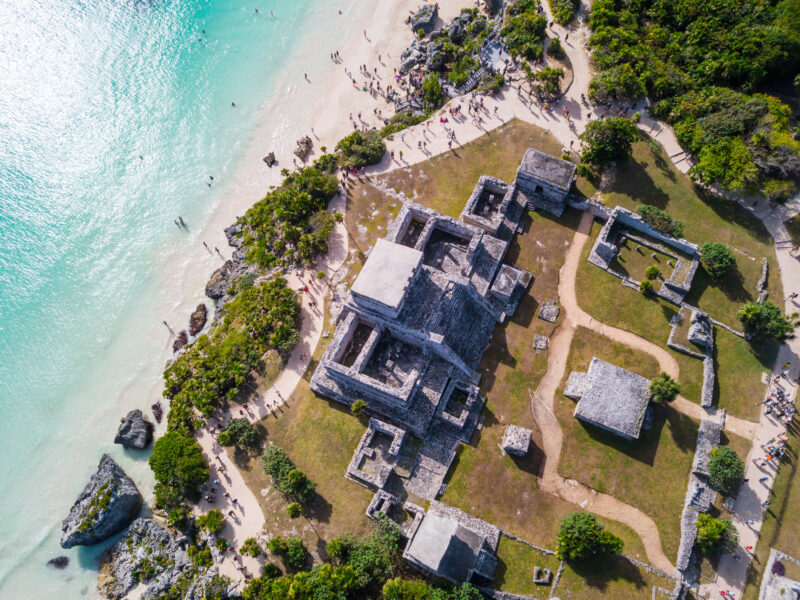 7. Travel Tips and Recommendations
As you immerse yourself in the beauty of Tulum and the Riviera Maya, here are some tips to make the most of your experience:
Plan Ahead: Book your transfers in advance to avoid complications.
Explore with Respect: The region is rich in culture and nature. Respect local norms and environmental conservation.
Discover Hidden Gems: Utilize Taxi Riviera Maya's local knowledge to find authentic, lesser-known places.
Enjoy the Cuisine: Don't miss the chance to savour delicious local food at restaurants and street vendors.
In Summary:
Tulum and the Riviera Maya await you with exciting adventures and unforgettable experiences. From your arrival at Cancun Airport to your personalized exploration, each moment will be unique. Immerse yourself in the natural beauty, history, and culture of this magical region and let the magic of Tulum and the Riviera Maya envelop you. Your dream journey is about to begin!