Over the past few months, I've featured a couple of posts about the best small towns in Italy, which have been surprisingly popular. It seems now more than ever people are trying to get off the beaten track in Italy and find something far away from the overcrowded cities and overly touristic destinations. Better still than the popularity of the posts, though, was the huge amount of recommendations which poured in from all of you – so many in fact that I've had to do a third post to feature them all! Here are five more suggestions for some of the best small towns Italy has to offer…
Mantua, Lombardy
Known locally as la bella addormentata – the sleeping beauty – the UNESCO World Heritage site of Mantua is surprisingly neglected by tourists, who instead head to nearby Verona and completely overlook this stunning ancient city. Filled with palaces and piazzas, this stunning town is a stronghold of Renaissance art and architecture, and deserves far more attention that it currently gets.
Top Tip: The Guardian recommend Hotel Broletto in Mantua, an elegant and family-run hotel housed in a 15th century mansion. Situated between the boutique-lined Piazza delle Erbe and the grand Piazza Sordello, with it's white marble baroque cathedral, this is definitely one of the best hotels in town.
Ostuni, Puglia
On Twitter, Robin Lacey (@MyMelange) sent me a few great recommendations, one of which was the incredible, all-white town of Ostuni. One of the most stunning towns in Southern Italy, the dazzlingly whitewashed Ostuni is an absolute gem!
Top Tip: Puglia is known for it's wonderful and varied food festivals, and Ostuni is no exception. The best is perhaps Sagra dei Vecchi Tempi in mid August – the perfect chance to sample some of the best foods of the region.
Orvieto, Umbria
Simone from The Aussie Flashpacker recommended Orvieto in Umbria as the perfect stop off the beaten track in Italy, saying "it's the home of Pinocchio and the most gorgeous small town". It certainly looks it; a beautiful medieval stone town perched a thousand feet above a valley, on the flat summit of a butte of volcanic tuff.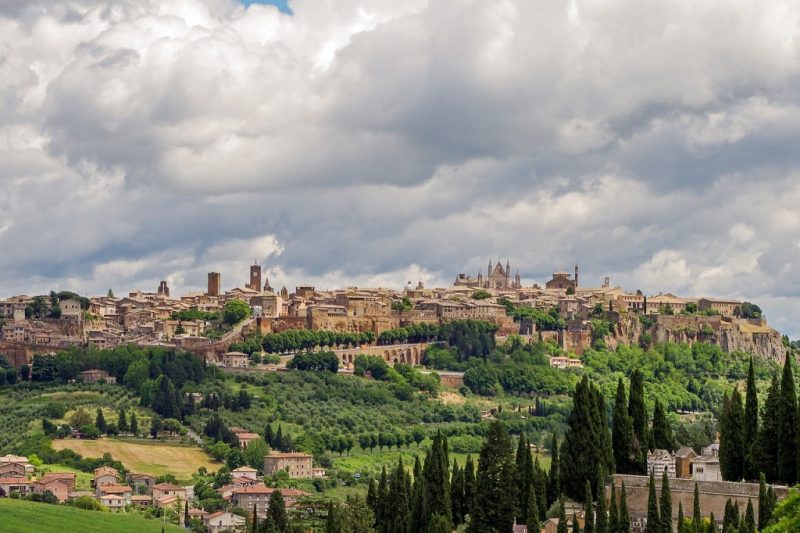 Top Tip: Whatever you do in town, don't miss the region's famous Classico wine – Rick Steves recommends the Tenuta Le Velette winery just outside of Orvieto.
Rocca di Papa, Lazio
Blogger Christine from Ottowa Boomers recommended Rocca di Papa, a stone's throw from Rome and her one-time home. She used to live in a tiny apartment at the top of the town, which meant a lot of uphill walking: "no need for a gym membership, and it's all natural!". According to Christine, documents from 12th century name Rocca di Papa as Castrum Rocce de Papa ("Rock Castle of the Pope"), because Pope Eugene III lived there.
Top Tip: Travellers say the best way to explore Rocca de Papa is on foot, because that way you can stop frequently to take in the sights of medieval and gothic architecture or of locals shopping, to enjoy the scent of fresh bread, or to browse the shops and pick up some of the best Italian delicacies!
Bassano del Grappa, Veneto
Italian local Chiara commented on my post about alternatives to Italy's major cities to recommend Bassano del Grappa, Marostica and Cittadella, three towns which she thinks deserve more attention. Only one could make this list, though, and the picturesque riverside town of Bassano del Grappa seemed like the most attractive.
Top Tip: As the name suggests, Bassano del Grappa is famous for inventing the popular Italian spirit drink of grappa, so be sure to give it a try when you're in town, and maybe take a tour of a local distillery to learn more.
If you've travelled to any of these small towns in Italy – or any others in fact – then I want to hear from you! Leave a comment below!
Ps – Huge thanks to Jessica Coup for providing some of the images in this post.