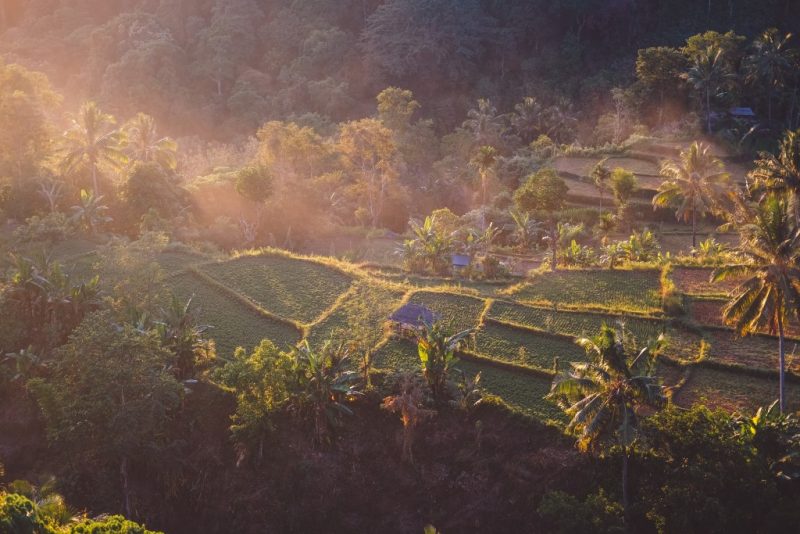 After six weeks in Indonesia, I finished it all off by returning to Lombok for a few days. Something about this place just drew me back! Lombok is Bali's neighbour, just a twenty minute flight away, and yet it still sees far fewer tourists than the over-crowded resorts of Indonesia's most famous island. And while Bali is absolutely gorgeous, it can feel just a little bit "over done".
Lombok, on the other hand, still feels like a bit of an adventure. It's coastlines are rugged, the waters wild, the towns less polished – and while the tourists are prolific, it doesn't feel like they've taken over, yet. It's fast becoming the new backpacker favourite, but for now Lombok still feels like a scruffier and more exciting version of Bali. Here are a few of the best things to do in Lombok…
Before you read on, watch this ad to donate some money to charity (and help my blog out). More info here.
Read more: Explore Lombok and more in this fab two week Indonesia Itinerary from the lovely Sher She Goes.
Discover the Beaches
Lombok's rugged coasts are lined with beach after incredible beach. The waters are warm and clear, the sands pristine and white, and even the best known, like Kuta Beach, are fairly empty. You're more likely to share Seger Beach with a herd of water buffalo than with any other tourists (true story).
To discover the best beaches, hire a moped to explore some of the best spots on the south of Lombok. These are generally around 50,000 IDR (£3.05) for a day and can be rented all over the place in Kuta. The main roads in Lombok are in pretty good condition, many of them newly tarmacked*, so exploring the island by bike is easy. Plus the traffic isn't too bad, and there are few cars or large vehicles. Some of the more out of the way beaches are found down bumpy tracks and more precarious roads, but they're worth the effort to reach. And chances are you'll be rewarded by a swathe of white sand, all to yourself!
Closest to Kuta, Seger Beach was one of my personal favourites, and the highly recommended Mawun is just a twenty minute drive – with some fab views as you cross the hills. Ask around for recommendations, get on your bike, and go explore.
*As of October 2016.
Surf School
If you're a seasoned surfer, the secluded beaches and choice waves of Lombok's south coast will be right up your street. You can rent boards all over the island, especially in Kuta, and you can even rent a moped with a board rack attached – so get out there, explore, and enjoy the surf. Bangko Bangko (aka Desert Point) on the south west coast is generally considered the best spot for pros; by all accounts a Desert Point wave, when it hits, is one of the best to surf on the planet.
If you're a newbie, Lombok is one of the best places to learn to surf. We headed to Selong Belanak for lessons (IDR 350000 / pax): the bay is wide, the waves are big but not monstrous, and conditions were ideal for beginners. Well worth it if you're up for a new challenge.
*Image Credit: Wanderlust Chloe
Climb a Volcano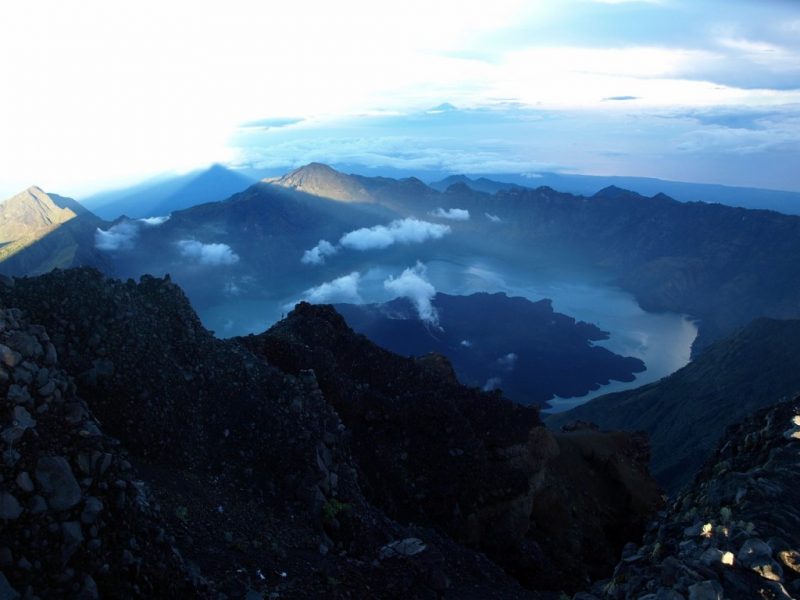 If you fancy a serious challenge, Lombok's Mount Rinjani is Indonesia's second highest volcano. Three and four day hikes leave every day to tackle this bad boy, which looms impressively over the north of the island. At 3726m, the hike to the top of this active volcano is a serious slog – but it's worth it just for the bragging rights. And then of course there are the views from the top, which look truly incredible.
A friend I met in Flores, Marina, completed the Rinjani trek and told me it was the hardest and most challenging thing she'd ever done. This is not a trip for the fainthearted; Marina had very little sleep during her three nights, waking up at 1:30am on the last day to climb for 3.5 hours in the dark and cold to reach the summit for sunrise. It was, however, completely worth it!
Explore the Gilis
Once you've had your fill of surfing and monster hikes, you can head for some serious R&R in the Gili islands. Three tiny islands clustered off Lombok's north west coast, the Gilis are famous for their beautiful beaches and excellent snorkelling. These islands have no motorised vehicles, so the only way to get around is on foot, in a horse and carriage, or by bicycle – which can be rented in most hotels.
On Gili Trawangan (aka Gili T), you'll find a hedonistic backpacker haven – perfect for a night (or six) of partying. If you want to go all out, consider a party cruise – we took one with Samba Cruise to celebrate the end of the Trip of Wonders and it was pretty darn awesome. Also on Gili T, you'll also find a string of beautiful white sand beaches, as well as that famous swing, which is perfect Instagram fodder if you're willing to queue for it.
The smaller islands are both much more chilled out. I loved my night on Gili Meno, glamping in serious style in a fabulous Karma Reef sea tent. Both Gili Meno and Gili Air are known for being far quieter than Gili T, without the crazy party scene, so these are the ideal choice for some super chilled bliss-out time.
Homestay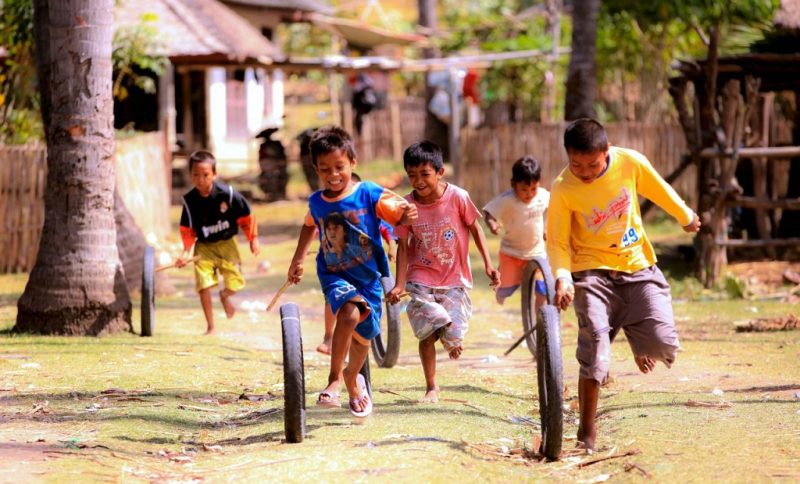 One of the things I wish I'd had time to try was a homestay in Lombok. A girl I met in Kuta had just spent a week living with a local family in the centre of the island, learning to cook local food and make traditional crafts. It sounded like a perfect experience and a great way to learn more about island life.
A homestay in Lombok could be a great way to immerse yourself in the local culture and see the area from a new perspective. There are loads to choose from, but head to a smaller village in the island's interior for a more authentic experience.
Have you been to Lombok or the Gili islands? I'd love to hear your suggestions for the best things to do in Lombok… scroll down to leave a comment!
Pin This Post: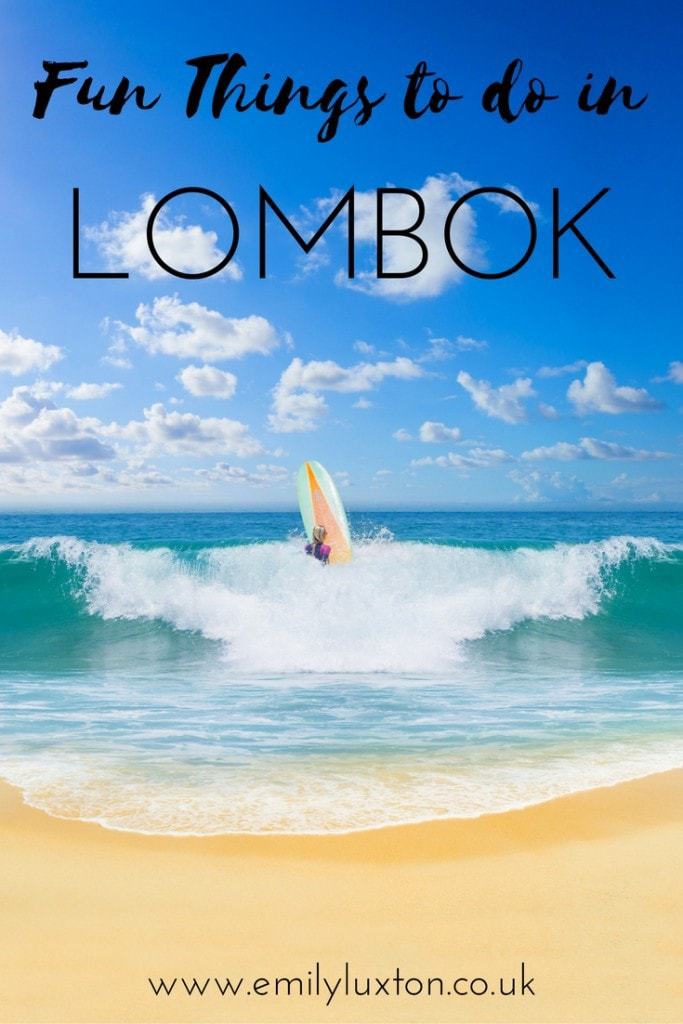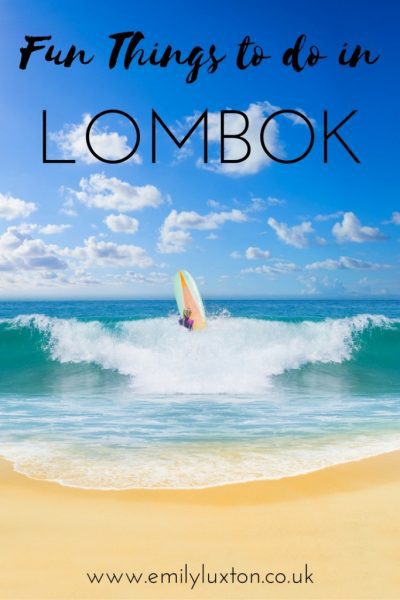 My visit to Indonesia was part of a press trip organised by Indonesia Travel as part of their #TripOfWonders Campaign. As always, all views and opinions are entirely my own and without bias.