Some posts on this site contain affiliate links. If you book or buy something through these links, I earn a small commission (at no extra cost to you). Take a look at my privacy policy for more information.
"Indian food is all about the timing of the spices" Mukti tells me, as – under her watchful eye – I add the next ingredient to the pan.
We're standing in her kitchen; a small, neatly laid out upstairs room of her house which she's converted into Mukti's Kitchen, a classroom for her excellent Indian and Goan cooking classes. There are plastic jars lining the walls, filled with spices of kinds, and a single wooden fan is spinning overhead, stirring up the smells of our ingredients as they simmer over the hob. Onion, garlic, coconut, chilli, coriander, ginger… it's an intoxicating concoction, and soon my stomach is growling.
When I ask where she learnt to cook, Mukti looks at me in amusement. "At home," she says, with just a hint of stating the obvious. Her grandmother and mother taught her everything she knows, and in turn she now teaches those same cooking skills and traditional recipes to tourists. "In India," Mukti explains, "from about the age of seven we start learning to cook".
Read More: Find out all about travelling India in this fab India destination guide from Bemused Backpacker.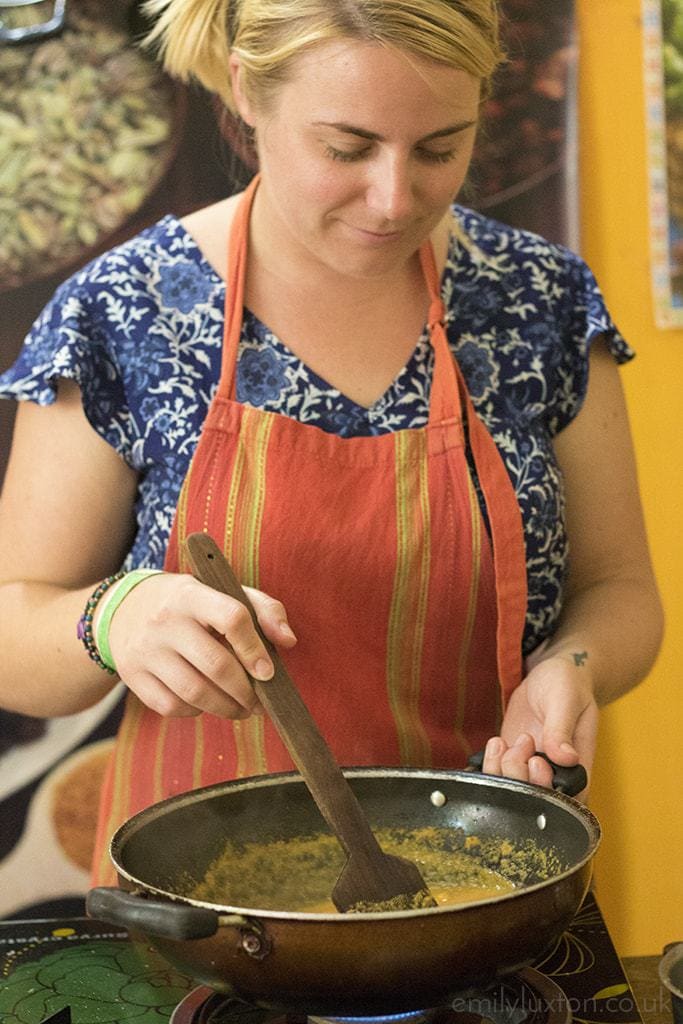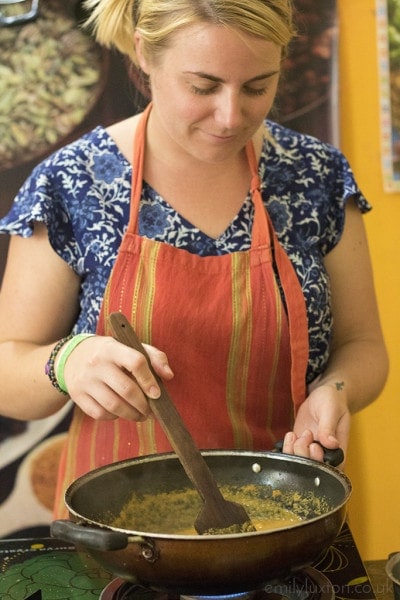 I consider this for a moment; it's hard to imagine my seven year old self rustling up anything more sophisticated than chocolate Rice Crispy cakes, and perhaps that explains why I'm such an inept cook these days. Like most Brits, the only Indian dishes I've ever cooked before have involved a jar of sauce and some boiled rice; and I even struggle with simple European dishes (I've been known to burn pasta).
It only took a minute or two of watching me struggle to dice an onion for Mukti to reassign me to the less difficult job of stirring from then onwards. Even this I'm not sure I did all that successfully; she frequently usurped my position at the hob. But, even if my prowess in the kitchen remains unchanged, I'm pretty certain I did learn something during the two hour lesson at Mukti's Kitchen. I certainly gained a bit more of an insight into the traditional cuisine of Goa.
What often strikes me about cooking in other countries is how the food still centres on locally available ingredients and seasonal produce. In England, where almost everything seems to be imported and where the farmer's markets are the expensive alternative to supermarkets, the idea of cooking with only fresh, local ingredients seems almost like an extravagance. In India, and other parts of the world, it's the norm. Goan cuisine, Mukti explained, centres mostly on fresh coconut, fish and seafood; some of the state's most readily available products.
Traditionally, Goans will create a meal of several dishes, and that's exactly what do. Chicken xacuti, prawns masala, jeera aloo, and vegetable biryani form my traditional Goan course, all of them typical dishes for the area. While they all seem to use similar spices and ingredients, each dish tastes incredibly different; it really is about the timing of the spices.
Subtle changes make a huge amount of difference, and that's the basis of Indian cuisine, as Mukti keeps reminding me. For one dish, we dry-fry cumin and mustard seeds, which start popping like corn, before adding the garlic, chilli, and curry leaves, for another we blend similar ingredients – but with fennel and cardamom seeds this time. I love using Mukti's antique yellow blender, a relic from at least the eighties that still runs surprisingly well with a little gentle coaxing.
All the dishes require very exact amounts of time between ingredients; frying onions for a little longer or a little less time makes a world of difference to each dish. According to my teachers, the essence of the biryani is the burning smell of the onions after they've been fried for a few minutes longer. It's all in the timing.
Finally, with four dishes made and the recipes diligently copied down into my notebook, I get to enjoy the fruits of my labours. Or rather, the labours of Mukti and her co-chef Manesh, since I'd be lying if I said I did a huge amount to help. My class at Mukti's Kitchen was, however, a fascinating insight into traditional Goan cuisine and what real Indian cooking looks like – without a jar of sauce in site!