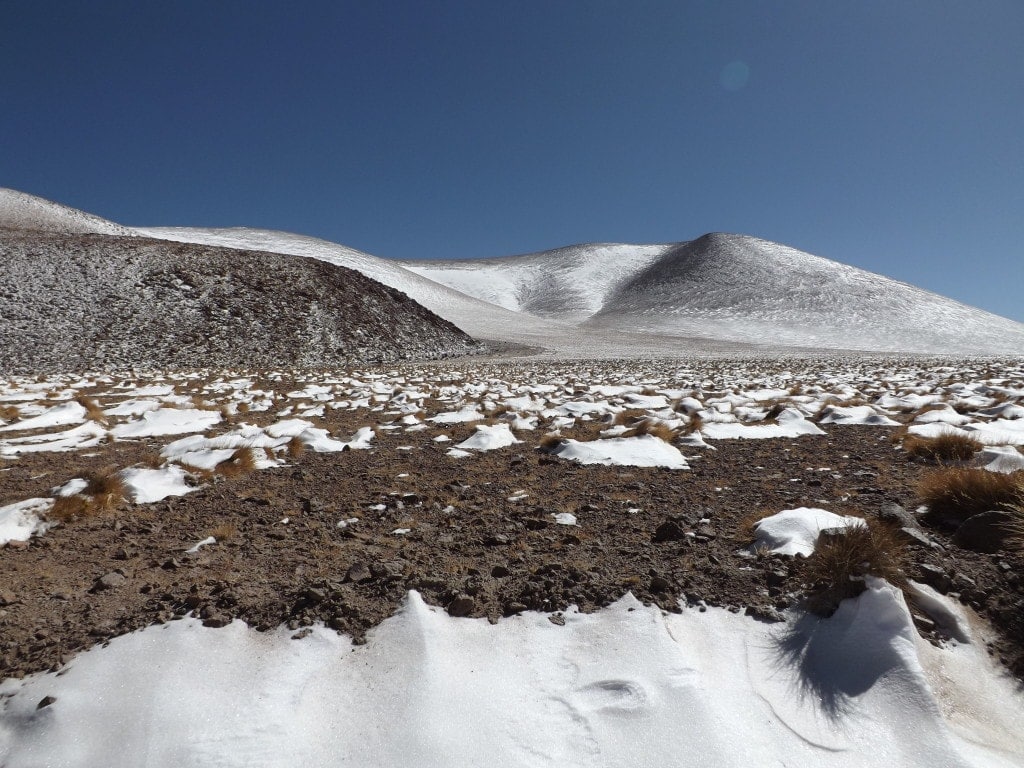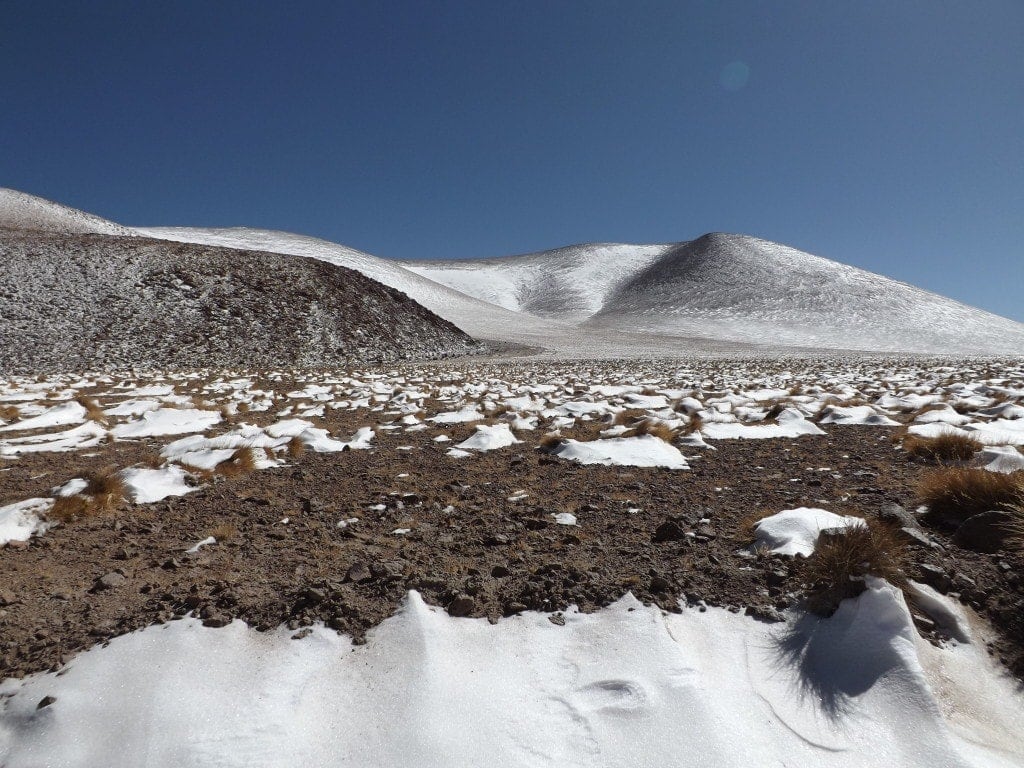 Last week, while I was shivering my toes off sightseeing in a slightly snowy Brussels, I spotted the awesome new Ice Cold Adventures campaign from outdoor clothing brand Berghuas. They're publishing a list of their top five ice cold adventures over the next couple of weeks – like Helvellyn in the Lake District or the annual Harbin Ice Festival in China – and asking travellers to share their own via Instagram or Twitter. You just have to share a photo or video of your ultimate #IceColdAdventures using the hashtag for the chance to win a £250 Berghaus voucher.
And that cool campaign got me thinking – what has been my best icy adventure so far? Travelling in South America last winter, I found myself in some fairly cold situations – but none were as cold or as awesome than our four day trip from Tupiza to the Salar de Uyuni. A trip which took us to heights of 5000 metres above sea level at times, where nighttime temperatures plummeted to minus thirteen degrees and where my hair actually froze after a dip in a thermal bath, this was one seriously ice cold adventure. Here are five of my favourite frosty highlights from the trip…
Crossing Ice Rivers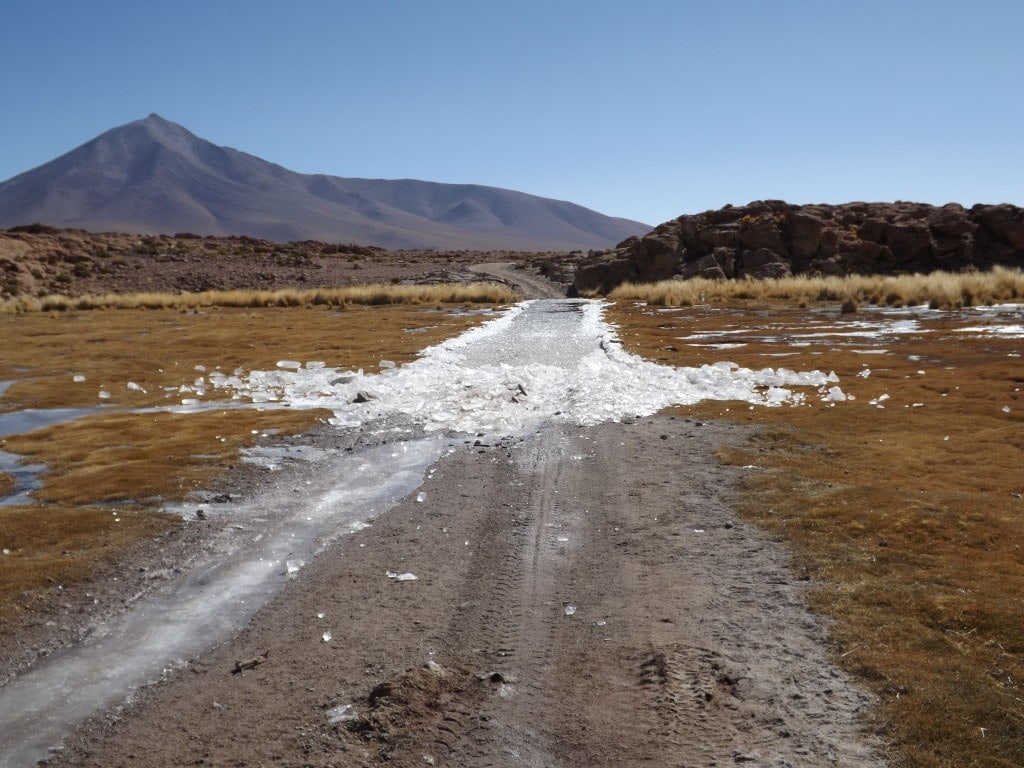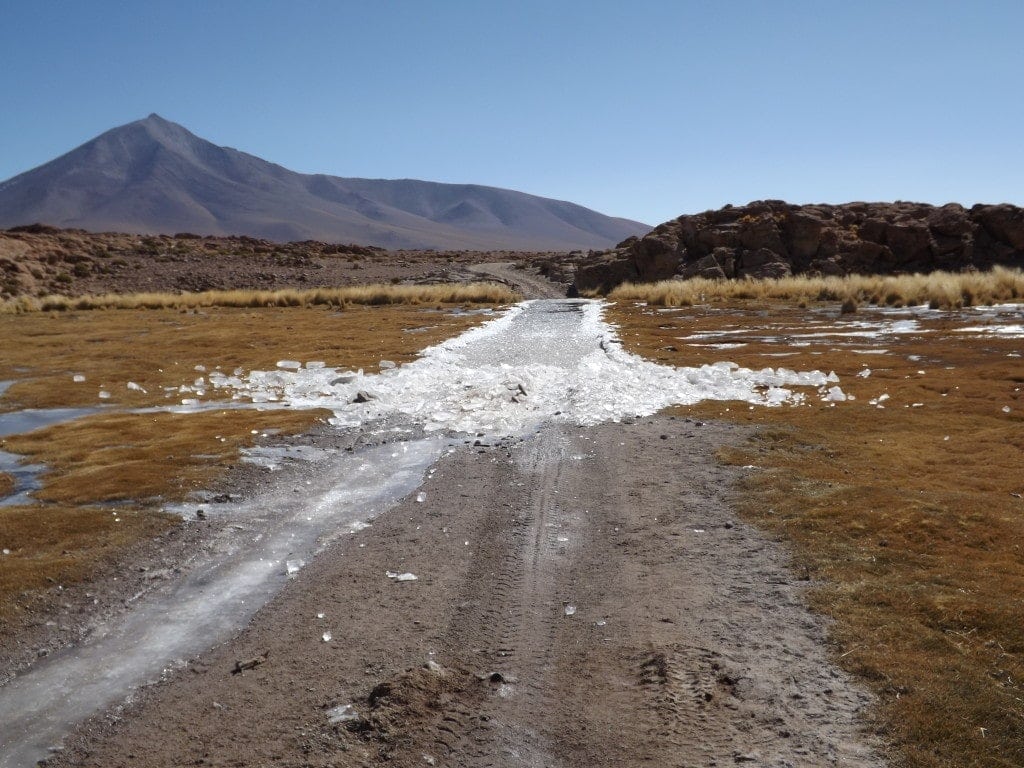 It was the middle of winter in Bolivia. There were snowstorms, there was wind like I've never felt before, and there was ice. Oh, there was a lot of ice. Huge frozen puddles creaked and cracked under our 4WD as we climbed into the mountains, and in places the road disappeared under rivers of ice, which we'd cross, tentatively, with the ground snapping beneath our wheels. It was scary, it was dangerous, and it was very fun. There were times when the roads were so bad that we almost didn't make it across. We had to get out and watch our driver dig at the ice with a shovel to free the jeep, before skidding across the slippery roads like a giant metal Bambi, struggling to the other side. We'd welcome him across with cheers – although these mostly came from our excitement to get back into the car and out of the cold. But every time we made it across another seemingly impassable road, it felt like a huge achievement – and a great adventure!
Pueblo Fantasmo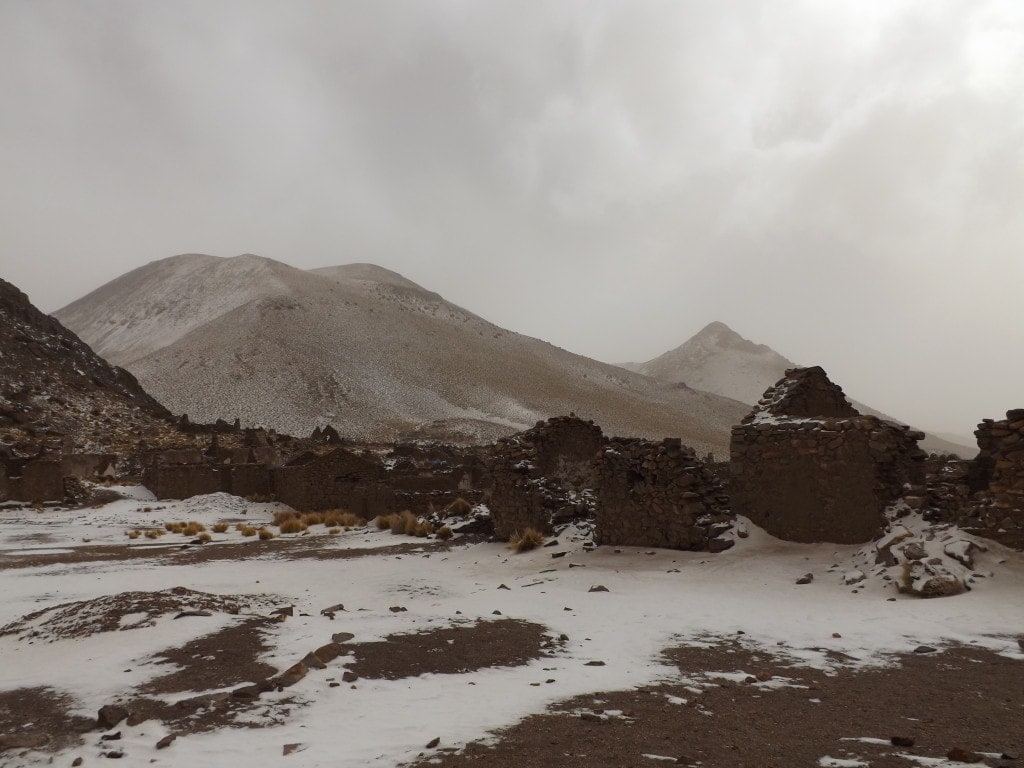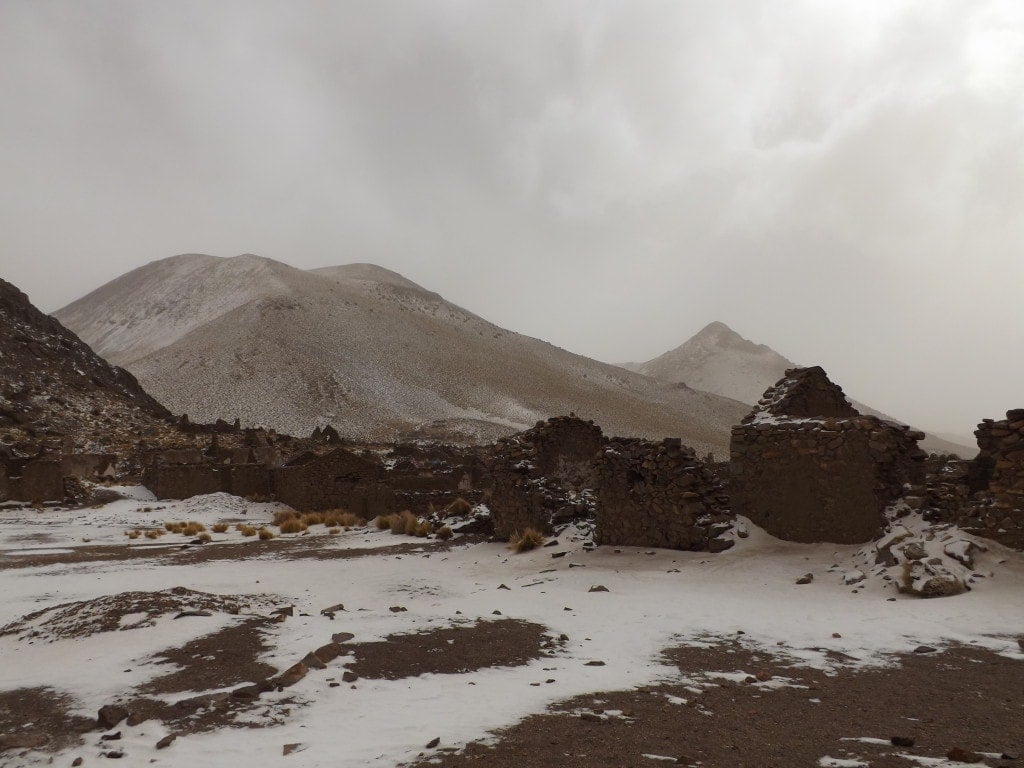 The ghost town of the mountains, the Pueblo Fantasmo, had almost disappeared when we arrived. The swirling white storm of wind and snow merged into a blanket of grey clouds so low we could almost touch them, and it was through that blurred mist that we caught a glimpse of an abandoned town of roofless stone houses, huddled shivering at the foot of a dark hill. We were the only people for miles, the wind was howling and bitter, and the snow underfoot was deliciously unbroken, crunching under my boots. We stood in the brownish scab of a forgotten town surrounded by a whirl of hideous, freezing storm, and felt like the last people left in the world.
Frozen Lakes – including the dreaded Sulpur Lake (duhn duhn duhn….)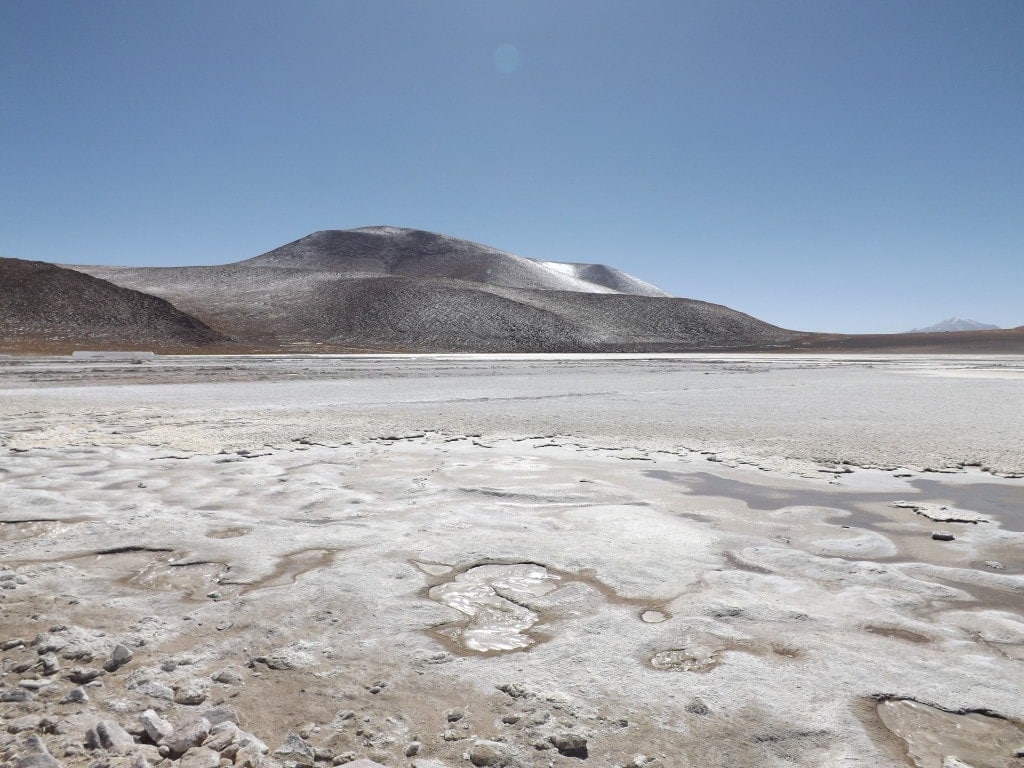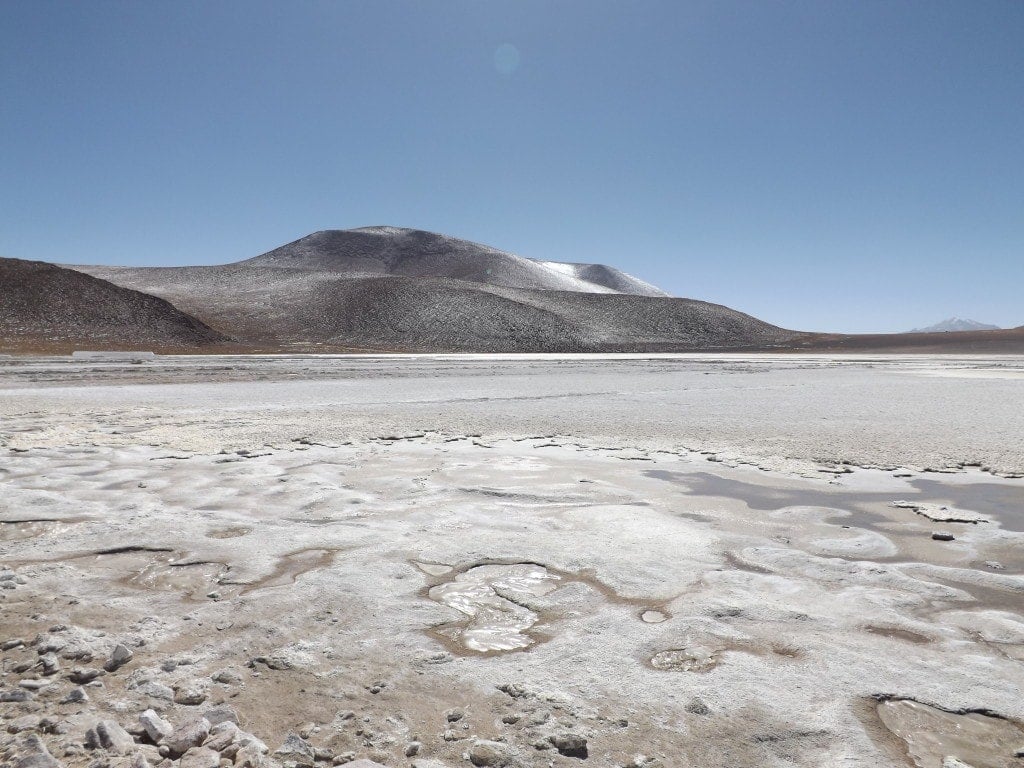 In the Parque Eduardo Alvaroa, all the lakes and lagoons were frozen over. Laguna Colorada (coloured or red lake) still retained a little of it's husky pink glow, but most of the colour in the ice white scene came from the huddles of shivering flamingoes perched on spindly legs in the patches of unfrozen water. The frozen Laguna Kollpa, a lake filled with a natural detergant, was the whitest thing I'd ever seen, reflecting the dazzling sunlight on it's icy surface and skirted around the edges by a scum of bright white soap. And at the sulphur lake, Hedionda Lagoon, which had also frozen, my boyfriend Sam fell through the ice into a brown sludge of sulphur which left his clothes ruined and his walking boots frozen solid for three days. It seems strange for that moment to be a highlight of mine, but now that the disaster is nothing more than a funny story, it's become one of our favourite funny stories – and the sight of Sam shivering naked in the white snow behind our jeep is a very amusing memory.
Hot Springs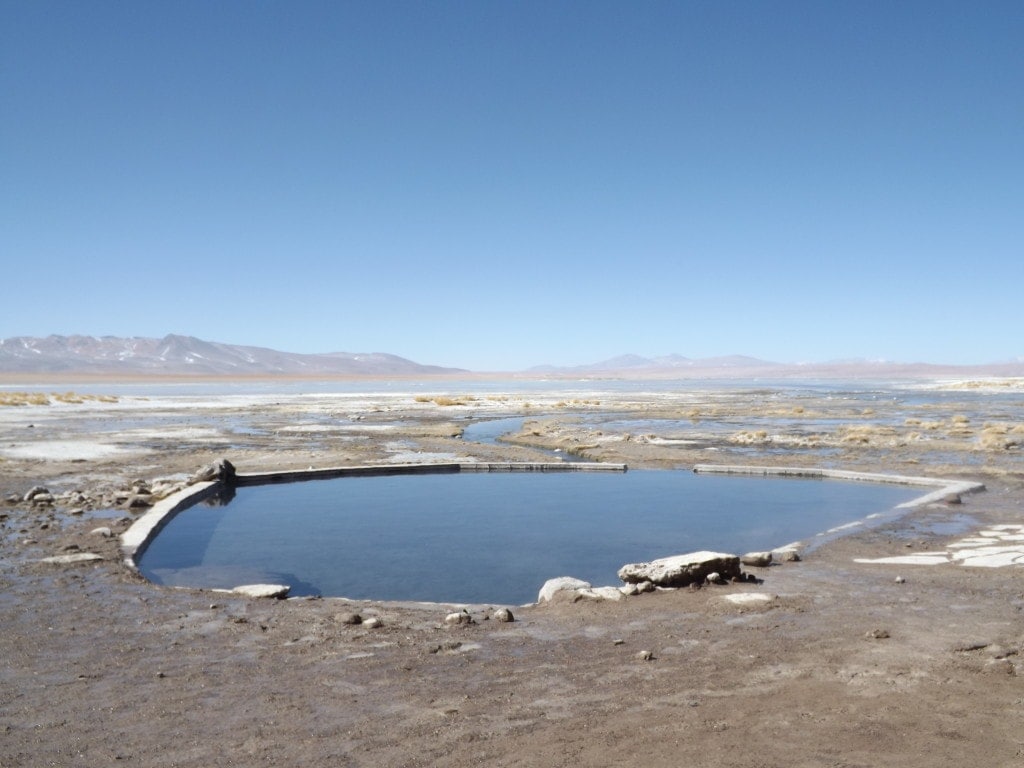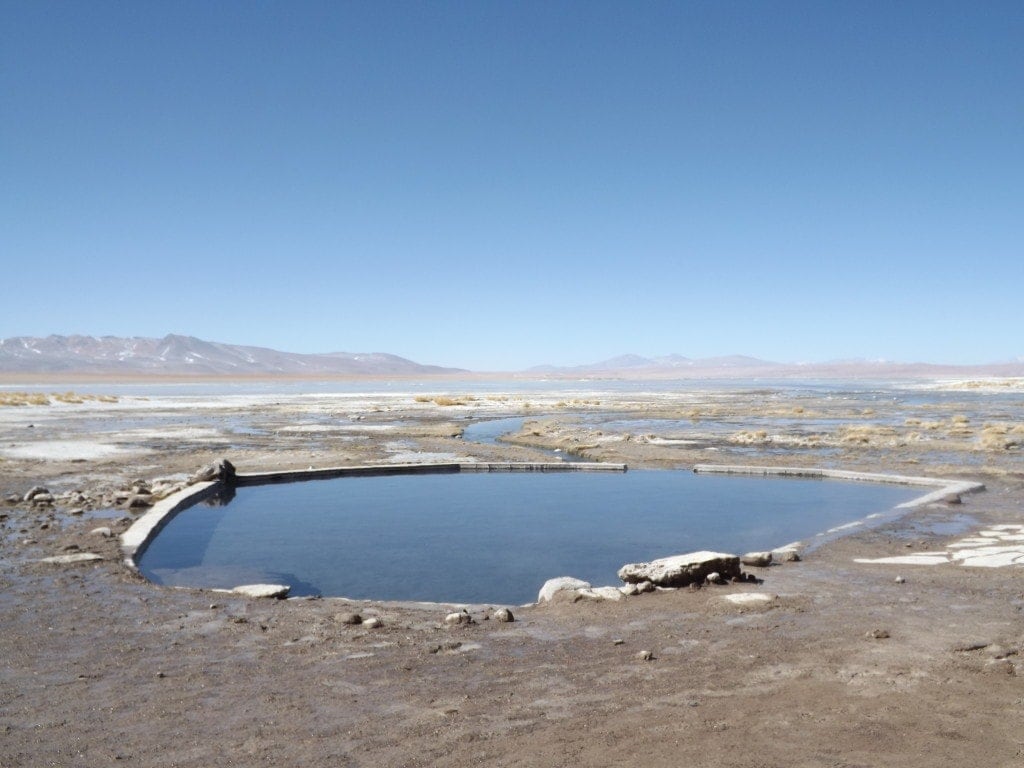 One of the lakes in the park was fed by a thermal spring, which has been tapped to feed a small pool of bathlike water surrounded by snowy mountain peaks and sheets of ice. When we arrived, it was so cold that the taps in the visitor centre bathroom were dripping thick, deadly icicles, and Sam's clothes – which we washed in the pool to save them from the sulphur – froze solid, turning into snappable 2D objects. Sitting in a pool of gorgeously hot water surrounded by all that snow and ice was a blissfully special experience – even if my hair did freeze afterwards.
Sunrise over the Salt Flats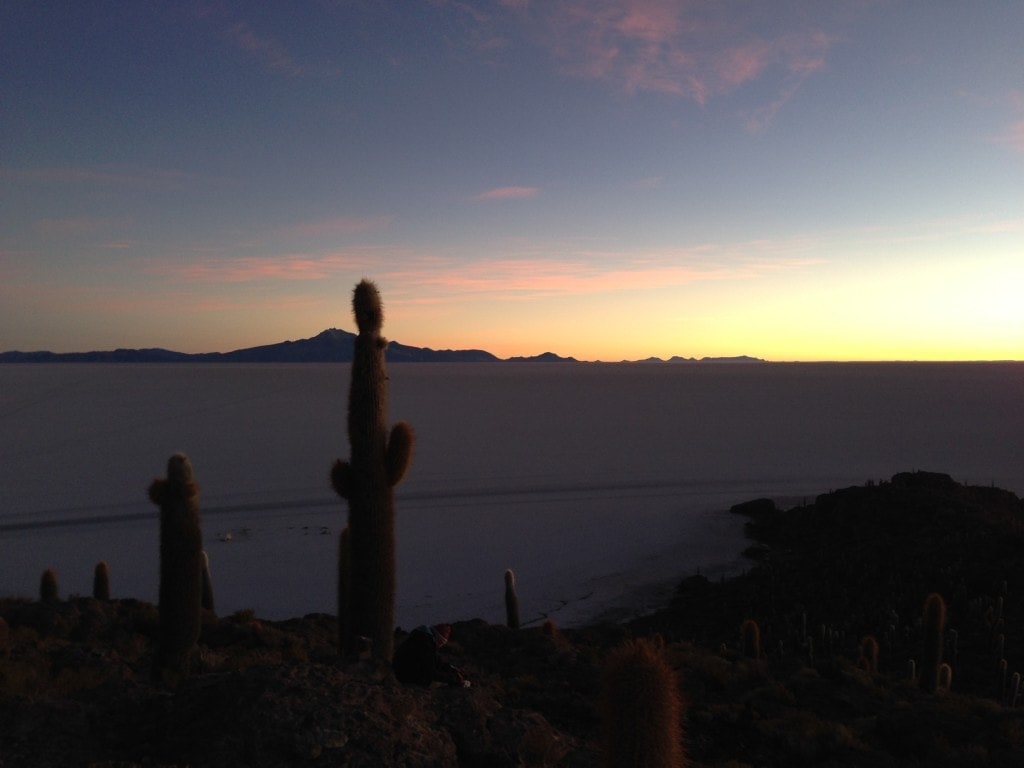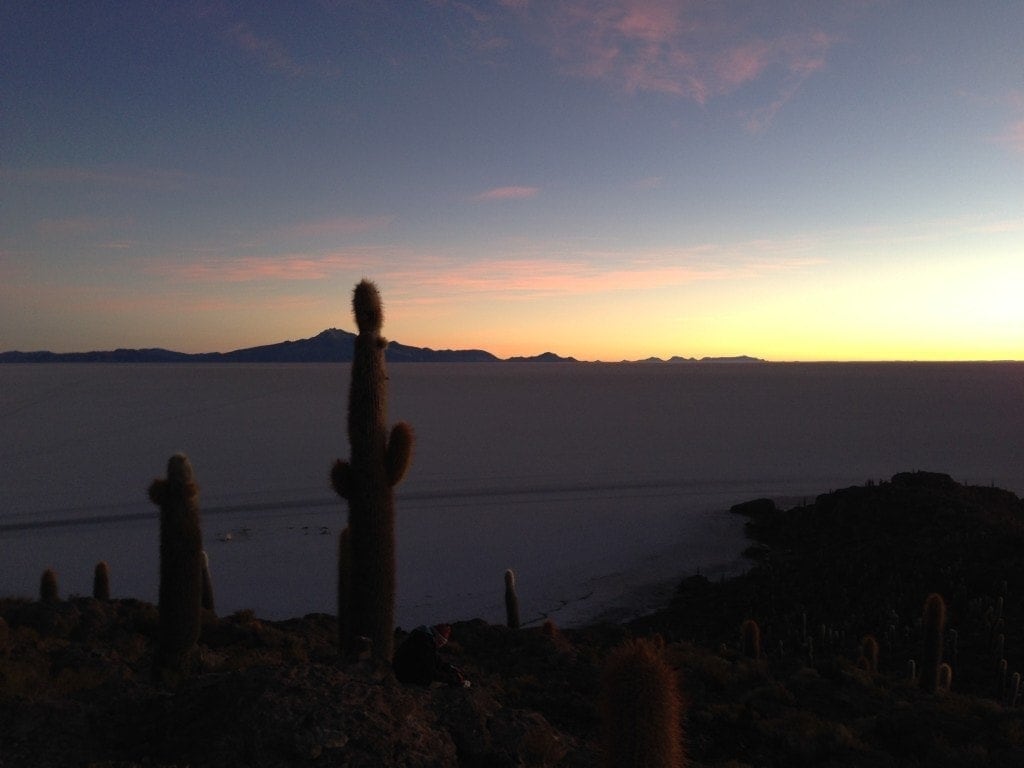 Finally, after all those icy adventures (and disasters), we made it to the salt flats. We woke up before dawn and raced across the gaping, dark emptiness of the salt desert to an 'island' of rock, where we watched the sunrise over that bizarre, white, alien landscape. It was freezing. The wind was ice on our ears and I had to stop taking photos because my fingers could barely hold the camera. Sunrise came, weak gold and pink, dazzling on a world of glittering minerals and crusty hexagons of salt, but it could barely penetrate the incredible ice cold of the air. And we didn't mind. It was horrendously cold, we were exhausted, and the whole trip had been marred by dozens of disasters – but it was a real adventure, and it was fantastic fun! One of the true highlights of my five month trip.
Don't forget to read more about the Salar de Uyuni trip in this series of posts. Have you been on an ice cold adventure? Let us know in the comments – and don't forget to share on twitter to be in with a chance to win!