"Keep your body straight, and look far away."
Stefi repeats his mantra for something like the thirtieth time, calling over from the shallows as I wobble uncertainly away from him, attempting windsurfing in Paros. Without moving my head, for fear of knocking my very delicate sense of balance off-kilter, I attempt to ascertain which part of my body isn't currently straight. I plant my legs a little firmer on the board and pull everything else upwards. "Good job" yells Stefi, and I look round. Instantly I lose control, the sail slips from my grasp, and I'm lurching forwards, flailing my arms to stay upright. With a groan, I bend shakily down to grab the sail and start all over again.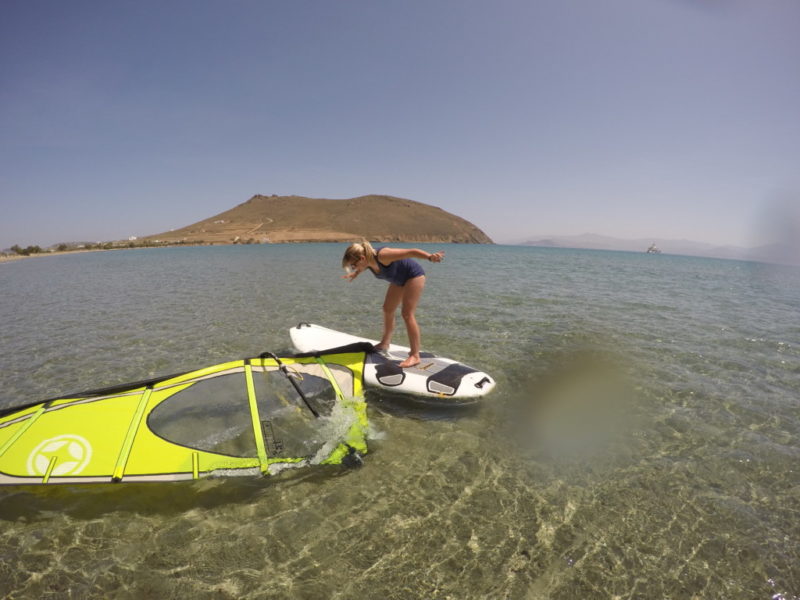 Windsurfing in Paros – A Beginner's Lesson
My windsurfing lesson in Paros with Surf n Chill's Stefi and Marianna forms the May edition of my 2016 Challenge, the one where I'm doing one thing that scares me every month. Now, perhaps you're thinking that windsurfing isn't particularly terrifying. Especially not windsurfing in the crystal clear, shallow waters of a calm bay on a Greek island, on a day with very little wind. And you're right; physically this isn't as scary as skiing or bungee jumping (two of my previous challenges). But for me, this month's challenge lay simply in trying something new and difficult. I have an innate fear of all sports, a lingering hangup from all those times I embarrassed myself in school PE. It's silly, and I know it's silly, but for some reason, the thought of making a mistake fills me with anxiety – despite knowing that anyone would forgive a total beginner.
"It's ok to suck at this," I whisper to myself, "this is your first try." But each time I drop the sail I I flush red, wondering if I'm the worst student that instructor (and windsurfing champion) Stefi has ever seen. Some things are hard to let go.
We keep up the lesson, me wrestling the sail into an upright position, struggling to keep my body straight and staring fixedly at the horizon in an attempt to balance, until finally, I'm able to ride a tiny wave all the way back to the beach. Slowly but surely, I get a little better – and more importantly, with each try, I find I'm less hard on myself. This year I'm trying to practice the difficult art of not caring what other people think: it takes a conscious effort, but slowly, it works.
SUP in Paros
The lesson is tough work, and as I start to feel myself getting the hang of it I feel more and more proud of myself. Even so, I'm a little relieved when Stefi declares there's not enough wind, and suggests we try stand up paddle instead.
Standing shaky-legged on my inflatable SUP board, I watch Stefi – a man of boundless energy – fly ahead of me, making it look easy. Ira, Marianna's bouncy Jack Russel, sits on the front of Stefi's board, running the show. She's the real boss of this lovely surf school, along with her partner in crime, a local duck rescued by Marianna as a duckling. The duck is currently at home watching her eggs, but she normally teams up with her unlikely best friend to keep guard over Surf n Chill.
Surf n Chill – Windsurfing School in Paros
Surf n Chill is one of the newer schools for windsurfing in Paros, and Marianna and Stefanos are proud to have built it up from scratch. Indeed, they're still building it; Stefanos began work on a new wall straight after our lesson, while Mariana took me to a nearby beach to try a local mudpack. She smashes up a grey rock into a powder, which we mix with seawater and smother on our faces before heading back to the school.
As we sit in the sunshine letting our concrete-grey faces set, Mariana talks with pride about her surf school. How they started with just a bamboo structure on the beach and have built it into an awesome and popular surf school, how the school is benefiting the local community, and how they're putting together a local team to compete in the Golden Beach championships. Her passion is infectious, especially when it comes to protecting "Mama Earth", which she does with quiet vigour; cleaning the beach, protecting wildlife, and encouraging others to do the same.
Marianna and Stefi have almost as good a partnership as the unlikely dog-duck duo; their combined passion has seen this small school grow into one of the most popular on the island. Their enthusiasm and love for what they do is inspiring, and more importantly, the lessons are great fun.
More Information
Windsurfing in Paros with Marianna and Stefi was the highlight of my trip, not only because the pair are truly lovely, but also because I had another opportunity to push myself. My 2016 challenge is all about overcoming some of my fears and proving to myself just what I can do. Every time I try something new, and every time I achieve something I thought I never could (like standing upright on a windsurf without falling off), I get to enjoy the feeling of being proud of myself. It's a rewarding feeling, and the reason I started this challenge in the first place!
When was the last time you tried something new? Scroll down to leave a comment – perhaps you'll inspire next month's challenge!
[stextbox id="info" caption="Information " collapsing="false" collapsed="false" shadow="false" bwidth="1″ color="303030″ ccolor="FFFFFF" bcolor="0ABAB5″ bgcolor="FFFFFF" cbgcolor="0ABAB0″ bgcolorto="FFFFFF" cbgcolorto="0ABAB0″ image="null"]
Surf'n'Chill. Molos Beach, Paros. Tel +30 694 255 4908.
Head to DiscoverGreece.com for more information on planning your trip to Greece.
Getting to Greece: AEGEAN Airlines, a Star Alliance member and six-time winner of Europe's Best Regional Airline, flies direct three times a day from London to Athens. With flights from three UK cities (and four UK airports) to two Greek destinations, and onwards to over thirty domestic destinations, this is the airline that knows Greece best.
[/stextbox]
My trip to Paros was a press trip organised by Discover Greece. As always, all words and opinions are my own.