Some posts on this site contain affiliate links. If you book or buy something through these links, I earn a small commission (at no extra cost to you). Take a look at my privacy policy for more information.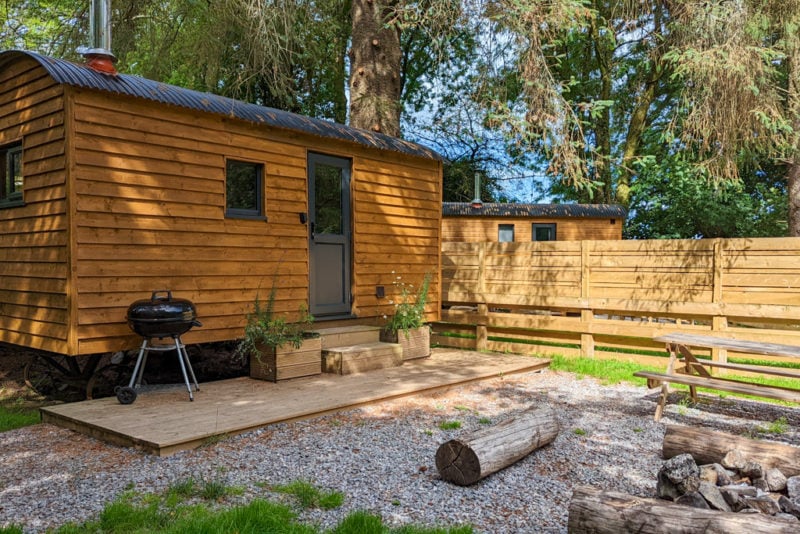 A full packing list of all the glamping essentials you need for the ultimate luxury camping getaway…
I absolutely LOVE glamping. It takes all the fun bits of camping – stargazing, cooking outdoors, waking up to the peaceful sounds of the countryside – and combines it with all the comforts of home.
Proper beds, proper toilets, hot running water… glamping really is the best of both worlds!
Over the past few years, I've been glamping all over the world, from my favourite shepherd's huts on Dartmoor to a safari tent in the mountains of Sri Lanka. And by now, I've really nailed the perfect glamping packing list.
Although glamping is all about living that simple life, you do actually need quite a lot of stuff to make your trip go without a hitch.
Below, I've shared my full glamping essentials packing list – with recommendations for products I genuinely use. I hope you find it helpful…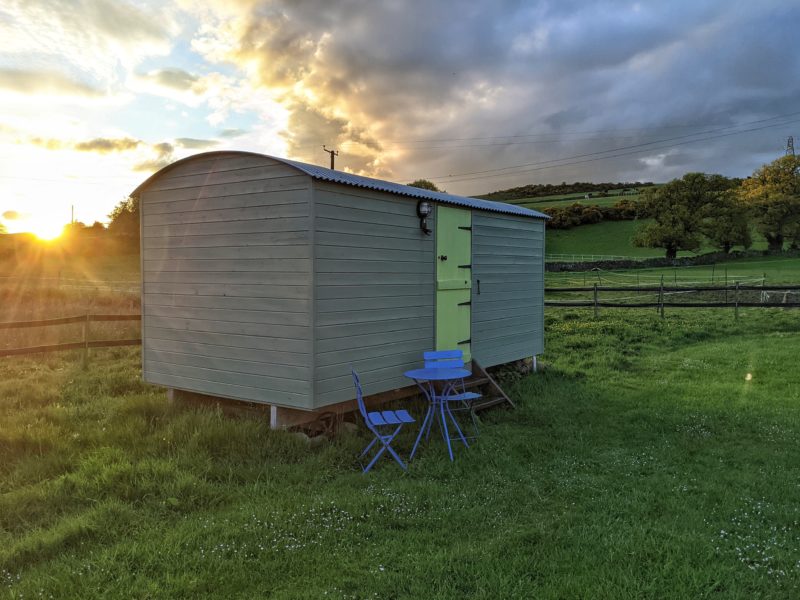 Things to Check Before Packing for Your Glamping Trip
Before you start planning your glamping packing list, it's a good idea to check a few details about the accommodation. Some glamping accommodations are more basic or rustic than others, and not all provide everything you'd get in a hotel room.
I recommend finding out the following things:
#1. Is there electricity – and plug sockets or charging points? If not, you might need battery-powered lamps and a portable charger for your phone.
#2. Is there a kitchen? If so, check what kitchen equipment is provided – for example, is there just a hob or an oven as well? Are things like saucepans and plates provided or will you need to bring your own?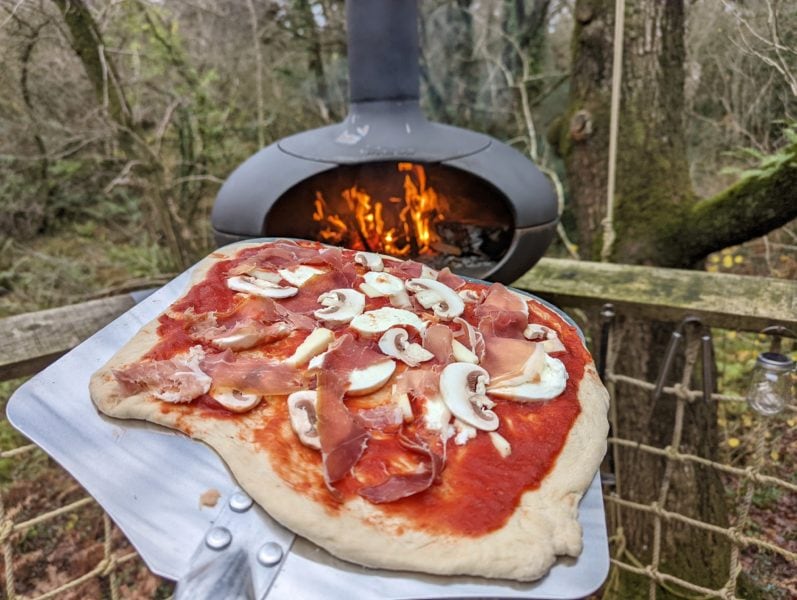 #3. Will bedding be required? Some of the more simple glamping accommodations don't provide sheets/bedding – so check what's included before packing.
#4. Is there a private bathroom? Some glamping accommodations have their own toilet, others have a shared toilet and shower block.
Glamping Essentials Packing List
I've broken down my glamping essentials packing list into sections to make it easier to navigate. Use the contents menu above to skip ahead, or keep scrolling to read the whole thing.
When packing for glamping, one of my top tips is to use a large plastic box instead of a suitcase or backpack. It just seems to be easier to fit everything in – especially if you're bringing lots of cooking equipment.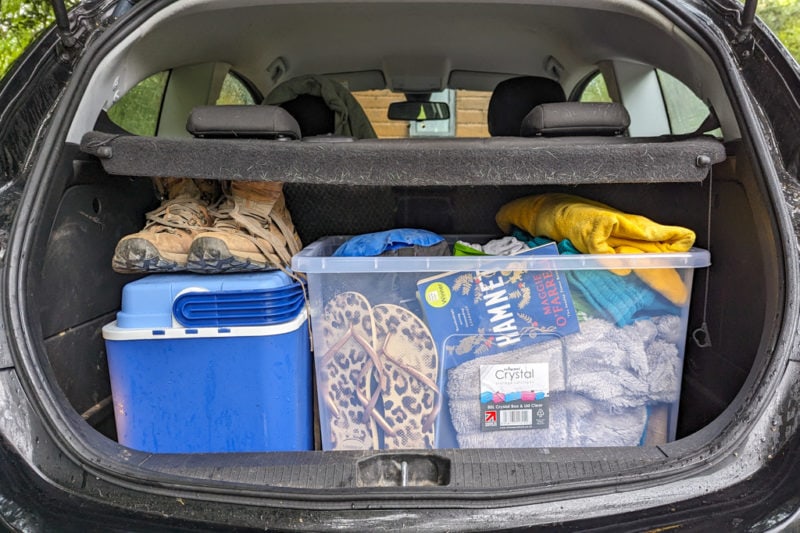 The Basics
Large plastic box – to pack everything in.
Bedding (unless it's provided): either a sleeping bag or your own sheet & duvet. I love Vango sleeping bags because they're super well-made and warm!
Pillows and pillowcases. I'm a fussy sleeper, so I take my own pillow and pillowcase even if bedding is provided!
Hot water bottle – perfect if the nights get chilly.
Towel
Torch or headlamp – handy for finding your way to the campsite in the dark, reading after dark, or heading to the toilet block at night.
Phone charger and portable power bank.

If you're staying somewhere without plug sockets, take a fully charged power bank (or two) to recharge your phone. I use this one from INUI which has enough juice for two full charges.

Plastic/carrier bags (very useful for rubbish, wet/dirty clothes, & muddy boots).
Camping chairs – not necessarily essential as many glamping sites have outside seating. But some only have picnic benches so a folding chair can come in very handy!
Firestarters and kindling (for campfires and wood burners). These Sustainably Sourced Natural Firestarters are great, and I love the ZIP Firelog for ease.

Some glampsites provide (or will sell you) logs for the fire – if not, you'll want to pick some up on the way.

Matches/lighter – DON'T forget these!
Charcoal (if a BBQ is provided and you plan to use it).
Electronics-free entertainment – books, board games, cards, jigsaw puzzles, etc.
Cash (in case you need to buy logs etc at the campsite)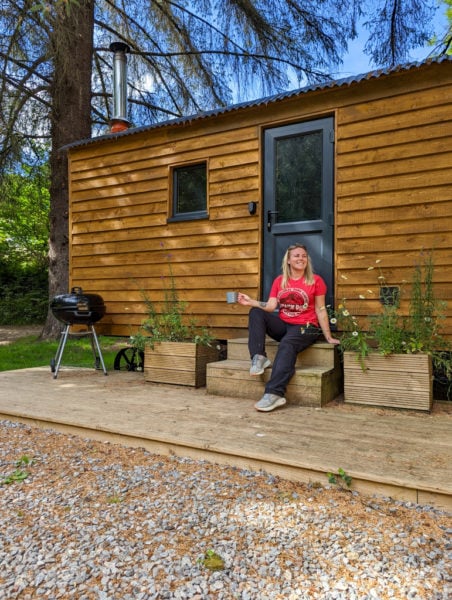 Cooking & Kitchen Glamping Essentials
As mentioned above, you should check what kitchen equipment and cooking essentials are provided (if any) at the glamping site before you start packing.
When planning your meals, bear in mind that many glampsites only have a hob and no oven. Space and equipment can be limited, so stick to simple, easy-to-prepare meals.
Cool box – handy for transporting your food to the glamping site, and keeping anything cool that won't fit in the fridge. There are lots of fancy camping ones, but I've been using this basic, cheap cool box for years and it does the job.
Freezer blocks / ice packs (to keep the cool box cool)
Washing up liquid (I usually decant some into a small travel bottle to save carrying a whole bottle)
Cloth or sponge for washing up
Tea towel
Bottle opener / corkscrew
Refillable water bottle. I highly recommend the Water-to-Go filter bottle for glamping. It filters dirt, bacteria, and bad taste from any water source! Click here to read my review (and get 15% off).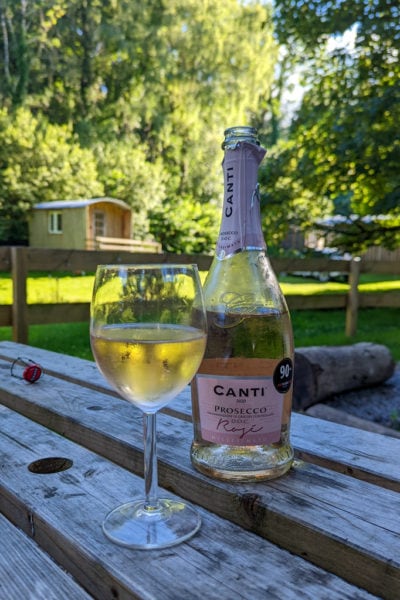 Food
Plan your meals in advance and bring enough food to cover the length of your stay. You could even make meals in advance and reheat them on your camping stove (or in the microwave if there's one available).
Stick to simple meals that don't need too many ingredients and can be cooked in one pan, such as pasta. Instant porridge sachets (like the Quaker Oat So Simple ones) are IDEAL for glamping breakfasts – though of course, you can go all out with bacon and eggs if you prefer!
If you can, plan to buy lunches while you're out exploring, to save packing too much food for your glamping trip.
Food for your stay (see above tips)

Top Tip: If you're packing cans – make sure they have a ring pull or pack a can opener!

Snacks
Cooking oil (if it's not provided). Vegetable or coconut oil spray bottles (like this one) are great for camping/glamping trips.
Salt, pepper, sugar etc (these may be provided).
Teabags and/or coffee.

If you don't like instant coffee, you can either go all out and pack a travel cafetière – or buy some Taylors Coffee Bags, which are proper coffee in bag form (like a teabag) PERFECT for camping and glamping.
Don't forget the milk if you need it.

Wine (in my opinion a true glamping essential!) or beer etc.
Marshmallows for roasting on the fire!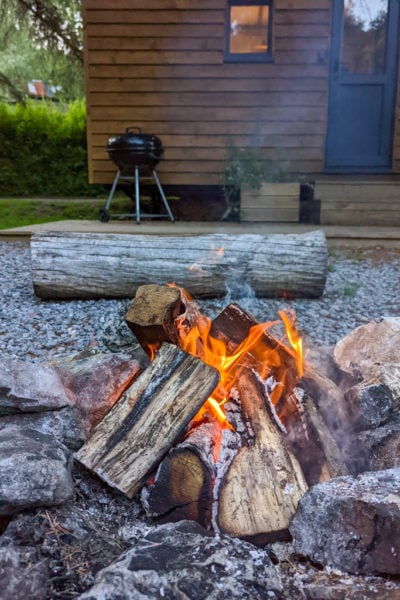 If there's no kitchen:
If the glamping site doesn't have a kitchen, you can pack camping cooking equipment in addition to the above list. Just remember that you might not be able to keep things cool without a fridge, so stick to dry foods (like pasta) and canned goods (like soup or baked beans on toast).
Toiletries Packing List for Glamping
I've included a list of all the essential toiletries below. Add in any aspects of your own skincare routine (like facewash or moisturiser) that you can't travel without. But try to keep your toiletries packing list as simple as possible as space is often very limited.
Hanging toiletry bag – glamping bathrooms tend to be tiny so there's often nowhere to put your stuff. A hanging toiletries bag can be a real space-saver.
Toothbrush and toothpaste
Suncream
Insect Repellent. Jungle Formula's DEET-free, alcohol-free Camping Insect Repellent is the best one I've tried.
Deodorant
Hand sanitiser
Tissues
Shampoo and conditioner (if needed)
Dry shampoo (no need to wash your hair every day when you're glamping!)
Lip balm (preferably one with SPF like this Piz Buin one)
Hairbrush (the Tangle Teezer Compact is the BEST for travel) and any hair bands/clips/scrunchies/etc you may need.
Shower gel or soap, body wash etc
Any of your usual toiletries/makeup/haircare products you can't travel without.
Any meds you need – plus first aid basics like painkillers, plasters, and immodium (or equivalent).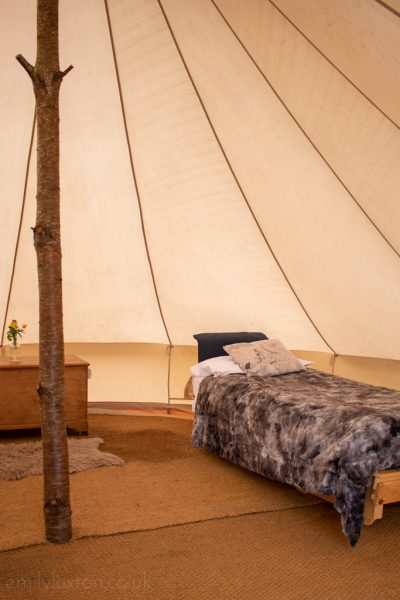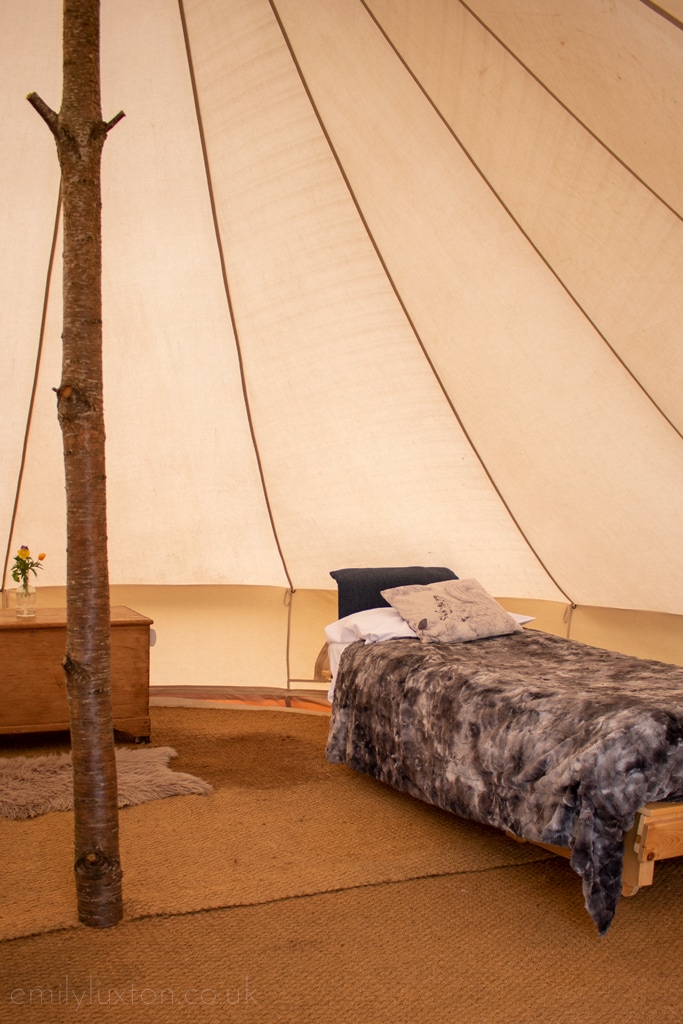 Clothes Packing List for Glamping
What clothes you'll need really depends on when and where you're glamping – season and climate can make a big difference to what you'll wear.
It also depends on what you plan on getting up to while you're glamping. For sightseeing in nearby towns and villages, you might want jeans and T-shirts, while for outdoor activities like hiking, you'll need activewear.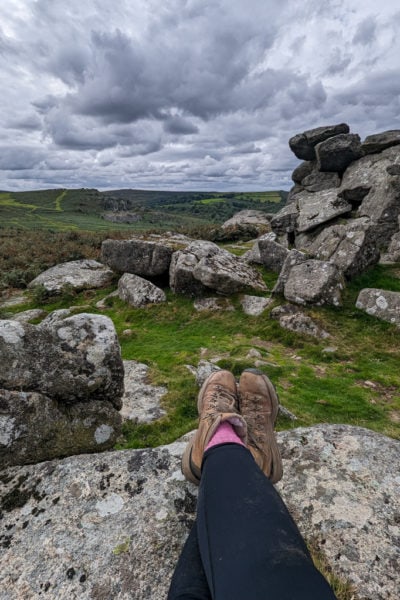 Just remember that it can get cold at night no matter what the season is, so bring layers and warm clothes just in case.
You won't necessarily need everything on the list below, but these are a few essential clothing items to consider for your glamping packing list…
Underwear
Flip flops or slip-on shoes to wear around the campsite. If there's a communal shower block, I recommend taking waterproof flip flops to wear in the shower (Havaianas are awesome for this)!
Warm pyjamas (plus a jumper and jogging bottoms in case you get cold). These anti-insect camping pyjamas from We Drifters are PERFECT.
Jumper or fleece for sitting outside at night.
Raincoat
Jogging bottoms (or yoga pants) for chilling at the c.ampsite. Anything comfy.
Outdoor clothing – think hiking trousers, shorts, yoga pants, sweat-wicking t-shirts, activewear etc.
Any other clothing for sightseeing or specific activities (jeans, t-shirts, dresses, etc)
Hiking boots – I can't recommend my trusty Danner Mountain 600 hiking boots enough!
Welly boots / rain boots (if the weather calls for it)
Trainers/sneakers (preferably something you don't mind getting muddy).
Thick socks (Merino wool socks are great for hiking, and keeping warm at night)
Slippers or cosy socks to wear inside your glamping accommodation. Not strictly necessary but handy for keeping warm.
Swimwear (if needed)
Sunhat and sunglasses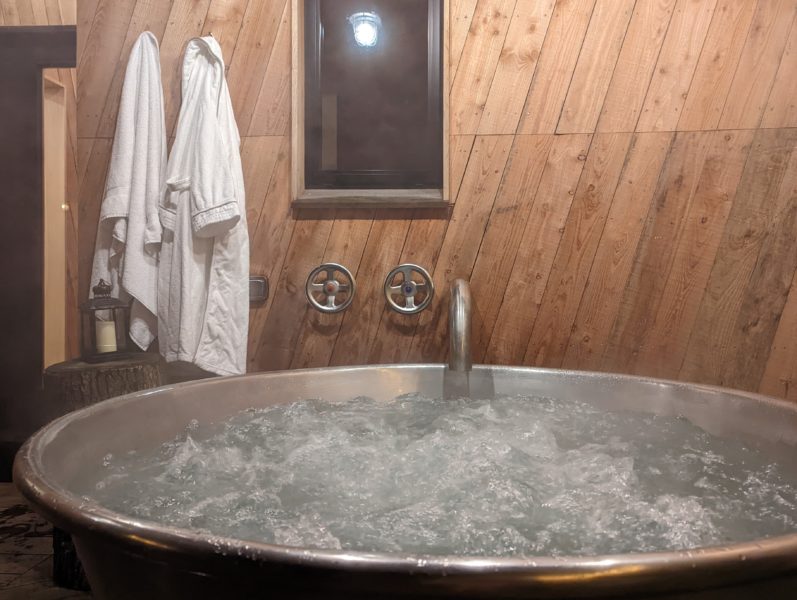 Glamping Essentials – Final Thoughts
This isn't necessarily a one-size-fits-all glamping packing list, as every trip is different.
What you'll need will very much depend on the style of glamping accommodation you've booked, where in the world you're glamping, what season it is, what you want to get up to… there are a lot of variables.
But the list above features pretty much all the essentials you're likely to need while glamping.
There's nothing worse than building a campfire only to realise you've forgotten the matches (been there), or cracking out a bottle of wine and discovering you've left the corkscrew at home (also been there).
As someone who's had to open a tin of beans with a knife (and desperation-fuelled brute force), and successfully opened a bottle of beer with a butter knife… I'm here to make sure you guys remember the basics to make your own lives easier!
Read more about glamping in these posts:
7 Incredible Shepherd's Hut Stays in Dorset
Unique Places to Stay in Devon
Best Glamping Spots in Somerset
Are there any other glamping essentials that you'd add to this packing list? Scroll down to leave a comment!