Some posts on this site contain affiliate links. If you book or buy something through these links, I earn a small commission (at no extra cost to you). Take a look at my privacy policy for more information.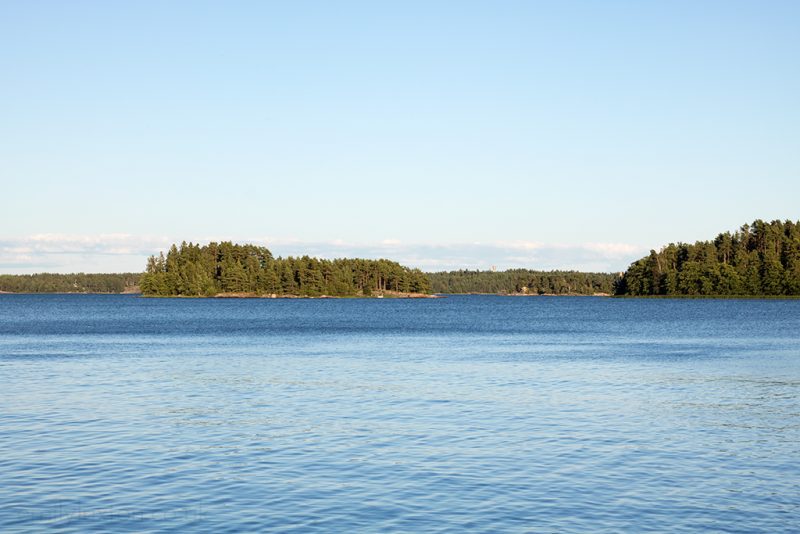 Of all the stops on my recent trip to the Finnish Archipelago, Pensar Syd stands out as the most unique. For me, the absolute joy of my time in Finland was spending some time enjoying the peace of nature, and getting active in the great outdoors. And the pinnacle of all that was at Pensar Syd, a small eco resort on the beautiful island of Pensar in the Turku Archipelago.
We spent two nights on the island, getting back to basics and reconnecting with nature. After a stressful few weeks of travel and conferencing, this was the perfect place to unwind…
Back to Nature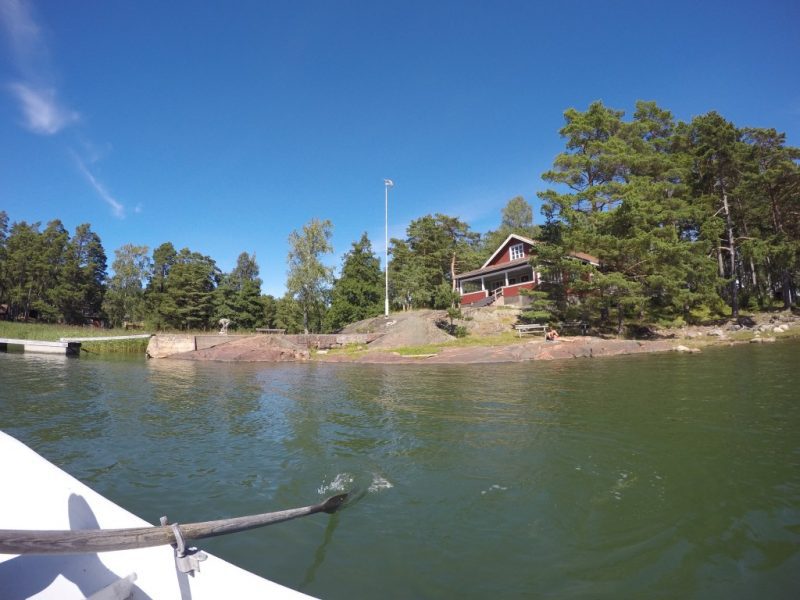 Nature is at the heart of everything for this unique resort. Owners Eva and Petter aim to live in harmony with their environment, and since 2005 Pendar Syd has been completely ecological and organic. This meant doing away with a few of life's little luxuries, like a shower in our room (it was less than a five minute walk away), or water toilets. "We feel it's our duty to keep the sea clean" Eva told me, and I happen to agree with her. Life in these islands still largely depends on the sea, so it makes sense to avoid polluting it. It wasn't as hard as you might think to go back to basics for a few days, and the resort was still a whole lot more pleasant than camping.
The buildings on Pensar were once used by the civil guard, so the island has an interesting history. There's a villa and one cottage, a small block of apartments, a hostel, two saunas, and a fab restaurant in the main building. Our lovely apartment, once the sleeping quarters of young girls being educated by the civil guard, was in a traditional red and white wooden building right on the water's edge. Standing on the decking out front, all I could hear was the sound of the water lapping gently at the shore, and the rushes shivering in the breeze. It was all so peaceful.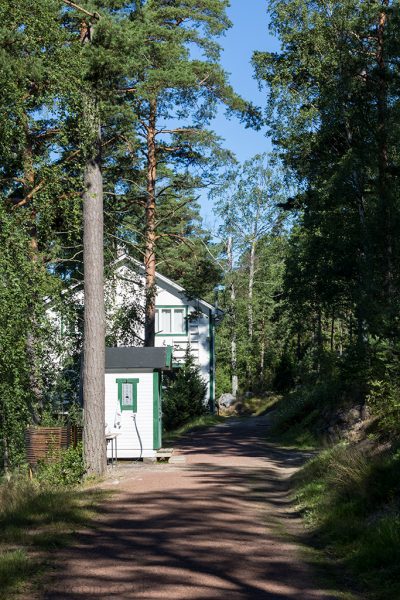 Learning to Live off the Land
A glorious summer morning in July saw us heading for the shade of the forest with Pensar Syd's vivacious owner, Eva. In keeping with the focus of the resort, we were setting out on a foraging mission. This was really learning to live off the land and in harmony with nature, exactly what Pensar Syd is all about.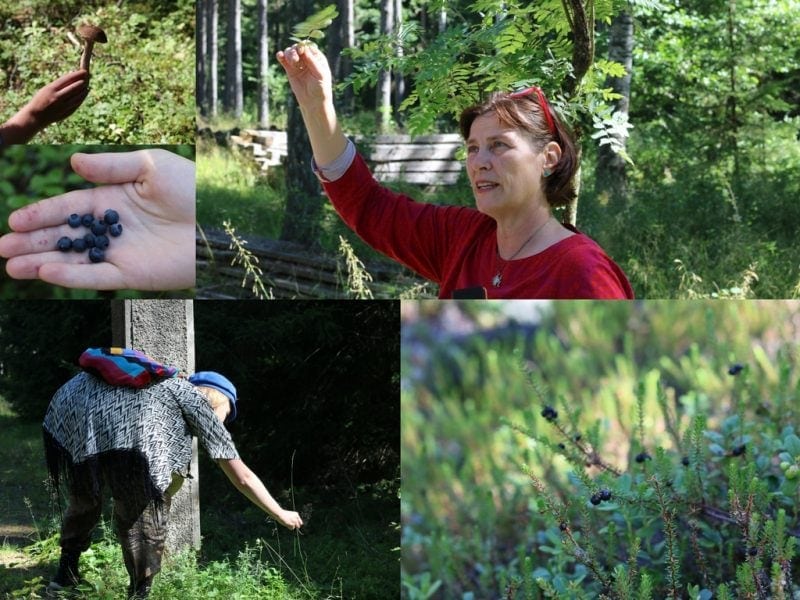 As we walked, Eva explained the local crops, and what's in season at the moment. Things like blueberries, and beets – we ate a lot of beetroot while we were there. "You don't die on the days you eat beets" she told us, quoting her grandfather, before adding "he had a beet farm".
We picked wild strawberries, tiny and sour, and raspberry leaves to make tea. Angelica, which can be used as an antiseptic, and wild rosemary (getpors in Finnish), which is used in wrinkle creams and works as a mosquito repellent. Eva was full of great facts, and I had no idea of how many different ways you can use the plants growing in the forest.
Life on the Sea
Enjoying nature in the Finnish Archipelago is just as much about the sea as it is the land. So of course, we spent the rest of the afternoon on the water, enjoying some of life's most simple pleasures. Pensar Syd has plenty of ways to make the most of the beautiful, if slightly chilly, Baltic Sea. Whilst some of our group sunbathed at the water's edge and others fished from the end of the pier, the rest of us hit the water in kayaks and rowboats.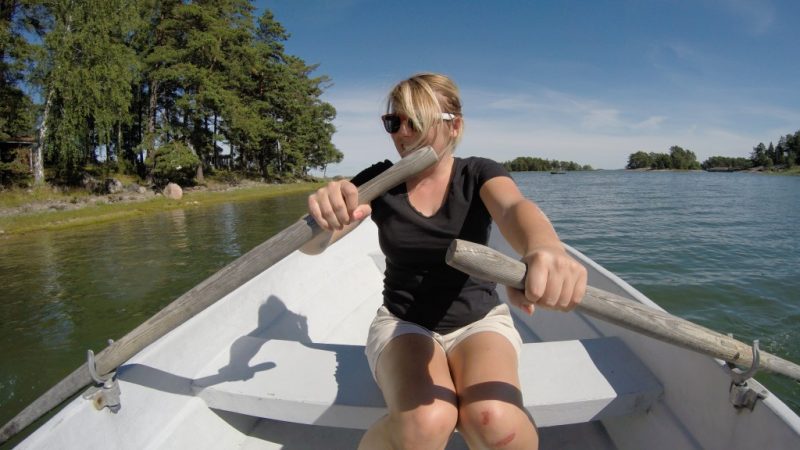 It was a gorgeous afternoon, hot and sunny but with plenty of wind to keep us cool. It also kept us very busy. Ashlea (A Globe Well Travelled) and I very quickly learnt that rowing isn't quite as easy or relaxing as it looks in romantic movies. I was picturing myself lounging in a pretty wooden boat, probably twirling a parasol, and doing very little other than enjoying the stunning views of the archipelago.
The reality was pretty different. Rowing is hard enough as it is, but rowing against the current is even harder, and we spent a lot of time dragging our surprisingly heavy wooden boat circles. In the space of about an hour, we travelled a couple of hundred feet up the coast and back, and completely exhausted ourselves. But the good news is that we really earned those ciders we had in the sauna later.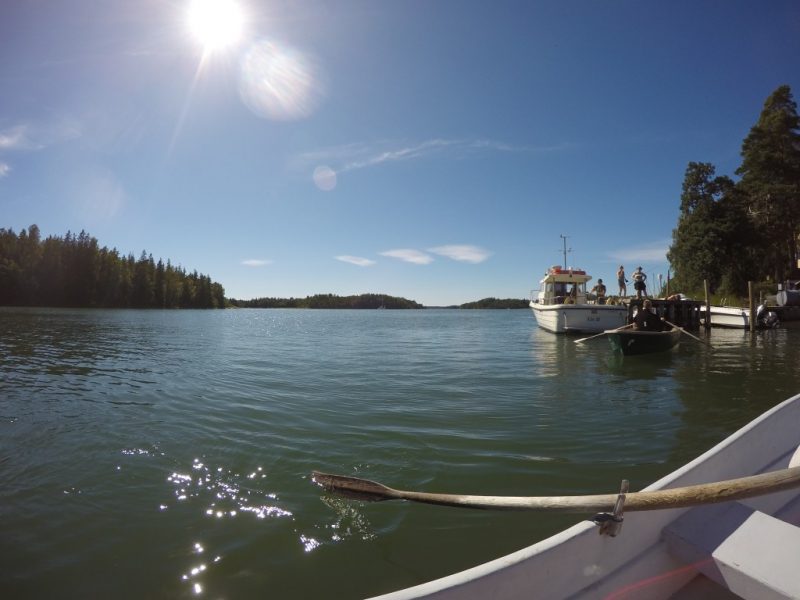 Food and Finnish Culture
It wouldn't be Finland without sauna, so of course we made the most of the one at Pensar Syd. Learning from our lovely local hosts, including local blogger Laura (Urbaani Viidakkoseikkailijatar), we tried Sauna the Finnish way. That seemed to mean doing it with snacks, chocolate, and cider. My kind of spa experience! The wooden sauna building at Pensar Syd is right on a little shallow bay, so once you get too hot the idea is to run out and take a dip in the sea. Which was pretty darn cold even in summer – I can't imagine how anyone does it winter! Still, once I was in the water was nice and refreshing, especially after sweating my little backside off in the sauna!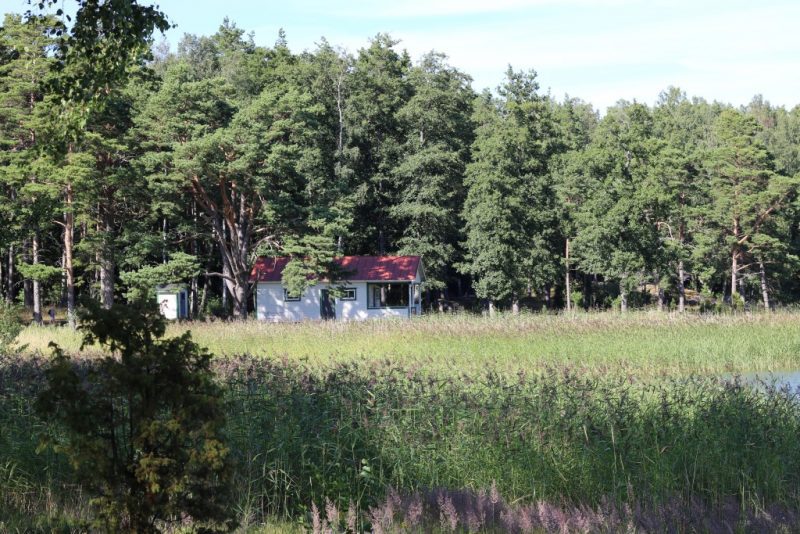 My favourite way to get to know any culture, though, is always the food. Eva and Petter try to source all the food for the restaurant from as nearby as possible, and if not, they only buy organic. Even the wine! There's a strong focus on sustainable and seasonal produce too. It was mid July, so we were eating lots of beets – Eva's granddad would be proud – as well as some local specialities. Finnish Pancakes with spruce syrup jam, and the sweet black bread known as Archipelago Bread. Homecooked, simple, and super tasty – my favourite kind of food.
Time Out
Connecting with nature and taking time to commune with the world around us is so important, but lately I've been forgetting to make that time. The couple of days I spent on Pensar Syd felt like coming to a halt after running very fast for a very long time. It was the last trip of a few months of back to back travels, and I needed the break. The slow, simple pace of life in the Finnish Archipelago really gave me time to stop and take stock, reminding me of what's important. Finland just seemed to be good for the soul!
My visit to Finland was as part of a press trip organised by Innastus on behalf of Visit Finland, Visit Åland, and Visit Turku for the #FinnishIslands campaign. As always, all views and opinions (except quotes) are entirely my own and without bias.