Some posts on this site contain affiliate links. If you book or buy something through these links, I earn a small commission (at no extra cost to you). Take a look at my privacy policy for more information.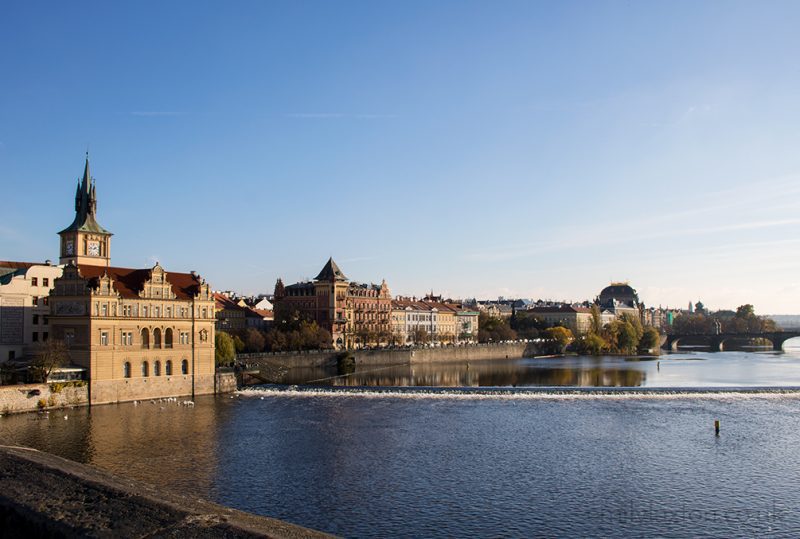 I've always thought of myself as a fairly frugal traveller. While I love to splurge on treats, and I'm keen on the occasional bit of luxury, I'm pretty good at saving where it counts and I like to think I'm good at making my money go as far as possible. So when The Money Shop challenged me to spend a weekend in Prague for less than £200, I said yes straight away! I thought it'd be easy.
And it would have been easy – if I had been just a tad more organised. Unfortunately, I went ahead and made a pretty stupid mistake (which could have been easily avoided) and wound up costing myself an extra £70 or so – not great for a travel blogger.
Essentially, I didn't think to check what time I'd arrive in Prague (mostly because I initially thought my flight left at 7.45am instead of pm). So when my Uber, which got lost for 30 minutes en route, finally arrived just after midnight, I discovered a completely deserted hotel.
Completely stuck, I had to hunt out another option. Too tired and cold to walk anywhere in the snowy streets of a bitter 1am in Prague, I found the closest hotel and paid 80 euros for one night. Next day, I was able to check into my actual hotel, but of course I still had to pay for both nights there as well. What's annoying is that it was all my own disorganised fault – but, lesson learned (I hope).
The Money Shop Challenge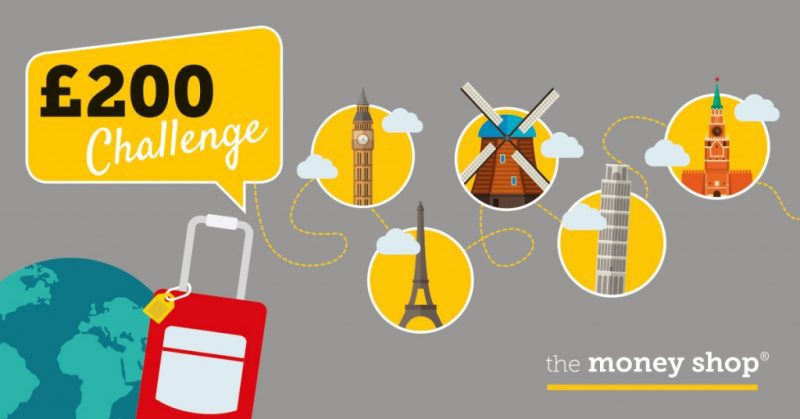 So what is The Money Shop £200 Challenge? The aim is to show people that travelling doesn't have to be expensive and that short city breaks can actually be really affordable. They flew me out to Prague for a weekend with budget airline Ryanair – travelling hand luggage only to keep costs down – and gave me £200 to spend on all other travel costs, including accommodation.
Budget travel doesn't have to mean hostels, either. By shopping around on my favourite hotel search websites booking.com and hotels.com, and by booking several weeks in advance, I was able to get a great deal on a hotel. With that booked, and my currency collected from my local Money Shop, I was ready to go. Keep reading to see how I got on…
Read More: Fellow blogger Neil from Backpacks and Bunkbeds also took the Money Shop £200 Challenge, in Vilnius Lithuania. Check out his post Vilnius on a Budget to see how he did!
Prague for Less Than £200
After the hotel fiasco, I'd managed to spend £133 of my £200 budget on just two nights of accommodation. Less than £70 for two days of food, transportation, and sightseeing. Now this really was a challenge!
Luckily, most of the things to do in Prague that I was keen to see were free! I love walking around a city centre and soaking up all the sights, and having never been to Prague before I was really excited to just get out and explore. It was icy cold, with the occasional snowflake drifting through the air, but Prague is a seriously beautiful city and I was instantly spellbound!
Day One
On the first day, I explored the Old Town centre on a self-guided walking tour. I saw the famous Astronomical Clock, the Old Town Square, the Prašná brána powder tower, Municipal House, a newly-opened Christmas market, and finally a walk along the river bank from Park Lannova to Karlův most (Charles Bridge).
That day, I spent 678 CZK or around £20. The biggest splurge was on lunch, which I bought from one of the Old Prague Ham vendors on the square. They sell the ham (which is delicious) and potatoes by the gram, and when I asked for a half portion they still gave me the hugest pile of food ever and refused to sell me less. Being resourceful, I popped the leftovers in my hotel room fridge to make a picnic for the next day – so despite splurging 493 CZK on lunch, that spend actually accounted for two meals.
Other spends that day were much less costly. A cup of mulled wine at the market cost just 29 CZK (around 90p), and after my huge lunch, I had a light dinner of soup at my hotel restaurant for just 49 CZK. Food in Prague can be very cheap, as long as you're being savvy!
Day Two
On the second day, the sun was shining brightly and I saw a whole new side of Prague. The free sightseeing continued on the other side of the river in Malá Strana. After crossing the Charles Bridge and soaking in the gorgeous views of the river, I discovered some cool hidden gems like a cute lovelocks bridge and the John Lennon wall. This was a real favourite of mine; it's a huge free art wall that's covered in inspirational and colourful messages of hope, love, and peace.
I also visited the castle, although only from the outside since the queue was insanely long and I didn't have a spare two hours to wait in the cold! And I explored the hilltop Letná Park, beautiful in all it's golden autumnal glory, where I found some stunning views across the river to Prague's Old Town.
Spend-wise, it was all about the treats. Things like hot chocolate from the Choco Cafe (69 CZK) and a caramel-filled Trdelník (a tunnel shaped pastry also known as chimney cake) for 60 CZK. In total, though, it didn't come to all that much – that second day I spent just 351 CZK or £11.
Prague Travel Costs
In total for the weekend, not including my idiotic hotel muck-up, I came in well under my £200 budget. Even with the travel fail, I was still under budget in fact! This was on a 48 hour trip leaving on Friday at 7:45pm from London Stansted and flying back at 6:15pm on Sunday. Here's the breakdown:
Accommodation (two nights including breakfast): 1947.96 CZK at the King George Hotel
Meals (two lunches, one dinner): 614 CZK
Snacks (cakes, coffees, etc): 383.90 CZK
Sightseeing: 0
Transport: 493.06* CZK
*An Uber from airport to Old Town centre was 461.06 CZK, while taking the metro and bus was actually really easy and cost just 32 CZK for the whole trip. Since my Uber got lost it was actually no quicker than taking public transport – so I really recommend hopping on the airport bus instead of taking a taxi.
Grand Total: 3438.92 or £109.95 Not bad for a weekend away!
In hindsight, I'd have taken public transport on arrival, and would have messaged the hotel in advance to explain how late I'd be there. That way, I'd have had a bit more spare cash to spend on extra mulled wine and trdelník! I might also have splashed out on a museum visit or two, or perhaps a few hours in a spa to stay out of the cold for a while.
Hopefully, though, this shows you just how affordable a weekend away in Europe can be when you're careful!
Top Tips for Saving Money in Prague
Travel with hand luggage only. You can grab some pretty sweet flight deals to Prague with the likes of Ryanair – but often the cost of adding checked luggage is the same as the flight itself, doubling the price. Pack light and travel hand luggage only to save money.
Stay somewhere central. The city is incredibly walkable, so if you're staying in the centre you'll save on taxis for getting around.
Walk and use public transport. Prague's centre is really easy to navigate on foot and most things are in walking distance. When they're not, the public transport system is super cheap and really easy to use. Just make sure you stamp your ticket on entry. I forgot to do this once and almost had to pay an 800 CZK fine. Luckily the officer took pity on me but it could have been (another) very costly mistake.
Make picnics. Eating out isn't too costly in Prague, but if you're really on a budget it can help to make your own food for at least one meal each day. I bought bread rolls for about 6 CZK (19p) in a shop and used the leftover ham from my street food lunch to make a tasty packed lunch for my second day!
Got a tip for saving money in Prague, or on budget city breaks in general? Scroll down to leave a comment!
All travel costs for this trip, including the £200 budget, were covered by The Money Shop. As usual, all words and opinions are my own.