Some posts on this site contain affiliate links. If you book or buy something through these links, I earn a small commission (at no extra cost to you). Take a look at my privacy policy for more information.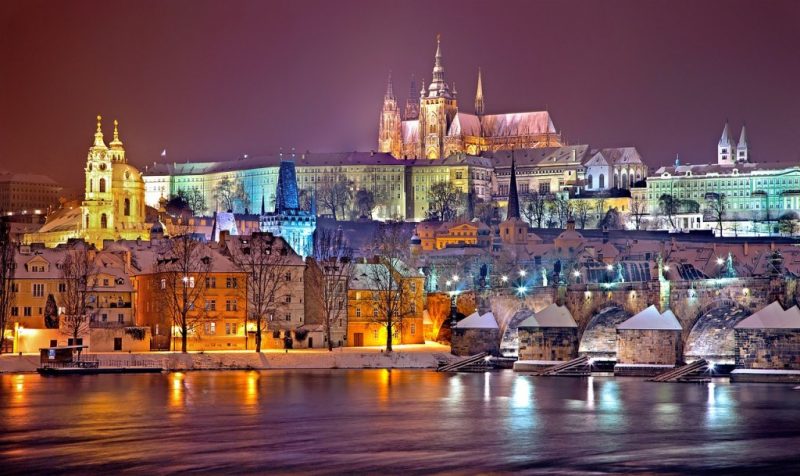 When in a new city, it's not easy to know where to go and what to do. Prague is a vibrant city with plenty of landmarks to visit and new activities to try.
If you're looking for help to plan your trip, read on and have the time of your life with these 6 things to do in Prague.
Watch the Astronomical Clock
As you walk around the historic Old Town's cobbled streets, stop at Prague's Astronomical Clock, locally known as the Orloj. It was created by Mikuláš of Kadaň in the early 15th century, making it the world's oldest working ancient astronomical clock.
At the top of every hour, two doorways above the clock open, and twelve small animated figures of Apostles appear in a procession. It's a unique show admired by plenty of tourists and locals.
There are usually crowds when the hour strikes, so get there early or enjoy the show from above, at a near rooftop bar.
Give the Gun Range a Shot
Every trip requires at least one moment of adventure, so why don't you have yours in a shooting range in Prague? In Prague Ranger, you don't need a license to shoot. Plus, you have the opportunity to fire legendary weapons, from a cowboy's Western Winchester rifle, a Soviet sniper's Dragunov rifle to the US Police shotgun.
Choose a shooting package adequate to your level of experience (packages go from rookie to professional) and have fun competing with your friends in a safe environment.
The team at Prague Ranger's provides hotel pick up and drop off, as well as snacks and drinks at the end of your adventure.
Drink and Relax in a Beer Spa
Make an appointment in one of the many beer spas in Prague and enjoy a relaxing few hours. Beer spas are just like regular spas, but instead, you soak in hot water with beer ingredients, such as malt, herbs, and hops. And you can do it in your birthday suit.
As you relax and take advantage of the benefits of your beer bath, feel free to have one (or many) pints. The tubs are equipped with beer taps so you can drink as much as you want while you're in the spa.
Not every spa provides the same beer brand, so make sure to check the signature beer of your chosen spa.
Climb Prague's Towers
Prague is known as the City of a Hundred Spires, but it could easily be, as well, the City of a Hundred Towers. The capital of the Czech Republic is a city of gorgeous towers that give you amazing city views.
Among the several towers, you can find in Prague, there are at least two that you must visit and climb: The Old Town Bridge Tower and the Petrin Tower.
The first, as the name reveals, is located in the Old Town district, at one end of the Charles Bridge, and is an iconic Gothic monument. Inside, at a distance of 138 steps, you find a gallery from where you get a bird's eye view over the bridge, the Vltava River, Prague's historic districts, and even the castle.
The latter is in Petrin Hill. It was loosely inspired by the Eiffel Tower and is now one of the city's most prominent monuments. After climbing 299 steps, you'll get to soak in views of Prague at almost 400m above sea level, given that the 63m tower is atop the 318m Petrin hill.
Explore the National Museum of Prague
The National Museum of Prague is among the most interesting in Europe not only due to its vast science and history collections but also the style of its neo-renaissance building. If you like to explore museums, spare some time for this one.
Here, you can learn about plenty of distinct fields, such as anthropology, geology, paleontology, prehistory, and zoology, with both permanent and temporary exhibitions.
Visit the Dancing House
Check out this unique and remarkable piece of modern architecture. Created in 1996 and conceptualized by renowned architects Vlado Milunić and Frank O. Gehry, the Dancing House is a reference in Prague.
Besides taking photos of this photogenic structure, you can also take a step inside and visit its gallery and restaurant with a terrace offering a sweeping view of Prague.