Some posts on this site contain affiliate links. If you book or buy something through these links, I earn a small commission (at no extra cost to you). Take a look at my privacy policy for more information.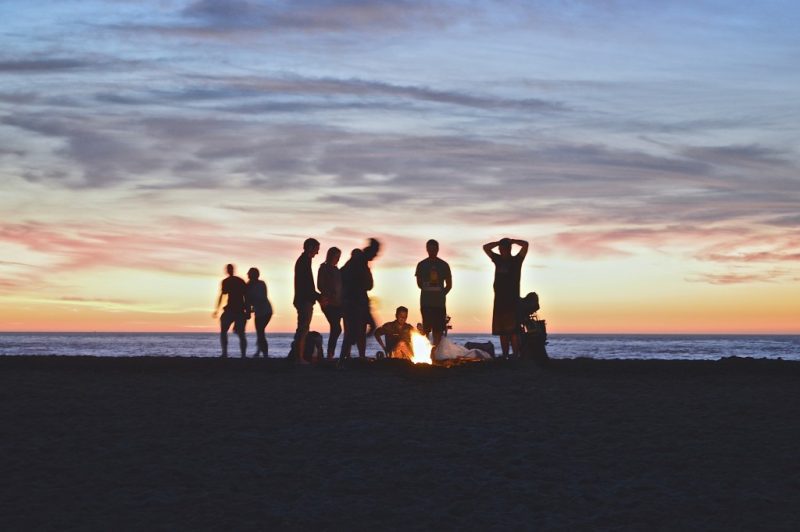 It looks as though the chances of any of us escaping the UK this year, to travel to our favourite sun-soaked destinations, have all but dried up. 
As a third wave of COVID begins to spread across Europe, ministers here have already begun questioning whether recreational travel – to popular tourist spots such as Spain, Italy and France – is really necessary and safe for Britain and its citizens. 
Another year without a jolly jaunt abroad, we hear you sigh… Chin up readers, it's not all doom and gloom.
It might not be the Mediterranean, but the Costa Del UK still has a lot going for it, especially throughout the spring and summer months. One of its greatest features is its world-renowned festival season, boasting a number of sought-after live music festivals, both big and small, across all four nations.
Amongst the many choices available are a selection of enchanting, boutique offerings. Occupying some of the most beautiful and scenic locations, each providing revellers with a unique festival atmosphere, these chic gatherings deliver on quality entertainment every time – from live music to crafts. workshops, exhibitions and much, much more.
With half of the adult population now vaccinated against COVID-19, and as the number of those inoculated continues to rise, the likelihood that we'll see these boutique music festivals happening in the UK this summer, looks increasingly good. 
So why not cancel your doomed plans to leave the country, save yourself some money, and experience a stress-free boutique music festival in 2021.
Check out a selection of Boutique music festivals happening this year listed below… 
Weyfest
Likened by many of its frequent visitors to a stress-free mini-break, award-winning music festival Weyfest offers an exciting and rejuvenating escape in the beautiful Surrey countryside for both adults and kids alike.
Bursting with superb entertainment, including over 30 hours of live music across 4 stages, and boasting an abundance of amazing food and drink choices as well as countless activities to occupy the little ones – from creative arts workshops to train rides, the popular Sci-Fi Zone and Outdoor Laser Combat – this boutique gem promises to meet the requirements of all its attendees, young and old.
Cloudspotting Music and Arts Festival
Another hugely popular award-winning music event, Gisburns Cloudspotting Music and Arts Festival returns to its enchanting woodland home this June.
Hidden away in the forests of East Lancashire, the micro festival, winner of 'Best Small Event' at the Lancashire Tourism Awards back in 2017, is built on a strong DIY ethos, managed by a dedicated army of volunteers, and is renowned for its friendliness and inclusivity.
Providing a magical laid-back festival atmosphere, perfect for seasoned festival goers and young families looking to experience their first festival together, this back-to-nature event routinely welcomes a host of popular live acts – the likes of Ezra Furman, King Creosote, Cate Le Bon, This Is The Kit, Melt Yourself Down and many more.
Join the Cloudspotting community this year in celebrating the festivals milestone, 10th edition.
Belladrum Tartan Heart Festival
A firm favourite amongst the Scots, the Belladrum Tartan Heart Festival in Inverness is one of the biggest boutique events on the summer festival calendar.
Situated in the capital of the Highlands, on the stunning Belladrum Estate, this fantastic annual music event delivers a broad range of genres and styles – from indie, rock and dance, to Celtic, blues, roots, singer-songwriter, folk and many more –  performed by some of the world's biggest music names.
Amongst the long list of headliners confirmed to appear at this year's event are the likes of Scottish treasures Emeli Sande and The Fratellis, as well as Van Morrison, Passenger, Shed Seven, The Stiff Little Fingers, The Magic Numbers and disco king, Nile Rodgers and Chic.
Bluedot Festival
A celebration of culture, bringing together music, science, film and art for a weekend of extraordinary entertainment, underneath the UK's biggest radio telescope – Bluedot Festival is probably the most unique boutique festival on the list.
A cosmic event, taking place at the iconic Jodrell Bank observatory in Macclesfield, this family-oriented experience invites people all of all ages to explore, learn and discover, through a stellar programme of performances, exhibitions, talks, workshops, experiments and much more.
Consistently attracting the most influential artists to appear across its multiple stages, Bluedot will once again add to its great track record this year, supplying performances from the likes of popular dance duo Groove Armada, electro-indie collective Metronomy and Icelandic singer-songwriter, Bjork.
Knockengorroch Festival
Tucked away in the Southern Uplands of Scotland, in a sheltered river valley, hides an off-grid, outdoor festival gem – Knockengorroch Festival.
Taking place on Knockengorroch Farm, in an area recently awarded Dark Skies status – one of the best places on the planet to see the stars – the festival of roots music, art, food, drink and more, brings together a bill of artists representing a melting pot of genres each and every year – from world music to folk, fusion and dub reggae with electronica, hip-hop, drum n bass and more.
As well as music, punters young and old can also expect to find a number of other exciting activities and experiences, such as cabaret and comedy shows, dedicated children's activities, workshops in arts and crafts, fire shows, flash mobs, real ale and food stalls… the list goes on. There's even a sauna!
Run by the family who inhabit Knockengorroch Farm and watched over by the family's cows, Knockengorroch Festival offers its guests an escape from the constraints of modern life in a stunning natural setting. A whole world unto itself that you may not want to ever leave.
Highest Point
Lancaster's number one open-air music festival, Highest point returns to the magnificent grounds of Williamson Park this September for its third anniversary celebration.
Back after two years, following a hugely successful edition in 2019, the family-friendly event will see some of the UK's biggest music stars performing in front of thousands of festival goers, underneath the stunning Ashton Memorial.
Catch this likes of Rag 'N' Bone Man and Rudimental, each making their Lancashire debut in 2021, alongside Becky Hill, Ella Eyre, Wilkinson and more, at the region's biggest outdoor music festival.
Looking for a socially distanced event to attend in the coming weeks and months? Click here for some inspiration