Some posts on this site contain affiliate links. If you book or buy something through these links, I earn a small commission (at no extra cost to you). Take a look at my privacy policy for more information.
Our first days in new cities usually seem to go more or less the same. We arrived in La Paz late at night and checked into what turned out to be a pretty horrible hostel, so spent the morning of our first day seeking out a better one, then spent the rest of the day eating, resting, and catching up with important details like emails and backing up photos.
But on the evening of our first day, we managed to do something a little different, and went out to watch a football match between local favourites Bolivar and Santa Cruz's team Blooming. We arrived at the stadium in style, with seven of us squeezed into a five seater taxi, and I rolled out of the boot to discover a whirlwind of traffic, food stalls, souvenir stands, crowds and confusion. This was pretty much my initial impression of La Paz; dirty, messy, busy, crowded and just a little crazy – an atmosphere that maintained for most of our stay there and although overwhelming, it was also pretty fun.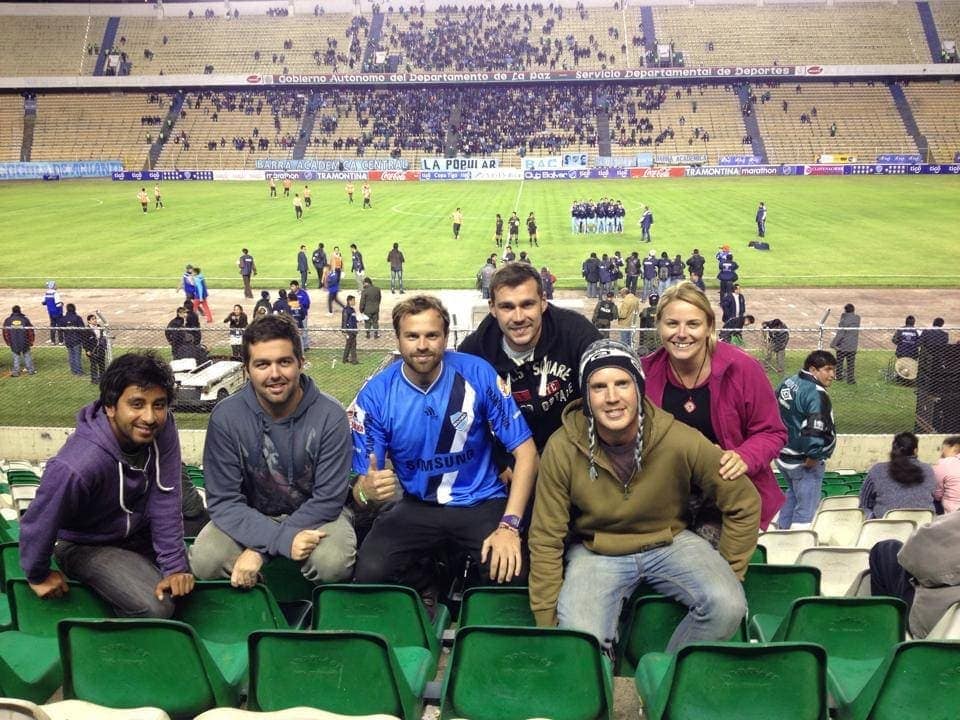 The tickets for the match were so cheap, for just 40Bs (about £4) we had the best seats in the stadium, right on the halfway line. Now, I should admit I'm not a huge fan of football, in fact I pretty much loathe it. I can't follow the sport, I hate the fans, I lose my boyfriend to BBC Sport text updates and every televised Arsenal match he can get to, I think the players get paid too much money… well, the list goes on and on. But, when the teams are smaller and not absurdly rich superstar primadonnas, and the atmosphere is good, I can get pretty into a live game.
That was what I discovered at the Bolivar vs Blooming match, especially after we all picked the first to score (more or less at random, since none of us knew any player's names or anything else about the team) and then excitedly cheered our players on.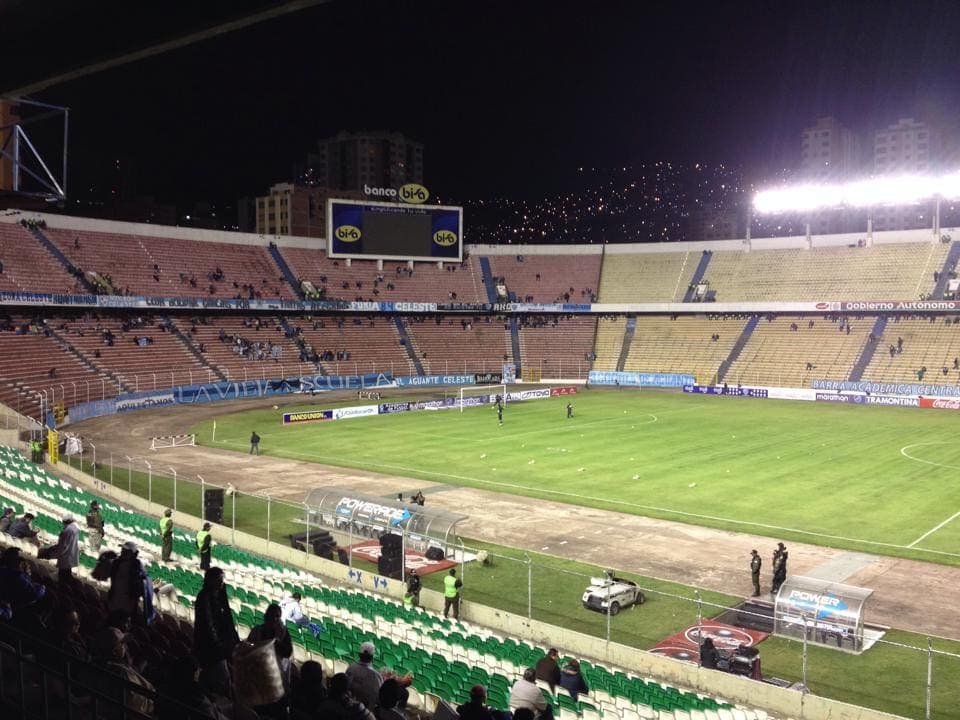 Not only was my player the first to score, but my prediction for the final result of 6-0 also came true. Partly due to poor Blooming coming from a town 416m above sea level and having to play at an uncomfortable 3,500m, which left them all shakily tired out wrecks within minutes, but also possibly due to Bolivar being the better team, the goals kept coming making the match really exciting.
Not being a football expert, or even much of a fan, I can't offer you any details on the match other than that it was pretty exciting to watch. The atmosphere amongst the crowd, even though the stadium was nowhere near full, was electric, with the fans at the goal end playing music constantly (a full band with drums, horns etc) and the whole crowd going wild with cheers at every goal. At regular intervals, the chant of Bo-bo-bo li-li-li var-var-var echoed round the stadium, and even tiny two year old boys were leaping out of their dads' laps to celebrate with an intense passion.
We joined in with the chants where we could, and had a fantastic evening watching the game. Even for someone who doesn't like football too much, the atmosphere at a South American live game is incredible and makes for a really good night out!