Some posts on this site contain affiliate links. If you book or buy something through these links, I earn a small commission (at no extra cost to you). Take a look at my privacy policy for more information.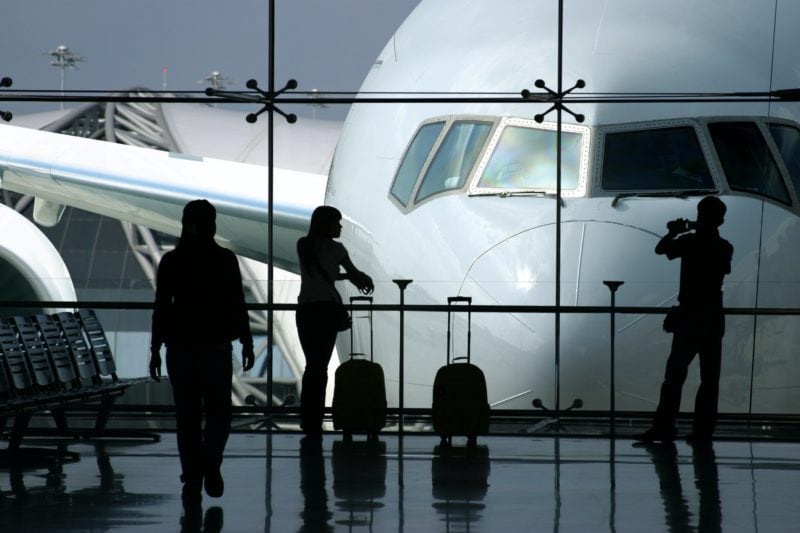 Travelling is a blast, but airports and flights can be pretty arduous. Long travel days can involve lots of walking, queuing, and sitting – so you want to be as comfortable as possible. Especially if you plan on napping on your flight. 
But that doesn't mean you have to look any less stylish than you normally would.
As a frequent flier – one who's often required to be on camera almost as soon as I land in a new destination – I like to think I've perfected the art of dressing both comfortably and stylishly on flights. It's all about simplicity. A few basic layers, preferably in plain colours, teamed with some fun accessories to show off your individual style and personality.
Keep things loose-fitting and stick to light, breathable fabrics for optimum comfort. I LOVE an elasticated waistline when I'm travelling!
All you need are a few essential pieces to keep you looking effortlessly stylish when flying – without compromising on comfort! Check out these travel essentials that are sure to get you noticed.
Stylish Travel Essentials to Spruce Up your Airport Outfit
Passport cover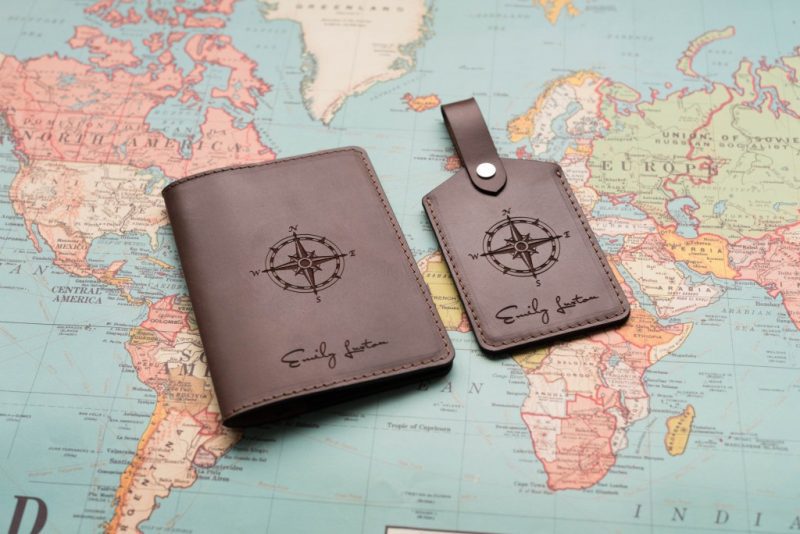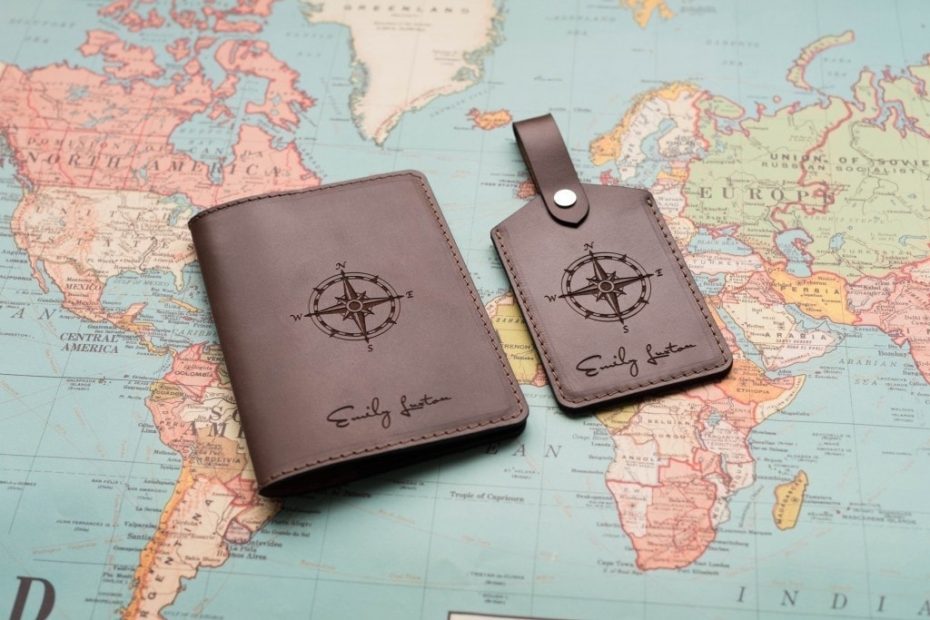 Going international? Don't forget your passport! Better yet, don't forget to tuck it away in a leather-bound cover that both conceals your most important document and makes sure you'll never lose it.
Designer passport covers from the likes of Kate Spade and Smythson are affordable, even if you just spent a ton of money on that transatlantic flight. You could even get a matching luggage tag to complete the look! You could always pop them on your birthday or Christmas list, as these make great gifts for travel lovers. 
Designer Handbag
Keeping all your carry-on essentials in a designer handbag is a great way to elevate any airport outfit. Especially if you're wearing fairly simple, comfy clothes which might not show off your personality as much as you'd like. A super chic designer handbag from the likes of Balenciaga or Chanel adds an instant touch of glamour to any outfit!
Carry-on Luggage to Express your Personality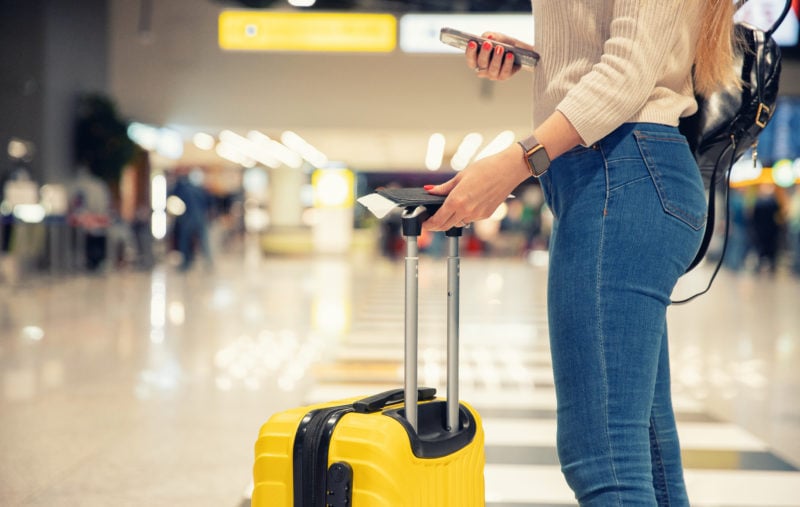 If you're still imagining suitcases that only come in black or navy blue, you've missed some of the most stylish models on the market right now. From animal print pieces on the high street to the iconic Louis Vuitton luggage, there's no better way to express your personality (and wanderlust) than through ultra-chic carry on luggage. And if you do check your luggage, having a colourful or patterned suitcase makes it MUCH easier to spot at baggage claim!
Check out my list of the best carry on luggage for women to get some inspiration – they're all recommended by real travellers. Whatever your style, you can find a fabulous carry on case that also makes life at the airport much easier.
I like bright colours, so my pastel peach Sunwave carry on from Rock Luggage is my personal favourite. American Tourister also have some brilliantly designed, super-sturdy cases in a range of fun colours and patterns.
Prefer something more understated? Antler has a fantastic range, or there's the beautiful Travel Hack Carry On in black quilting with rose gold trim.
What to Wear on the Flight
Basic T-Shirt
One style staple you can wear while travelling is a basic cotton t-shirt. The soft and breathable fabric means these shirts are very comfortable. They're also very easy to dress up or down according to your personal taste. Add on a simple piece of statement jewellery (preferably one that won't set off the airport scanners) and you're good to go.
Cotton Trousers with Elasticated Waist
For ultimate comfort on the plane, I love to wear a pair of loose cotton trousers with an elasticated waist. They're what I like to call "day pyjamas" – trousers that feel like comfy loungewear without looking like it.
If I'm heading somewhere exotic, a pair of fun patterned trousers can get me in that holiday mode – teamed with a simple black t-shirt, they're ideal. But I also have a pair of loose black trousers from Next which are perfect with a white or coloured t-shirt. Wear a shirt that hangs loosely over the waist and no one will have any idea that your trousers are elasticated!
Tennis Shoes or Comfy Flats
When it comes to footwear on flights, my main rule is no uncomfortable heels! For a more casual outfit, simple tennis shoes or Converse work really well.
For city breaks where I'm travelling with hand luggage only, it makes sense to wear my biggest and heaviest item of footwear on the plane. I usually stick to my ankle boots, which have a low wedge heel and are the comfiest shoes I own! Bear in mind, though, that if you're wearing boots you might need to take them off to go through airport security, so try to avoid lace-ups that might take time to get on and off.
Cardigan or Loose Blazer
A simple black cardigan is a useful way to keep warm in an airport. But you could also opt for a loose-fitting blazer. It's a great way to elevate a simple plain t-shirt into a stylish looking outfit that also offers flexibility and comfort for long travel days.
It's a good idea to pop a jumper in your bag, too, in case the flight gets chilly.
What Not to Wear
You might have already guessed, but I think loose is the name of the game when it comes to staying comfy on flights. Avoid tight-fitting clothes and clingy dresses. It's also quite common for legs and feet to swell on long flights, so it's a good idea to avoid tights, jeans, or tight-fitting leggings.
Avoid belts and watches as you'll usually be asked to remove these at airport security, which can be a real faff!
Lots of airports will also get you to remove shoes, especially boots, so avoid anything that takes effort to take on and off – slip-ons are best. You should also avoid wearing any footwear that is worn without socks – if you have to take your shoes off to go through security you won't want to be barefoot on the airport floor! 
What are your secrets to looking stylish whilst staying comfy on travel days? Share in the comments!