Some posts on this site contain affiliate links. If you book or buy something through these links, I earn a small commission (at no extra cost to you). Take a look at my privacy policy for more information.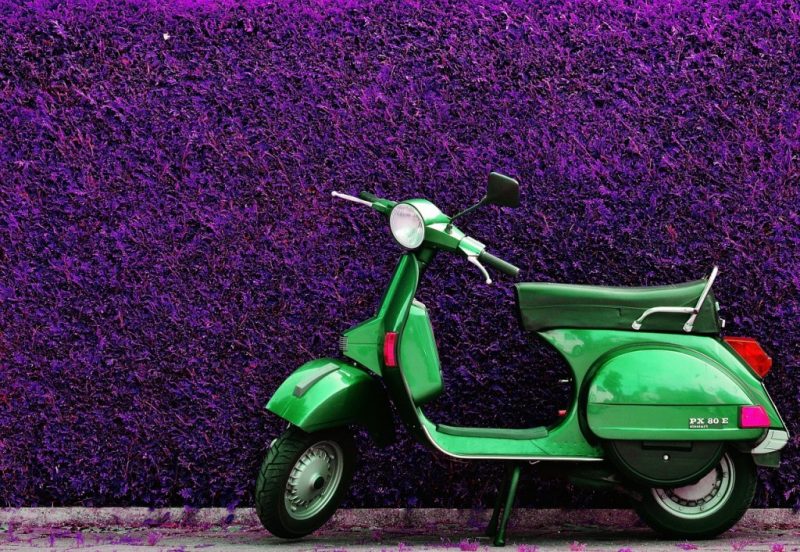 This year, I made a pact with myself to do one thing every single month that scares me. It's all about trying new things, teaching myself how to be a little bit braver, and (most importantly) giving myself new reasons to be proud of myself. As you might have seen, I let things slide a bit recently, but this month I finally caught up with a two part challenge.
September's instalment was a little different to some of the others, but for me this was just as much of a challenge. I learnt to ride a moped! It's something I've always wanted to try, but I've put it off because fear held me back. After completing some of my tougher challenges this year, especially abseiling Avon Gorge in summer, I finally felt like I could give it a shot.
September Challenge: Part One
Part one was taking a CBT test in England. It was absolutely chucking it down with rain, drops so hard that they stang my face as I struggled to get the bike up to a pitiful (but to me, terrifying) 30 miles an hour. It was also freezing, the roads were wet, and I was pretty much a nervous wreck. Not to mention the slightly scary instructor, and a heartstopping near-miss with a car after I made a stupid mistake at a roundabout. In short, completing the day was a real toughy for me, but I did it, and now I can legally drive a scooter in the UK. Next stop: motorbikes!
A lot of backpackers drive mopeds while they're travelling, usually without taking a CBT first and sometimes without even owning a driving licence. I get that it's not the hardest challenge in the world, or the scariest for most people. But you guys probably know by now that I'm not like most people, and that I'm a big old wuss about some of the smallest things. I fell off the back of a moped a couple of years ago in Vietnam, and that was enough to really knock my confidence about driving the bike myself. Ever since, I've had a huge mental block about it, and about roads and driving in general.
But on the flip side, I have always really loved the feeling of being on a moped. There's something about it that seems to go hand in hand with my love of travelling. From the very first time, on the back of a bike in Minca, I fell in love with how scary and thrilling it felt. If you've driven the pathetic little 50cc bikes I'm talking about, you probably think I'm crazy. But so many of my best travel memories – exploring Chiang Mai with Vicky, sailing over the Hai Van pass in Vietnam, racing downhill under a brilliant blue sky to Bahia Concha in Colombia – are tied to the feeling of being on the back of a bike. For whatever reason, I really, really, love driving mopeds.
Part Two
So I was desperate to learn, but I was also keen to make sure I got some proper instruction and did things the more sensible way, too. After taking the CBT, I definitely felt a lot more confident about tackling part two of the challenge; riding a moped in Asia! My first week in Indonesia, I was chilling out in Ubud, a small town in the centre of Bali, where I met a couple of really lovely friends in the fab new Joker Hostel.
After a few days riding on the back of other people's mopeds, I was feeling just about confident enough to give it a try. Traffic in Bali is about as unpredictable and difficult as anywhere else in South East Asia, but the roads around Ubud are much better quality, which definitely helped. Having said that, I don't think I'd have been able to do it if it hadn't been for Dano – a lovely Swiss backpacker who gave me the final push and basically told me I had to try it.
And it was so much fun! I went embarrassingly slowly, but gradually I felt like I was really getting the hang of it. It was fun, and I definitely wasn't terrible! Dano, being his very sweet self, said I was really good – but I have a sneaking suspicion that he was just being nice. Either way, I did it. I completed the challenge, and I couldn't be more proud of myself.
Side Challenge!
A smaller side challenge this month came about a little more spontaneously. Last week, we visited the Hong Community in Bandung as part of our #WonderfulIndonesia trip. While we were there, we spotted a beast of a spider, bigger than my palm and threateningly black and yellow. It made my skin crawl just looking at him, but with my 2016 challenge in mind I decided to swallow that fear and hold the beastie. According to our hosts, the spider wasn't poisonous, but he sure looked ready to bite. And I was definitely terrified!
Thanks to Jon from Adventure in You for the photo!
It's a great example of how good for me this slightly ridiculous challenge has been. When I'm confronted with something scary, I'm getting much better at facing up to my fear and giving it a go anyway. I've found myself saying yes a lot more, and ignoring those irritating inner voices that self-doubt and want to walk away. Whether it's walking into a hostel by myself and making friends with perfect strangers, or finally doing something I've always wanted to try, I really feel like I'm getting braver and more confident this year. And I am so, so happy about that!
When was the last time you did something that scared you? I want to hear about it! Scroll down to leave a comment.