Some posts on this site contain affiliate links. If you book or buy something through these links, I earn a small commission (at no extra cost to you). Take a look at my privacy policy for more information.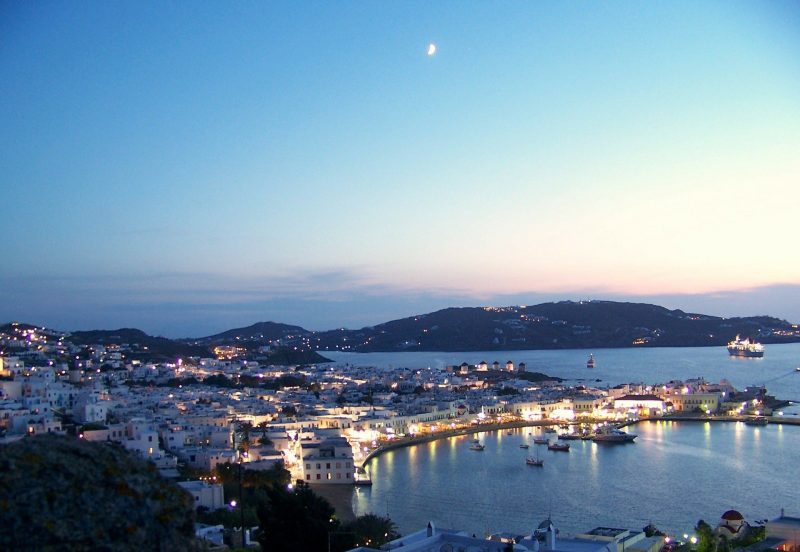 The radiant embrace of the Mykonian sun is the first sensation that hit me as soon as I disembarked from the plane. There is something about the Grecian sunlight that feels quite overwordly, almost as if it has been kissed by ancient Greek gods themselves. However, this particular sunlight was far more than just illuminating; it was invigorating. Despite the long haul from London via Athens, I immediately felt an instant surge of vitality as I set foot on Mykonos.
Tucked comfortably in the heart of the Aegean Sea, Mykonos (aka the Queen of the Cyclades) is, no wonder, often the crown jewel for many travellers exploring this part of the world. Embodying the quintessential image of a Greek island, the Island of the Winds enchants with its narrow cobblestone alleys, iconic whitewashed architecture, blue-domed churches overlooking the vastness of the archipelago, and its mesmerising turquoise waters that seem to stretch into infinity.
A Blend of Past and Present
Apart from the picturesque landscapes and iconic parties, Mykonos is truly a treasure trove of culture and history. Over the millennia, it has been a heaven for pirates, seen the footprints of the Ottomans, and has played a pivotal role in Greek mythology. Renowned for its windmills that once powered the local economy, it invites guests to dive into its rich past by visiting the ancient Kato Mili that stands tall against the azure backdrop.
In the pulsating heart of the island, the vibrant Mykonos Town (aka the Chora), one can witness the seamless blend of the contemporary and ancient. One fine example of such is the historic church complex of Panagia Paraportiani, which stands as a sentinel to the history of the town, while modern cafes and chic boutiques line the streets, offering a taste of today's Mykonos. Feel free to stroll along the labyrinth-like (designed to confuse pirates in the past), winding streets of the capital for a delightful time travel.
Another landmark that deserves a time and energy investment is the Archaeological Museum of Mykonos that displays artefacts from the neighbouring (once considered sacred) Delos Island (a UNESCO World Heritage Site that impresses with its archaeological wonders, including well-preserved mosaics, theatres, and temples).
Hidden Gems of Mykonos
Beyond the bustling streets of the capital lies the serene village of Ano Mera. Here, the Monastery of Panagia Tourliani offers a peaceful retreat, while creating a sense of awe with its intricate wood carvings and sacred icons. The square of the village oozes an authentic Mykonian dining experience with its traditional tavernas, away from the tourist crowds.
As for the island's interior, I consider it a realm of tranquillity, though often overshadowed by the pristine and sugary beaches. Quaint hamlets, vineyards, and small olive groves dot the landscape. One of the cutest villages on the island is Ftelia, a neolithic settlement dating to around the 5th millennium BC that is believed to house the tomb of Ajax the Locrian, an ancient Iliad hero. Apart from its archaeological significance, though, the site also boasts charming artisanal shops where local craftsmen showcase their skills.
Nature's Bounty
For those seeking a communion with nature, Mykonos summons visitors to indulge themselves with activities like hiking, cycling, Jeep Safaris, and trekking through scenic walking trails (also water sports ventures like parasailing and kitesurfing). Speaking of which, the Fokos Reservoir (or Fokos Dam) is a protected area, much like Paros' Environmental Park, which is a living testament to the commitment of the Cyclades to preserving their natural heritage. Surrounded by indigenous flora, the reservoir is a fantastic place to unwind, lay eyes on exquisite seascapes, and fill your lungs with air that is fragrant with the scent of wild oregano, sage, and thyme.
Needless to say, the island's coastline is a real gem to explore. From the family-friendly Platis Gialos and Ornos Bay to the party-centric Paradise Beach and Super Paradise, there is a spot for every type of beach lover and nature enthusiast. Romance seekers can head to Agios Sostis and Fokos Beach, which are more secluded and serene than others.
But, do not confine yourself only to the land above the water. Mykonos also enchants with its profoundly beautiful underwater cosmos, waiting to be explored via scuba diving or snorkelling adventures.
Culinary Delights of Mykonos
The gastronomy in Mykonos is as diverse as its history. From avant-garde restaurants to traditional family-run tavernas, there is something for every palate. A must visit for wine aficionados is the Mykonos Vioma Organic Farm and Vineyard. Established over a century ago, it offers a unique tasting experience, with wines that capture the true essence of the Cyclades. If I had to make a recommendation while here, I'd say the Mykonos Vioma Red (if you are a fan of red wines with notes of spices and red fruits) or the Mykonos Vioma White (aromatic with a crisp finish and floral notes). Also worth looking out for are the Cabernet Sauvignon and Syrah wines, with a robust structure and velvety texture, respectively.
In Mykonos Town, the Nikos' Taverna stands out not just for the delectable seafood but also for its rich history. And, don't be surprised if you notice locals and tourists alike sharing tales over a glass of ouzo across the island's kafeneia and tavernas!
Regarding the must-have tastes, I'd say you definitely want to pamper your taste buds with kopanisti cheese (spicy and tangy often served as a bread spread or dip), louza (cured pork meat, similar to prosciutto), tirovolia cheese (soft and similar to ricotta often served with honey and nuts or used in pies), and kremmydopita (onion pie with cheese, onions, and sometimes tomatoes).
Accommodation Options
The island's diverse accommodation options gratify every need. Travellers can find anything from chic boutique hotels nestled in the heart of Mykonos Town to serene beachfront resorts. Personally, we chose to stay at a bohemian chic villa in Pouli area that we found white browsing the Kinglike Concierge website, as we wanted more of a personal heaven that would allow us (including our two 10-year-old twins) to savour the island's beauty at our own pace, away from the noise and the partying crowds.
Indeed, my family and I had ample space, top-tier amenities like an infinity pool and a beautiful garden, and built-in BBQ. As for the views, they were absolutely heart-stopping. We also loved how we could actually personalise the experience using the offered concierge services. In any case, Mykonos ensures a stay as enchanting as its sunsets, whether you are seeking the vibrancy of a hotel or the exclusivity of a private villa.
Festivals and Events
Besides the legendary Mykonos nightlife that offers a spectrum of experiences (from beach clubs like Cavo Paradiso and Scorpios to high-end boutiques selling designer goods), Mykonos also captivates with its local music and events. You may celebrate the island's rich heritage by participating in the numerous music festivals and religious feasts (such as the Panagia Tourliani Feast held in August in Ano Mera village) that pack the Mykonos calendar and include lots of eating, dancing, and traditional music. Traditional Greek music fills the air in local bars, where you can dance to the rhythms of the bouzouki.
Let's not forger the Mykonos Summer Festival, an ode to art and culture featuring art exhibitions, theatrical performances, and concerts, as well as the XLSIOR Mykonos festival, one of the most famous LGBTQ+ events in the world.
Luxury and Wellness
Synonymous with luxury, Mykonos extends beyond its exclusive villas and animated nightlife. In fact, the island offers a plethora of wellness experiences that cater to those desiring indulgence, relaxation, and rejuvenation. From world-class spa and wellness centres such as Thalasso Spa providing traditional Greek therapies and a wide range of services tailored to your needs, to holistic wellness retreat offering programs that include meditation, yoga, and therapeutic treatments, you'll be spoiled for choice.
Luxury shopping is another available option (head to Matoyianni Street in Mykonos Town), as well as gourmet dining, helicopter tours, and private yacht excursions.
Final Thoughts
Clearly, Mykonos transcends stereotypes. It is a place where modernity meets history, where vibrancy coexists with tranquillity, and where every traveller can find their personal slice of paradise. In my eyes, Mykonos is far more than just another island; it is an emotion, a feeling, a memory that lingers long after the journey ends.