Some posts on this site contain affiliate links. If you book or buy something through these links, I earn a small commission (at no extra cost to you). Take a look at my privacy policy for more information.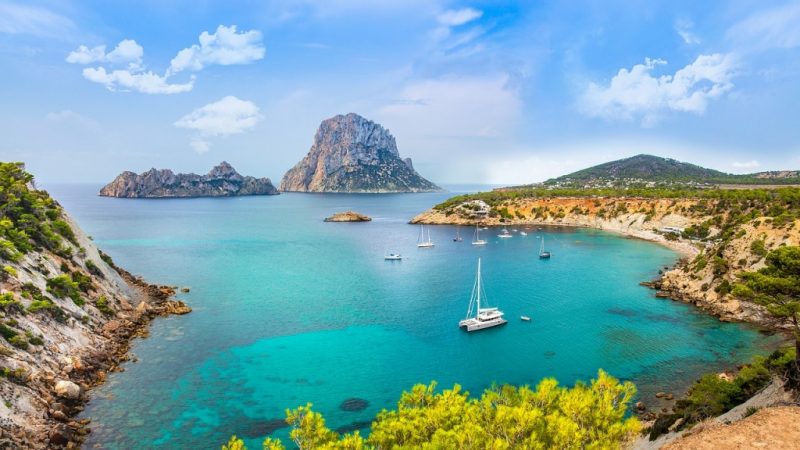 If you have never been to Ibiza, you are missing out on one of the most spectacular islands in the Mediterranean Sea. It is a part of Spain that will help you understand the sunny disposition of those who live in this country.
Of course, it is impossible to miss out on the world-famous nightlife that takes place on the island. Here is why you must add Ibiza to the list of the locations that you will visit on your next trip to Spain.
Reason Number One: To Have Fun
The nightlife in Ibiza is a major attraction for many visitors to the island and is a key reason why it is often included in trips to Spain. Once you have made the round of the main cities, such as Barcelona, Madrid and Sevilla, you will want to make a stop on the island that never sleeps (at least at night) and free yourself as you spend a few days partying. There are many clubs and bars throughout the island that are open late into the night, offering a variety of music genres and atmospheres, but you can also find bars, lounges, and beach clubs where friends and tourists can get together to share a few drinks and cocktails.
But if you really want to experience something that will make you benefit from everything that this land offers, you need to book your place on the five star Ibiza boat party of Ibiza Boat Club, and start the day the right way. This three-hour boat tour sets sail at 1:30 p.m. and cruises around Ibiza's coastline. As you enjoy your time under the sun, you can grab a drink from the open bar, encounter new people and dance to spend a little energy before lunch, where you will taste the one dish that you can't miss in Spain: Paella. When the trip is over, you can go to your hotel room to rest for a few hours, before going back out for some clubbing, or choose to continue your day on the water with an Aftersun Ibiza boat party, from 6 to 9 p.m.
A Great Place to Discover Spanish Culture and spend time in Nature
Ibiza is much more than just a party island. It also offers an open window onto the Spanish culture. One place to discover it, is by walking the area of the 16th-century ramparts, a UNESCO World Heritage site. Additionally, there are several cultural sites on the island, such as the remains of the first Phoenician settlement at Sa Caleta and the Dalt Vila. As for the Old Town, it offers a glimpse into the island's history and architecture. But culture is not only found in elements of the past. While you are there, you can also immerse yourself in today's Spanish culture by exploring the island's traditional cuisine, music and festivals.
For nature lovers, Ibiza offers a beautiful and diverse landscape, which includes stunning beaches, crystal-clear waters, rugged hills and forests that are perfect for those who like to hike, bike or simply explore. One noteworthy area is Ses Salines Natural Park, which stretches from the southern tip of Ibiza to the island of Formentera.