Some posts on this site contain affiliate links. If you book or buy something through these links, I earn a small commission (at no extra cost to you). Take a look at my privacy policy for more information.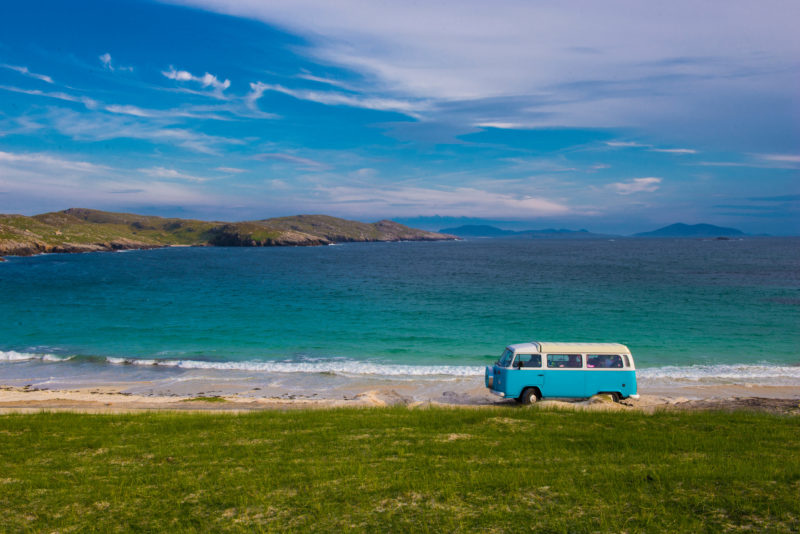 Tired of rain getting through your tent walls or the constant stooping? If it's time for an upgrade, you're going to have to choose between two titans of the British campsite – the campervan and the caravan. Which will win the battle for your affection?
If you're torn, fear not, we've done the hard work for you and compared the pros and cons of both these camping classics.
READ MORE: 7 of the best places to go in a campervan in the UK
The pros and cons of a campervan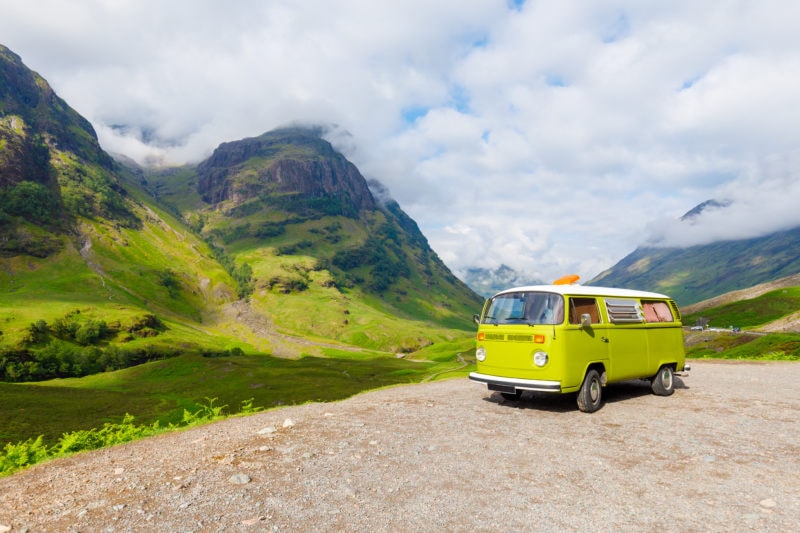 Whether you fancy a classic VW or a state-of-the-art model, here are a few things to mull over before you jump feet first into camp campervan:
Benefits of a campervan
Two in one: not only do you get a living space, you get a van for day to day use. The big plus of a campervan is that it's multipurpose. You don't need to spend money on a second car and don't have to contend with towing a trailer.
More miles for your money: lighter, smaller, and more aerodynamic, a campervan is usually more fuel efficient than towing a caravan.
Freedom to roam: you're not beholden to a mains or water connection so wild camping or spontaneously deciding to pitch somewhere overnight is easy.
Less hassle: with a campervan there's no unhitching and setting up in any weather. You can just pull up, pop the roof and you're set.
Manoeuvrability: with nothing in tow, fewer roads are impassable for a campervan. Just beware of low bridges!
Cons of a campervan
Small living space: you might feel like you're packed like sardines in a campervan, especially if you want friends and family to come along for the ride. If you've got lots of stuff you want to take with you, organising your space can feel like Tetris.
Limited sleeping capacity: on the same note, sleeping arrangements are limited when there's more than one of you. You'll both have to squeeze into the fold-up bed or a pop-up roof bed (if you're lucky) but if that doesn't work one of you may end sleeping squished against the fridge!
No loo: With only basic facilities, you don't have the luxury of your own loo, but if you're not averse to jungle wees or midnight dashes to the campsite toilets, this shouldn't put you off.
All or nothing: if you want to go on a day trip or nip to the shops, your only option is to pack your camp up and take everything with you.  
The pros and cons of a caravan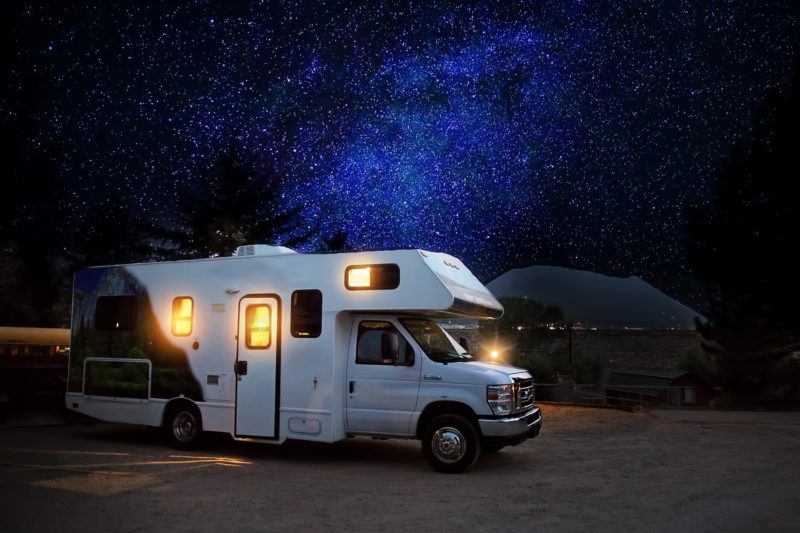 Now it's the caravan's turn in the spotlight. A firm favourite of many campers, a caravan is a great way to travel with some of the luxuries of home, but they do have some drawbacks. Let's dive in.
Benefits of a caravan
Space: not only do you have more distinct spaces for eating, relaxing and sleeping, you could get a caravan with the capacity to accommodate a guest or two you invite along for the ride.
Flexibility: spontaneous day trips or last-minute runs to the shops for marshmallows are no object to caravanners, who can use their towing vehicle for any necessary outings.
More facilities: a caravan usually comes kitted out with a hob, oven, sink and fridge as standard so you'll have plenty of home comforts, albeit on a smaller scale. Some caravans even have a TV, microwave and, at the very top end of the range, built-in sound systems and a dishwasher.
Your own loo: Convenient, private and you can laugh at other people getting soaked running to the toilets…
More storage: with both a car and a caravan to fill, you can bring a lot more with you than you could pack into a campervan.
Cons of a caravan
Weight limits: more room is great but don't overload your caravan as it could become dangerous to drive and pose a threat to other road users. Know the legal weight limit for your caravan and don't exceed it.
Towing can be daunting: towing can be stressful for a beginner and even the seasoned pro on occasion. Depending on the size of your caravan, you may even need a different licence and a certain spec vehicle to tow it.
Feeling the strain: towing a caravan will also put extrastress on your car over time, so it may need maintenance more frequently, which can become expensive.
More limited options: driving a car with a caravan in tow may put certain places beyond your reach thanks to narrow roads, tight bends and low bridges. The bigger the combo the more limited your options will be.
Thirsty for fuel: the bigger and heavier your caravan is, the more fuel your car will need to tow it, which could eat into your holiday budget.
Camper or caravan, you'll want to protect it
Whether you plump for a holiday home you tow or one on four wheels, you'll no doubt want to protect your investment, which is where specialist insurance comes in. Insurance is a legal requirement for a campervan because, unlike a caravan, it's a vehicle in its own right, but that doesn't mean it's any less precious to you.
With InsureMy, you can compare policies from a panel of trusted, specialist campervan and caravan insurance providers all in one place. And, with our lowest price guarantee, you can be confident you're getting a bargain.
So now you know the facts, what'll it be – a campervan or a caravan? Whatever you decide, we know you won't regret it.