Some posts on this site contain affiliate links. If you book or buy something through these links, I earn a small commission (at no extra cost to you). Take a look at my privacy policy for more information.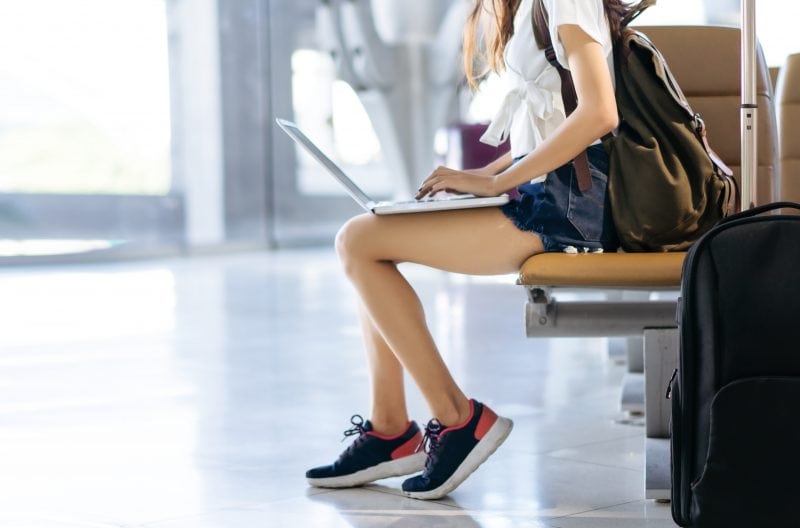 If you are a woman who is required to travel for work frequently, it is likely that you will sometimes travel alone. While your employer should do everything they can to ensure your safety and comfort, one major benefit to traveling for work is getting to explore the destination in your downtime, in which you are likely to be on your own and sometimes out of your comfort zone. Here are 4 easy tips for staying safe when traveling alone.
Research Your Destination
Before you travel, be sure to do plenty of research on your destination. Be aware of local culture and customs, as this will help you pack and prepare for your trip. Be sure to get a good understanding of the local culture in your destination, and avoid doing anything that would allow you to stick out as a tourist. Also, research the area in which your hotel is located, and the locations of any activities you plan to do in your downtime. Make sure you are sticking to areas that are safe.
Share Your Location With Family and Friends
In addition to sending your loved ones back home (and your boss) an updated itinerary for each day of your trip as well as the address of the hotel you are staying at, it can be extremely helpful to share your current location with multiple people who will check it frequently. This will ensure that someone is constantly checking your whereabouts, and will know exactly where you are or were last seen, should anything go wrong.
Let Your Boss Know if Something Feels Unsafe
If your work requires you to travel alone and your research proves that your destination might be unsafe, it's okay to let your boss know what you need to feel more comfortable. This could include taking a plus one with you or skipping the trip altogether. Companies like HSI offer workplace training for the Health and Safety of employees in the workplace. Safety outside of the office, including on any necessary trips, is equally important and should be prioritized by your employer.
Don't Forget to Have Fun
Although it is true that traveling solo can be scary, especially for women, this doesn't mean that you need to hide in your hotel room for the duration of your trip. As long as you are staying smart and aware of your surroundings, it is more than okay to venture out for some sightseeing or other activities you're interested in. Traveling for business can be fun and extremely rewarding, just be sure not to leave your common sense a home.