Some posts on this site contain affiliate links. If you book or buy something through these links, I earn a small commission (at no extra cost to you). Take a look at my privacy policy for more information.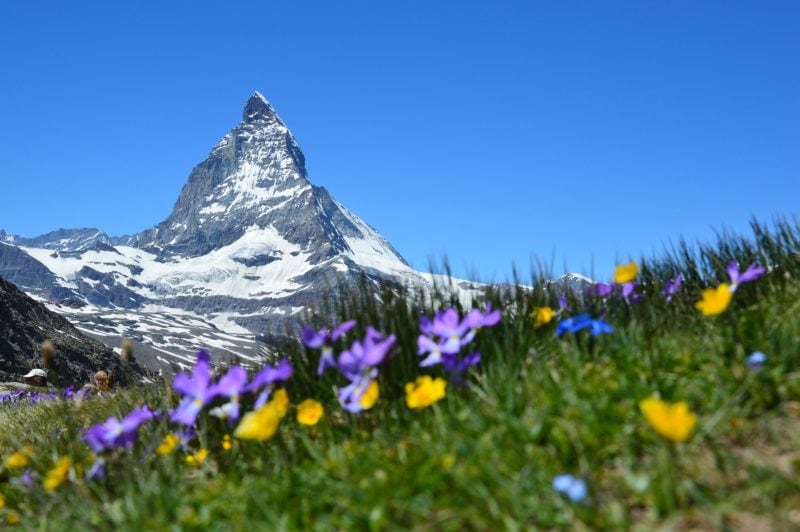 If you're reading this, we are sure you have picked the right place. Switzerland is a song well-performed by its alluring valleys, captivating water bodies, and otherworldly mountains. And it's certainly not an exaggeration given that Switzerland has recently been tagged as the most romantic destination on earth. Switzerland's heart-throbbing waterfalls, spectacular alpine scenery, finger-liking dishes at numerous dreamy stays and sky resorts captivate the senses and leave you completely numbed with bewilderment.
That said, if marriage is on your cards in 2022, we suggest you start planning right away. Starting early can get you some excellent stay deals through Airbnb and hard-to-refuse discounts on flight fares.
Switzerland presents itself as the finest destination for a honeymoon, no matter when you choose to visit. From summers to winters, you can discover every enchanting kind of beauty at this destination, which can make your vacation a lifetime memory. So, if you're ready to see and do it all, we have the perfect guide for the best honeymoon amidst the Alps.
Why Choose Switzerland for a Honeymoon?
Switzerland is an ideal honeymoon location for couples who could care less about sunny beaches and water sports and who would rather spend their time exploring the cultural contributions of another country. However, for the nature-savvy among us, hiking and skiing are plentiful in the Swiss Alpines. Obviously, there's no shortage of outdoor activities in Switzerland, making it an idyllic destination for couples who like to keep it fit and busy.
This magnificent country offers friendly weather both in summer and in the winter. If you're both ski-savvy and dream of a honeymoon spent shredding the slopes during the day and cosying up to your Instagramable chalet at night, you will want to visit Switzerland between December and February, when skiers and snowboarder aficionados report the best snow conditions.
For more inviting weather, you will want to visit in July or August. However, to make sure you catch the best deals, consider travelling during the shoulder seasons, between April and June, and September to October, when the weather is marvellous, and there aren't too many visitors.
What are the best honeymoon destinations in Switzerland?
Switzerland remains a top-of-mind choice for newlywed couples because of the various locations and fun activities. Now that you've fulfilled every commitment from buying a new home to changing your name after marriage to establish you are a perfectly legal couple, it's time to relax. And there's no better place than the Swiss Alpines. 
1. Montreux 
Montreux is a small and tranquil resort town that lies on the shores of Lake Geneva. It has everything you need for an unforgettable honeymoon – a magical promenade adorned with unique sculptures, flowers, and spreading the scent of flowers in a mild climate.
What you can do in Montreux depends on what you like to do. For example, having a romantic stroll while admiring mediaeval castles can be utter love bliss. You will notice the Château de Chillon located straight on the water at the edge of the flower-lined path.
The town is surrounded by vineyards planted in the magnificent setting that captures snow-peppered Alpine peaks. While strolling the UNESCO-listed Lavaux Vineyards, you will notice the most breathtaking views of Lake Geneva, situated between Lausanne and Montreux.
If you plan to visit Montreux in summer, don't skip attending the world's most popular Montreux Jazz Festival. If you're a jazz enthusiast, joining the festival while the sun is setting can be unforgettable.
Montreux is the perfect place for a honeymoon – romantic paths, castles, and lavish accommodations. Celebrate your love in the most popular hotel in town – Fairmont Le Montreux Palace – with its extravagant rooms, gorgeous landscapes, and delicious meals you can't refuse.
2. Zermatt
It's almost impossible to refuse a place like Zermatt if you're a nature-enthusiast. However, while this city has some of the most impressive views to offer with the giant Matterhorn around, it happens to offer the most luxurious accommodation. But don't worry, we bet there's a place for almost every pocket.
Zermatt is a car-free village and one of the best honeymoon spots for hiking and sky-savvy couples, which will get you pumped up. If you're all about skiing and loving, the winters in Zermatt are the perfect time to plan your honeymoon
3. Lucerne 
Lucerne is one of the best cities in Switzerland for a honeymoon and with a good reason. Surrounded by a vintage feeling and a fairy tale aura, Lucerne is your escape to central Switzerland. The elegant fountains and vibrant mediaeval architecture are some of the countless charming attractions here.
The best time for couples to visit Lucerne is between July and August, but the winter months are also romantic there. You can take a romantic leisure boat to ride across Lake Lucerne, soak in the lovely views from the Jungfrau Glacier and visit the famous Mt. Rigi.
4. Grindelwald 
Whether you call it a romantic escape or an adventure destination, Grindelwald is one of the best places to visit during the winter months. As you head off for an unforgettable honeymoon in Grindelwald, you can explore the lush valleys and majestic beauty of the mountains.
This lovely village is well-known for its romantic ski resorts where you can be both adventurous and romantic. It's also recognized for its hiking routes, the Faulhorn mountain hotel, the Bachalpsee, and the Schynige Platte. Such sweet spots have made Grindelwald a famous destination for newlywed couples who love nature and adventure.
Speaking of thrill, if you have the opportunity, we suggest planning your Switzerland honeymoon between January and February if you want to experience the best of the Alpines slopes.