Some posts on this site contain affiliate links. If you book or buy something through these links, I earn a small commission (at no extra cost to you). Take a look at my privacy policy for more information.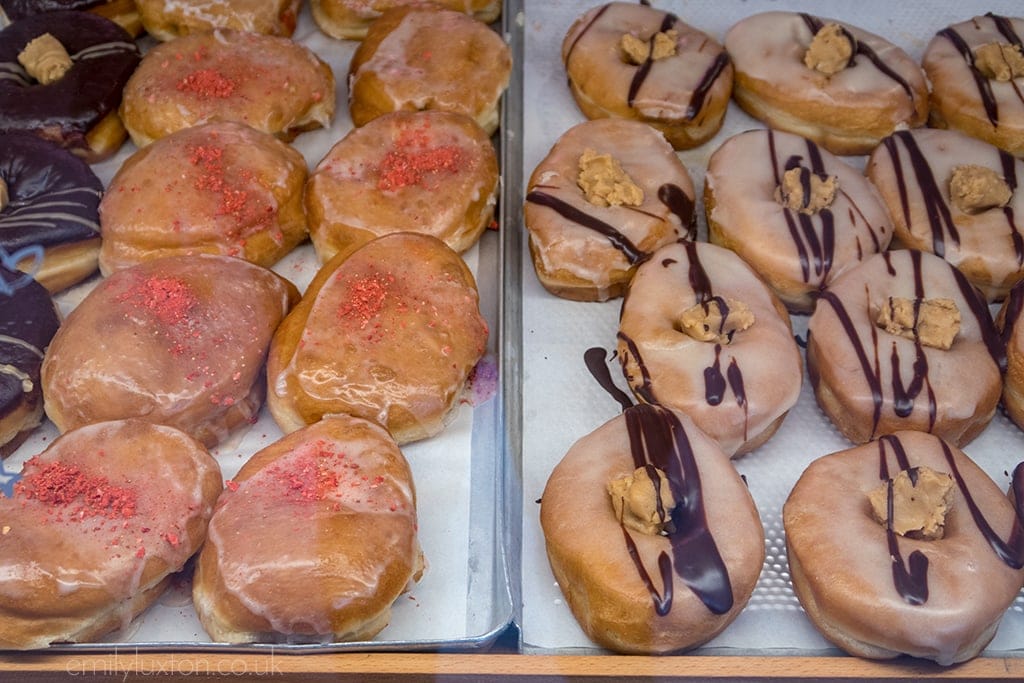 What is one sugary option that can leave everyone addicted? Yes, they are doughnuts! This yummy treat has been a part of the world's most loved dessert list for a long time and people are yet to get over it. From getting it delivered to having one in the local doughnut shop, there is no wrong way or right time to have a doughnut.
However, not many people know about the different types of doughnuts and we truly believe that everyone should try them all. This dessert option comes in different forms, each as delicious as the last one. So, even if you are looking for doughnut delivery in London or delivery anywhere in the United Kingdom, here are a few reasons to try them all.
Without further ado, let's look at the different types of doughnuts one can explore:
1. The Traditional Doughnut
As the name suggests, it is the most basic type of doughnut that is also one of the most popular varieties. It is also known as an old-fashioned doughnut. This one is made using sour cream and is deep-fried. An old-fashioned doughnut is covered with a soft sugar glaze and powdered sugar is used to adorn it. Our personal favourites are Krispy Kreme and Doughnut Time.
2. The Jam Doughnut
Jelly is one of the most loved fillings in the world. Remember childhood? How you could stuff your mouth with as much jelly as you wanted and no one would say a thing! A jam doughnut is a type of doughnut that has jelly filling in the centre of it. It is extremely popular in the United State of America, Canada, and most of Europe. You can find some interesting jam doughnut packs in Tescos.
3.The Sprinkled Donut
Want to bring out the child in you? If yes, you must try out the sprinkle doughnut. Though many types of doughnuts have some form of sprinkles, then sprinkle doughnuts are completely covered in it. It can have a single flavour like chocolate or vanilla, or you can go the rainbow way and get many favours in one. It is a popular choice for children.
4.The Sour Cream Donut
If you are not a fan of over-the-top sugary treats, a sour cream doughnut can be your calling. While preparing the doughnut, sour cream is added to the batter and then dipped in vanilla-flavoured glaze. For all, you vanilla lovers, now's the time! This doughnut has a sour and sweet taste that makes it a unique pick.
5.The doughnut holes
These picturesque and instagrammable doughnuts are made from the leftover part of the doughnut dough. So, while making the doughnut, a hole is carved in the desert and this leads to the leftover. It is made in the form of cake pops and is filled with cream and decorated with sprinkles, powdered sugar or they are glazed and are bite-size. Sounds enticing, right?
6. The cinnamon twist doughnuts
Another fun-shaped doughnut to try out are these. The dough of the doughnut is carefully twisted into the shape of a braid instead of a traditional circle. Then, they are fried. This dessert option has a cinnamon flavour in the form of cinnamon-sugar glaze.
7. Crullers
This one too has an interesting shape and is popularly known as the twister. Like the cinnamon twist doughnuts, they are made by adding twists to the dough, but it contains multiple twists. The twists present in the doughnut gives it a different look and make it a popular choice everywhere. The topping of doughnuts has a vanilla or chocolate glaze.
Conclusion
There are many varieties of this delicious snack that are available in the market. You can broaden your horizon by trying out as many options of doughnuts! So, if you are in the mood for something sweet and special, try out some doughnuts of different shapes and sizes. Meanwhile, if you are a traditionalist when it comes to food, you have the old-fashioned option available everywhere. Are you salivating? 'Cause we for sure are!