Some posts on this site contain affiliate links. If you book or buy something through these links, I earn a small commission (at no extra cost to you). Take a look at my privacy policy for more information.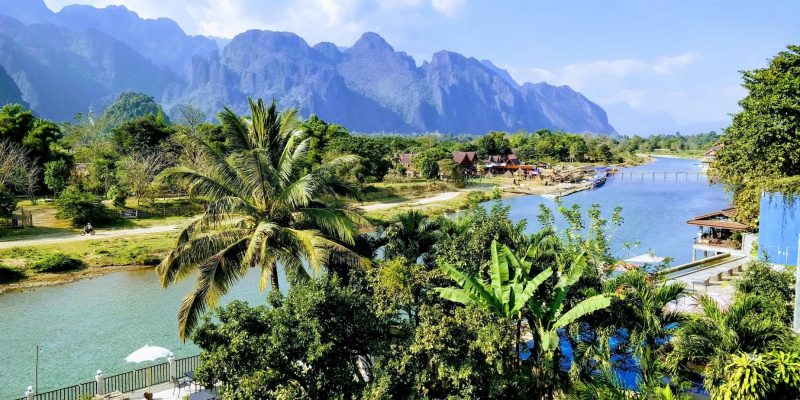 If you're looking for an adventure in an exotic country, but want to avoid the crowds of tourists, look no further than Laos. Southeast Asia's hidden gem, the Lao People's Republic (to give it its full title) has escaped the rising numbers of visitors in neighbouring Thailand and Vietnam, while boasting ancient temples, lush jungle, and mouth-watering food that can easily compete with the rest of the region.
Of course, if fewer people choose Laos as a holiday destination, it begs the question: is Laos tourist-friendly?
The answer is, for the most part, yes. That said, there are a few things you might want to bear in mind before heading off to the Southeast Asian country to make sure that you stay safe and get the most out of your trip.
You might also need to get authorisation to enter the country in advance of your trip — check here to find out if you need an eVisa for Laos (also referred to as an "Approval Letter").
Is Laos Worth Traveling to?
Laos has no shortage of things to do and see as a tourist.
Like many countries in Southeast Asia, you can find dramatic Buddhist temples all over Laos, with perhaps the most dramatic being Pha That Luang (aka the Great Stupa) in Vientiane, the capital city, and the Wat Xieng Thong temple complex in Luang Prabang.
The huge ruins of Wat Phou represent a Khmer Hindu temple predating the famous Angkor Wat of Cambodia.
Temples like these are perfect for tourists — in fact, you'll find visitors are actively encouraged. You may have to pay a small entrance fee and some active Buddhist temples in the cities are only open to visitors in the morning and evening, but they are well worth it.
The city of Luang Prabang is also well set-up for international visitors. With plenty of boutique accommodation, stunning views over the Mekong and Nam Khan Rivers, night markets, museums, quality cuisine, and opportunities for elephant riding nearby, travelers from overseas will quickly fall in love with the ancient city, which is a designated UNESCO World Heritage Site.
Tips for Tourists in Laos
To make the most out of your trip to Laos, here are some top tips to avoid any potential problems encountered by tourists who don't know what to expect.
Money Matters in Laos
It is worth noting that ATMs are few and far between and are generally only found in the major cities. Paying on card is only really an option in high-end hotels, shops, and restaurants, particularly those that cater to tourists. It is a good idea to keep cash on you — especially if you are planning to head to smaller towns or villages.
The good news is that Laos is generally very affordable and you get a lot for your money. The Lao currency is the kip (₭).
Boil It Before Drinking
The water in Laos isn't up to the same standards as tourists might expect in other parts of the world. You should get in the habit of boiling or sterilising water before drinking it, using it to brush your teeth, or making ice cubes with it. You can also use a water filter bottle like the Water-to-Go Bottle – I swear by it!
The same is true of milk, which is not usually pasteurised in Laos. Either boil it or go for powdered or tinned milk when shopping in Laotian supermarkets.
As with many destinations in Southeast Asia, make sure that your food has been well-cooked, particularly the meat and fish. You might like your steak rare normally, but trust us, you don't want to risk it in Laos.
Get Your Jabs
Before jetting off to Laos or anywhere in Asia, you need to make sure you are up to date on your vaccinations. Hepatitis B and E, Japanese encephalitis, and tuberculosis (TB) are among the injections you will need, since all of these are fairly common in Laos.
Vaccinations against dengue fever are still being developed and are not routinely offered in many countries, but you can take steps to avoid infection. Stock up on insect repellent to keep the mosquitos that carry it at bay. Keep as much skin covered as possible when traveling in areas where mosquitoes are present and use a mosquito net if sleeping with the windows open.
READ MORE: How much do travel vaccinations cost in the UK?
Is Laos Dangerous for Tourists?
In general, Laos is a very safe country for international visitors. Most travelers report feeling more relaxed walking alone here than in many western countries.
Laotian people are typically warm, friendly, and helpful and you'll soon feel at home among them, whether in the surprisingly laid-back capital of Vientiane or out in a rural village.
However, you should never forget the golden rule of travel: stay alert and use your common sense. While violent incidents involving foreign tourists are extremely rare in Laos, opportunists exist everywhere. Belongings may go missing if you don't keep a sharp eye on them, particularly on buses.
If you are traveling by motorbike, make sure to park in paid lots and keep your ride securely locked if possible.
Watch Your Step in Remote Areas
Laos isn't the best place to venture off into the wilderness without a guide. This isn't so much because of danger posed by wildlife (although there are venomous snakes and large animals such as tigers and bears in some parts of the country), but because of unexploded landmines left behind by the Indochina Wars.
As crazy as it might sound, traveling around remote areas off the main roads carries a very real risk of death by explosion. However, in the areas frequented by tourists, all mines and bombs have been cleared, so there is no danger as long as you stick to the beaten path.
With this advice in mind, you are ready to embark on your own Laotian adventure!