Some posts on this site contain affiliate links. If you book or buy something through these links, I earn a small commission (at no extra cost to you). Take a look at my privacy policy for more information.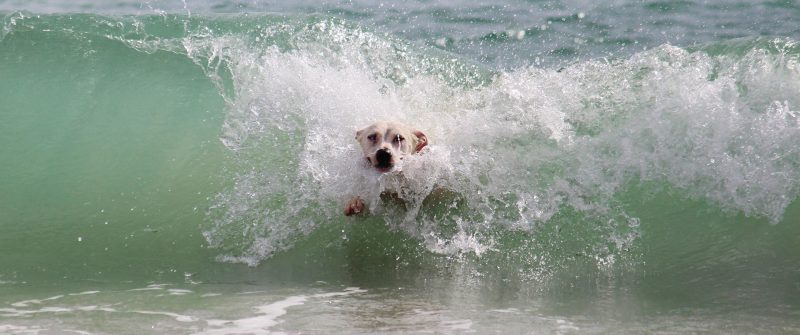 If you're a beach lover, Florida is a can't miss state while you're traveling in the U.S. Millions of people head to Florida's beaches each year for a dose of sun, sand, and that famous Florida sunshine.
The very best beaches in Florida, of course, are the ones you can bring your furry best friend to! If you're traveling with your dog and looking for the best beaches to check out together, look no further. With over 663 miles of coastline, there's something that everyone will love.
Remember that traveling with dogs certainly has its challenges, like airports, lodging, and
dining. For these scenarios, many companies will ask to see an ESA letter to prove that your pet is an emotional support animal. The good news about these beaches is that all dogs are welcome – no ESA letter or service dog paperwork required!
Let's get started with the top 5 pet-friendly beaches to check out in Florida.
1. Fort De Soto Park
Fort De Soto is a great first stop to make on your doggy beach tour. This dog beach is about a quarter-mile long and provides enough space for your furry friend to stretch out, play in the water, and soak up the sun.
Dogs can run off-leash here, and many pups end up making new friends to play with. In addition to the beach area, there's also a 2.5-acre dog park just next door.
2. Smyrna Dunes Park
Smyrna Dunes is a great beach escape for humans and dogs alike. In the warmer months, the park can get very busy, so plan accordingly.
Arriving early in the day is key to getting some peaceful time by the water with your buddy. Just an hour away from the Orlando airport, this is a great first (or last) stop to make around your travel arrangements. Just remember to keep your pets on a leash at this park.
3. Davis Islands Dog Beach
Davis Islands is Tampa's answer to a dog beach. This small dog beach also includes a 1-
acre dog park, much like the Fort De Soto Park. Since both areas of the park are fenced in, dogs will enjoy roaming around freely and getting a taste of ocean life. The 200 feet of shoreline are kept in pristine condition, making it a beautiful spot to spend a day.
4. Panama City Dog Beach at Pier Park
If you're heading up to the panhandle of Florida, you'll have to check out Panama City Dog Beach at Pier Park. To the right of Panama City Beach, the pier is beach #56, where you can bring your leashed companion any time. This area is made even greater by the many pet-friendly restaurants nearby so your pup can relax next to you while you refuel.
5. Bonita Beach Dog Park
Do you have an energetic dog that requires off-leash time to make travelling bearable? Then make sure to visit Bonita Beach Dog Park on your tour.
With enough seclusion from the road and ample shoreline space, your dog can run around and release all that energy without making you nervous about their safety.
The water here is both shallow and clear, making it perfect for puppies to splash and play in. Dogs love to lay down in the cool water or roll around in the wet sand as a special treat. Just be sure to bring lots of towels for afterward!
Fun In The Sun With Man's Best Friend
Travelling just isn't the same without your best friend by your side. If you've had your eyes set on a trip to Florida, bring your furry friend, and prepare to embark on an epic beach trip you'll both enjoy. Be sure to check out the dog beaches listed above, and keep your eye out for any others that may be nearby!