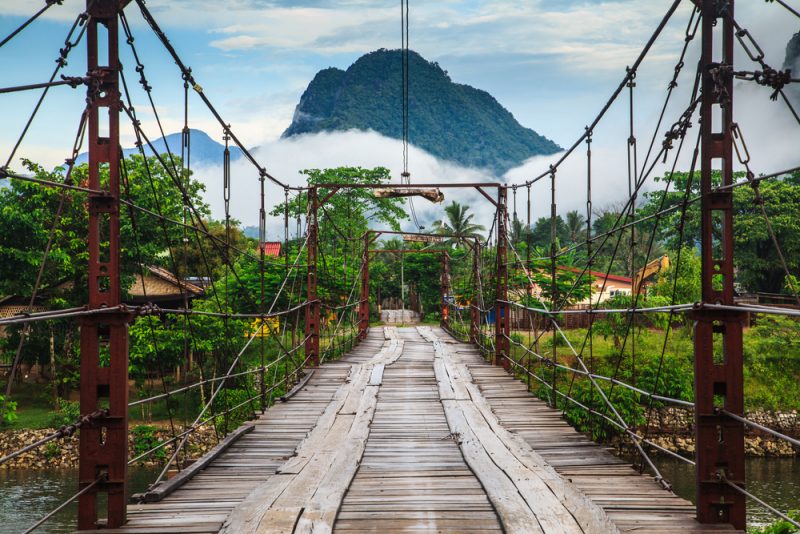 If you ever want to get the best experience in Asia, then you should try visiting Laos. The South-East Asian country is famous for its mountainous terrain and rich French colonial architecture. Most of the people are Buddhists, and you get a vibrant Asian culture firsthand. The landlocked country has some of the most beautiful sceneries in Southeast Asia. And even though it doesn't have beaches, there is so much for adventure and travel enthusiast.
For instance, you can decide to go hiking kayaking cave tubing as well as zip-lining. Also, you can experience the night markets and beautiful waterfalls. The breathtaking mountain sunset will remain a memorable view throughout our lifetime. This post will help you know the best places to visit in Laos.
Get Laos travel documents ready
If you want to visit Laos, have the travel documents intact for your touring convenience. Online visa services for tourists have officially been launched, and they are available if you feel up online application forms. The Laos e-visa is an electronic travel document that authorizes you to tour the country. Visalaos.com is a website that dedicates services to people who want to visit the country. With your details and passport information, this service will get you an online visa for a single entry. The electronic visa allows you to stay there for up to one month or 30 days.
Waterfall Hopping, Luang Prabang
Luang Prabang has one of Asia's most elegant UNESCO World Heritage Sites. If you like to learn about people's culture, then this might be the place to go, mainly because you will find several pagodas and ancient temples. Here, you immerse yourself in the Laos culture and you are surrounded by incredible natural features. For instance, you could travel to any of the myriad waterfalls that characterize the town.
Kuang Sii, an hour and a half away from the city, has Luang Prabang's most famous waterfall. And, when you don't have enough time to tour around, you could travel to the Tad Sae, a magnificent natural pool. Here, you can have pictures at the breathtaking Hoy Khua cascading waterfalls.
The morning monasteries Alm collection
Laos is a predominantly a Buddhist country. Both the big cities and small villages have worship centers. You can also wake up in the morning to witness the monasteries worship. There's a little 'Tak Bat' ritual where villagers give their food to the monks. This donation is not only a ritual, but it shows the giving spirit of the people that characterizes their lifestyle.
Biking through Vientiane Laos
Vientiane is the capital city of the country, and he has about 700 thousand people living in the city. And you can access all corners of the town with a bicycle. Just rent your wheels and explore the former French Protectorate. As you will note, the majority of the streets and buildings are named in French and Laotian. You'll also see several boulangeries ready to serve you croissants baguettes and coffee.
Kayaking the Vang Vieng
When you still have some time you can join backpackers in search of parties. This doesn't mean that you will always be successful because only a few bars are usually open. Plus you might find exploring more enjoyable than just sitting there to drink beer. So, when you get to Vang Vieng, you will be bought to kayak the rivers. The Nam Song River is one of the best places where you will not only exercise your bones and muscles but also enjoy the breathtaking landscape when you are on board a kayak.
Have a taste of the delicious Laotian cuisine
It could be regretful of you to go to the South-East nation and then forget to have a taste of some of its artistic gastronomical expertise. Although Laos does not have long menus like the countries surrounding it, you will get great flavours of healthy food. The main foods include glutinous and sticky rice served with tasty salads and meat as well as herbs watered with lime.
Then, wake up to the aromatic baguette and coffee. You will realize that the French cultural imprint in vivid in the menu because you can as well order for sandwiches and mushrooms. Noteworthy, the coffee is grown locally in the Bolaven plateau.
The Pi Mai Festivities begin
You can always mark your time well so that you can get just in time for the Laos New Year. This is possibly the most significant national festival in the country. There are large multitudes of people who attend the celebrations which involve water fighting and a big feast for everyone, including the guests and visitors. Basically, Pi Mai marks the onset of the raining season and sometimes it is dedicated to some Buddhist deities.