Some posts on this site contain affiliate links. If you book or buy something through these links, I earn a small commission (at no extra cost to you). Take a look at my privacy policy for more information.
The best thing about long term travelling has to be the random, crazy situations and encounters it throws up – throwing you together with strangers who turn out to be awesome, or sending you down a wrong turning with bizarre but amazing consequences! Yesterday, we spent our first day in Sapa, a gorgeous mountain village way up in the north of Vietnam near the Chinese border, and I have to admit that after our arrival the night before I hadn't been expecting much.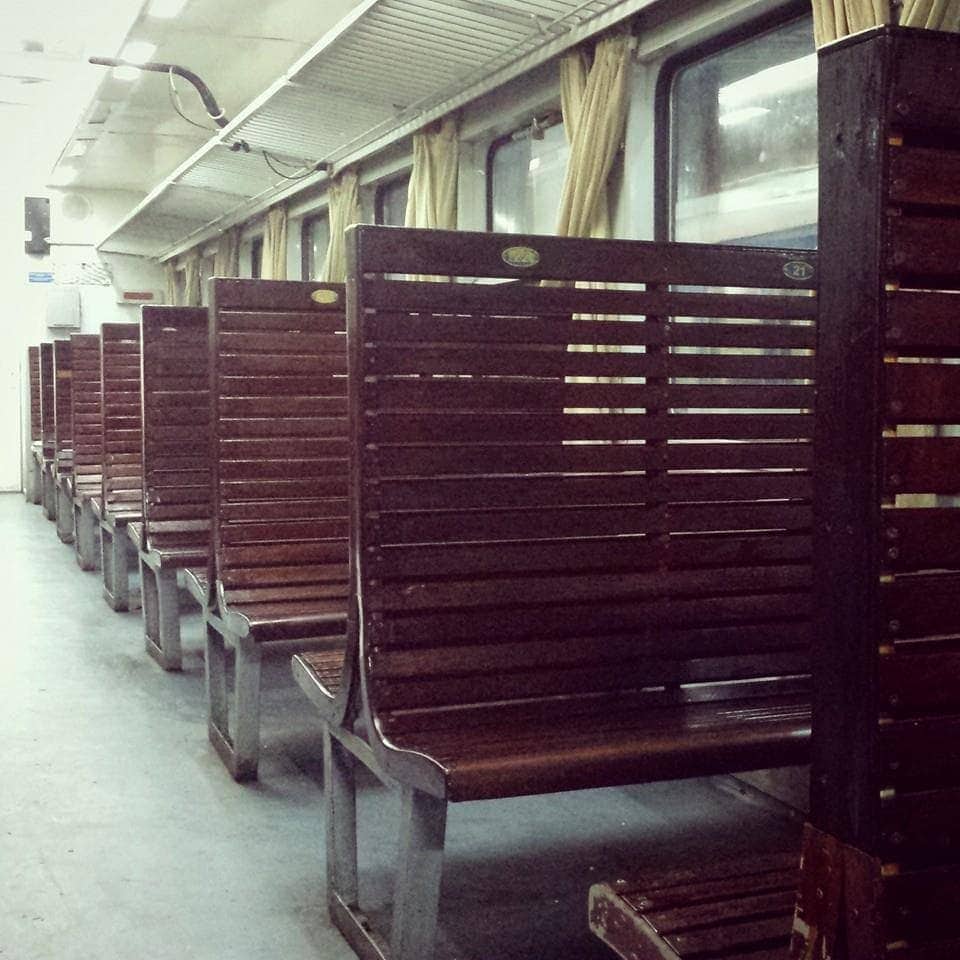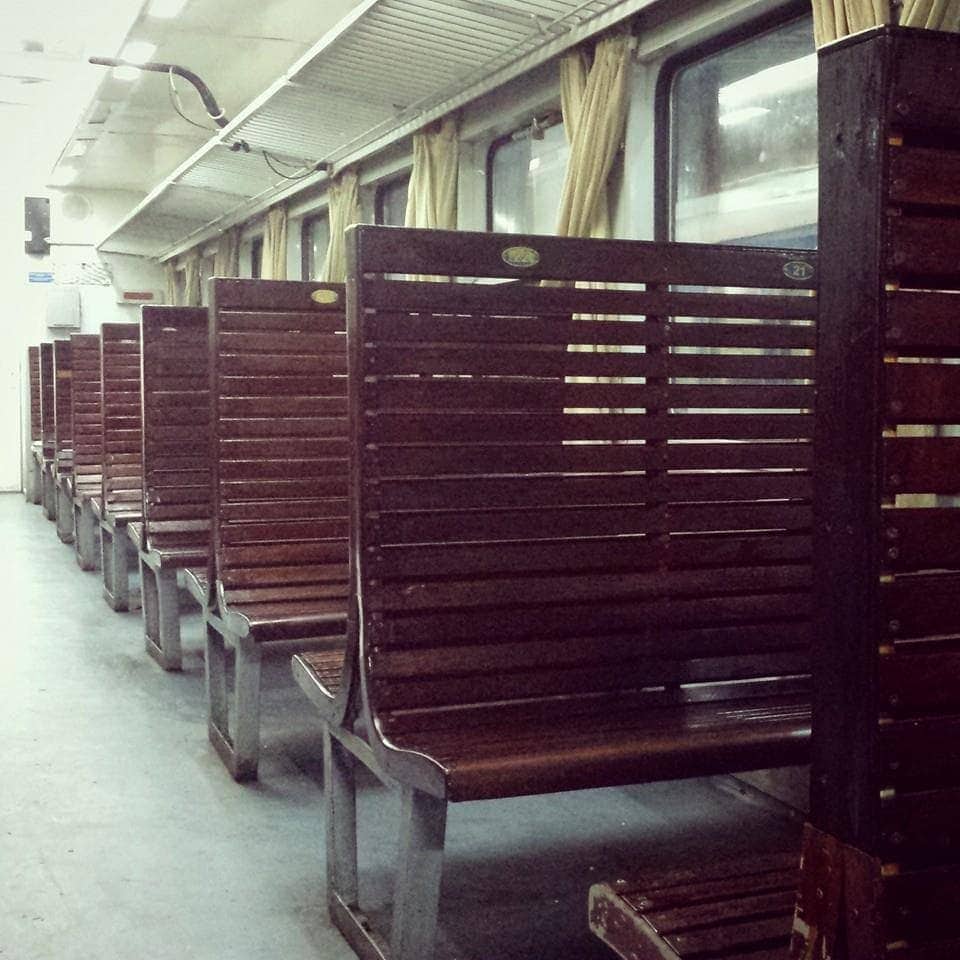 After eleven hours on the uncomfortable, wooden benches of the Hanoi – Lao Coi day train, a harassed and stressful search for the bus to Sapa that wound up with us being charged around 10x what we should have paid, and a stomach-churning journey swinging around dark and misty mountain roads, we finally made it to Sapa only to discover a cold, rainy village draped in mist and blazing with flashing neon signs for pizza and happy hours. My heart sank as I realised this destination which had been such a nightmare to reach was just another inauthentic backpacker stop lost to the dark side of tourism, and I could't help feeling that we might have made a mistake in coming all this way.
Fortunately, first impressions are often wrong. We woke up the next morning to bright sunshine and a stunning view of emerald green mountains disappearing into misty clouds beyond the red tiled roofs of the town, and realised that we had indeed arrived in the hiker's paradise we'd been hoping for.
So, we headed out of the town on what was meant to be a short hike down to the neighbouring village of Cat Cat. We followed the steep, curling road downhill, amazed by staggering views at every turn, with towering, livid blue mountains appearing in the sky above thick cloud cover. As the valley opened out below, we saw staggered terraces of gold-green rice paddies and silvery patches of small, flooded fields. We reached the entrance to Cat Cat village but bypassed it, intending to go around and stick to the gorgeous views instead of the cluttered strip of tourist shops. But, as we reached the far side of the village, we came to a checkpoint charging an entry fee. Since we didn't want to go in at all, only walk around, we were a little miffed at being asked to pay just to walk around the outskirts of a village – after all, the land here is public and not a national park.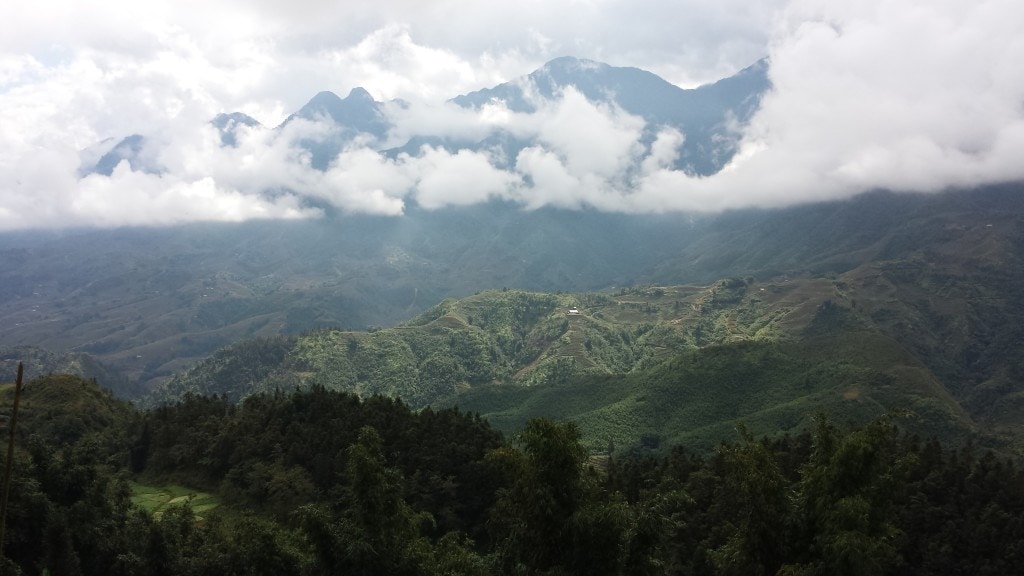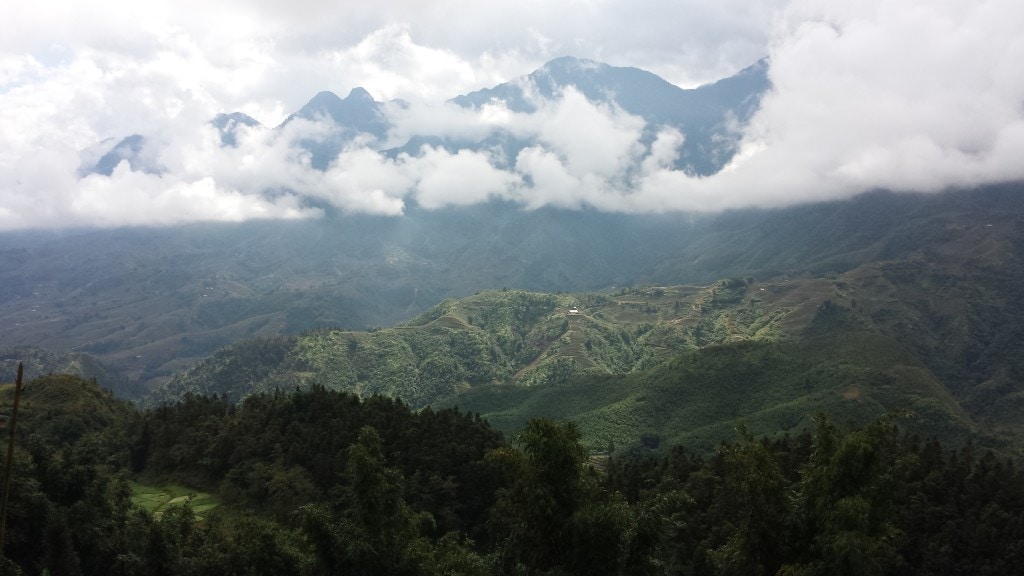 That was when Jakob showed up. A hulking, bearded, giant of an Australian with an infectiously loud laugh who, we soon discovered, was excited about absolutely everything – from the sweeping views and the adorable local kids, right down to a water-smoothed piece of wood. He and the rest of his group, whose names we never learnt simply because, with Jakob around, conversation never stopped for anything so dull as introductions, weren't paying the village entry fee either and were trying to suss out a different route around.
Before even learning our names, Jakob had invited us along, and soon we were following a separate road leading who-knows-where, away from Cat Cat and towards the neatly structured rice paddies. We passed moodily grazing water buffalo; groups of grubby but gorgeous local children; a boy of about five taking a nap, bare-buttocked, on the seat of a parked motorbike; small farmhouses surrounded by groups of bustling white ducks and fat, wire-haired pigs; and some kind of three-way fight between a goat, two dogs and a couple of chickens. Not bothering to worry about where we were going, or if we were about to get lost, we found ourselves enjoying absolutely everything; perhaps it was the perfect weather, or the feeling of finally being able to relax after a stressful week of travel and culture-shock, or perhaps it was just Jakob's enormous laugh infecting us, but it all seemed simply hilarious.
Soon, we were sliding down a muddy trail between a small village of tiny wooden farm houses, which eventually led us through a field of boggy rice paddies and down to the edge of a beautiful, bubbling river. The only other people in sight were a group of three young bogs fishing with huge nets, who looked shocked to see a group of crazy white people bursting out of the damp green trees alongside their river. They wandered away in search of more private fishing grounds, and we had lunch in the sunshine on the rocky banks of the glittering river.
Next thing, we were wading down the river in ice cold water, our shoes in our hands, in search of a more adventurous route back. I'm not sure who exactly decided it was a good idea – but they were almost definitely wrong. Forty minutes later, we were still clambouring over slippery rocks in and out of the water, having come hardly any distance at all, with no sign of a way back up the bank in sight. Still, we were having fun and kept finding new things to laugh about. Eventually, someone spotted something that looked like a sloping path through the trees just above an almost vertical wall of wet rock on the riverbank. All we had to do was cross the river, climb up the rock, and we'd be fine.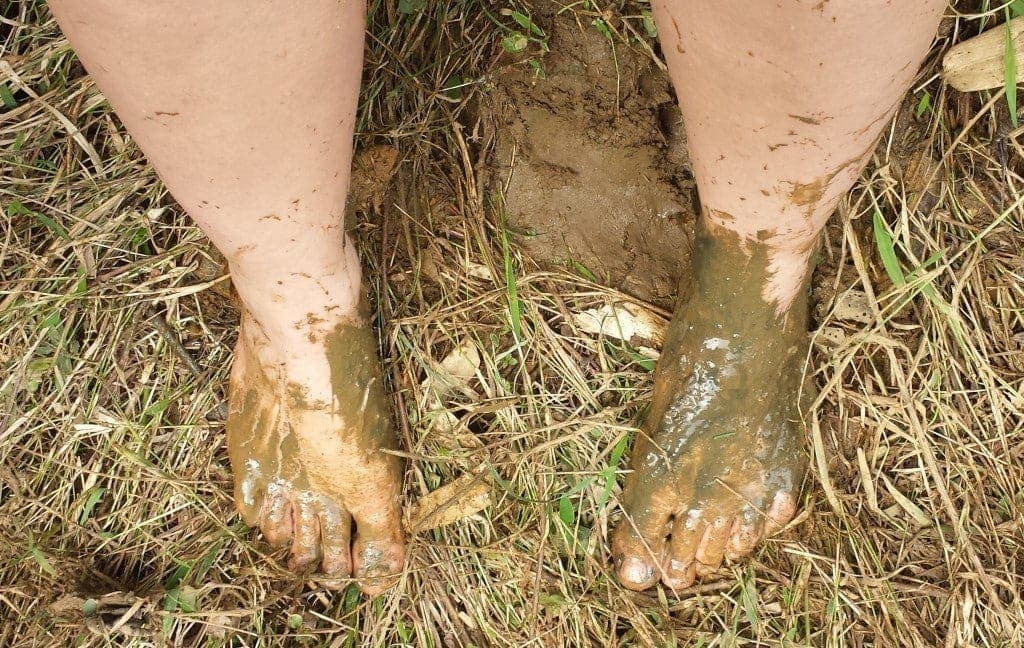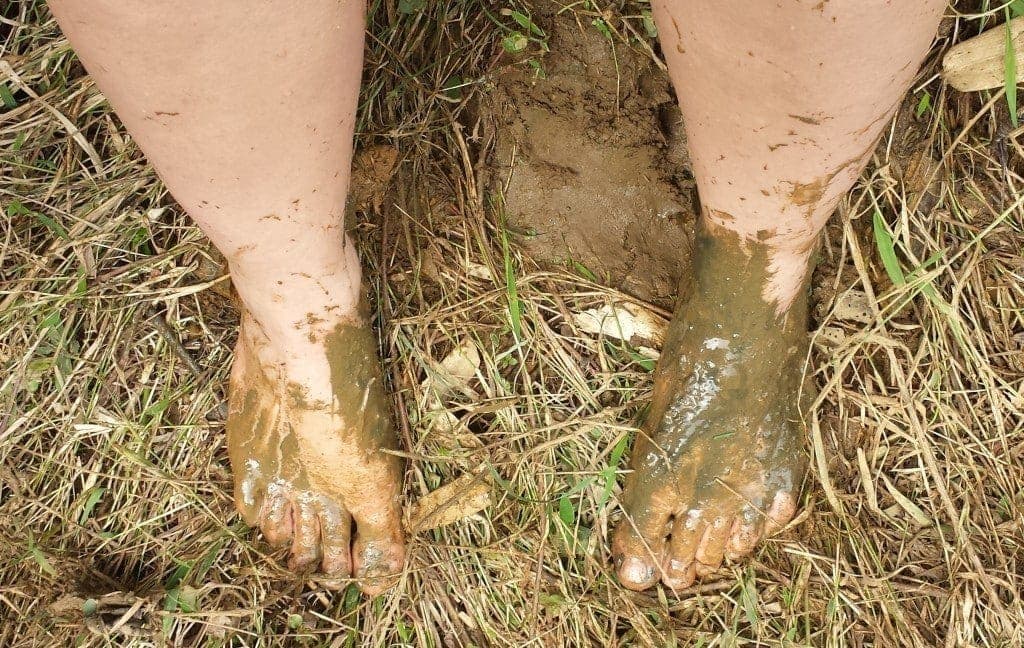 Giving up on keeping my leggings and underwear dry, I waded into the almost-waist-deep water across the fast flowing river – thankfully the guys were a lot stronger than me and able to pull me across – and scrabbled up the sheet of slippery rock onto dry land. Dy land which turned out to be very wet and muddy. With every step sinking to the ankle in the mud, I kept my boots in my hands and pressed on barefoot up the slope.
The final challenge was the simple matter of navigating the rice paddies to get across the field. Sticking to the very edges, where the grass forms a sort of ring around the paddy: one step out of place and it was up to the knees in mud. Needless to say, we all had brown legs by the time we reached the far side. Having finally made it across and back to the same tiny village we'd left the trail from, we found a spring of water to wash in before starting the long hike back to Sapa.
Thankfully, the adventure wasn't over yet. A local guy thundered up the road behind us in a pickup truck, Jakob stuck out a thumb, and unbelievably the man said yes. So, all six of us squeezed into the back besidea huge wooden wardrobe, and whirled back up the curling roads towards Sapa, laughing at the sweating tourists we zipped past. Tup, the driver, dropped us just outside of town next to his shop, and since he wouldn't accept any money at all for the lift we all bought a drink in the store from his wife – who proceeded to offer us shots of snake wine and alcohol infused with opium, which, laughing, we turned down.
As we headed up the last bit of the mountain road to Sapa, the sun vanished and a thick, wet mist descended, blocking off all traces of the stunning view behind us. Without that lift from Tup, we would have been walking for a pretty long time in that eerie white-out, so I couldn't be more grateful to that lovely pickup driver! It had been a completely unexpected, crazy and absolutely wonderful day that left me totally in love with Sapa, and I was so glad that a random swing of fate had bumped us into Jakob on that road past Cat Cat.
By the way, that entrance fee to Cat Cat we all refused to pay? It was 40,000 VND or about £1.18. Sure, we could have paid that and walked the loop around the village along with everyone else. But by going off road we saw things that we wouldn't otherwise have seen, had an adventure that was very messy but also a lot of fun, and met some amazing locals who were, for once, not interested in asking us for money.
Have you ever gone "off the beaten track" or gotten lost with unexpectedly good results? Share your story in the comment!