Some posts on this site contain affiliate links. If you book or buy something through these links, I earn a small commission (at no extra cost to you). Take a look at my privacy policy for more information.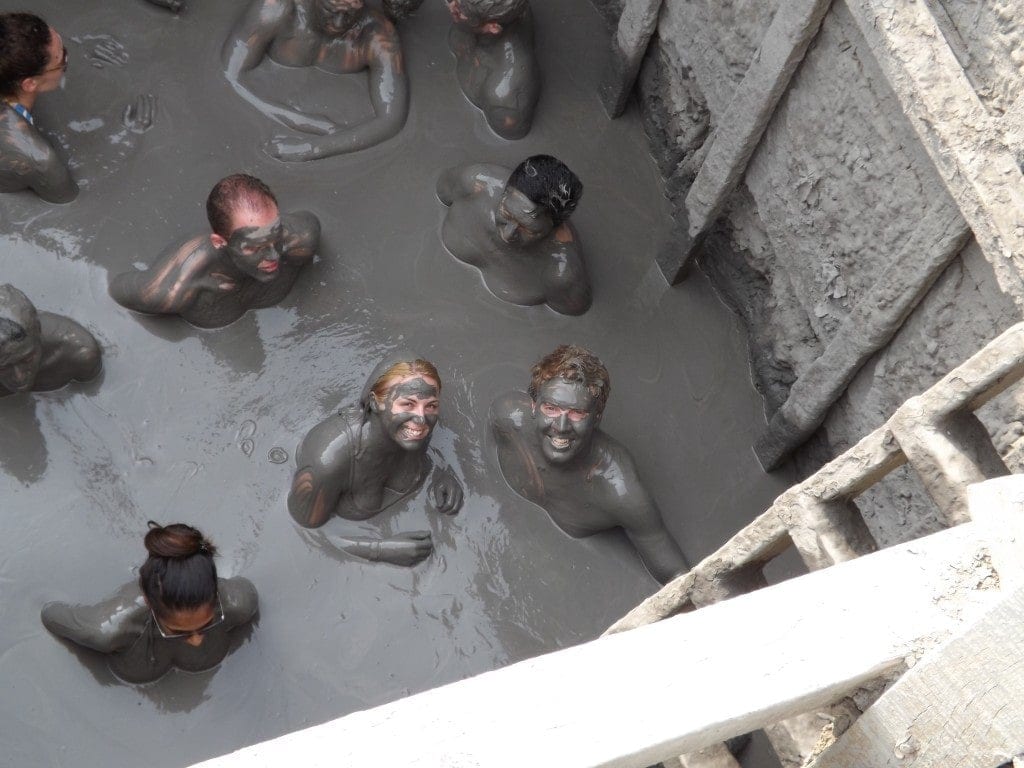 After our two days on Playa Blanca, we were back in colourful Cartagena and in no hurry to leave.
We spent the morning walking around the old town again, taking it more slowly this time and lingering over the details; pretty, flower-clad window boxes, beautiful store window displays, men pushing wooden carts laden with coconuts or sliced fruit, small plazas brimming with vibrant green leaves, groups of men sitting on the pavement or on benches quietly watching the world go by. The old city walls, with their rusted canons and swaying palm trees, made me think of Pirates of the Caribbean, and the colour and vibrancy of Cartagena felt so removed from the Colombia we'd experienced so far, especially the inland Colombia of rich countryside and modern but bland cities. We swung by my favourite ice cream parlour – Gelateria Paradaiso – where I had the best dulce de leche ice cream I've ever tasted, but besides that one stop we didn't go inside anywhere, preferring just to wander slowly in the baking heat and enjoy the city. We passed endless groups of elderly tourists, mainly American, shuffling behind a tour guide wiping their foreheads and looking lost, complaining about the heat, shunting blindly from one historical building to the next and missing all the fascinating and beautiful details that make this city such a great place to explore and unwind.
That afternoon, we headed to the mud volcano Volcan de Lodo El Totumo outside Cartagena. Although I prefer to avoid tours, the general consensus online was that this was a trip you can't undertake yourself unless you fancy a long and uncertain walk down a dirt path in the intense Columbian heat, so we asked the staff at who were able to book us on an afternoon tour with Ruta Ecologica (40,000 COP each).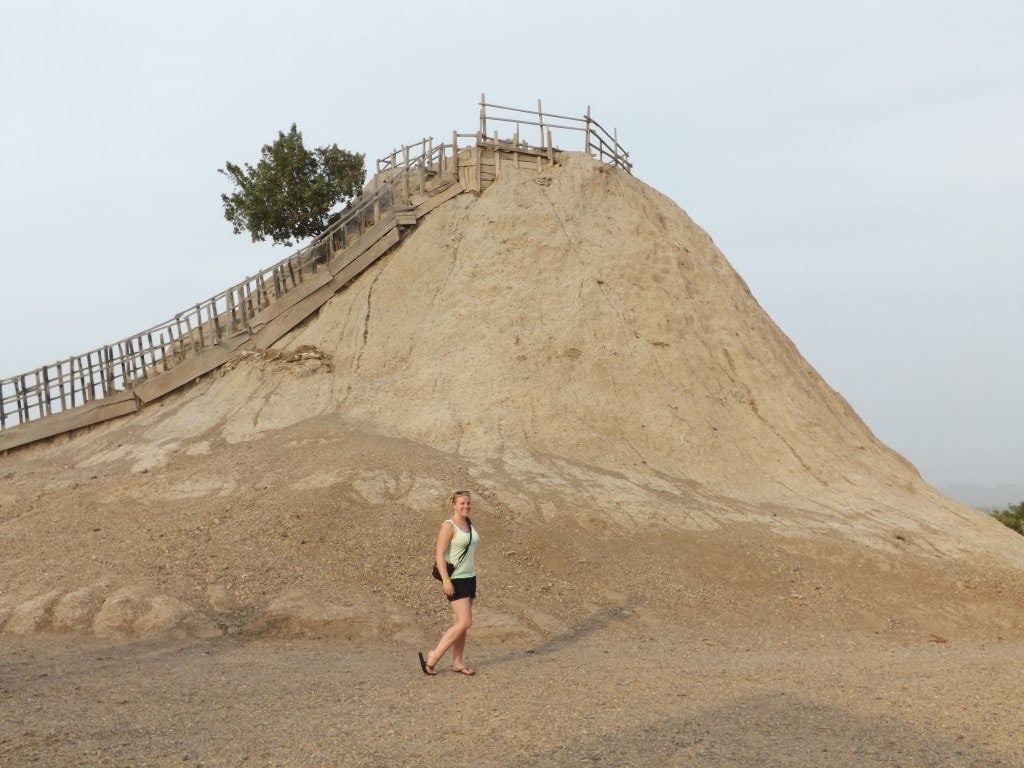 The tour company picked us up around one and, after almost an hour circling the city making pick ups at other hotels, we set off on the drive about an hour north-east of Cartagena on the road to Barranquilla. The tour company were really good, with an English speaking guide who let us know exactly what to expect at the volcano and how much to pay for each service.
On arrival, they had a private set of rooms with a small shop, toilets, showers and a changing area, plus lockers for our valuables. From what I've read, the public areas at the volcano lack most of these things, have no toilet roll in the toilets and certainly no lockers, so I was really grateful for having paid the extra for Ruta Ecologica! Once we'd all changed into our swim stuff, we headed up to the top of the volcano via the rickety wooden staircase which was caked in dried grey mud. The mound itself – which according to legend was once a real volcano until a priest banished the devil from it – is about fifty foot high and a steep climb to the top. I felt a bit exposed in my bikini on the side of this beige-brown anthill shaped mound of mud in the middle of nowhere, but fortunately the climb didn't take too long so I didn't have to suck in my tummy for long!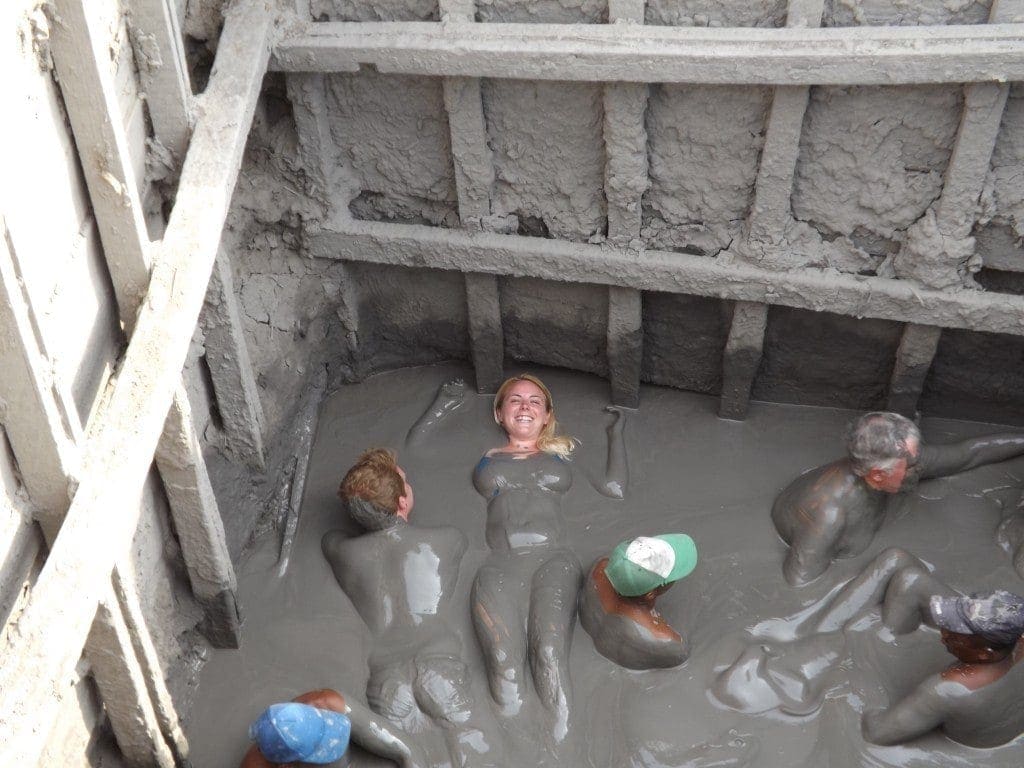 With such a large group and only one ladder, getting into the actual mud was a bit of a problem. The pit is low, maybe ten foot down from the top of the volcano, and accessible by a slippery ladder. According to our tour guide, the mud is about 2000 foot deep, but it's so thick and dense that it's impossible to sink. Each person descending the ladder had to be helped in and dragged across the pool by an attendant because it's so difficult to gain control of your body once you're half submerged, which really slowed the process down. Eventually, it was my turn, and once I was waist deep in thick, smooth and surprisingly warm molten clay I was just about stuck. I tried to step further down the ladder but my legs had other ideas, trying to float up behind me to the surface. And attendant helped me lean back until I was lying on my back, then, steering me by the ankles, slid me across the pool and slotted me into a line of bodies waiting for massages.
The massage service cost 3,000 COP and was really relaxing – although it's very unnerving lying on your back on a substance that feels a lot like liquid but which you can't sink into. We noticed – to the annoyance of some of the gents on our tour – that the younger girls, including me, got much longer massages from the male attendants, but I wasn't complaining! It felt really good – especially on my legs, sore from so much walking – and the thick layer of slimy mud (imagine a texture halfway between custard and treacle) was a great substitute for oil. It has, according to the guide, hundreds of beneficial vitamins and oils which are meant to be great for your skin, so a massage in the mud should do wonders. I definitely felt noticeably softer afterwards, especially on my arms, but unfortunately it didn't heal my sunburn.
When the massage was over, I was pushed out across the pool to join the rest of the group, and with no control over my body I basically slid feet first into the nearest body. I tried to right myself, but absolutely couldn't; with nothing to push my back or arms against and no gravity, I simply could not get my legs underneath me until Sam, already upright, dragged me forwards. Even with help, it was a comically difficult process; my body going first too far forwards so that my legs floated up behind me, then too far backwards so that they floated up in front again. The feeling of having no control over your legs is a bizarre one, and we couldn't stop giggling as, even once upright, we had to fight to stay that way.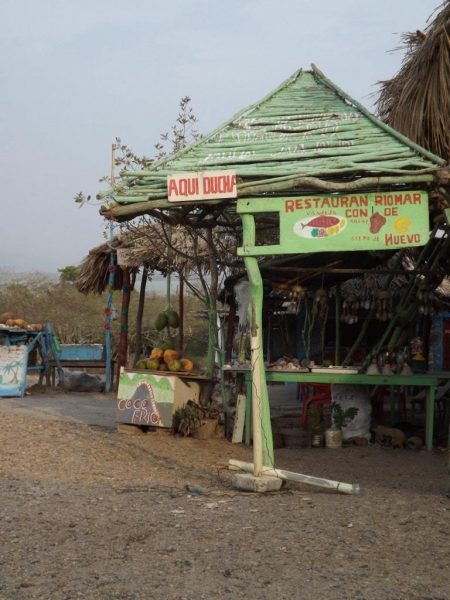 We stayed in the mud for as long as possible, posing for photos (one of the attendants took control of our camera for 3,000 COP) and mucking about trying to sink each other. It really is impossible: even holding your arms beneath the surface takes a conscious effort, and no matter how hard we pushed we couldn't get each other below the surface. The density of the mud is incredible!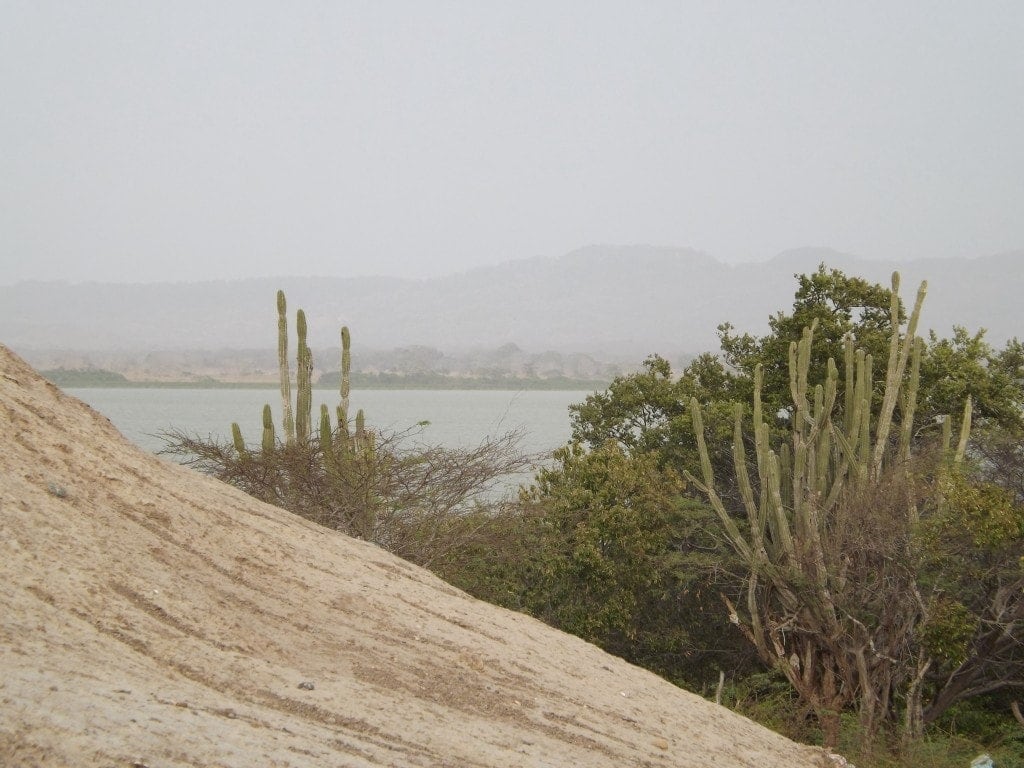 Eventually, it was time to get out and make the arduous journey back down the steps and down to the lake, waking barefoot across gravel. Coated in smooth, grey slime that was starting to dry and harden in wrinkly, cracked patches, we all looked ridiculous, especially walking in such a disjointed, clumsy way because of the mud. I was walking slowly and chatting to one of the girls in our group, so once I reached the shore most people were already in the lagoon, clean and human again. One of the female attendants strode out of the lake, wearing an angry scowl, and grabbed myself and my fellow late-comer by the hand, leading us crossly into the lake. Handing my friend to another attendant, she sat me down in the shallow, warm water and began washing me vigorously and a little crossly, tutting and sighing as she did so. I felt a lot like a little girl in trouble for getting muddy! The woman washed me with unparalleled efficiency, getting into my ears, nostrils, hair and all over my body, even stripping me naked (we were all facing away from each other and completely underwater, so it wasn't too embarrassing) to wash out my bikini. It was the most thorough bath I've had in my life and I could hardly stop giggling all the way through at how angry the woman seemed at having to wash me. It cost another 3,000 COP for the washing, and it's all part of the fun of the whole experience, plus I guarantee you won't get as good a clean using the showers.
All cleaned up and back to my normal, white self again – although with much smoother skin – we dried off and changed, and by the time we boarded the bus we were a group of humans again, instead of the slimy mud monsters we'd been as we crawled slipping and sliding down the side of the volcano.
It was a fantastic, hilarious and very fun experience, fitting in with our experience of Colombia in general; strange, sometimes surreal and very, very fun!